5 Things We've Learned About Blogging This Year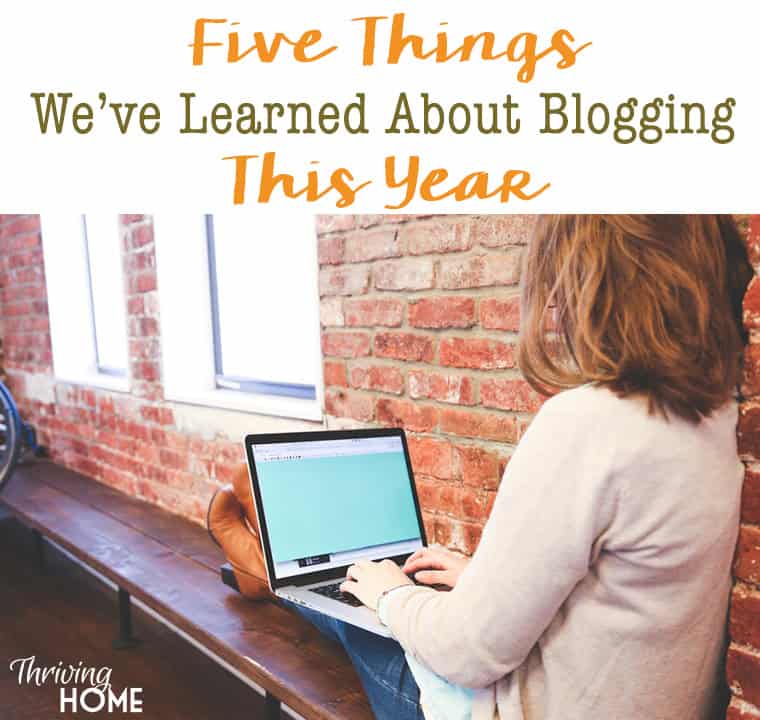 Four years ago, when Rachel and I stepped into the world of blogging for business, we had no idea how little we didn't know. Now, several years in, Rachel and I still feel like we are on a learning curve. Yes, we've figured out how to turn our hobby into a part-time job for both of us but we are constantly modifying what we do and how we do it.
If I could sum up this year with one word, I'd have to say it would be: Strategy.
Both Rachel and I have such limited time to put into the blog, we've just had to get smarter about where we put our time and how to make more income with the allotted hours we have in our lives right now. As we've learned to work a bit smarter, we've gleaned some valuable lessons this year that we thought would be worth sharing.
PS- If you are interested in starting a blog of your own, we've created a step-by-step tutorial that will help you start a blog of your own, starting at only $5.95 per month for hosting. In addition to the low pricing, you will receive a free blog domain (a $15 value) through our Bluehost link if you purchase at least 12 months. FYI, if you want to ever want to make money on a blog, it is almost essential that you self-host (like through Bluehost). Just follow our tutorial and you'll be ready to roll!
1) A good host is a game-changer

When we started Thriving Home, we didn't even really know what a web-host was–let alone how important it was to choose a good one. We floundered quite a bit in this department and have finally landed a host that has been AWESOME. This year we upgraded to a host called BigScoots and can't say enough good things about them. Not only has it improved the speed of our site but their customer service has been better than anything we've ever had. Before BigScoots, when a site issue would come up we'd have to fight our way through helplines, automated responses, help forums and often spend hours trying to resolve an issue by ourselves. Now that we have a host that knows our site inside and out, we simply contact their support team (who know us by name by the way) and they usually resolve our issue for us.
Blogging Advice: Be smarter than we were and start out with a credible host. We recommend starting with Bluehost. When your site grows and needs a bit more speed and attention, upgrade to a larger host like BigScoots. (If you decide to go with BigScoots, shoot us an email and we can get you a discount!)
2) Build Partnerships with Brands
We've built strong partnerships with brands and businesses verses spending time on sporadic, sponsored posts. As a blogger, sponsored posts are part of the gig. They have never been our favorite part of blogging for business but they also help pay the bills and make our blogging time worth it. This year our approach has been a bit different. We have partnered up with two major businesses (Frigidaire & HyVee) and work solely with them when it comes to sponsored content. We love working directly with the brand rather than through a middleman. We also love that the content that we post about is relevant to our readership and something we would naturally write about.
Blogging Advice: Go straight to the brand! Make a confident pitch of why working with them would be a win-win for both of you. Don't undersell your influence either.
3) Pinterest is Our Sweet Spot… For Now
So get this–in 2015, we've gotten 1.5 million visitors from Pinterest. This is 85% percent of our traffic. Crazy, right? In my perfect world, I'd love for the majority of our traffic to come from search engines and facebook because these readers tend to stick around more. Pinterest users that tend to pop in and out (I'm for sure guilty of this too). But since the numbers don't lie, it'd be silly to not put more of our time and energy into Pinterest. Two things we've focused on this year to make Pinterest more effective for us:
Use Tailwind

Tailwind is an application that makes it super easy to schedule out your pins. I love that is uses a scheduling interval so that my Pinterest followers are slammed with an onslaught of Thriving Home pins in a short amount of time. There is no limit to how many you schedule either. Having a consistent presence on Pinterest through the use to Tailwind has proven to serve us well this year. If you sign up, make sure to do it through this link and you'll get $15 credit. No tricks!
Give ALL images a Pinterest friendly title
When someone pins an image from a post, Pinterest picks up the saved name of the photo to use for the description. Usually it is something like, "img_239.jpg." Since we don't want that to be the description of images, we give each photo a nice, descriptive name. We used to just give the main, titled photo the description but we realized that people are pinning other photos in addition to that so now we make sure to give every image in the post a title.
Blogging Advice: Sign up for Tailwind and use it frequently. We'd also recommend joining some group boards to pin to. This will help your pins reach more people than just your followers.
4) Host BIG Giveaways
One of the most valuable things we've done for Thriving Home is host big giveaways/bloghops. We've hosted three now and have found that these giveaways are the most effective ways to gain new followers and email subscribers. Here's the deal though- you have to make the giveaway worth it. We've dabbled with small giveaways and found that they don't have a huge response. But when you round up LOTS of goodies and partner up with other bloggers, the response is massive. Yes, these giveaways take a lot of work and coordination but both Rachel and I agree that they are totally worth it. We only do two a year (one around Christmas time and one around summer time) so that they aren't too much of an overkill. Here is an example of last years Favorite Christmas Things Giveaway.
Blogging Advice: If you host a giveaway, make sure to be strategic on how people enter to win. Don't just ask for them to comment on the post–have them sign up to follow along in one way or another (social media, email list, etc.)
5) Build Relationships with Bloggers
To be honest, we weren't that great at this in the beginning. We didn't reach out much to other bloggers or make an effort to get to know people in the blogging community. Just like any friendship takes time, so does a blogging relationship. After partnering up for our giveaways (See #4) we began to see the value of connecting and knowing other bloggers. It's taken time but we now have a network of bloggers that have sites similar to ours that we reach out to quite a bit. We reciprocate favors, share each other's posts and help each other out when needed. I've even had a few phone chats with lovely ladies like Julie from Happy Home Fairy and Kelly from Nourishing Home. We are all navigating the choppy, ever-changing waters of the web and having these ladies by our side has been invaluable.
Blogging Advice: Identify a few like-minded bloggers, ideally with similar sized sites as yours. Begin to reach out to them in one way or another. Ask them to guest post, share their content on your social media, comment on their posts, or just shoot them an email and just say hi. Work to cultivate the relationships over time.
Gosh, I hate to stop there because we've learned SO much over this past year. We love to help new bloggers out and share what we've learned over the years. If you are thinking about jumping into the blogging world, make sure to check out our How to Start a Blog Series. If you end up signing up with Bluehost through our affiliate link, we are more than happy to be a resource to you and give you some super special blogging perks that will help you get started on the right foot!
Affiliate Disclosure:  Posts may contain affiliate links. If you purchase a product through an affiliate link, your costs will be the same but Thriving Home will receive a small commission. This helps cover some of the costs for this site. We appreciate your support! 
https://thrivinghomeblog.com/wp-content/uploads/2016/01/blogging.jpg
593
890
Polly Conner
https://thrivinghomeblog.com/wp-content/uploads/2019/10/thrivinglogo.png
Polly Conner
2016-02-01 05:02:34
2020-01-03 15:17:42
5 Things We've Learned About Blogging This Year