FREE Resources for Leading Your Children in Daily Bible Study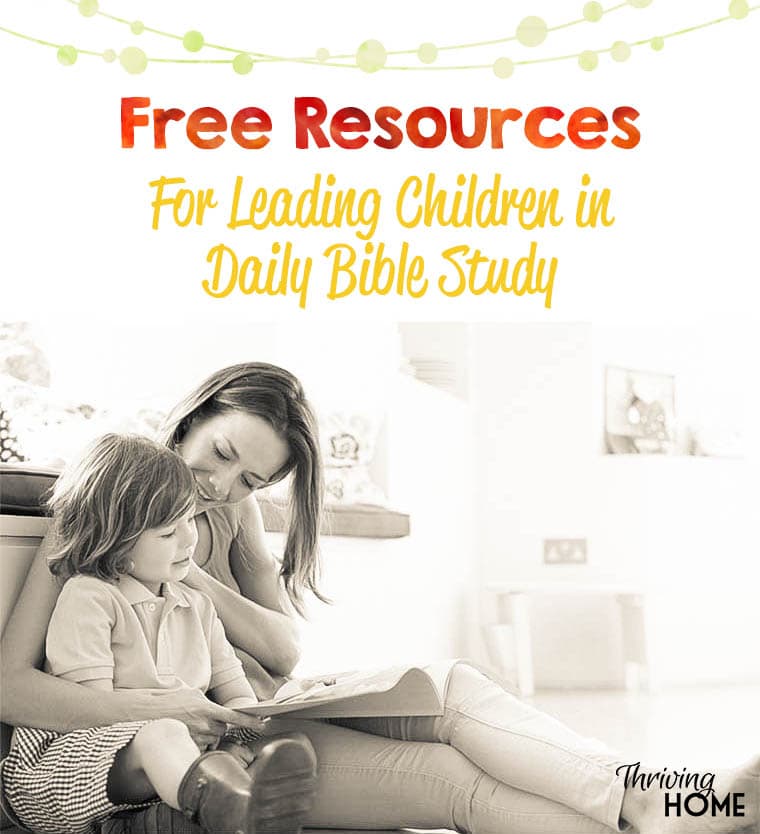 Guest post by Holli Best.
For the past few years my husband and I have tried to uphold some sort of daily spiritual pattern as a family. Some months are better than others. Really taking the time to teach our children Biblical truths can, to be honest, sometimes take a back seat with all the other things going on.
But…because we see ourselves as our children's first teachers, and that their spiritual development and growth is part of that job, then it really is something that needs to take priority in our home. To that end, we have found some helpful mostly free resources that give a sacred space to spiritual development and that fit into the busy days. My hope is that this information will help other parents who are trying to establish regular prayer and Bible times as a family, too.
What's Shaped Our View of Parenting
First, before I share the free online resources, let me begin by sharing about three books (not free) and one article (free) that have greatly influenced the way our family thinks about our children and our role in their spiritual life. We still regularly use the several of these resources for teaching our children and some for teaching ourselves how to better lead our children.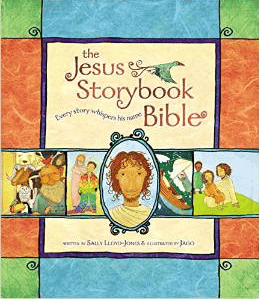 1) The Jesus Storybook Bible, by Sally Lloyd-Jones. This is a wonderful story of the Bible, God's big picture to rescue his people, and always shows how Jesus was part of the great rescue. For parents, this children's Bible is a great foundation for learning how to be a good storyteller of the Bible and use specific language that helps children understand that God loves them with a "Never stopping, never giving up, unbreaking, always and forever love." Because children love this book so much, you will read it again and again, and over time you will find yourself drawing the stories into all the other times you are doing Bible study with your children.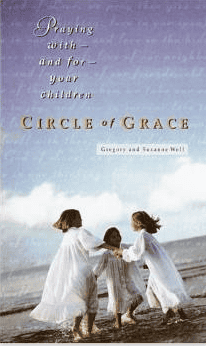 2) Circle of Grace, by Gregory and Suzanne Wolfe. This is a book written to teach us how to pray with and for our children. Prayer is a language that nurtures your child's heart to not just admire goodness, but fall in love with the good, the true and the beautiful. This is a "task that takes years of love and attention." And while good storytelling (like mentioned above) is important to help children identify and imagine, we must also use prayer to further our children's moral and spiritual development. "We have become convinced that prayer can become an essential part of a child's emotional and psychological growth–helping to bridge the gap between knowing what is good and doing what is good." (All quotes from the book)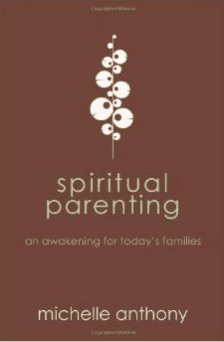 3) Spiritual Parenting, by Michelle Anthony. I'm not going to say a lot about this book because it has been mentioned before by Rachel in this blog. But I will say that Anthony spends an entire chapter encouraging parents to become good storytellers (not just of the Bible but also of the ways God is working in your life) and to write a vision for your family.  This "vision" will shape what you aim your heart at, where your priorities are and what is valuable to your family (in all aspects). Anthony also takes seriously that we, the parents are our children's first teacher. This book will help you establish how you as the parents want to lead your children.
4) A Vibrant Theology of Children, by Marcia Bunge. This article is a PDF and the link has been provided for you. The beginning paragraph sets this article up well:
Many distorted and simplistic views of children see them as commodities, consumers, economic burdens, or only as sinful creatures that are 'not yet fully human.' In Scripture and Christian tradition we discover a richer picture of childhood that should inspire creative religious education and renewed commitment to serving all children.
You don't have to agree with everything in this article to know that Dr. Bunge is on to something regarding the way we ought to think about children and their spiritual development and the people/adults who guide and shape that journey.
Free Resources for Daily Bible Study with Children
With that library as our foundation, we have come across a few online resources that have helped us take Bible reading, prayer and storytelling anywhere we go. Each of these options have short versions and long versions and can be tweaked to fit your personal needs.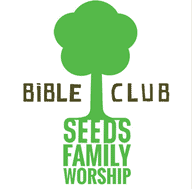 Seeds Family Worship is doing some amazing things for children and families in the area of scripture memory. They have 8 (soon to be 9) CD's full of great music and each song is a verse or verses of scripture. But their new addition is a Bible Club!
Our family has started using Seeds Bible Club in the morning before school. Our school starts really early (7:40am!), so we need something simple and yet with substance. Seeds' new Bible Club fits those mornings that are nutty, but gives enough materials to come back and go a little deeper. The goal of this program is scripture meditation, memory and greater understanding of the meaning of the verses in each Seeds song. We find it to be a great complement to nightly readings from our favorite children's story Bible and the Psalms.
Here are some ways we use Seeds Bible Club and a few thoughts about the program:
Each Sunday night a new post is made available. It is posted directly on their website and on their Facebook page. The materials always come from one of their songs.
On Sunday evening I pull the new post up on my phone and leave it in the browser all week.
Each morning I read the mini bible lesson based on that week's memory verse. All of their songs can be listened to on their website, and they link the song to that week's post. Also many of their songs have a video that is also linked in the weekly post.
By mid-week I try to do one of their printables, extra videos or activities. I also, when applicable, tie that week's lesson into another devotional we have (like reading another story from Jesus Storybook Bible).
Re-read the lesson. Each lesson is quite short. However there are two lessons in each post, one for big kids and one for little kids. I alternate between the two and read them a few times. Young children can never get enough repetition, and maybe I'm only getting half their attention between bites of breakfast and putting on shoes.
Seeds also provides memory cards (on right). Sometimes I print these and post them in the car, on the artboard or inside my daughter's school planner so that when we are listening to the song they can also see it written down. Also, by using the memory cards your children will see that these are really verses from the Bible, not just songs with a good message.
We do some of the extra activities at least once a week in the afternoon when we aren't rushing. Last week I got out the water colors, read Phillipians 4:8 three times to my daughter (her eyes closed so she could imagine what the verse was really saying), and then let her paint whatever that verse made her think of. Then once it was dry, we took a sharpie and wrote the verse on top of the painting.

This free monthly online publication is by Tru ministries, which is directed by Michelle Anthony, the author of Spiritual Parenting (mentioned above). This is a family resource, as well as, a spiritual parenting source of encouragement. You can also get the app and have the monthly verse and blessing available to you in an easy to use format. Also, the website allows you to download it into your e-reader, so that you don't have to stream it when you are reading it.
Homefront gives you practical ways to live out the gospel with your children, including examples of how other families are serving, worshiping and learning about God together. It also includes beautiful and fun crafts and activities to do as a family–anything from taking a walk around your neighborhood looking for signs of God's hand at work to making meals to share. We especially loved the Bible timeline story rocks. They are sitting on our dining table and get pulled out often by my five-year-old, who then asks for the story of whichever Bible character he's holding.
If the month gets a bit nutty and we don't use the magazine much, I still use it for the blessing. I will often read it many times to myself and then use it in a prayer at night or say it to my son on our way to his preschool carpool.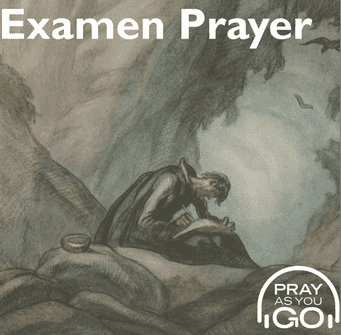 This is a great format for teaching children to calm themselves, become reflective and develop prayer habits. "Pray as You Go" guides children through an end of the day prayer. The music is very calming and the script is beautiful and sacred feeling. I've linked to the 5 minute and 45 second script, which you can read an excerpt from below:
"At the end of the day, find a comfortable place and remind yourself that God is there with you…  What made you happy today? Did someone say something to make you feel good? Whatever made you feel happy today, thank God for those things now. … Did anything today make you sad… did you do something that made you feel unhappy? Whatever made you feel sad or unhappy today, remember that you are precious to God and nothing changes that. … "
I love ending our day with this prayer and my children being reminded that no matter what happened that day, God loves them. It is a daily promise that a child can never hear enough. "You are precious to God!"
I hope these resources help you feel confident in taking a next step in spiritually leading and educating your children. Remember, each of these resources has a lot of options. They can be as simple as needed, but also give you the materials needed to dig in deeper, if you desire.
Author Bio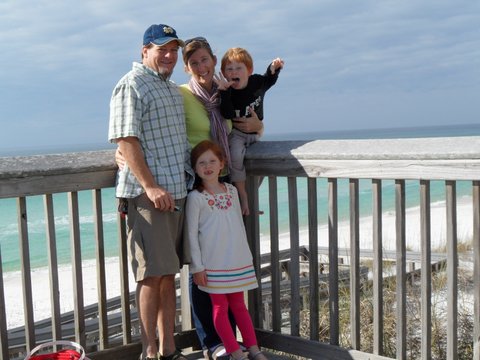 Holli is married to Todd and has two crazy red-headed kids, ages 8 and 5, where they reside in Florida. She worked for many years as the Coordinator of Early Childhood Ministries at her church and has been a doula for 10+ years now. She has written several other guest posts for Thriving Home, including:
https://thrivinghomeblog.com/wp-content/uploads/2015/07/Free-resources-in-leading-children-in-daily-bible-study.jpg
834
760
Rachel Tiemeyer
https://thrivinghomeblog.com/wp-content/uploads/2019/10/thrivinglogo.png
Rachel Tiemeyer
2015-06-26 05:19:39
2020-11-13 06:51:21
FREE Resources for Leading Your Children in Daily Bible Study