The other night my husband vetoed my menu plan for the evening.
On the menu: Steak.
What?! So many questions, I know.
"Not thawed out enough… not enough time to make it… too cold outside to grill… blah blah blah."
Well, I had to come up with a plan B fast. Turns out we had a hilarious amount of leftovers lurking in our fridge and freezer.
Also turns out that we all ate entirely different meals with one exception: roasted broccoli.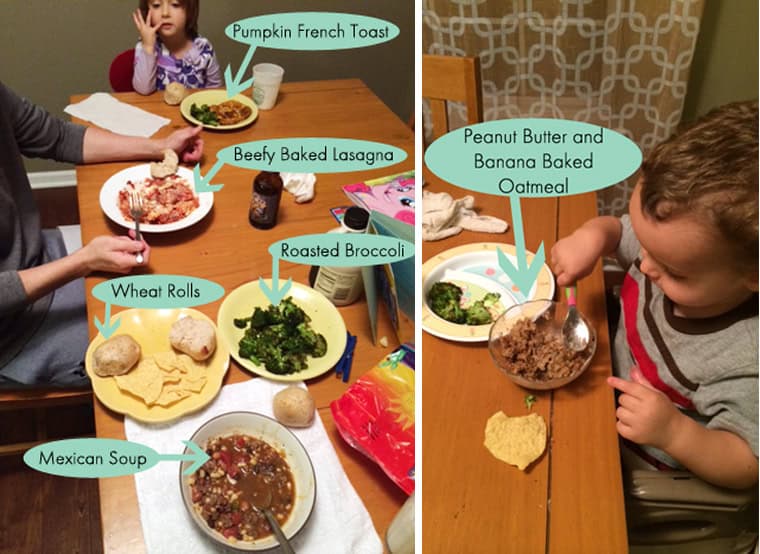 The only thing holding our family dinner together that night was the roasted broccoli.
God bless roasted broccoli. Everyone eats it and loves it despite the fact that they may be eating breakfast food or something that broccoli doesn't historically go with. Without it, we would all be on our own dinner islands not sharing in the common tastes, flavors and nutrients.
That's a bit dramatic but I found it funny that everyone ate it despite the weird combinations.
So what recipes did I have tucked away in the recesses or my freezer and fridge?
Lets start from the top:
Adelyn had herself a lovely combination of pumpkin french toast, a wheat roll and broccoli. She loves carbs. What three year old doesn't?
Austin chose to go with the recently made Beefy Baked Ravioli accompanied with a wheat roll and broccoli.
I preferred to finish off the rest of the Mexican soup that I made Halloween night. On the side I had tortilla chips and you guessed it, broccoli.
Tyler communicated through his caveman grunts that he preferred the meal we had for breakfast earlier that day, Peanut Butter and Banana Baked Oatmeal. Oh, and broccoli.
So in one night, we consumed 6 different homemade recipes. Impressive, yes?
https://thrivinghomeblog.com/wp-content/uploads/2014/11/funny-dinner.jpg
554
760
Polly
https://thrivinghomeblog.com/wp-content/uploads/2019/10/thrivinglogo.png
Polly
2014-11-21 06:13:45
2015-08-12 10:17:13
Funny Little Dinner