If you've been around Thriving Home a bit, you know we love books and to recommend good reads to our readers. (Most of the books we've recommended can be found in our store so if you are looking for a good read, check it out.)
I'm excited to add another book to our recommended reading list. Author, Gloria Furman, generously sent both Rachel and me a copy of her newly published book, Glimpses of Grace , to read and review.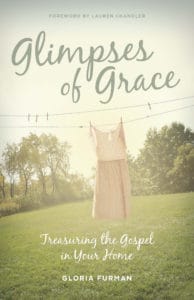 I haven't had a chance to finish it (thank you, newborn and toddler) but the chapters that I have read have proven to be very encouraging and good for my heart at this stage in life. It's one of those books that just feels like was written for me at this moment! So what's this book about?
Here is a word from Gloria about Glimpses of Grace.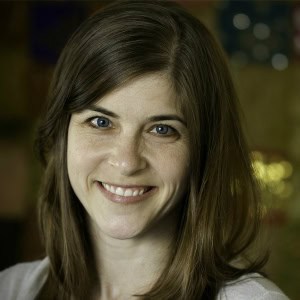 I'm a church planter's wife, mother to young children (#4 is due next month), and a cross-cultural worker in the Middle East. My life is all things mundane, busy, and (at times) super messy.
 So, why did I write Glimpses of Grace: Treasuring the Gospel in Your Home in the middle of all this? For far too long the mundane loomed larger than eternal life for me. I wrote this book because I wanted to remind myself (and others) that every mundane moment of the day contains the potential to plunge our hearts into worship of the Living God whose matchless kindness leads us to repentance. 
 For far too long I'd bought the lie that "this, too, shall pass" was the hope that I needed to cling to. The hope that I need to cling to is that God's faithfulness will never pass, and because of the person and work of Jesus Christ, I am constantly running headlong into his future grace. Learning to cherish the gospel became key for me in beginning to understand this, and living in my home is the primary place I need to work out these heart-anchoring truths.
She also was willing to share an excerpt of her book. You can download the PDF Glimpses of Grace – Sampler for free if you'd like to get a taste of what the book is about or even check out the trailer that Crossway books has put together for it.
Like I said before, we love getting quality books into the hands of women in hopes that it can encourage you in the stage of life God has you in. We are careful about the books we recommend with the hope that we have credibility with you all too. That being said, I put my stamp of approval on Glimpses of Grace. 🙂
Lastly, if you purchase a copy of Glimpses of Grace from your favorite local or online retailer from June 3-7 you can receive a free copy of the ebook as well as one of Gloria's (and my own) favorite resources—the ESV Study Bible Online (ESVBible.org Web App & Ebook)!
To redeem your free extras, simply scan and email your receipt to glimpses@crossway.org before 11:59am on Friday, June 7.*
*Any receipts that are not legible, not included, or believed to be fraudulent will be disqualified. Limited to one promotion per person.
Hope you find this read as encouraging as I do!