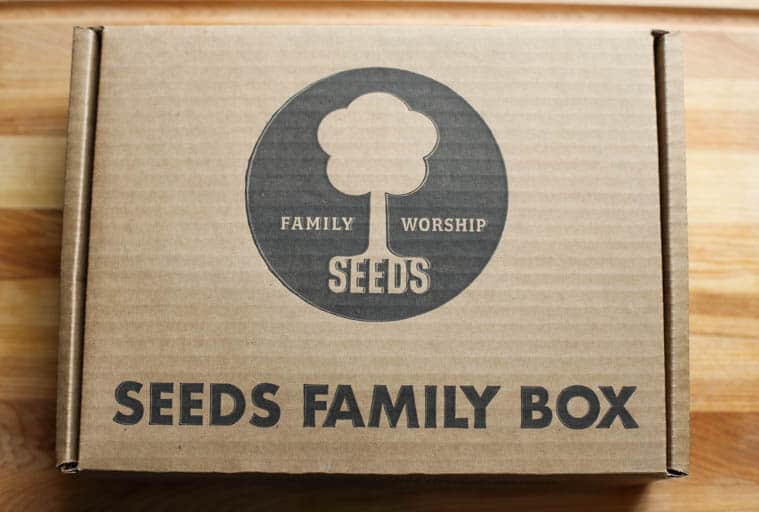 Note: We are a participant in the Amazon Services LLC Associates Program, an affiliate advertising program designed to provide a means for us to earn fees by linking to Amazon.com and affiliated sites. Read our full disclosure policy here.
You should know I'm kind of cheap. I rarely buy things online and generally don't want more stuff in my house. There is, however, one area where I don't hesitant to spend: providing my kids and family with excellent resources to help us grow in our faith. And, boy, do I have some good stuff to tell you about today.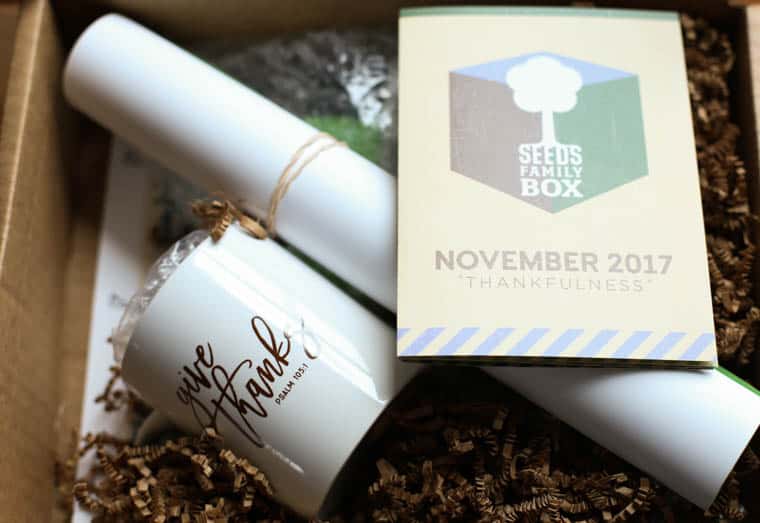 Our Calling as Parents
Let's back up for a minute first. I mean, why would I care so much about investing in this area for our family? Short answer: It has to do with our calling.
As Christian parents, our greatest goal is not to make sure our children learn to share, participate in the right sports, eat healthy food, or excel in school. It's not even to make sure they are happy, for that matter. While all of those are good desires for our kids' lives, they aren't the end goal of our parenting. Our greatest calling as parents is far bigger than those things.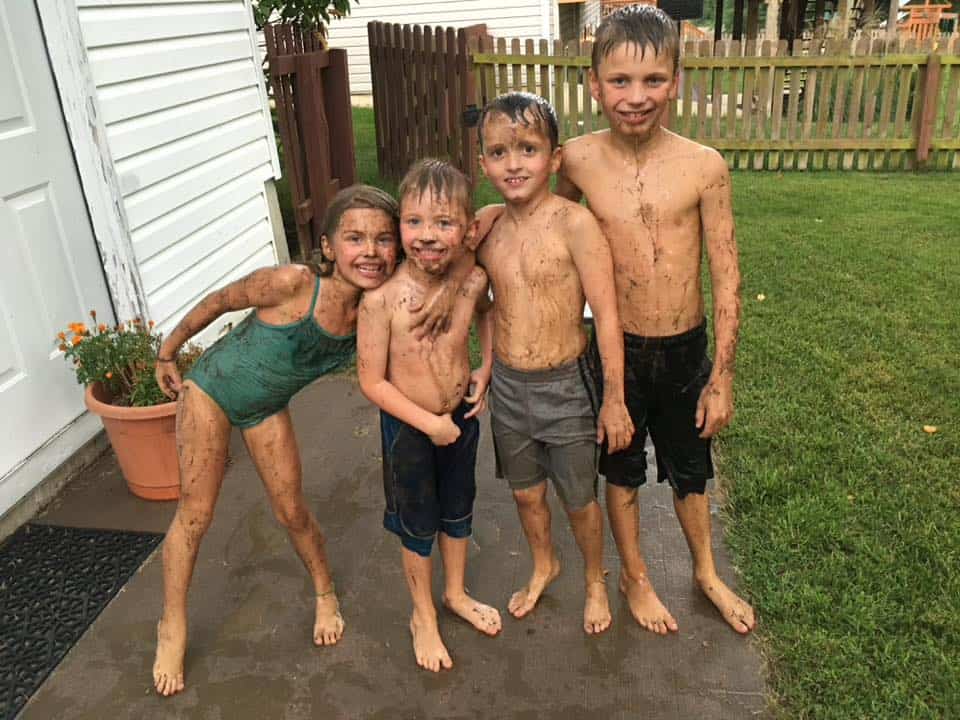 God has given us the task of teaching our children to know, love, and follow Jesus for a lifetime (Dt 6:4-9). That's what Nathan and I pray for our kids almost every night at bedtime. That's because Jesus is where they will find a deep, abiding joy for all eternity. (And we pray because we know that God will have to work in their hearts and help us in this great calling.)
I'm excited to tell you about a new resource that Seeds Family Worship just rolled out that will help us in this calling as parents.
A New Faith-Building Family Resource
Seeds has helped our family and many others in our church memorize and learn to love God's Word for years. Now, they have knocked it out of the park with one of their best ideas and products yet: Seeds Family Box! This is a monthly subscription box of family worship (aka family devotional) resources all organized around a monthly theme.
We've received two boxes so far, one about Courage for October and one about Thanksgiving for November. These boxes are filled with resources to help your family build your relationships with God and one another.
(Psst! Want to win a 3 month subscription? Skip to the bottom and enter. We're giving away THREE of these subscriptions!)
What Is in a Seeds Family Box?
Each month a new Seeds Family Box will show up with fresh faith-building content and activities for your family. It's perfect for any family with kids ages 4-13. To give you a sense of what to expect, check out what my two boxes included:
Aesthetically beautiful guides with clear instructions about how to use the contents of the box.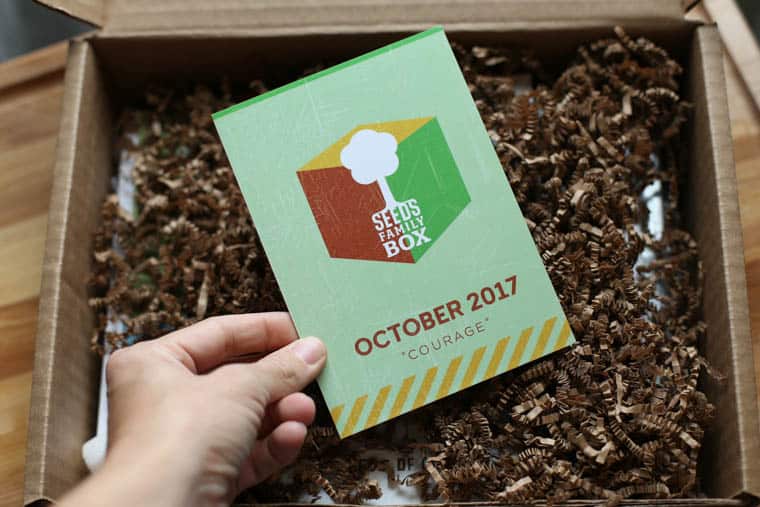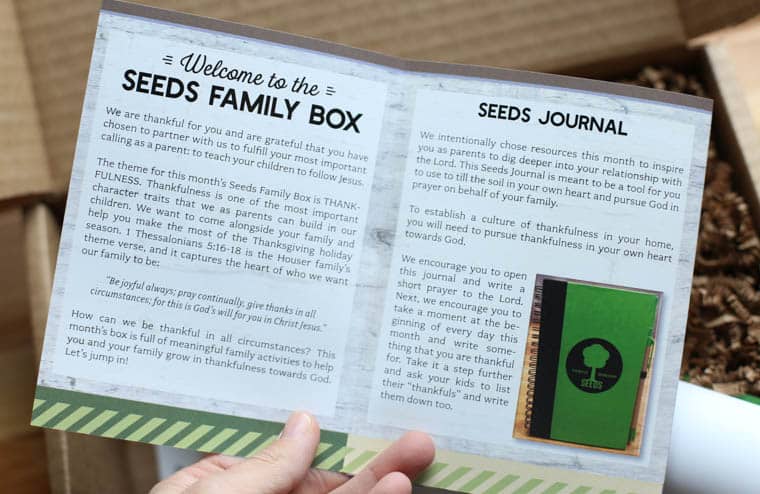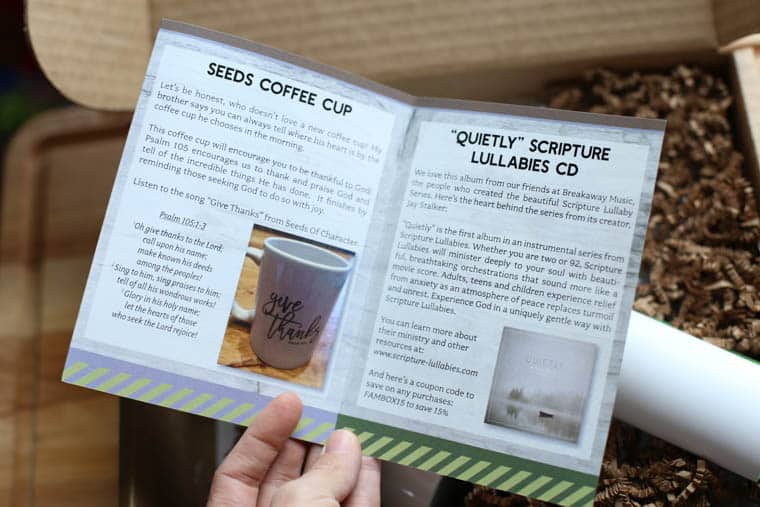 Sturdy, lovely Bible verse cards to help us to place God's Word around our house and cars. These match the lyrics of the Seeds songs on the CD included.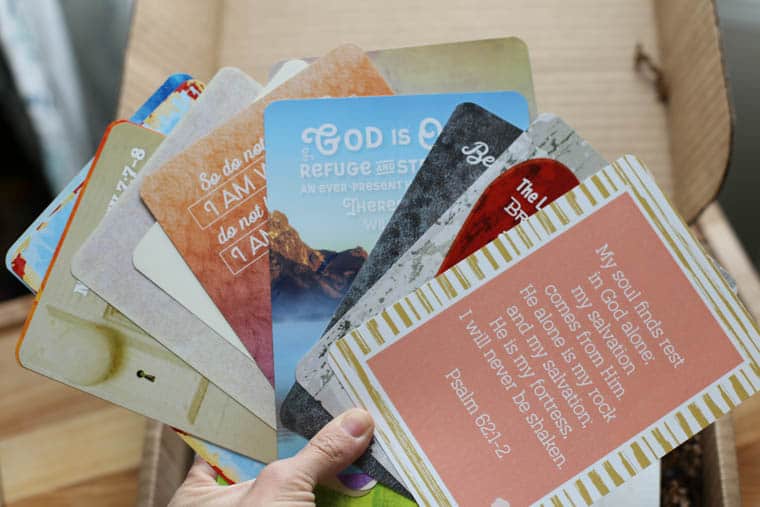 Hands-on family activities like a thankful tree, an activity to encourage one another, and a thankful journal that can used with all ages.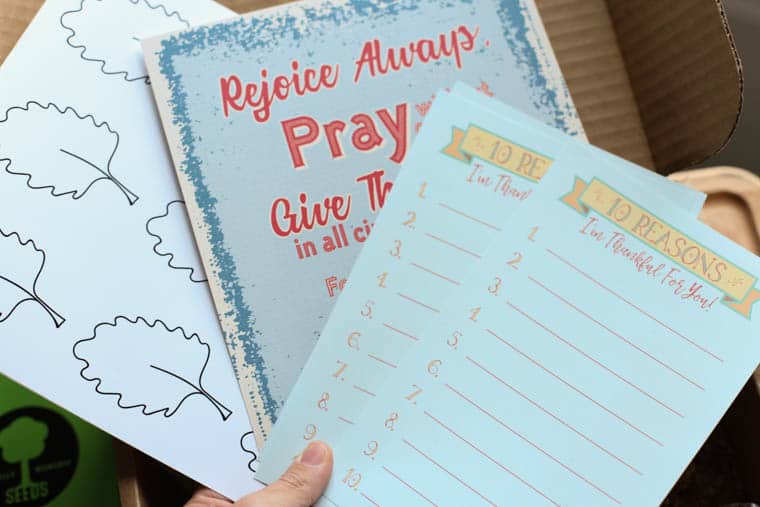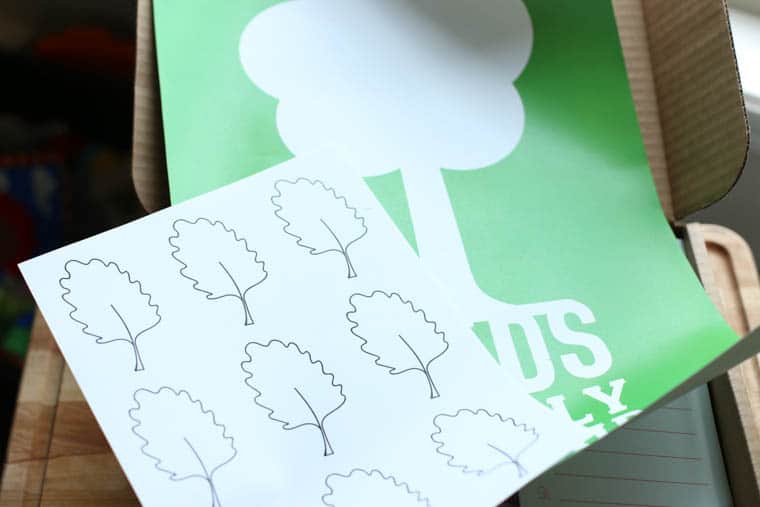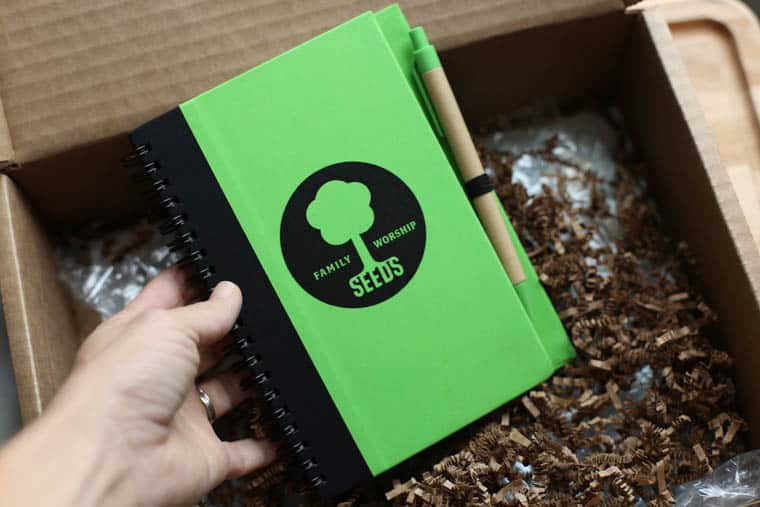 Carefully curated books that will engage the entire family in discussion and worship. I had never heard of Growing Together in Courage* by Barbara Rainey. Now I'm convinced every family should own this book full of short stories about people of all ages who demonstrated courage in the name of Christ. *affiliate link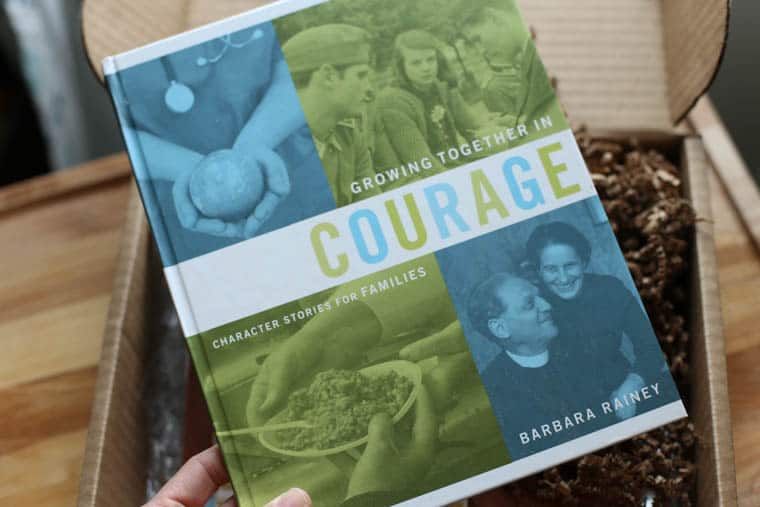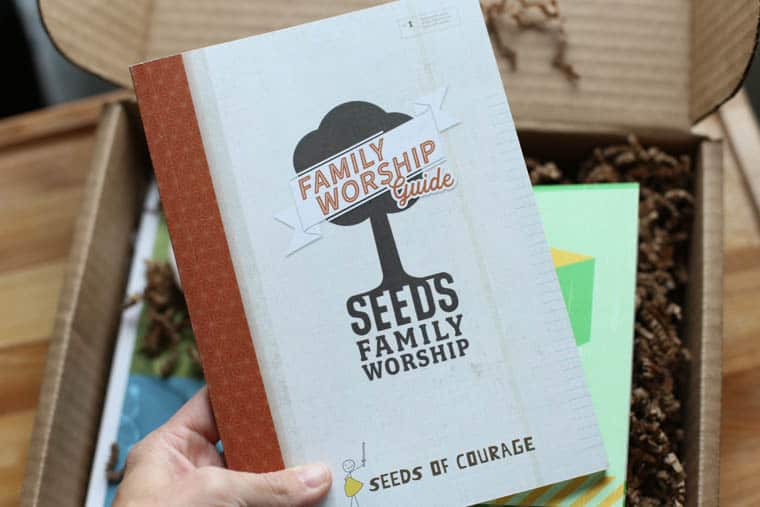 Hey, I even got this inspiring mug reminding my heart to be thankful as I enjoy my coffee each morning!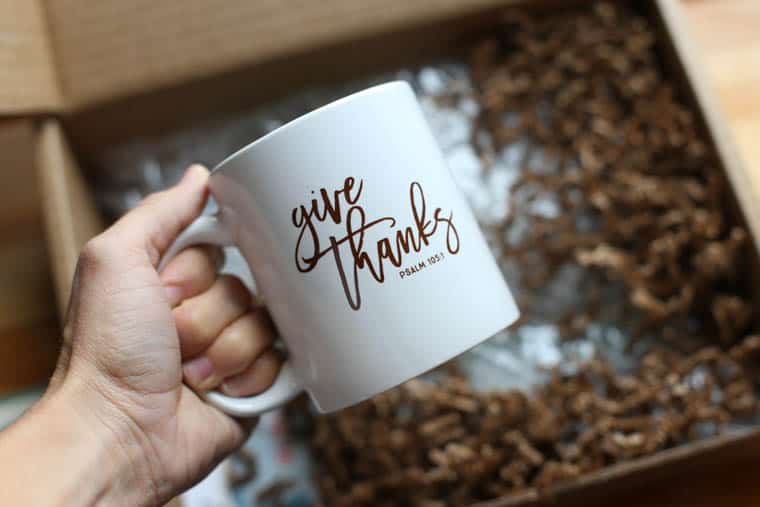 And, of course, excellent music to draw our hearts to God. I especially enjoyed this album called Quietly while driving and praying today. It goes without saying that we're big fans of any of the Seeds albums, too.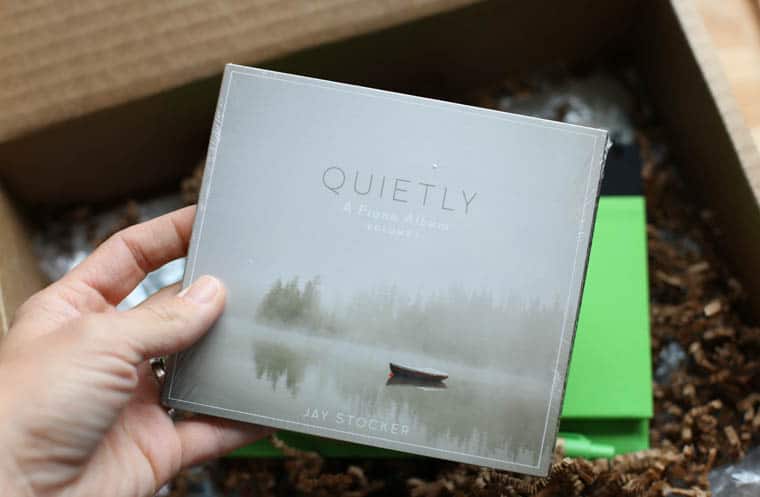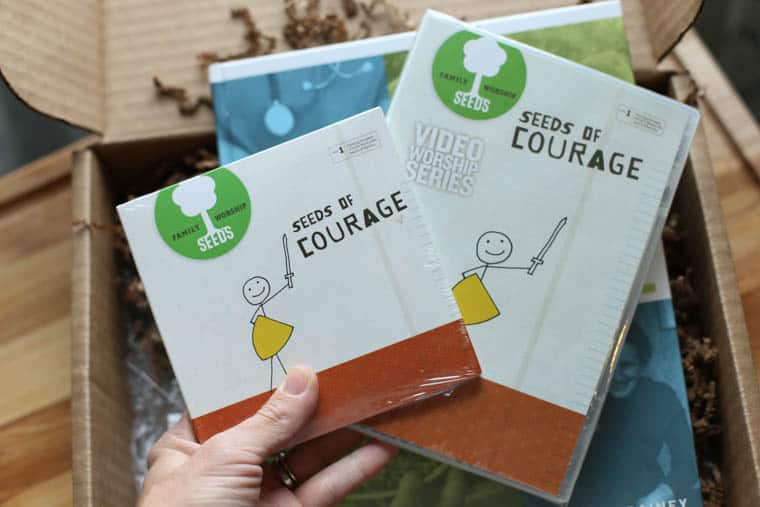 How Much Does a Subscription Cost? (+ Promo Code!)
A box subscription is $29.95/month (plus shipping is $2.95). I must say that I think the resources within are well worth that cost.
Guess what?! Order in November and use our exclusive discount to receive free shipping on your boxes each month. Simply enter "shipseeds" as your promo code when checking out and receive free shipping on all future boxes.
Can I Cancel Easily?
Yes! Seeds Family Box is month to month, so cancel anytime with no penalties.
Get Me Started!
Order your first box here with free shipping (by November 30) if you use "shipseeds" as the promo/discount code.
Want to Win 3 Free Months of Subscription?
Seeds is giving away a 3 Month Subscription to Seeds Family Box ($90 value) to 3 LUCKY THRIVING HOME READERS!
There are many ways to enter below. Giveaway ends at 11:59 p.m. on November 13. Please note: winners must live in the continental U.S.
https://thrivinghomeblog.com/wp-content/uploads/2017/11/Seeds-Family-Worship-Box-2.jpg
512
759
Rachel
https://thrivinghomeblog.com/wp-content/uploads/2019/10/thrivinglogo.png
Rachel
2017-11-06 21:02:09
2019-10-25 12:30:53
Grow the Faith of Your Family with Seeds Family Box {Giveaway Expired}