Breakfast is hands down my favorite meal of the day.  And I have good scientific reasoning to support my preference.
You may have heard this before, but there is a significant amount of research that says people who skip breakfast are more likely to become overweight and develop several risk factors for prediabetes and heart disease.  So, it stands to reason (oh, and science backs this up, too) that those who eat a healthy breakfast daily can lose weight or have fewer weight problems to begin with.
The key to starting your day off right is eating a reasonably portioned combination of complex carbohydrates (think real, not processed, foods that are high in fiber like whole grains, vegetables, and fruits) and some protein.  This combo helps your breakfast "stick to your ribs" and provide long-lasting energy.  Our family also uses breakfast as a time to get a  jump start on our daily recommended amounts of fruits and vegetables, whether it's through a smoothie, homemade juice, cut up fruit, or sneaking in produce in the recipes below.
With these tips in mind, I wanted to share some of our most loved healthy breakfast recipes.  These are kid-friendly and many of them freeze well.  So, be sure to double the recipe for those freezer-friendly ones and save yourself some work later.
Our Favorite Healthy Breakfast Recipes:
Chocolate Zucchini Waffles – These are one of the most popular recipe on our site…and for good reason.  1) They taste awesome. 2) You are eating zucchini for breakfast.  Yumminess + sneaky vegginess is my favorite kind of meal!  Your kids will gobble these up.  Top with a little peanut butter for a little added protein. No zucchini on hand? Try Whole Wheat Chocolate Pumpkin Waffles or Banana Brownie Waffles!
Freezer Tip: Make waffles in advance and freeze in a freezer gallon-sized bag.  To reheat, toast on the defrost setting.
Power Breakfast Smoothies – Pack in those fruits and veggies first thing in the morning with one of these delicious smoothies.
Freezer Tip:  You can freeze leftovers in a glass container with a lid.  Set it in the fridge overnight for the perfect consistency the next morning.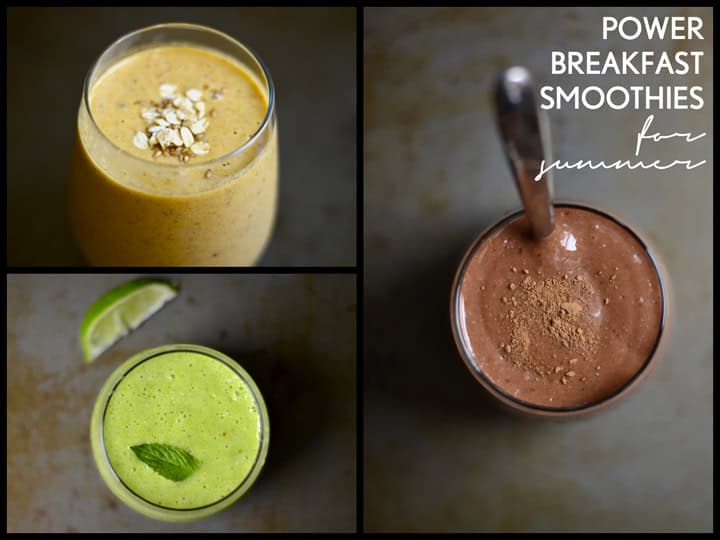 Brownie Baked Oatmeal – Much like the 5 Minute Chocolate Oatmeal, Banana Peanut Butter Oatmeal, and Baked Oatmeal, this tastes like a dessert…except it's so good for you. One reader's comment suggested serving it with sliced strawberries on top.
Freezer Tip: I usually make two 8×8 pans and freeze one before baking for later.  When ready to eat, I thaw it in the fridge overnight and bake as directed.
Baked Egg Cups – Pair this with a smoothie from above and you have a perfect breakfast combo to start your day!  These do not freeze well but will store in the fridge for a few days and can be warmed up later.  Serve on a toasted English muffin for an instant breakfast sandwich.
Seriously Sweet Potato Pancakes – Hands down, our favorite pancake recipe around here, well other than the Whole Wheat Pumpkin Pancakes.  You'd never know it's mostly whole wheat and contains a super food within. By the way, here are 50 more ways to sneak veggies and fruits into kid-favorite foods.
Freezer Tip: Make pancakes in advance and freeze in a freezer gallon-sized bag.  To reheat, toast on the defrost setting.  You may have to nuke them a little to get them warmed all the way through, as well.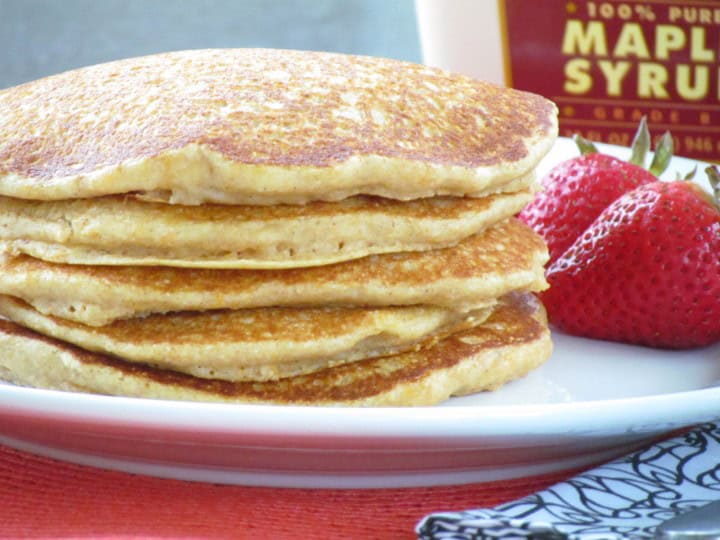 Savory Breakfast Muffins – This is my husband's favorite to-go breakfast.  He requests that I make these so he can warm them up and take them in the car on his way to work.  Again, you're getting whole grains and veggies in this one.
Freezer Tip: Make muffins in advance and freeze in a freezer gallon-sized bag.  To reheat, microwave for 1 minute. Rotate and microwave in 30 second increments until warmed through.
Check out more Healthy Breakfast Ideas here and Healthy Freezer Meal Recipes here.
Be sure to sign up for our weekly email updates or follow us on Facebook and never miss a delicious and healthy recipe from Thriving Home.