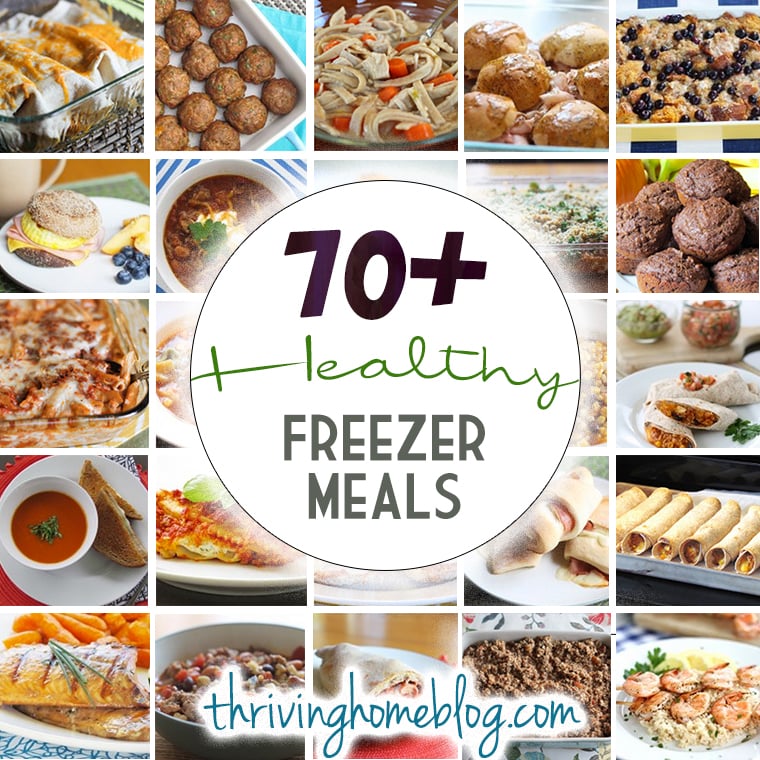 With two part-time jobs, three small kids at home, and a home to manage, I know the life of a busy mom and the struggle to feed everyone healthy, homemade meals. It's easy to slip into fixing the family unhealthy convenience foods. Let's face it.  Making dinner with a whiny toddler on your leg or while breaking up fights between the kids isn't exactly fun.
That's why my friends and I started doing freezer meal cooking in a Freezer Club in 2007 and never looked back. Freezer meal cooking has transformed the way we grocery shop, cook, and eat. Preparing healthy freezer meals saves us money, cuts down cooking time, and helps us eat wholesome, delicious meals at home regularly.
I've had so many people ask me over the years to share our favorite healthy freezer meal recipes and how to start a Freezer Club. So, all our secrets are here in one post now. Let's start at the beginning…
What is freezer cooking?
Freezer cooking is planning and preparing meals ahead of time that can be easily frozen for later use. It can be as simple as doubling a recipe and then eating one that day and freezing the other for later. Or, freezer meal cooking can take the form of swapping pre-prepared frozen meals with friends in a Freezer Club.
Why cook freezer meals?
Freezer cooking is a great strategy for saving money, saving mom's sanity, and feeding our families nutritious home-cooked food.
By meal planning and buying in bulk, you'll see your grocery bill go down significantly. Plus, for us, knowing I have ready-to-go meals within reach keeps us from spending money by eating out.
You'll also cut down on your prep and cooking time each month by preparing the same one or two meals in a large batch. And, you'll save time by avoiding lots of haphazard shopping trips throughout the week.
If your Freezer Club is committed to a "real food philosophy" likes ours (see "What makes for a healthy freezer meal?" below), you'll be giving your family a wide variety of wholesome, nutrient-dense meals and NOT processed junk.
A bonus to freezer meal cooking is that it's easy to have meals on hand to take to new parents or someone in need.
To make getting started easy for you, we have created a free e-cookbook, Top 10 Easy Freezer Meals. You can download this, print it off, and have it for future reference when looking for great freezer meals.
What is a Freezer Club and how does it work?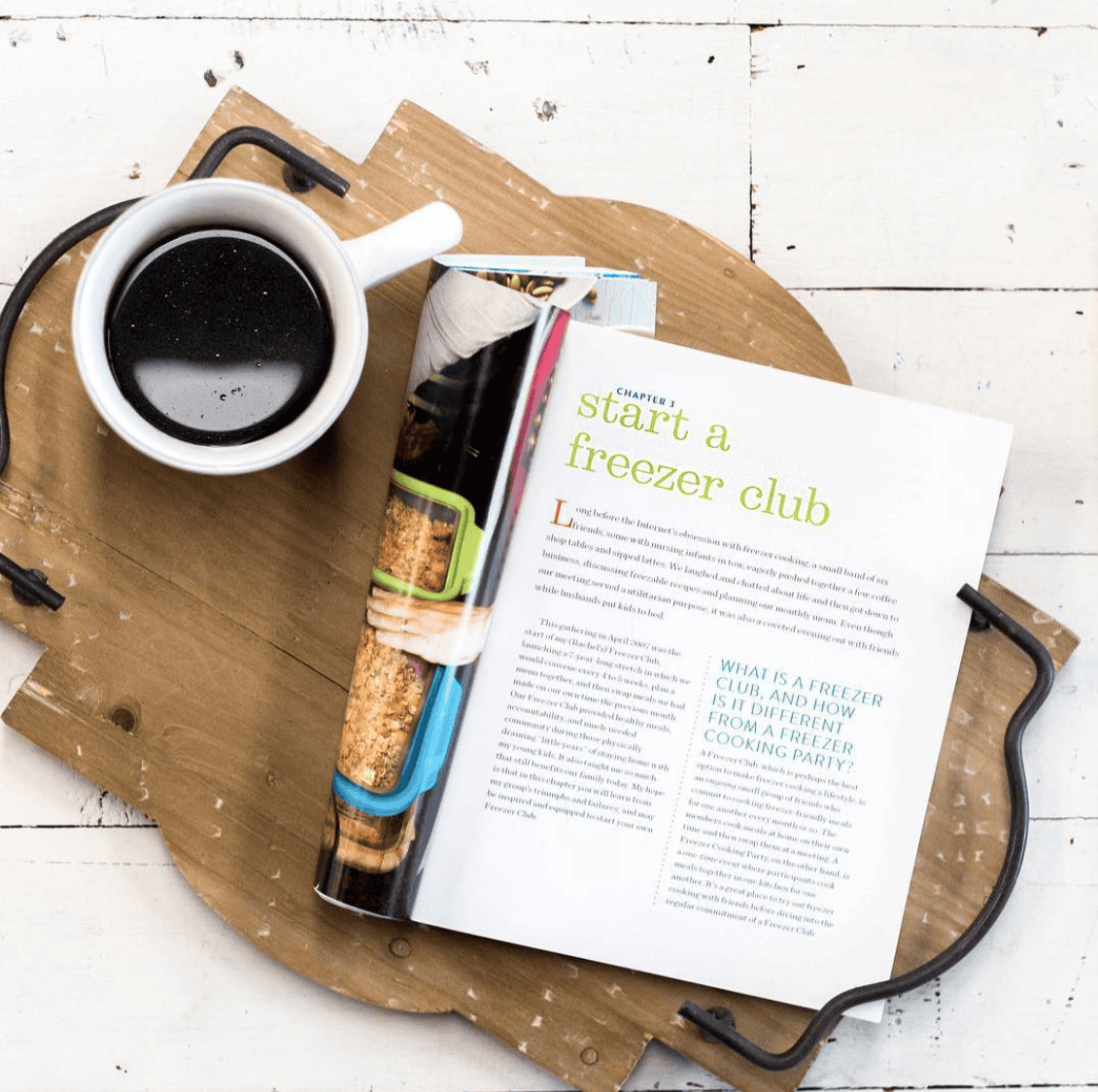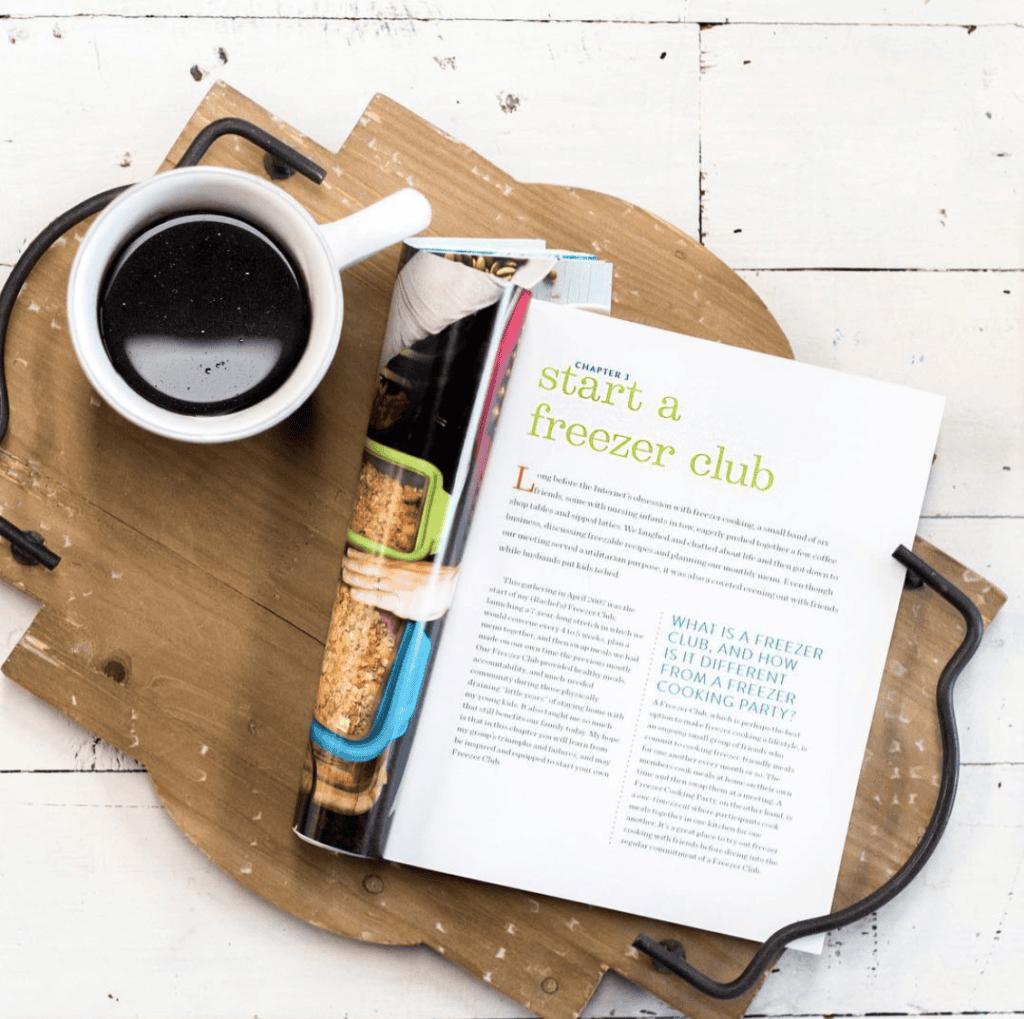 A Freezer Club is a small group of friends (anywhere from 2-8 people ideally) who commit to cook freezer-friendly meals for one another each month. Freezer Club has been such a huge help to our family for seven years now! We've shared all the details on how to start a run a freezer club in our cookbook, From Freezer to Table. But if you're itching to get started, you can check out our post on How to Start a Freezer Club.
What makes for a healthy freezer meal?
In these 70+ freezer meal recipes below, you'll see Thriving Home's REAL food philosophy represented. We aren't about eating low-fat foods or cutting out food groups. We're about cooking tasty homemade food and eating it in moderation. We're about cooking with as many unprocessed, organic and/or local ingredients as possible and including a variety of:
whole grains
healthy fats (Here's a helpful post about healthy fats.)
local, organic, and grass-fed meats (that's why we're big fans of Butcher Box)
By simply making homemade meals for your family, you are cutting out loads of sodium, sugar, and harmful trans-fats that come from fast food and frozen pre-made store-bought foods. We've completely changed our diet since making freezer meals.
What kind of containers do you store freezer meals in?
We recommend using a BPA-free container or dish. While it may be easier to buy the disposable Glad ovenware containers, it really makes sense to stock up on some quality, safe dishes that you can bake AND store in. After searching long and hard, we highly recommend and use these containers below. We both have collected a huge stash of them over the years!
*Some of the links in this post are affiliate links. We are a participant in the Amazon Services LLC Associates Program, an affiliate advertising program designed to provide a means for us to earn fees by linking to Amazon.com and affiliated sites. Here's our full disclosure. 
8 inch Square Glass Baking Dish with Lid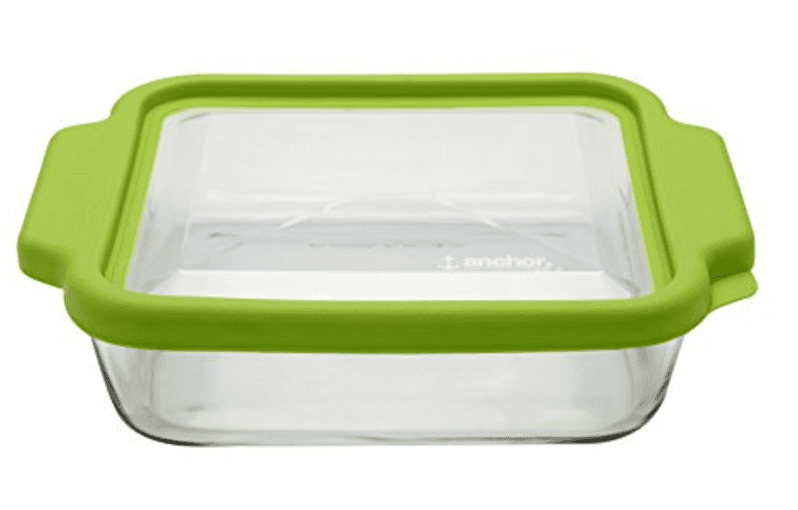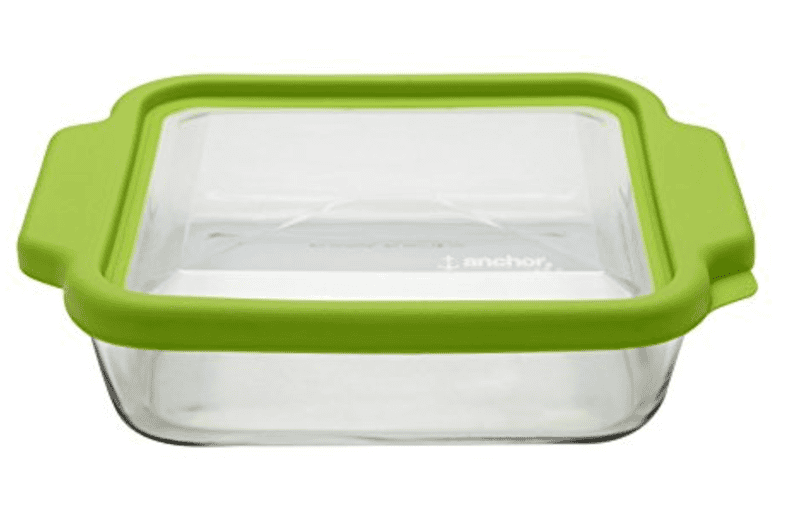 3 Quart Glass Baking Dish with Lid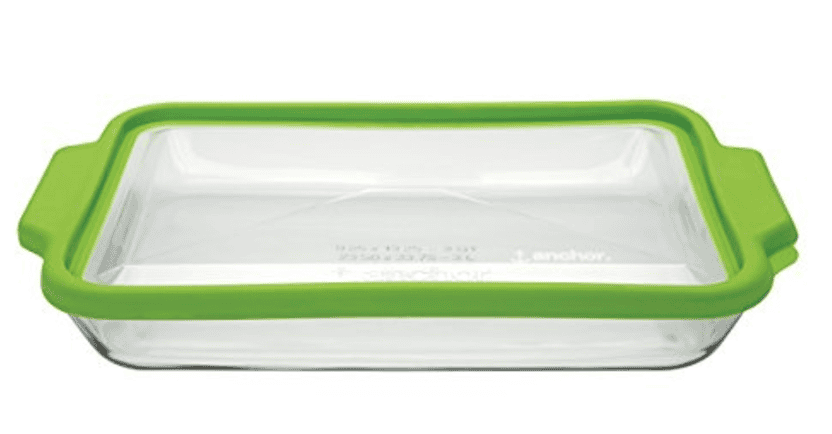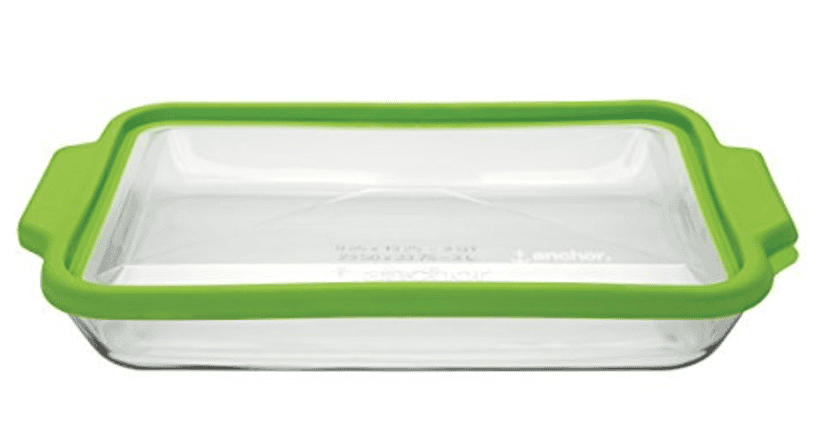 A few reasons we like these:
Glass is a natural, non-porous material.
Glass cookware doubles as food storageware.
Glass is easy to clean and dishwasher safe.
The clear lid allows easy visibility to your food.
Because they are oven and microwave proof, you can cook, heat, and store your food all in one dish.
Flat top allows for easy stacking.
They are VERY affordable.
Get yours now! Read about a few other freezer container options here.
The most important tip to remember when freezing food: Exposure to air makes food go bad in the freezer. So wrap your food up tight with plastic wrap or foil and make sure as much air is out of the bag or container as possible. I often put a layer or two of plastic wrap or foil around a cooled casserole and then snap on the lid and even tape down the lid.
Another great option for storing food is to use a vacuum sealer.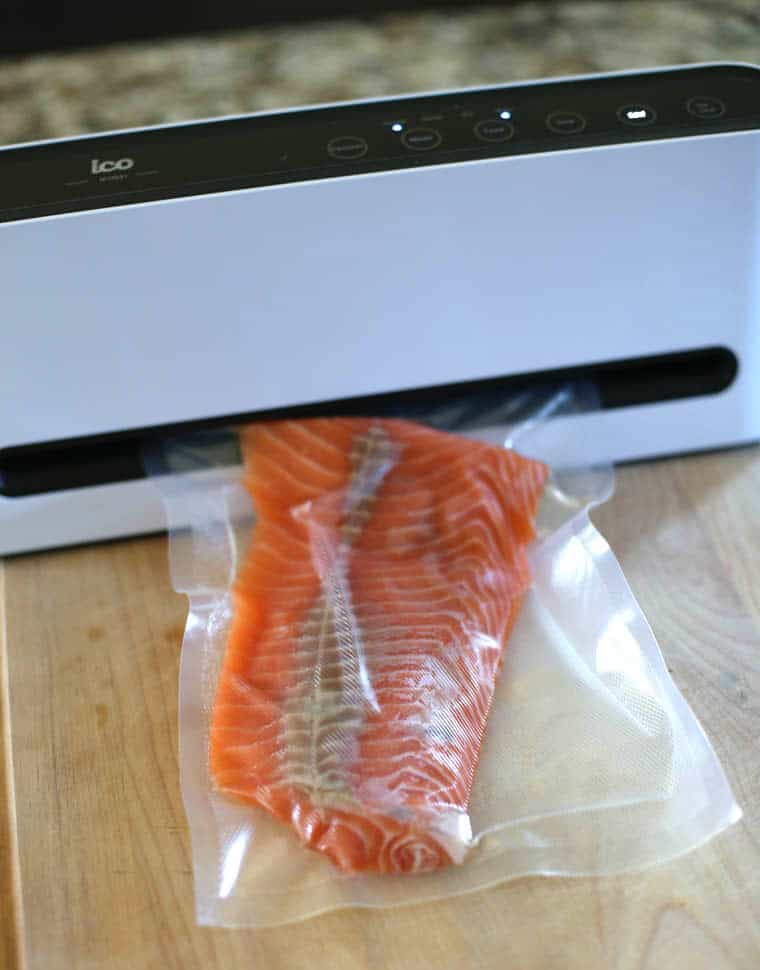 This extends of the shelf life of food from months to YEARS. Vacuum sealing food can save loads of money in the long run and proves to be a great way to store fresh meat and produce that you get in season or on sale.
We recommend the ICO Vacuum Sealer. You can check it out on Amazon or on their website. You can read our review on it here.
How do I defrost freezer meals? How long can I safely freeze a meal?
Many of you have asked the best way to defrost frozen foods and how long foods last in the freezer. A reputable and helpful resource is the USDA's suggestions and guidelines for Freezing and Food Safety here.
The Best Freezer Meal Resource
Although we love the recipes from our blog below, we actually spent over a year painstakingly developing, testing, and retesting over 75 freezer-friendly recipes for our cookbook called From Freezer to Table (Rodale Books).
All of the recipes in From Freezer to Table are delicious, made from whole foods, are easy to prepare, and can be made fresh or frozen for later. Plus, every recipe includes freezer meal instructions. Our cookbook is a beautiful resource you will pull out again and again! (Scroll below for a sneak peek of a few favorites from the book.)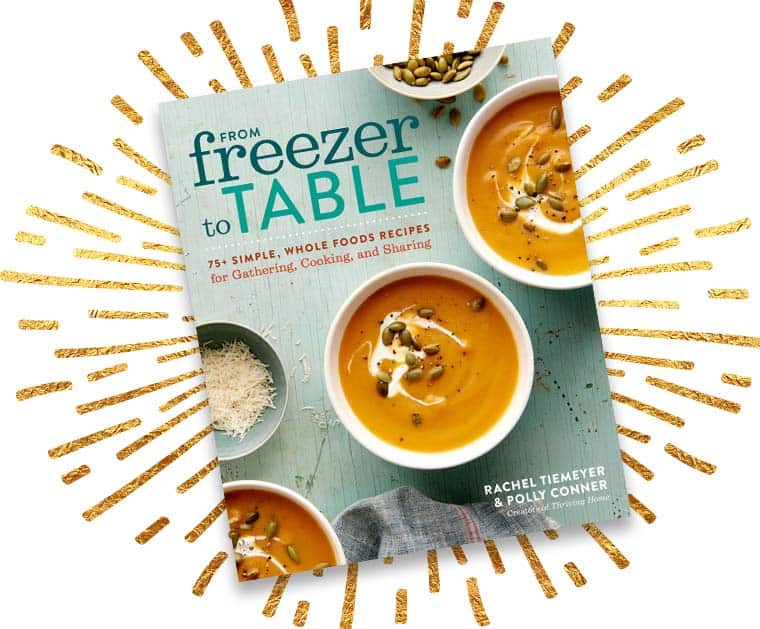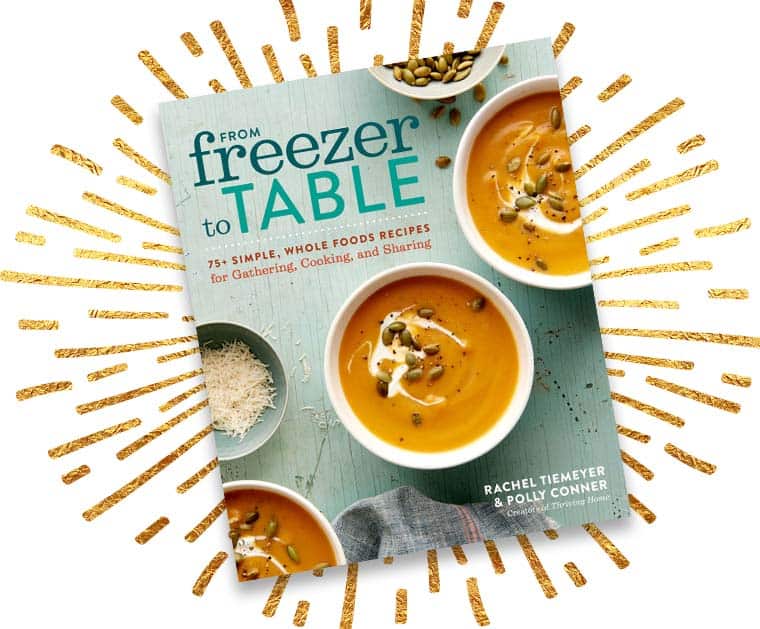 Shrimp Curry Bowls might just be my (and my 8-year-old daughter's) favorite recipe in the whole book. Get ready for a Thai party in your mouth…
Is breakfast your thang? We've got tasty whole foods breakfasts that will be waiting for your family on those hurried mornings. The Chocolate Zu-Nana Waffles are a guaranteed kid-favorite…
And Mixed Berry Scones, made with whole wheat and all good-for-you ingredients, will knock your socks off and start your day off right…
Last but not least, you'll find family favorites that are quick and easy for weeknights but work just as well for dinner guests. Crispy Chicken with Lemony Butter Sauce is an elegant and mouth-watering meal you'll make again and again…
In From Freezer to Table, we also teach you how to make freezer cooking a lifestyle either on your own or with friends, so that you can enjoy healthy, stress-free meals around the table with your loved ones. Order your copy today.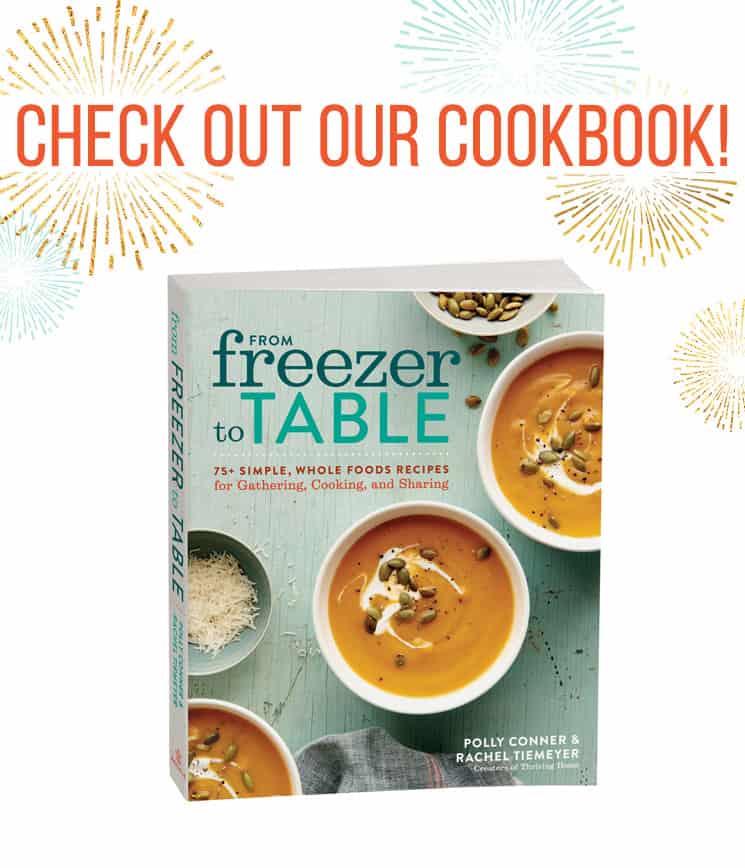 70+ Healthy Freezer Meal Recipes
Now for our master list of healthy freezer meals from our blog. Below I've listed some of our favorite go-to freezer meals to get you started. You'll find freezer meal directions on every recipe on the list. *Indicates my personal favorites on the list.
Beef
Breakfast
Casseroles
Miscellaneous

Pasta and Pizza

Pork

Seafood/Fish

Slow Cooker Recipes

Soups

Vegetarian

Note: Use vegetable stock instead of chicken stock in soups.
Make the Most of Your Dinnertime
Lastly, if you're recipe hunting, my guess is that you value time with your people around the table. To maximize that precious time you have together, we have created Table Talk Cards. Each set of 40 questions was designed with a specific age group in mind: Preschool, Elementary, or Tweens & Teens. I have no doubt that having these at your dinner table would spark some great conversation. Learn more about Table Talk Cards here!