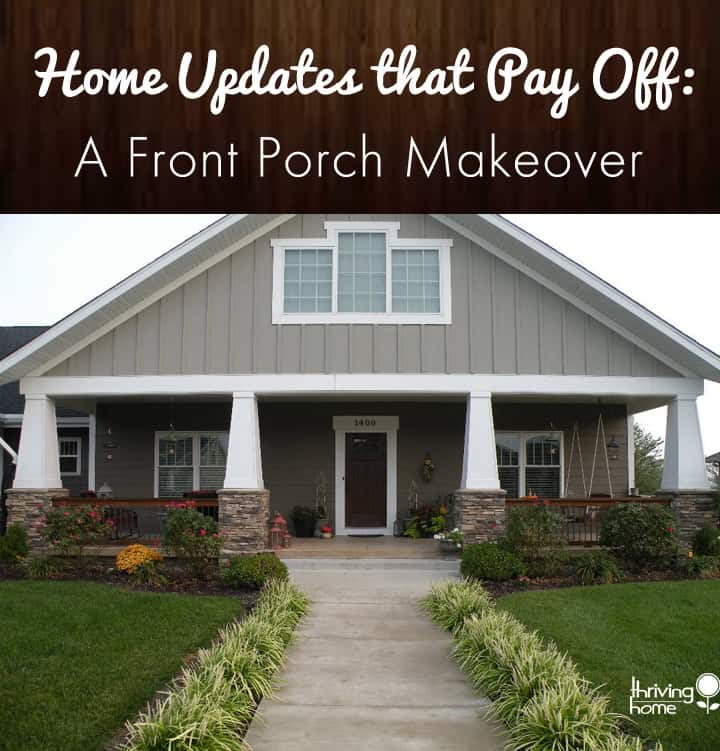 Which home updates are sure to pay off when you want to sell your home or when you just want to enjoy the home you're in?
Some are easier and cheaper than you might think, and we'll be taking a closer look at several of these over the next few months in this new blog series called "Home Updates That Pay Off". To learn more about each update, I'm turning to my friend and realty expert, Kim Schwartz of House of Brokers. If you know Kim, you know that she'd gladly come hang out with you and your kids and give you these tips in person. She's just that kind of gal. But, since she's not at your home in person, we've got her here on the blog!
Today, let's take a look at the front entryway. Transforming your front door and porch is a simple and budget-friendly project that anyone can do. Not only will your house likely sell faster, but you can also enjoy the changes in the meantime. As the National Association of REALTORS says, "A house that sparkles on the surface will sell faster than its shabby neighbor, even though both are structurally well-maintained… Buyers feel more comfortable purchasing a well-cared for home because if what they can see is maintained, what they can't see has probably also been maintained." The front entrance of the home is the first and perhaps most important place for your home to shine!
"What is great is that with one stop to Walmart or Hobby Lobby, you can completely change your front entry way," Kim told me excitedly. Here are some of Kim's top tips and ideas for making over your front porch this fall, as well as some pictures of her own and some of my friends' porches.
Check out all these great tips and pics for a quick Fall Front Porch Makeover!
Tip #1 – Clean Up
Make sure your front door is super clean. With a Magic Eraser, clean off any scuff marks or dirt.
Sweep away any cob webs, too.
If your door has side windows, here's the best streak-free way to clean them. Fill a bowl with water, a few drops of liquid dish detergent (like Dawn) and a splash of vinegar. Wash the window off with a rag dipped in this mixture and then squeegee the window. Take a tea towel to wipe off squeegee in between swipes.
This should go without saying but make sure there is absolutely NO junk on the porch. That means removing everything from garden hoses to kids' bikes.
You also want a clear, edged path leading to the doorway.
I took a snapshot of my porch before I cleaned it today. This is NOT what you want it to look like. 🙂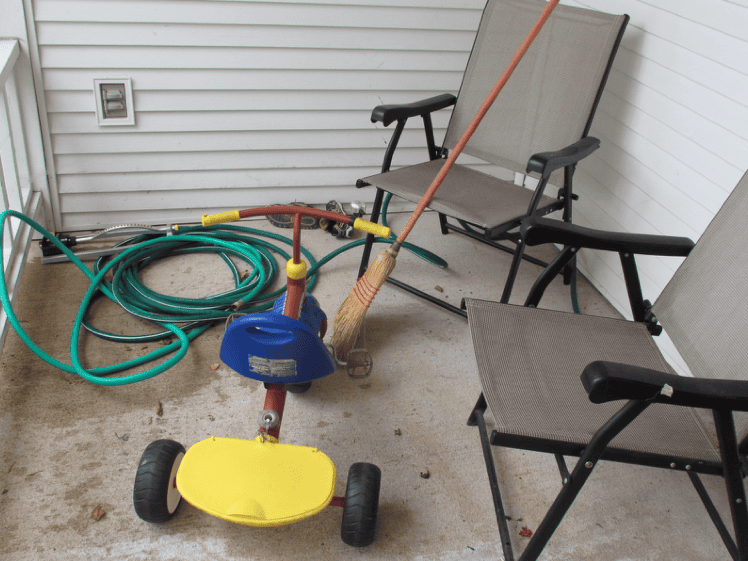 Tip #2 – Think About Painting Your Door
Many people have the wrong paint color on their doors and need to consider repainting it a "pop" color (or perhaps just giving your current color a fresh coat). Choose a contrasting color for the door to make it stand out. For instance, a gray house looks great with a red front door. Kim's advice is to call the trusted paint store in town and ask for tips and swatches to try out for your front door. Many paint stores have designers there to help you with this kind of thing.
Here are a few examples of door colors that contrast nicely with the surrounding front facade. These are from my friends Kelley W, Kim, and Kelly Gilion (owner of Plume), respectively.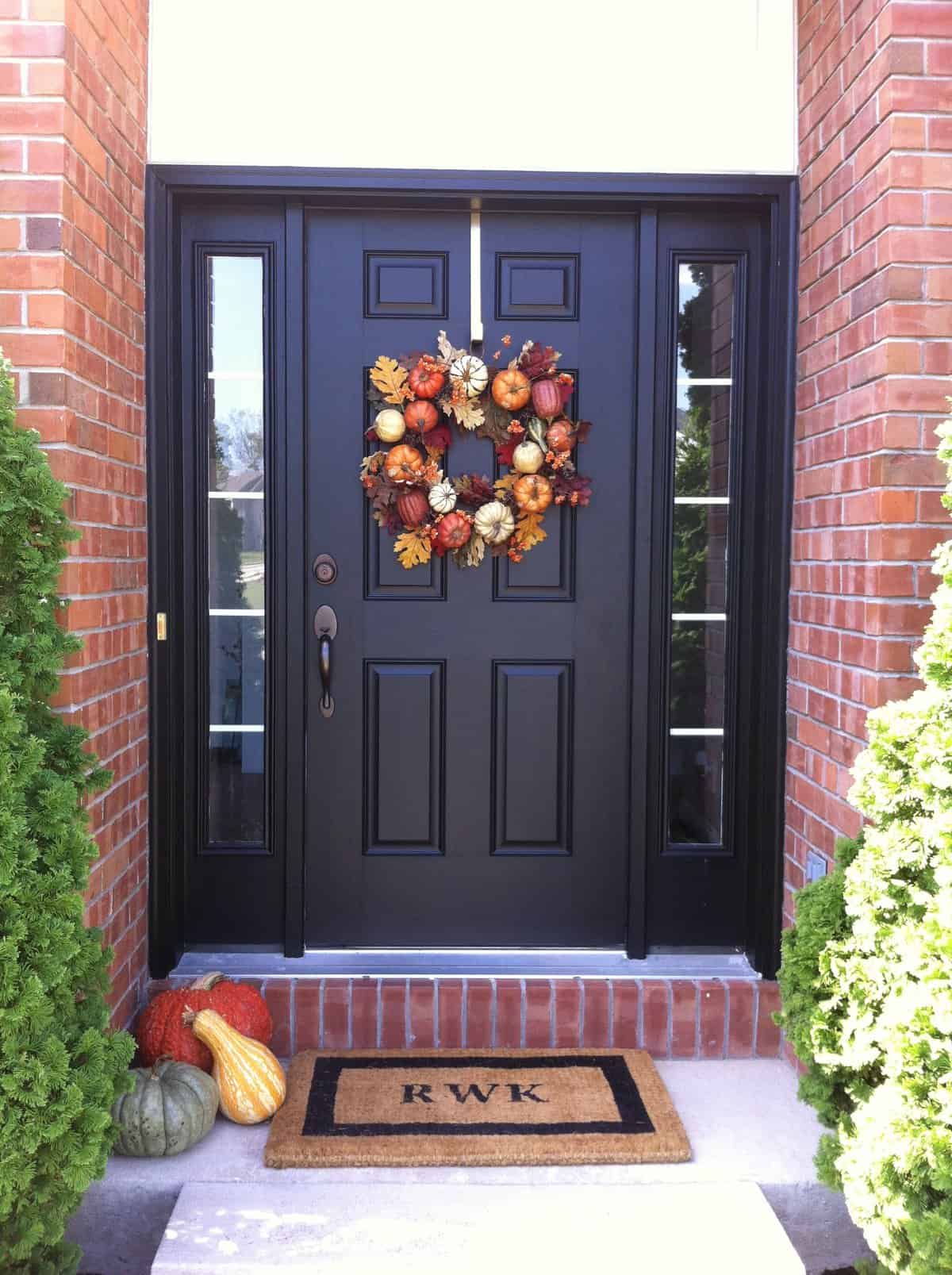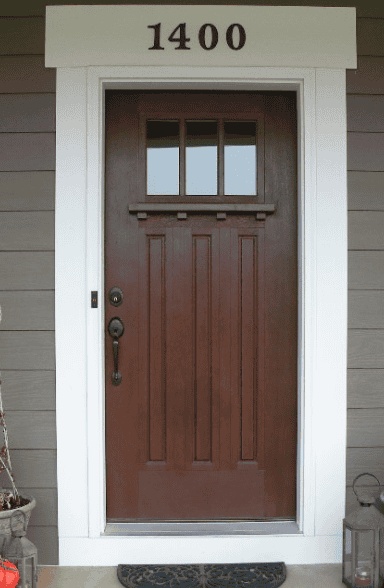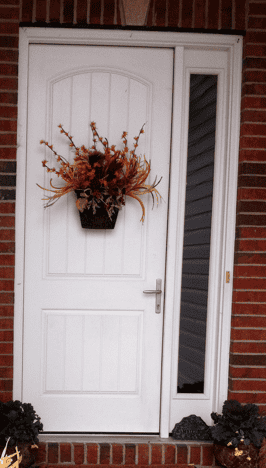 Tip #3 – Decorate Proportionately
Before you begin filling the space on your front porch, take stock of how large the area is. Make sure that whatever furniture, pots, or decor you add is proportioned correctly. Don't overcrowd the space or under crowd it. Kim tried a few options on her porch that turned out to be too small for the space.
Here is an example that did NOT work: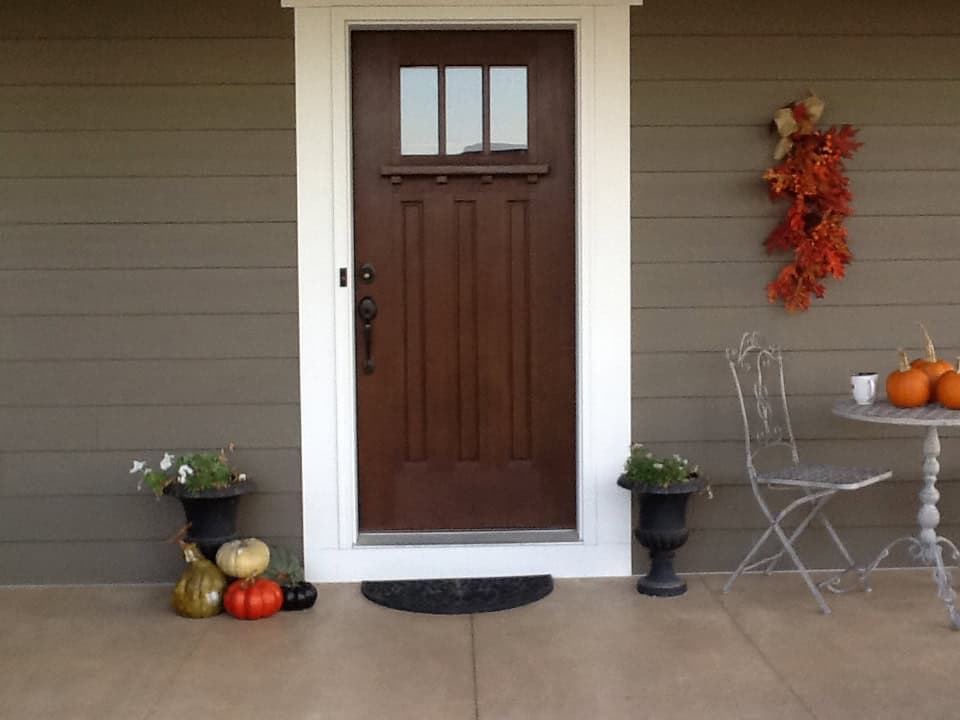 As you can see, the black urns were too small and short for the space. So, in the picture below, she changed those out for topiaries that filled up the space more. She also brought in a chair and big pots filled with mums to add height and some weight to her bigger front door area.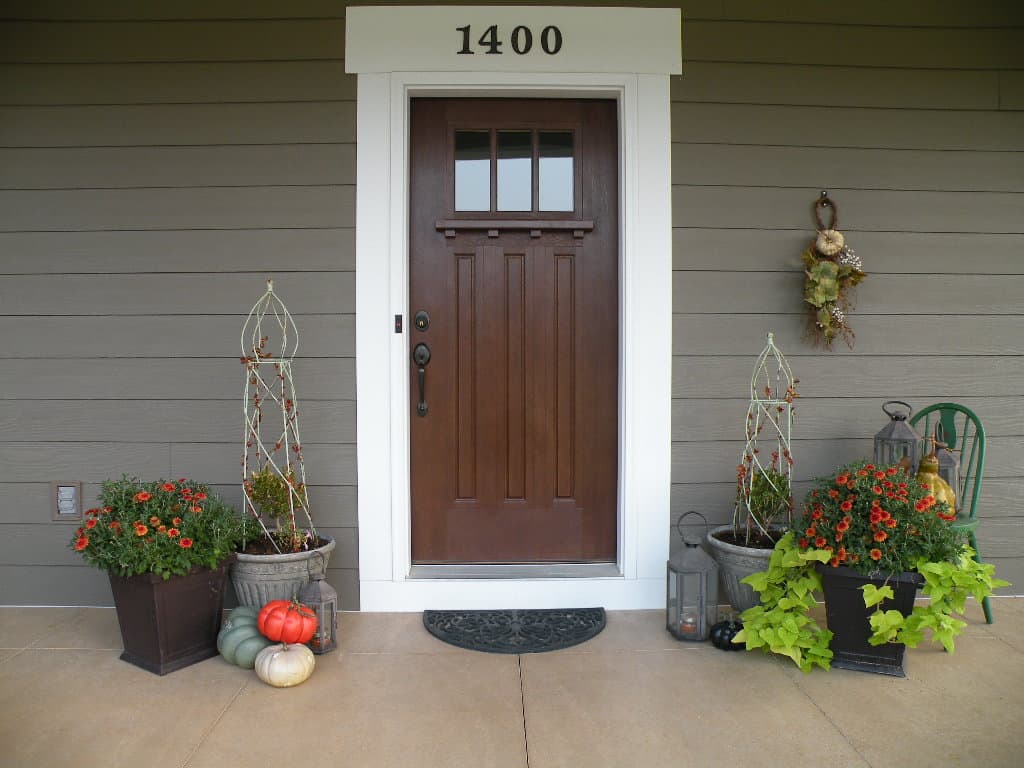 Tip #4 – Create Warmth
You want your front porch to feel inviting. Consider these suggestions for adding a "homey" (not to be confused with homely!) feel:
Add a wreath on or beside the door, like Kelley W. and Kelly G. did in these examples.
Go live! Flowers or hanging live ferns add vibrant color and warmth to a porch, when well tended. The key, though, is changing them out when they start to get scraggly. Be sure to cut back and/or replant your mums this time of year so they don't get too out of control, as well. Aren't Kelly G's cabbages interesting? Who knew they could add so much color? And, you can't go wrong with mums.

Create a conversation area if your front porch has the space. It's an invite to sit down, relax or mingle. Kim added a bench and faced rockers back toward the bench, as well as a small table, chairs and a swing. Who doesn't love a porch swing? Pillows add a touch of color and comfort, and you can change them out with the changing seasons. Candles create a soft, quiet place in the evening. You can even purchase remote-controlled twinkle lights that you can put in lanterns. She also suggests including a place to set down drinks.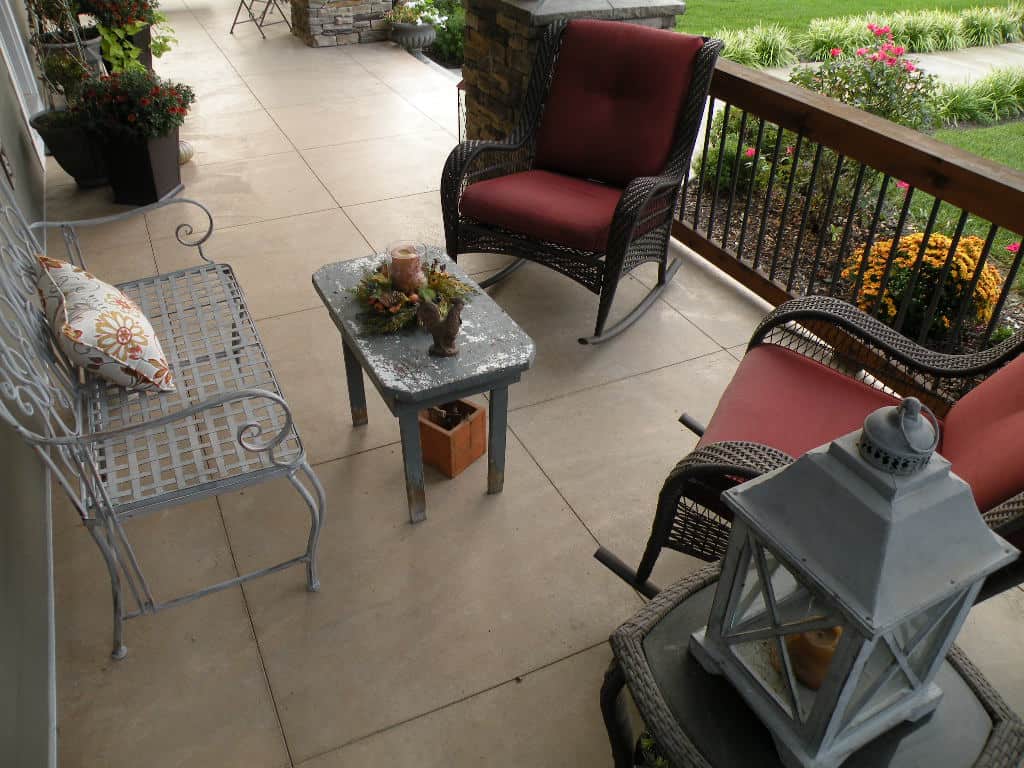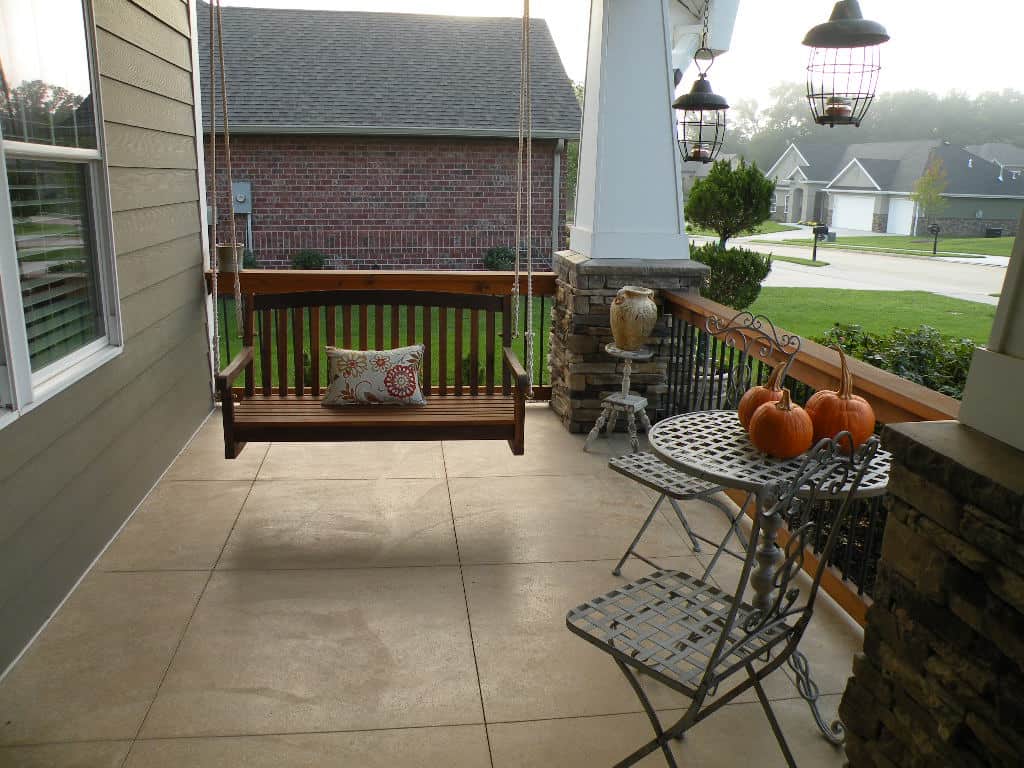 Other fall decor ideas for the front porch that can add warmth are hay bales with multi-sized pumpkins/gourds on or around them and large glass lanterns filled with things like twinkle lights or candles inside.
A quick change for your front porch might be just the thing your home needs to sell or just the thing that will make you proud of your home. Investing in some cleaning time, paint, and a few well-proportioned and well-placed decor items is all it takes for this valuable home improvement that pays off!
Selling your home? Be sure to check out these other insights from our realty expert, Kim.
7 Steps to Take Before Selling Your Home
The Dos and Don'ts When Showing Your Home