Homemade All-Natural Carpet Cleaner
Updated: 1/7/21
Important Update as of 4/11/14: It has been over a year since using this on my carpet. The stains are still mostly gone, but my carpet is now lighter in those areas. I have old carpet so I much prefer this to the dark stains, but I want to give you fair warning that this concoction does have the power to bleach your carpet!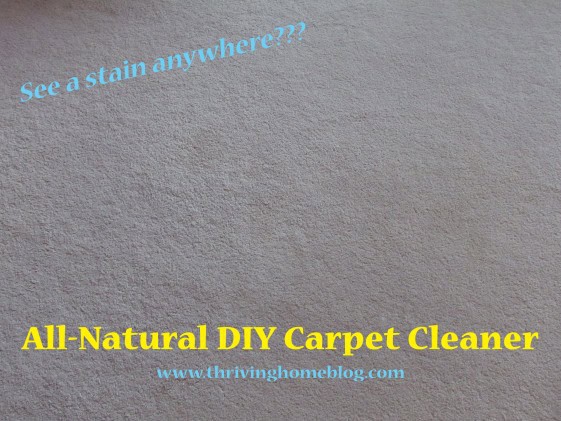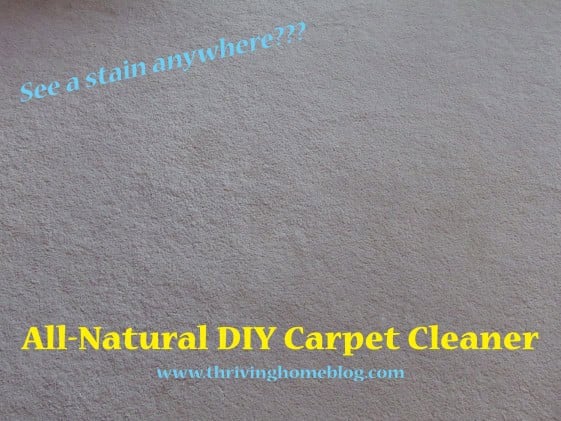 Warning: Umm, this post might gross you out. I wouldn't recommend eating breakfast while reading this one. 🙂 But, I assure you it will come in handy if you have young kids or pets!
I've found myself Googling "how to get poop out of carpet" and even "how to get puke out of carpet" a few different times over the years, but without much luck.  When you have small kids around, these are the things you Google.
Last night, we had another one of these incidents when my 1-year-old had his diaper off for just 1 minute!  My husband and I were determined to get the poop stain (along with all the track marks!) out this time, yet we didn't want to use any kind of harsh chemicals in our son's room, especially before bedtime when he could inhale the fumes.
We ran across this site and discovered how to make our own non-toxic, all-natural carpet cleaner.  Before I worked on my son's poop stain, I decided to really test this all-natural carpet cleaner recipe. We had a 7-month-old puke stain from my 3-year-old in the play room. Yuck! I gave it a try, but my expectations were low.
Check out how this homemade carpet stain remover worked to get this OLD stain out of carpet…
BEFORE…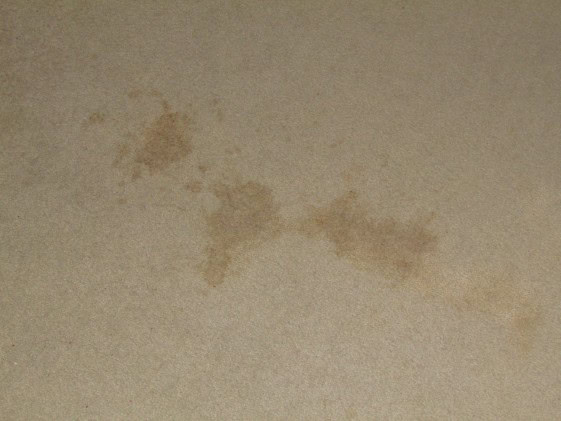 AFTER…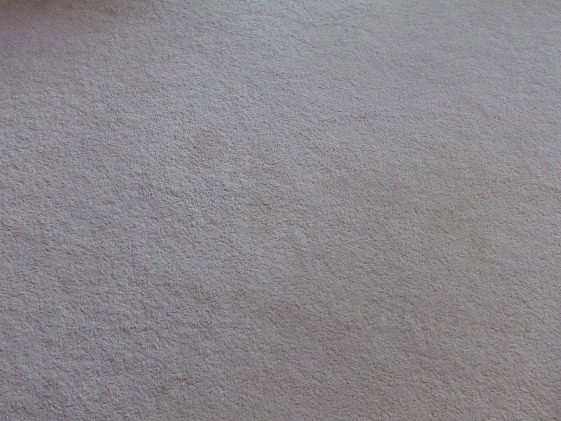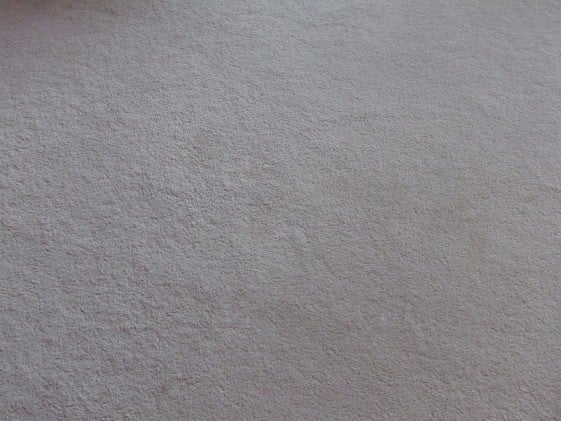 So, did this all-natural homemade carpet cleaner get out all evidence of the puke and poop stains in our house? Not every last bit. In the right light, you can still see a shadow of the stain. But, I would say this carpet cleaner got the poop and the puke stains out from both locations in our house as well as I could hope for. They are 90-95% gone and hard to see unless you look closely.  I'm satisfied with that, since it didn't add harsh toxic fumes to our house. I suspect I would have had the same result with store-bought, chemical-laden carpet stain remover anyway, as I know from prior experience.
Last little perk, this all-natural carpet cleaner kills any germs left on your carpet due to the poop or puke! The vinegar and borax both have bacteria-killing power.
If you want to save money, kill germs, reduce chemical exposure in your home, and get poop and puke stains out of carpet effectively, I recommend trying this homemade all-natural carpet cleaner recipe below.
All-Natural Carpet Cleaner Recipe
Adapted from eartheasy
1) Remove all the solid waste with a paper towel and throw far, far away.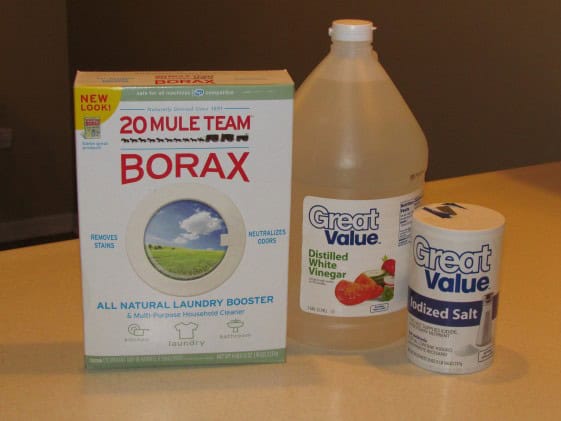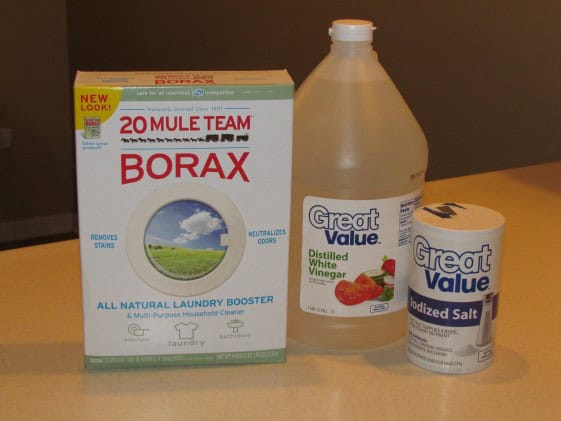 2) Mix together:
1/4 cup salt
1/4 cup borax* (I used 20 Mule Team Borax, which you can find at almost any grocery store in the laundry detergent aisle.)

1/4 cup white vinegar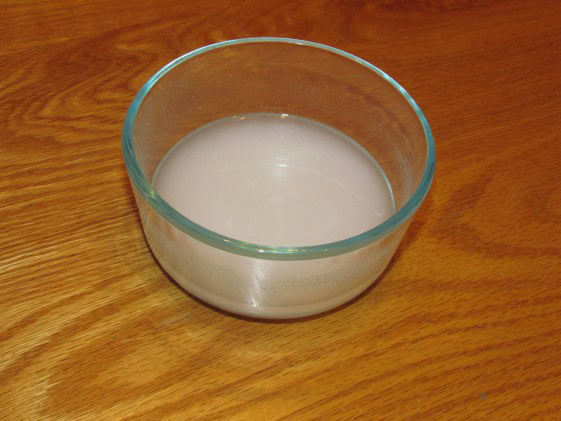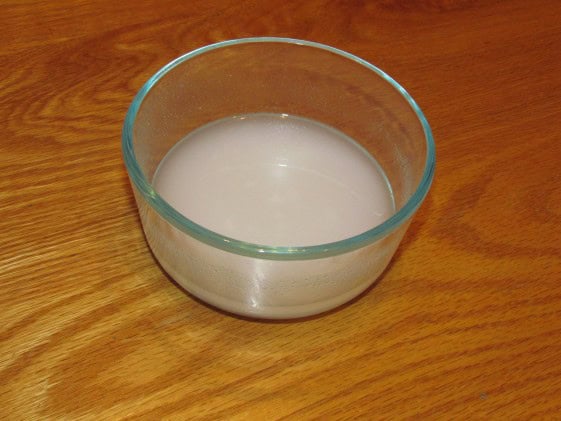 3) Rub the paste into the carpet over the stain and let sit for a few hours. I suggest using a rubber glove or Ziploc bag over your hand (like I did in the pic below) to apply. You know, so you're not touching poop and such. (Gag.)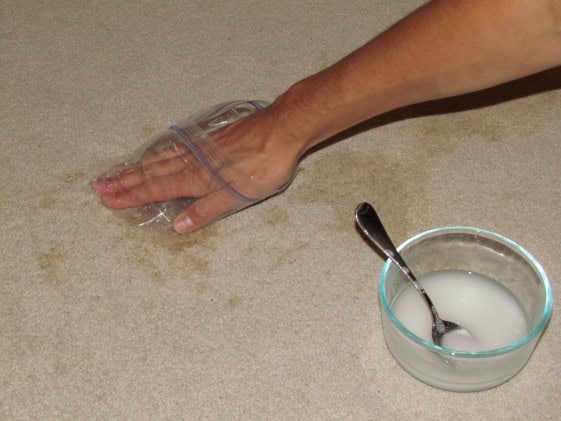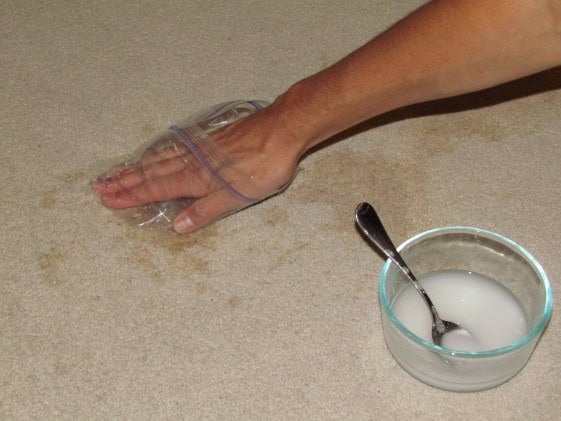 4) Vacuum up the dried paste on top of the carpet.
5) Get down on your hands and knees and scrub, scrub, scrub with a wet washcloth or rag. Rinse the rag out periodically and keep scrubbing until you don't see any more discoloration on the rag. (I worked at this quite hard and it helped immensely!)
6) Let wet area dry and then vacuum one last time.
7) Give the stain a few days and it will dissipate even more.
* If you're wondering what borax is and if it is safe, here's a thorough blog post that explains more and can help you make your own decision. I feel okay with using it, personally.
Here was my nearly-miraculous result on the 7 month old puke stain in our play room. I couldn't believe it! I thought we were going to have to call our carpet cleaner and shell out $50 or cover it with a rug forever…but no siree! Thank you homemade carpet cleaner recipe!!!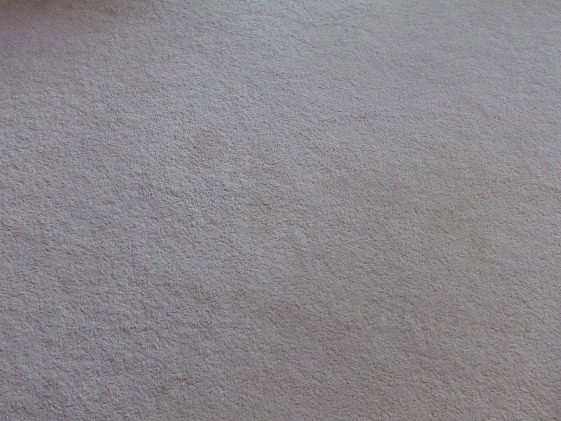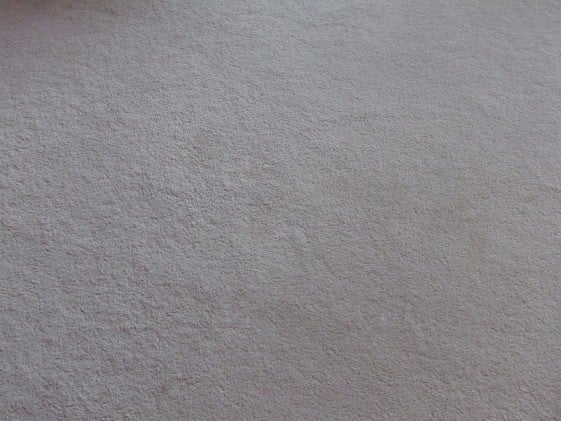 Like this homemade all-natural household product? Try another thrifty, non-toxic solution that's worked for us!
All-Natural DIY Drano – Naturally unclogs your toilet or any drain with only 2 ingredients!
Make Your Own Non-Toxic Foaming Hand Soap – Incredibly easy and cheap!
Homemade Laundry Detergent – This will save you tons of money and leave your clothes clean without harmful chemicals.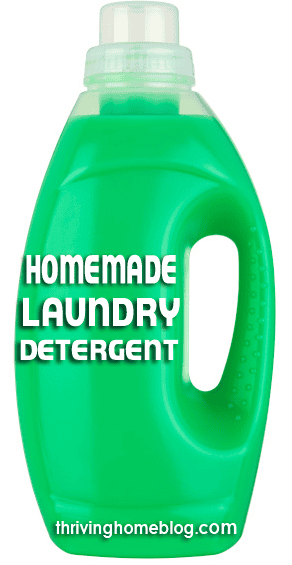 All-Natural Homemade Disinfectant Spray – Clean any and all surfaces in your home with this safe and effective all-purpose cleaner.
Like this post? Be sure to sign up for our weekly email updates or follow us on Facebook to get more homemade household product tutorials, healthy recipes, and more.
We work hard to share good content and recipes with our readers. If you have benefited from this post, we'd love it if you'd pass it on in one way or another. This helps us keep Thriving Home, well, Thriving!