How to Fight for Contentment
Guest post by Nathan–pastor, dad of three, and Rachel's husband. Check out his other guest posts here, here, and here. Oh, and you may want to pin his favorite Everyday Smoothie Recipe, too.
By most standards, my kids have a pretty good life. And yet, no matter what they have, they seem to be remarkably skilled at wanting something else (amiright parents?). A few examples:
Rejecting mac and cheese—a certified dinner favorite—because "it's too cheesy this time." By the way, in the entire history of the world, how many people have criticized mac and cheese for being too cheesy? Is it theoretically possible? Yes. But that bar has to be pretty high.
Complaining about having nothing to do…after riding bikes/scooters and playing with Legos, puzzles, stuffed animals, action figures, etc. Meanwhile, dad fights the urge to go on a dramatic soliloquy about how nice it would be to have "nothing to do."
Saying "you never do stuff with me" while suffering from a curiously selective amnesia regarding the many hours you've spent together reading, going out for breakfast, watching games and movies, playing catch in the backyard, wrestling, etc.
Indignantly protesting the need to stop watching a baseball game in order to get to bed. Apparently, even when one is eight years old and has school tomorrow, watching only the first five or six innings of a regular season game in May is a grave violation of basic human rights.
The year round practice of talking about birthdays and Christmas, because those days promise the near ineffable joy of getting more stuff. Or more precisely, getting stuff that we don't currently have.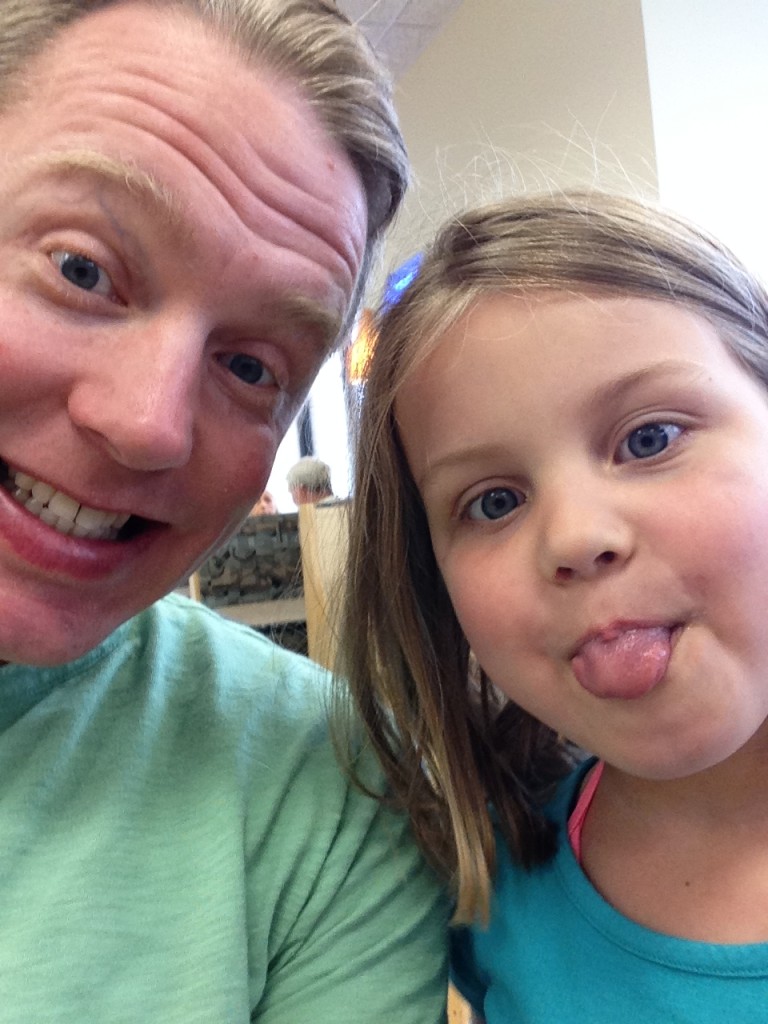 As therapeutic as it might be to compile that list—which I assure you was more representative than exhaustive—I'm reminded that the major difference between kids and adults is that the latter do a better job of hiding what they're really thinking (amiright parents?). Since my kids are shorter and basically look like me, they're often a kind of fun house mirror for my own heart. And as it turns out, my kids come by their discontentment honestly.

Of course, this lack of contentment isn't recommended, regardless of age. In fact, God commands us to seek the opposite. Hebrews 13:5, for example, tells us to "be content with you have." And as Paul tells Timothy, "There is great gain in godliness with contentment" (1 Tim. 6:6). How then do we fight for contentment? Here are a three ways I'm working on it:
1. As Erik Raymond recently wrote, contentment is about changing our hearts and not primarily about changing our circumstances.
C. S. Lewis remarked on our tendency to think that the discontentment we feel can be traced to our possessions, relationships, jobs, etc. According to this approach, what we really need is newer or better versions of these things. Lewis rather frankly called this kind of thinking the "The Fool's Way." Those who practice it never quite seem to figure out that the next new thing will, sooner or later, always bring with it a fresh set of disappointments.
Contrast this with what Paul writes in Philippians 4:11-12:
For I have learned in whatever situation I am to be content. I know how to be brought low, and I know how to abound. In any and every circumstance, I have learned the secret of facing plenty and hunger, abundance and need.
Notice that the contentment Paul is speaking of isn't situationally dependent. If he didn't have much, he could be content. If he had a lot (which can sometimes be more of a challenge), he could likewise be content. Paul learned to address the issue of his heart, rather than searching for the mythical rainbow unicorn of perfect circumstances this side of heaven.
So the first step is not to waste effort on the wrong strategy. But that doesn't explain how Paul actually learned to be content. That brings us to the other two points.
2. Practice giving thanks.
Have you ever noticed how much you have to be thankful for? If you doubt that, take the next five minutes to write down specific things you can be thankful for from both your present and your past. The possibilities are nearly endless: enjoyable experiences, good relationships, encouragement you've received, coming through difficult circumstances, good advice, hard-won wisdom, etc. And yes, you can (and should) be grateful for that smartphone and the car you drove to work, not to mention the roof over your head and the last meal you ate.
After the five minutes are up, my guess is that you won't be sitting there just stumped as to what to write next. Because it turns out that most of us have no shortage of blessings in our lives, and this is usually true despite our relative income levels and life circumstances. This fact in itself is helpful in reorienting our hearts to a place of increasing contentment.
But wait, there's more: go back over your list. Think about how many of your frustrations arise only because you enjoy significant blessings. Didn't appreciate your lunch? Well, that's probably because you're able to enjoy fairly tasty meals on a regular basis. And you wouldn't be nearly so frustrated at work if you didn't have a job in the first place, one that lets you eat those tasty meals and live someplace other than your parents' basement. Are your kids driving you nuts? Just remember, you have the unbelievably wonderful blessing of having kids. Yes you've thought about investing in a tranquilizer gun. But you also love them so much it hurts.
Maybe it's no coincidence that the man who learned to be content in every situation also instructed the Thessalonians to "give thanks in all circumstances" (1 Thess. 5:12).
3. Remember the gospel.
This is what you might call the ultimate application of the previous point. Because while it's true that our circumstances can, at best, never quite deliver and, at worst, be downright miserable, we can always genuinely celebrate the grace of the gospel. To see why, consider even this brief summary of what God promises those who trust in Jesus: forgiveness from our sins, adoption into God's own family, the assurance that he is using all (!) of our circumstances for our good, and an unending life in a literal paradise. But most of all, let's not forget that he's promised us the thing we've been searching for all of our lives whether we know it or not, the one thing that can finally and fully give us joy and satisfaction: unbroken relationship with the source of everything true, good, and beautiful, God himself.
When you tally all of that up, then my frustration over someone eating the last of the ice cream or not having a garage that's two feet wider gets put in the proper perspective. But so does—and I don't at all say this flippantly—the loss of a job, or a life-threatening illness, or any other genuinely difficult situation.
That's because the grace of the gospel means you're going to come out ahead, whatever the circumstances of your life. Far ahead. And that's not only a reason to be thankful, it's also our not-so-secret weapon in the fight for contentment.
https://thrivinghomeblog.com/wp-content/uploads/2015/05/IMG_1719-e1432915435577.jpg
720
540
Rachel Tiemeyer
https://thrivinghomeblog.com/wp-content/uploads/2019/10/thrivinglogo.png
Rachel Tiemeyer
2015-08-19 05:29:02
2020-01-05 20:56:38
How to Fight for Contentment