How to Make a Fleece Knot Blanket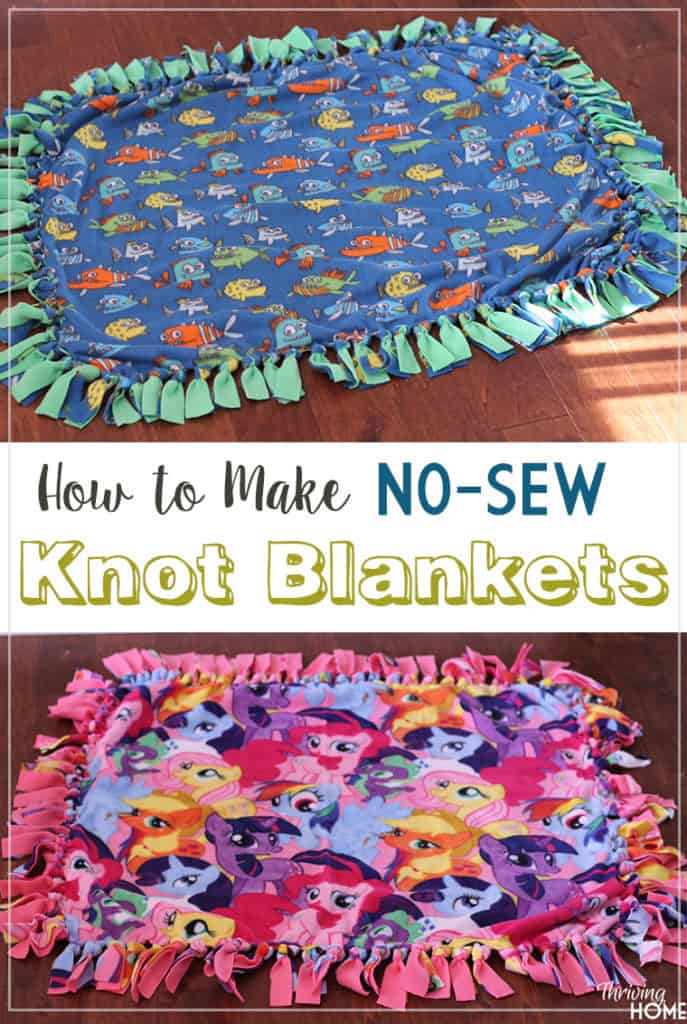 Knot blankets are not a new thing.
However, making my own now is!
I have seen these cozy, fleecy, want-to-curl-up-with blankets around pretty much all my life. I had never looked at them closely until a friend of mine told me she was making some for her boys for Christmas.
I totally ripped off her idea (thanks, Jen!) and decided to do the same thing for my little people. I loved the idea of my three year old picking out her own fabric and having something homemade from mom to cuddle with. While our trip to Joann's Fabrics didn't quite go as I had envisioned (seriously, read the story if you want a laugh) we did come home with some yummy fleece fabric for me to make some blankets.
To give you an idea of how easy these are, I made both in one night.
No sewing. No tricks. They really are quite easy.
I also think they make wonderful gifts and plan to give more away in the future.
Want to see how easy it is to make your own tie-knot blanket? 
Materials Needed: 
Two pieces of coordinating fleece fabric (2.5 yards each)
One piece of paper to use for measurement guidance
Scissors
(I chose to use 2.5 yards because my kids are still little. If making these for an adult, I'd go with 3 yards.)
That's it!
Lets get started.
How to Make a Knot Blanket
Start by laying out your fabrics on top of each other. Trim off any excess to make them as identical in size as possible.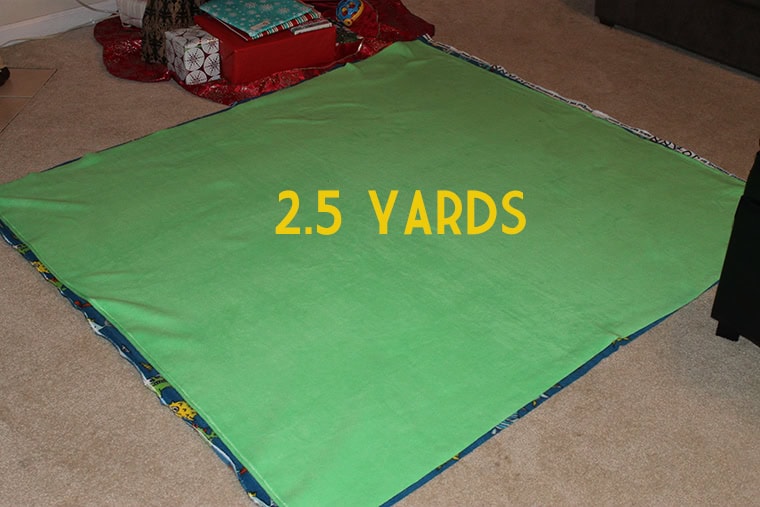 Using a standard piece of paper, create a square template. (Fold the top corner down as far as it will go and then trim off the excess.)
Use this square as a template to mark the corners of your fabric. Now, cut all four corners out. Do not let your heart be troubled. Trust me, you need to do this.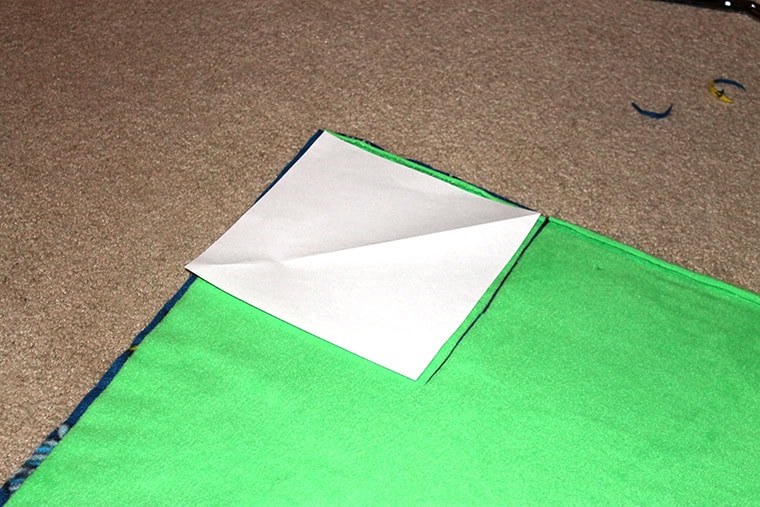 Next, cut an inch wide rectangle out of your square template. Use this as a guide for all of the strips you are about to cut around the outside of the blanket.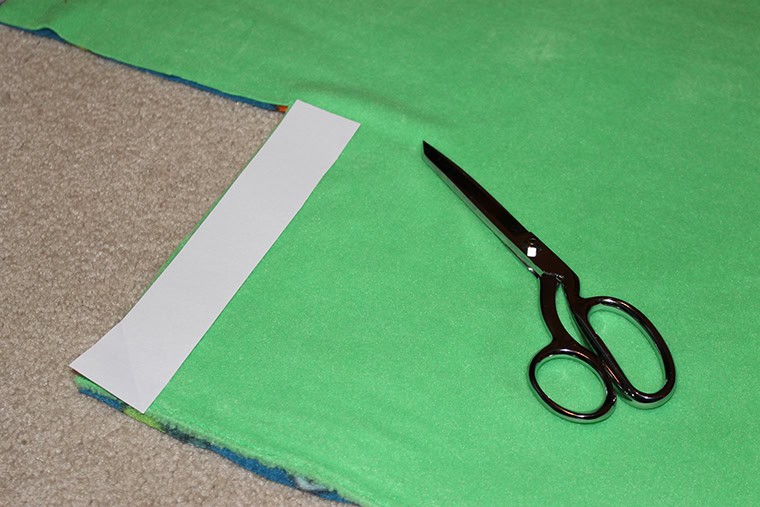 Chop chop!
Keeping your fabrics on top of each other, cut one inch strips all around your blanket.
PS — after two of these blankets, I might have gotten a blister from cutting so much. Seriously. I recommend putting on a mindless TV show to occupy your mind while you cut.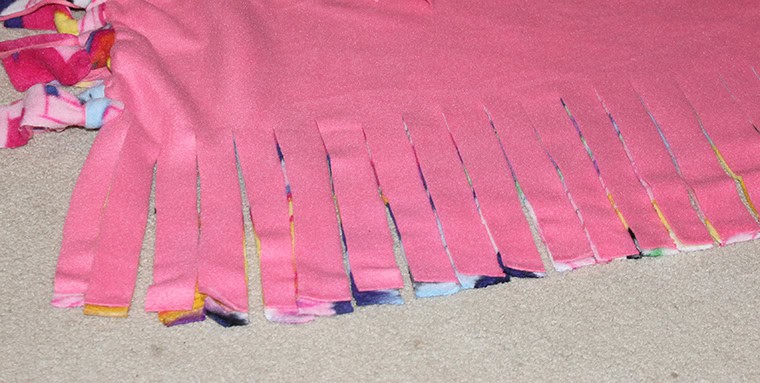 Now it's time to tie the knots.
There are quite a few ways you can tie the knots for your fleece blanket. I chose to do one that would show the coordinating fabric rather than hide it.
I initially tried to articulate how I did this knot but I realized that pictures tell the story so much better than I do.
Just do your best to keep the fabric facing the way you want it to. You'll get the hang of it. Feel free to browse other knot options if this one doesn't strike your fancy, or as my mom would say, whatever blows your skirt up.
This is what the end result will look like: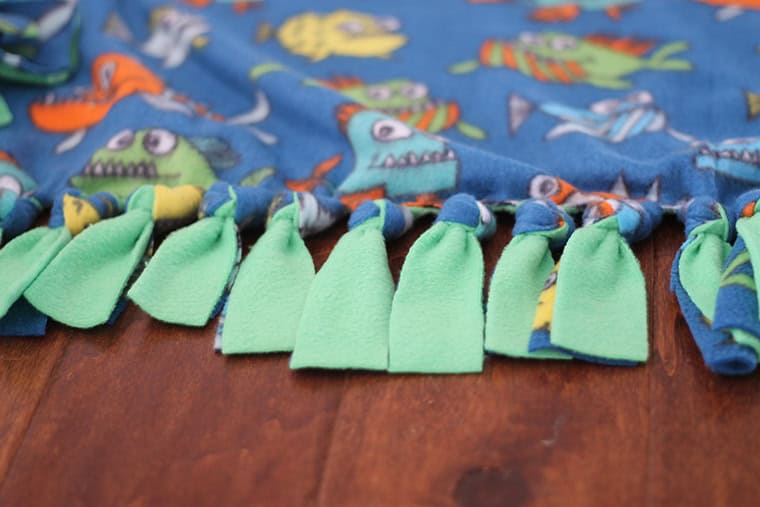 Guess what, that's it!
Seriously. That's all it takes!
Now cozy up to your new blanket or fold it up nicely to give to someone.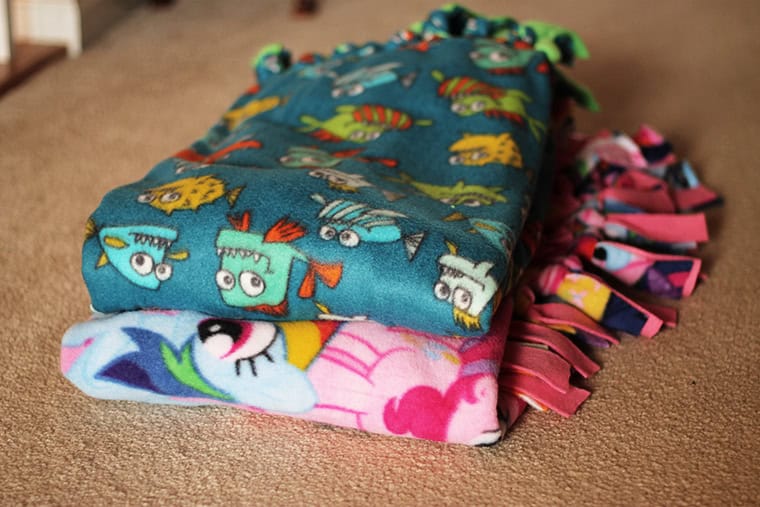 Fleece comes in SO many different prints. You can customize each blanket to the person you are giving it to! Can you guess who this one was going to?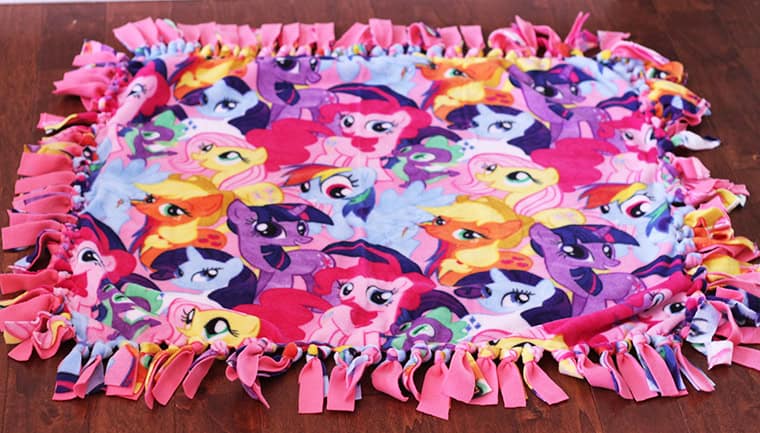 I also strongly suggest going with a busy fabric on one side and a solid on the other. Again, whatever blows your skirt up 🙂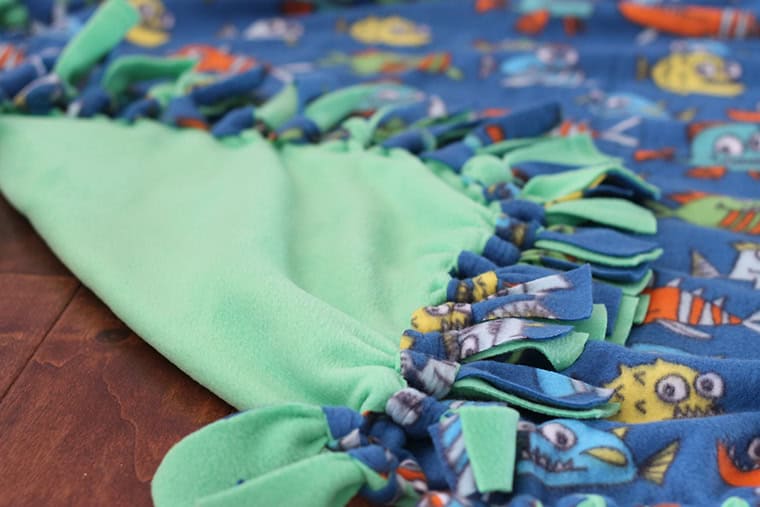 https://thrivinghomeblog.com/wp-content/uploads/2015/02/knot-blankets-done.jpg
507
760
Polly Conner
https://thrivinghomeblog.com/wp-content/uploads/2019/10/thrivinglogo.png
Polly Conner
2015-02-16 00:06:51
2017-02-27 10:49:03
How to Make a Fleece Knot Blanket