Easy Family Devotional Activity: Make a "Verse Catcher"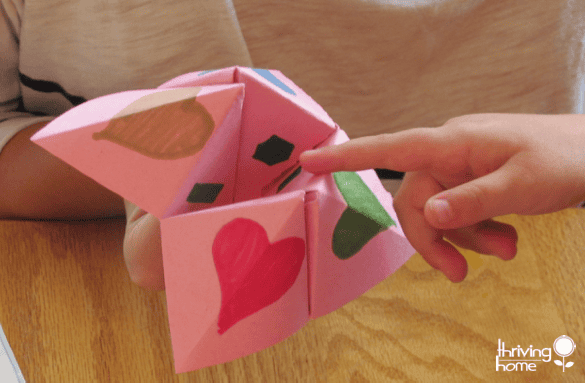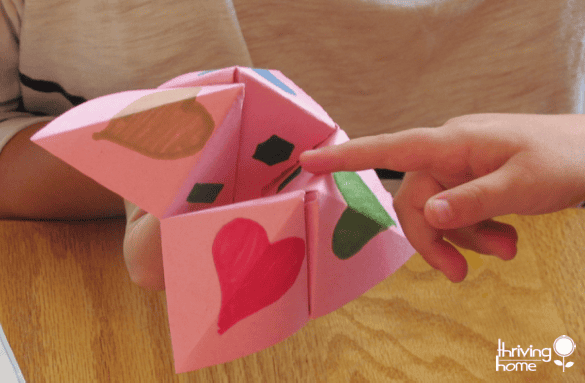 You know you have a great babysitter when you come home and she's playing "Psalm Catcher" with the kids. Remember those paper thingy-ma-bobbers that we made in grade school called "Cootie Catchers"? It's the same concept, except our sitter had listed Psalms to look up on the inside. The kids loved it!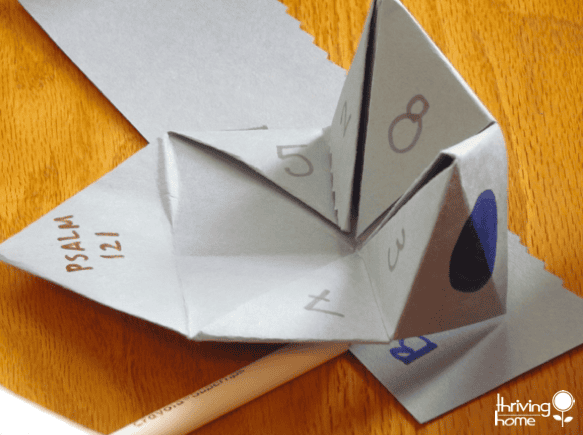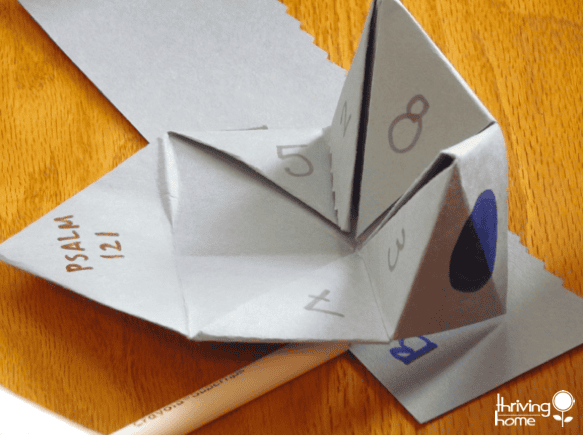 So, I got to thinking. What if the kids and I made our own and then we could use it at dinner for a quick family devotional time? We thought of several verses we wanted to memorize as a family and put the verse references inside our "verse catcher." I included a few that I knew my husband and I are really wanting to hit home right now with them (i.e. listening to your parents, being a servant to others, etc.) If you're wanting to give family devotional time a shot, a Verse Catcher is an easy place to begin!
How to Make a Cootie Catcher
Trying to remember how to fold a cootie catcher? Below is a quick Youtube video tutorial I found or here is a printable pattern, if your kids haven't already schooled you in how to make one.
Instead of writing a "fortune" under each flap, you'll write your verse references there instead.
How to Use the Verse Catcher for a Family Devotional Time
Our kids are 2, 4, and 6, so our family devotional time is usually very short when we're all together. (We spend a longer time reading a Bible story or devotional book before bed sometimes with the older ones, but the 2-year-old has a short attention span right now.) That's why I love this idea. All you need for a Verse Catcher Devotional is a Bible and your homemade verse catcher.
Here's what we do. Before or after dinner we sometimes have one of the kids read a verse using the "verse catcher". Then, Dad or I will make sure the kids understood what is said and explain the context (i.e. "these are Jesus' words to his disciples"). Then, we ask a few simple questions:
What do you think this verse means? What is it teaching us?
Any ideas about how we can apply this verse in our lives? How does it affect how we live?
Lastly, we say a quick prayer in light of the Bible verse we discussed–thanking God for it and asking him to help us do whatever we just learned. Very quick and easy!
Simple Verse Ideas for the Verse Catcher
Below are some suggested verses to get you started, but you could use any of your favorites. You may want to look these verses up beforehand to make sure you understand the context of the Bible verse and what it means. Biblegateway.com is an excellent online resource for finding the context, or an NIV or ESV Study Bible would be helpful, too.
You will find all of the verses listed below written out in full here. 
Proverbs 19:20
Proverbs 3:5-6
Ephesians 4:29
Romans 12:2
Psalm 119:105
Romans 6:23
1 John 1:9
John 3:16
Psalm 51:17
Psalm 119:11
Romans 5:8
John 14:6
https://thrivinghomeblog.com/wp-content/uploads/2013/08/Screen-Shot-2013-08-02-at-10.48.57-PM.png
396
604
Rachel Tiemeyer
https://thrivinghomeblog.com/wp-content/uploads/2019/10/thrivinglogo.png
Rachel Tiemeyer
2013-10-10 05:21:00
2021-02-11 10:16:43
Easy Family Devotional Activity: Make a "Verse Catcher"