If you've been dreaming of starting a blog and maybe earning income from it, it's easier than you think. Here's a step-by-step tutorial on how to start a blog quickly and the right way. As a bonus for signing up through our affiliate link, we will offer a *1 hour consultation to help you get started!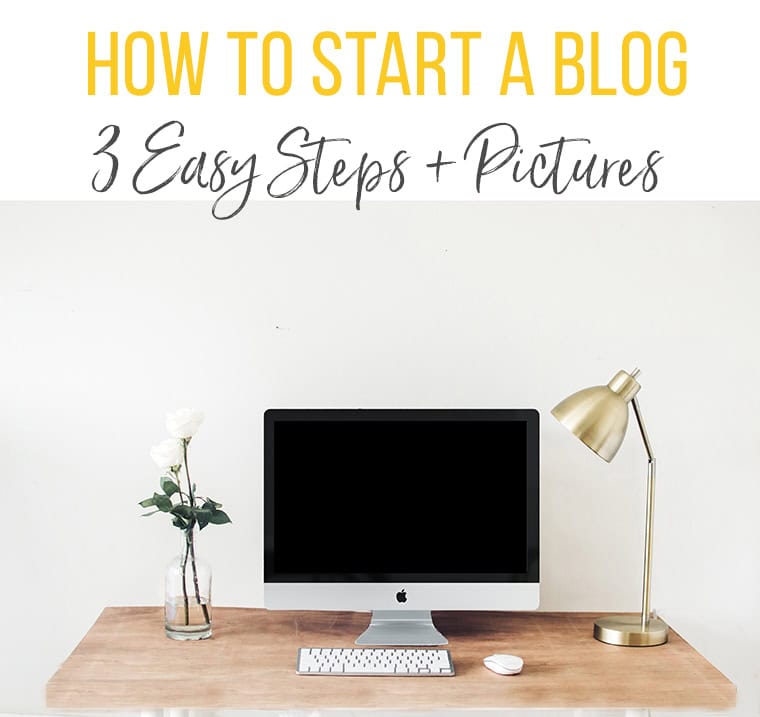 Disclaimer: This Post contains affiliate links. If you use our links in the post, your costs will be the same but Thriving Home will receive a small commission. This helps cover some of the costs for this site. We appreciate your support!
Blogging has changed our lives.
It has the potential to change yours too.
You can create your own little corner in the internet universe and possibly even make some income from it! It takes a lot of work and time to turn blogging into a business but one thing is certain, if you want your site to even have the potential to capture some attention, you have to start it up the RIGHT way.
We love getting potential bloggers like yourself set up on the right track to find the joy and success that we have found in this hobby-turned business. If you're wanting to start a blog, we want to help launch you in the right direction.
The very first thing to do is this process is to sign up for a host. And the good news is, if you sign up through us, we can get you a special discount!
After we walk you through the quick set up process, we'll share some of our best advice to launch you in the right direction.
Boomtown. Let's do this.
Click below to start and then just follow along with the step-by-step instructions below to go through this simple and quick process.
The Three Steps Towards Your VERY OWN BLOG:
Domain Name and Hosting
Opening WordPress
Making it Pretty (or handsome, awesome, flashy, whatever you're in the mood for)
Step One: Set Up a Host & Domain Name
Choose A Domain Name
Before you get anywhere with your new site, you'll need to decide a domain name you want. For example our domain is thrivinghomeblog.com. We wanted "thrivinghome.com" but it was already taken and the owner of it wanted a ridiculous amount of money in order to give it to us. Grrrr.
A few tips when choosing a domain:
Keep it simple.
Use .com whenever possible.
Make sure it is easy to say and spell.
Don't use hyphens, numbers, obscure terms or confusing strings of words.
You will need to register your domain so that nobody else takes your awesome idea. I'd strongly suggest you register your domain name AND hosting from the same place.
In fact, Bluehost, which I'm about to tell you about gives you a free domain name if you host your site with them. So pick a domain you want to use and then hop to the next step where you can claim it.
Choose a Host
Your awesome site needs a home. It needs a place to live and for people to take care of it for you, so you don't get hacked (like we did).
You need somewhere that has great customer service in case things go wonky, which sometimes they do. There are many, many of options out there, but for someone who is just starting a blog, we'd strongly recommend beginning with Bluehost.
Why do we recommend Bluehost?
They will register your blog name for you for free, making sure no one else can take it.
They offer a free, simple installation of the WordPress blogging software (which I show you how to use in this guide).
They have been recommended by WordPress since 2005 and currently host over 2 million blogs and websites.
They have helpful 24/7 customer service via phone or web chat.
They have a 30 day money-back guarantee if you are unsatisfied for any reason.
Bluehost is only $7.99 a month BUT, if you sign up through us, we can get that discounted to $2.95!
I also love that if you decide blogging just isn't your thing, you can get your money back! Seriously, it's really easy to do!
If your site does take off (and we hope it does!), they have hosting plans that you can move up to so your site doesn't slow down.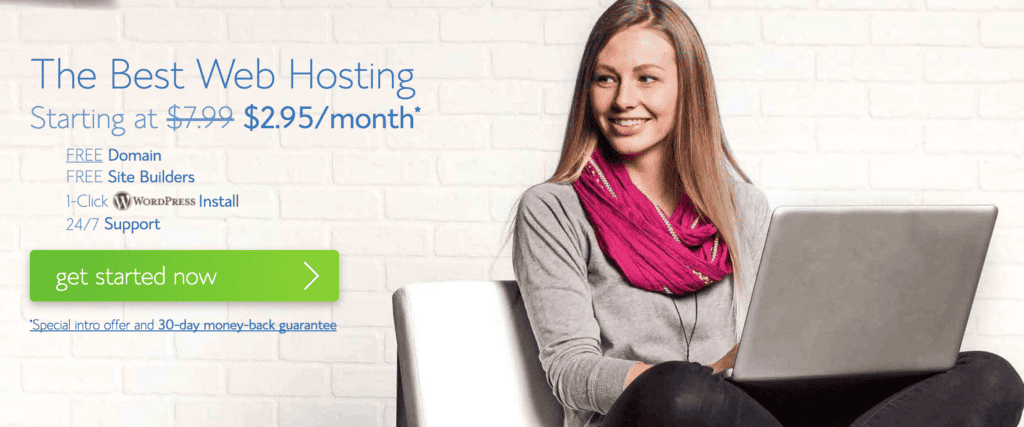 Because we think Bluehost is the best place for you to start, the tutorial from here on out will be how to set up your hosting with them.
Sign Up and Fill Out All Your Information
Hop over to Bluehost and click "get started now."
Select the basic plan.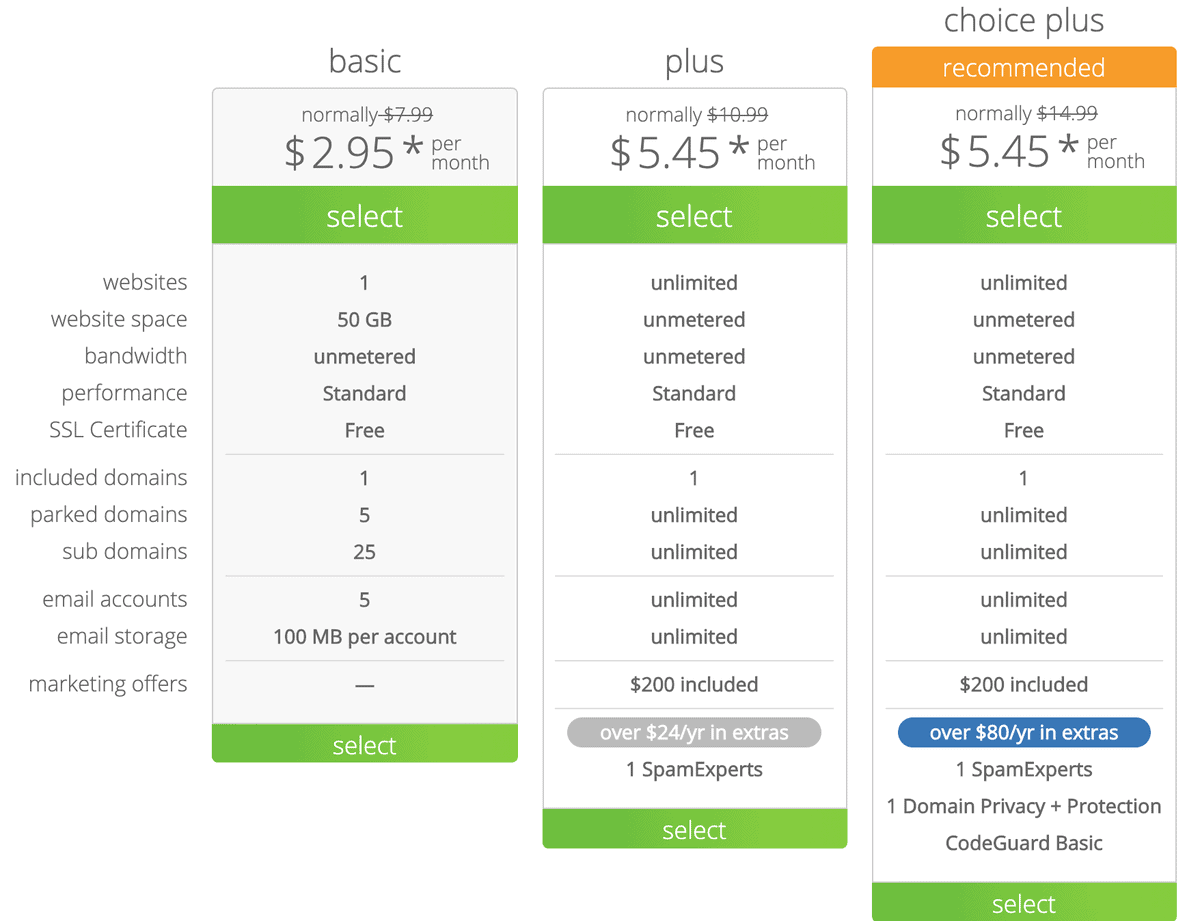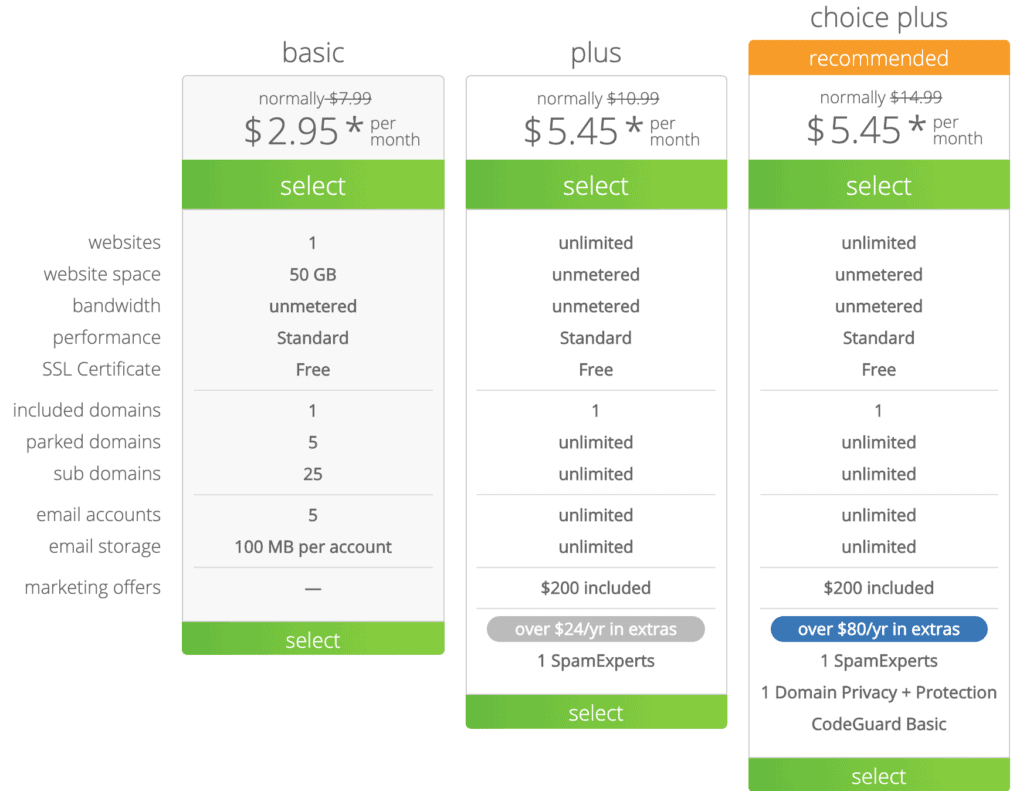 Once you've selected a plan, you will see this screen.
Under New Domain, fill in the domain name you want your site to be on and hit next.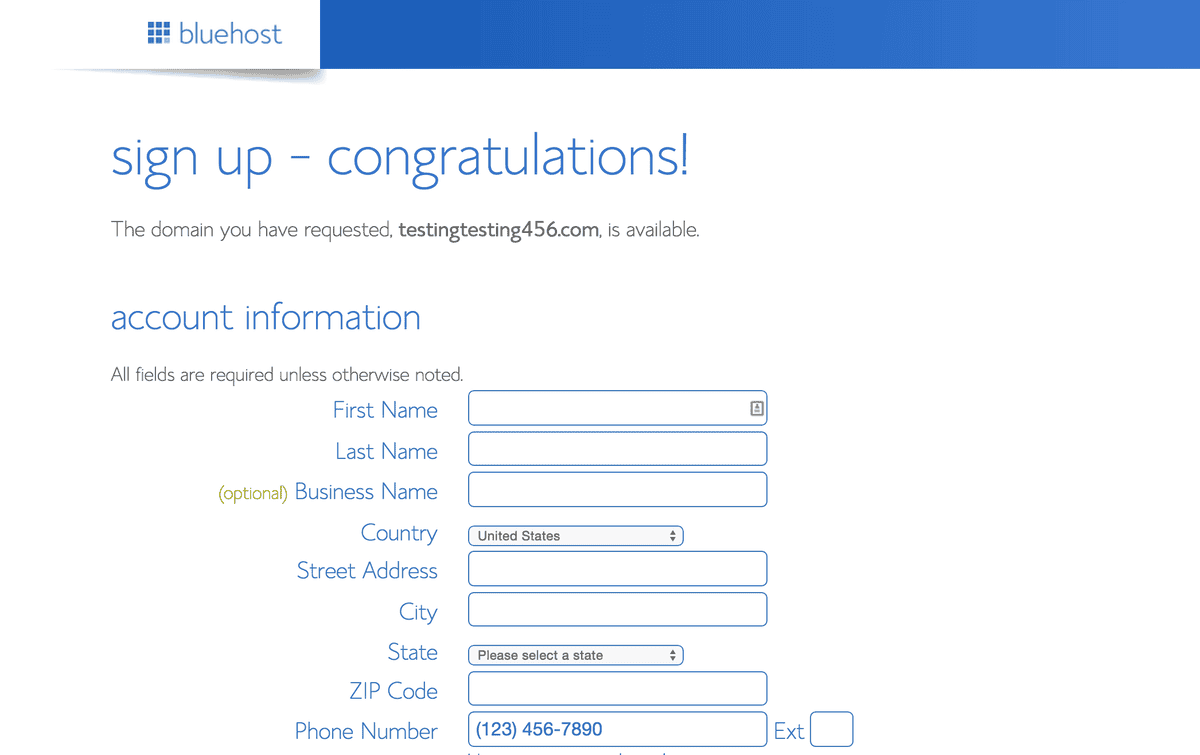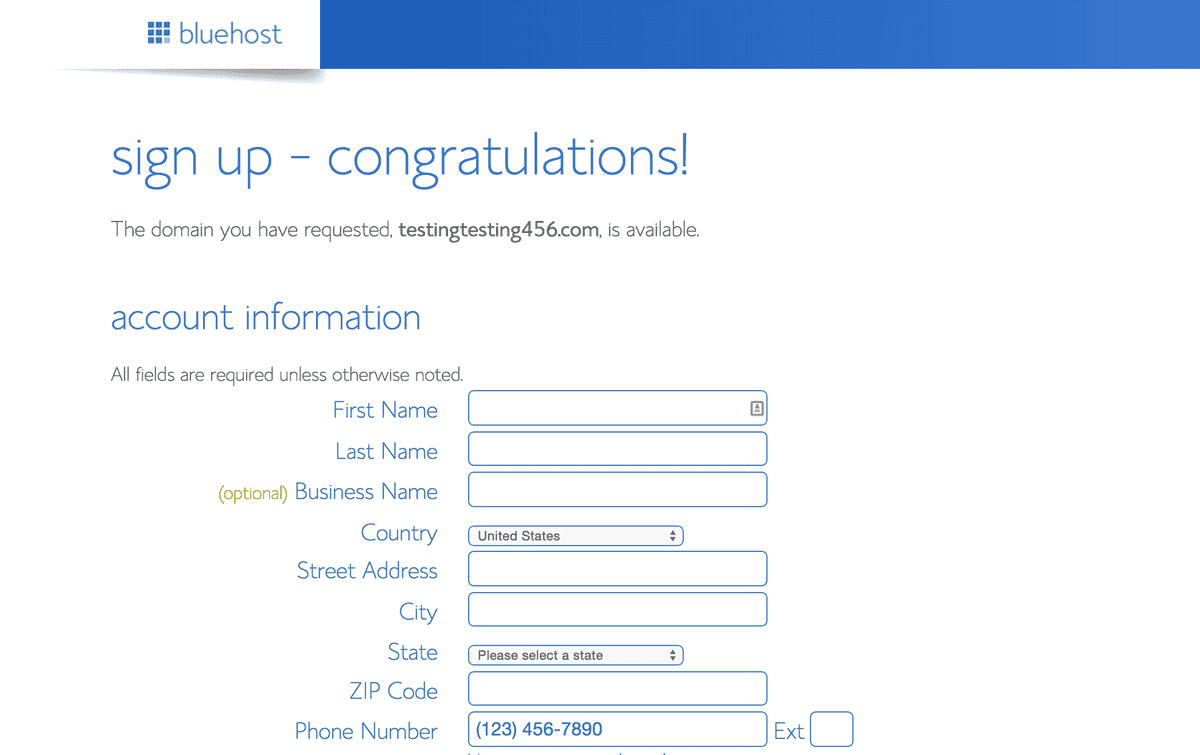 If your domain name is available, you will see a screen like this:
Yeah! Now fill in your account information.
Continue down to package information. You will get the best rate ($2.95/mo) if you select 36 months worth of hosting.

Yes, you will be charged for all 36 months but do not let your heart be troubled. If you decide in 10 months that blogging just isn't doing it for you and you want to move on to wake-boarding or another hobby, no sweat. You will get the unused months refunded.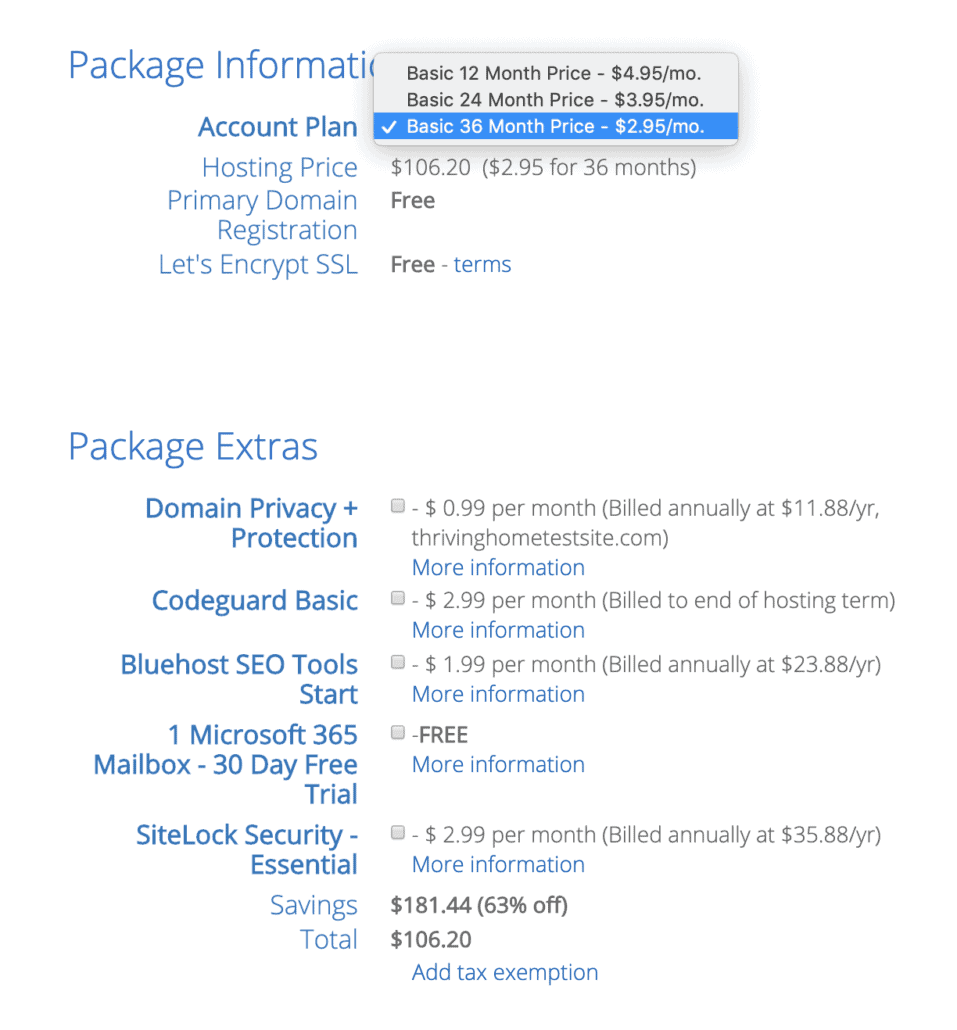 Whew. If you don't want to pay that much up front, just do the math on the other options and find a plan that you can pay for at the moment.
Do I Need the Add-Ons?
As you can see, you have some optional add-ons. There are two that I'd recommend but they aren't absolutely necessary. You can always go back and add them later.
1) Domain Privacy Protection
To be honest, we didn't have this for the first three years of blogging. In short, without this your name and address are connected to your site and pretty easy to find. If you're a worrisome person about these things, then paying the $.99 per month might be worth it to you.
Personally speaking, now that our readership is quite large, it is important for us to have this. The nice thing is, you can always add it later if your site starts to grow.
2) Site Backup Pro
Once upon a time I had a blog (before Thriving Home). This blog that I poured hours and hours into got hacked. My host at the time shut my site down because of "malicious content." When I called to ask about the problem, the first question that they asked me was, "Well, do you have a backup for your site?"
Say what?
I didn't know I could back up my site, nor how or where to find it if I did. In short, I had to pay $600 for them to manually clean my site from the malware because I didn't have a dang backup that they could revert to. If I were you, I'd pay for that backup so you don't go through what I did.
It's totally your call though. I do know there are some free plugins (software) that you can use to backup your site but I just like having all of my stuff in one big happy place.
Finish up filling up your account info, payment information, etc.


Once you do that you will be taken to an installation helper.
Since you are following this tutorial you can just click "Skip this step" on the next few pages to be taken directly to the dashboard.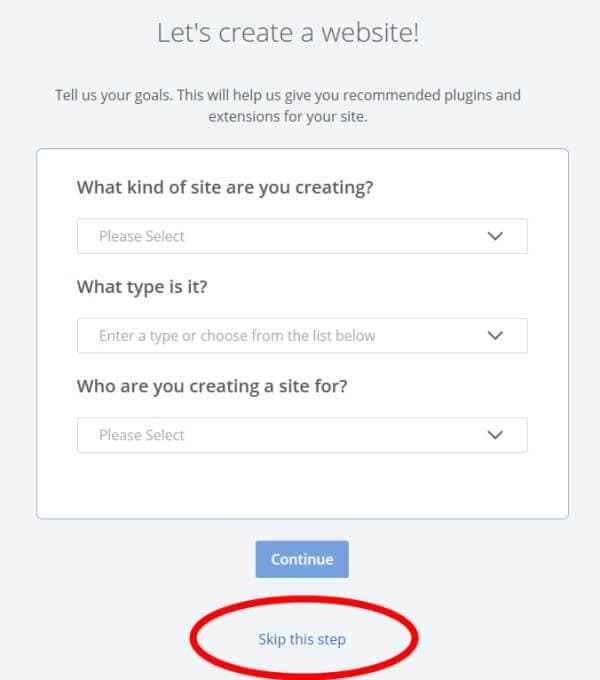 Step Two: Open WordPress
This step is actually super easy because Bluehost automatically installs WordPress for you. You can start working on your WordPress site right away. Yeah! It hasn't always been this easy. 🙂
Once the install is complete click the blue "WordPress" button to be logged-in to the administrator area of your blog.


Step Three: Make it Pretty!
Clicking the "go to my Bluehost account" under the blue button will allow you to see the info related to your Bluehost account. Clicking the "Start Building" button will take you to your new WordPress site like so:
The black column on the left indicates you are in your WordPress dashboard, a place you become very familiar with.
It's the fun part: Pick a theme!!
The theme of the blog is simply how it looks. And there are a ton of free themes you can choose from to find the design that you want to for yourself and your website.
To find free themes, click Appearance and then the button that says Add New. You will now be presented with many themes to choose from, both the latest ones that have been added and the most popular ones that are out there.
Premium Themes
There are also many premium themes for WordPress that cost a bit of money but then you get extra functions and support to contact when you run into technical trouble.
We currently have a custom theme that a web developer built for us BUT I so wish when we had started blogging we would have used the Genesis Framework.
We simply didn't know about it and spent money on another theme that was super confusing and not user friendly at all. Over and over again we have heard that Genesis themes are for sure the way to go. Not only are they mobile responsive (having a site that is easily viewable on mobile devices is a must!), but they also have support which you won't find in a free theme.
It'll take some time and experience to know what theme fits best for your needs but just wanted to share where we wish we would have started!
Lastly, you can ALWAYS change your theme. Don't let this choice slow you down.
What Now?
We love helping people get started and moving in the right direction with their website. As a thank you for signing up through our affiliate link, we'd be happy to hop on the phone with you to talk through any blogging questions or brainstorm ideas with you.
To get a time set up, just shoot us and email so we can confirm your sign up and and we will go from there!
*This is only done with people who have a confirmed sign up through our link.