How to Transform a Onesie into a Dress
It's amazing how fast babies grow out of their clothes. There were so many cute outfits that my little lady only wore once or twice. It was painful for me to pack barely used clothes away not knowing if they'd ever be used again. That is why I am pretty excited about this tutorial. It's a way to repurpose onesies that are too small! It takes some very basic sewing skills and is a super quick project!
How to transform a onesie into a dress!
1. Start by cutting off the bottom part of your onesie.
2. Prepare your skirt
I prefer to use jersey knit fabric. It is so soft and stretchy. I like the feel and my guess is that my little lady does too! There are a few steps to prepping your skirt. (You'll notice that I'm using pictures from two different projects did. Hopefully that won't be to confusing).
1) Measure the waist of your onesie. Triple it (to allow for ruffles) and add an inch for seam allowance.
So for my project, the waist was 9 inches. 9×3=27. Add an inch and I get 28.
2) Decide how long you want the skirt to be. Then double that number and add an inch for the seam allowance.
I wanted my skirt 6 inches long. 6×2=12. Add an inch and I get 13.
So the piece for my skirt was 28 inches wide and 13 inches tall.
3) Fold the strip of fabric in half lenght-wise, with right sides together, and baste stitch along the top. (Baste stitching is the longest stitch length your machine will do. Do not back stitch!
4) Ruffle your skirt. Do this by pulling one of the stitches at the top. Let the fabric gather up and keep sliding the thread out so you get ruffles along the top.
Ruffle it until the waist of your skirt is the same measurement as the circumference the waist of your onesie. I would ruffle mine and then measure it and either add more ruffles or let it out accordingly.
5) Sew ends of skirt together, then flip right side out.
Line up the ends of the skirt and sew together. Remember to back stitch! After sewn together, flip your skirt right side out. (to where you don't see the seam)
5) Pin skirt to onesie
Line up the skirt seam with the back of the onesie. Pin your skirt the bottom of the onesie. Make sure right sides are together! (see how my seam is facing out!)
6) Using a Zig-Zag stitch, attach skirt to onesie
Since the waist needs to have a little room to stretch, I recommend using a zig-zag stitch to attach the two pieces together. A zig-zag stitch allows for the seam to stretch without breaking. Stitch all the way around the waist. Make sure to double back. Now flip your skirt down and see what it looks like! Here are what my two turned out like: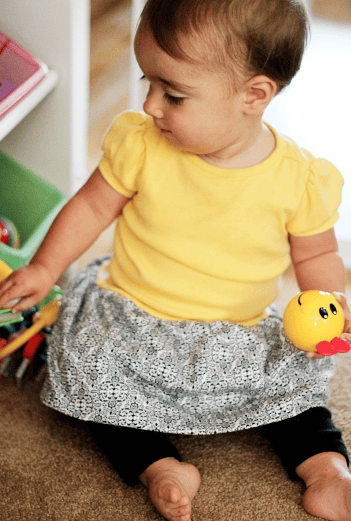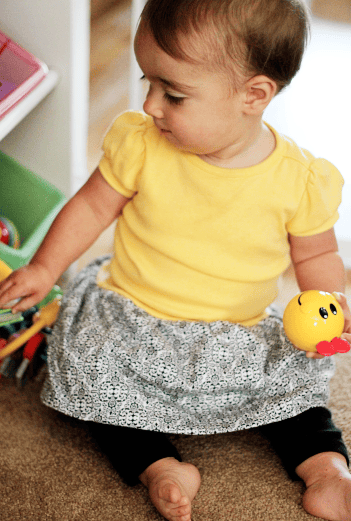 https://thrivinghomeblog.com/wp-content/uploads/2019/10/thrivinglogo.png
0
0
Polly Conner
https://thrivinghomeblog.com/wp-content/uploads/2019/10/thrivinglogo.png
Polly Conner
2012-06-06 05:59:57
2020-11-13 06:54:18
How to Transform a Onesie into a Dress