2 Easy Ways to Get Hy-Vee Groceries Without Stepping into the Store
This post may contain affiliate or sponsored links. Please read our disclosure policy.
Online shopping is the future. Since someone else will be doing the hands-on shopping for you, it's important to shop from a place that has a user-friendly system, high quality products, and a money back guarantee, in case you're not happy. Hy-Vee's Aisles Online has all of that to offer and more.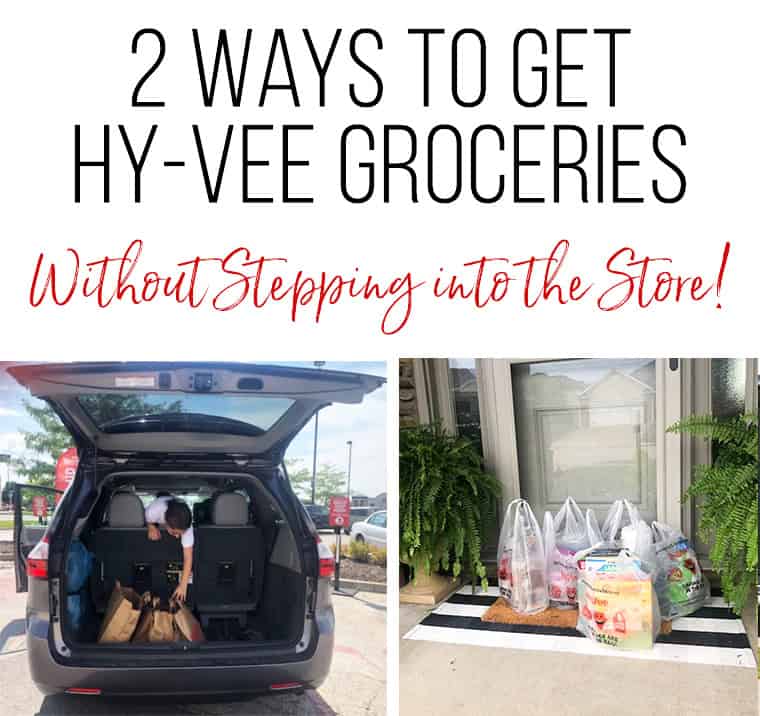 This post is created in partnership with Hy-Vee (Columbia). Have no fear, opinions expressed are ALL mine.
2 Ways to Shop at Hy-Vee Without Even Stepping in the Door
The way busy parents, actually ALL of us, grocery shop has changed rapidly. It was only a few years ago that getting groceries delivered to your home was a luxury service. Now, it's almost expected!
Truth be told, I don't mind going into a grocery store.
I like to see and touch the produce I'm buying, survey the new products and some of my favorite local items, and peruse the aisles for new meal ideas. If I have a kid with me, using one of these 8 Hy-Vee Hacks Every Parent Should Know, makes the trip even easier.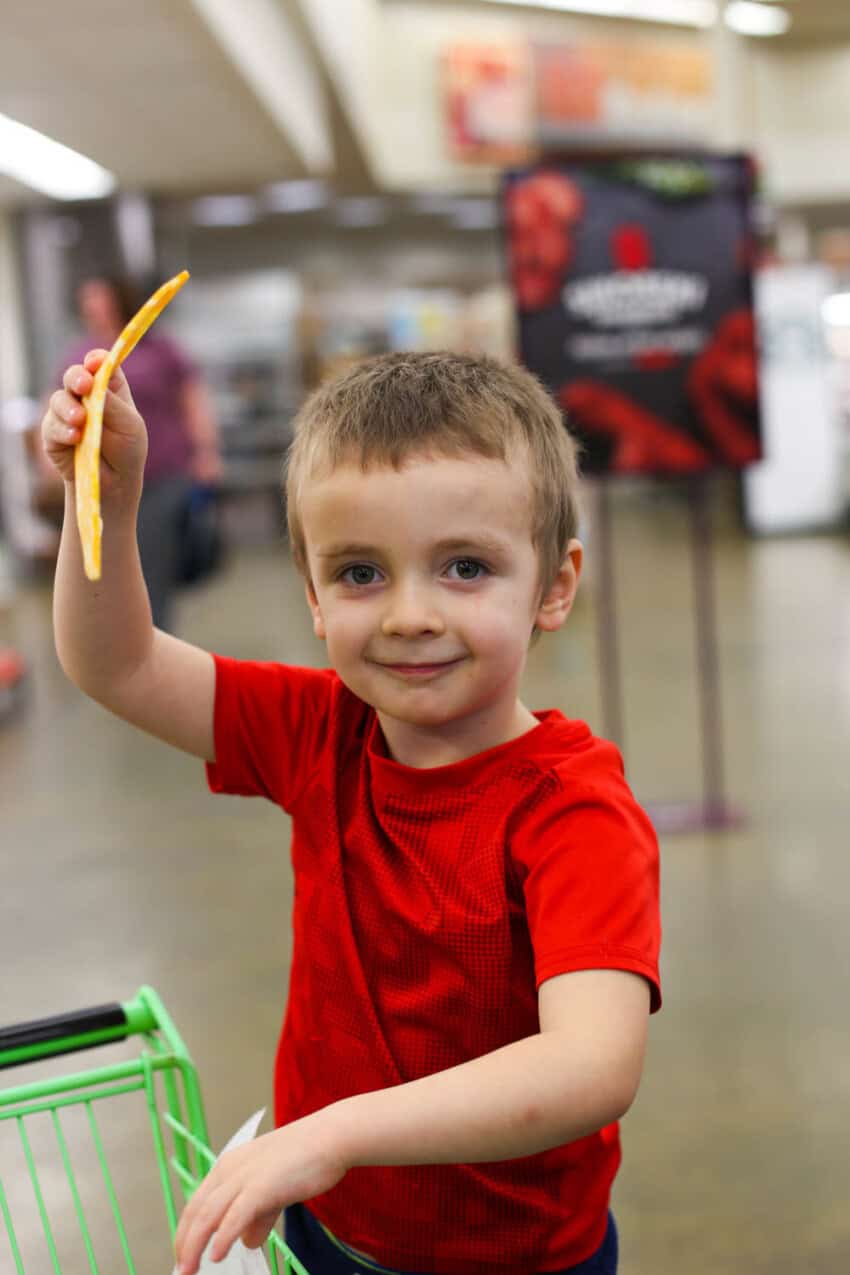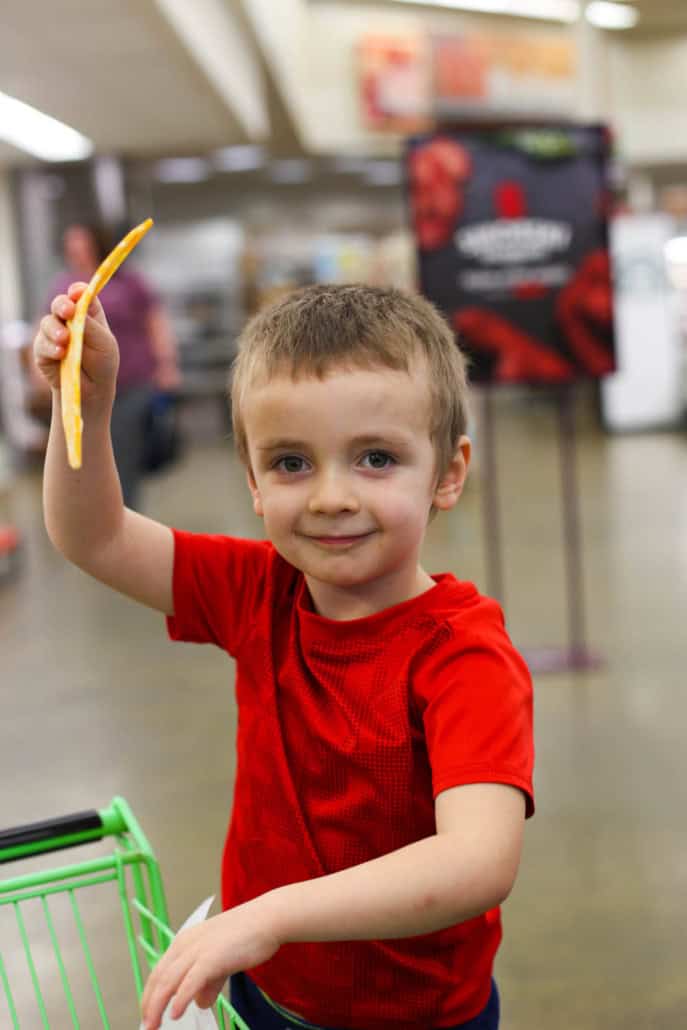 Despite all of the perks of stepping into a store, sometimes it's just nice to have options. Whether you're time-strapped, have a sick kiddo, or just don't feel like getting out of your car, Hy-Vee has all sorts of ways for you to get groceries without even stepping into the door.
Option #1: Hy-Vee Grocery Pick-up (FREE!)
I love this option because it's FREE (for any order over $30) and non-commital. No membership. No monthly fees. You can do it 1 or 100 times, and it'll be free every time with an order over $30. They also have an option for pickup within 2 hours for $9.95 if you're in a pinch and need something asap!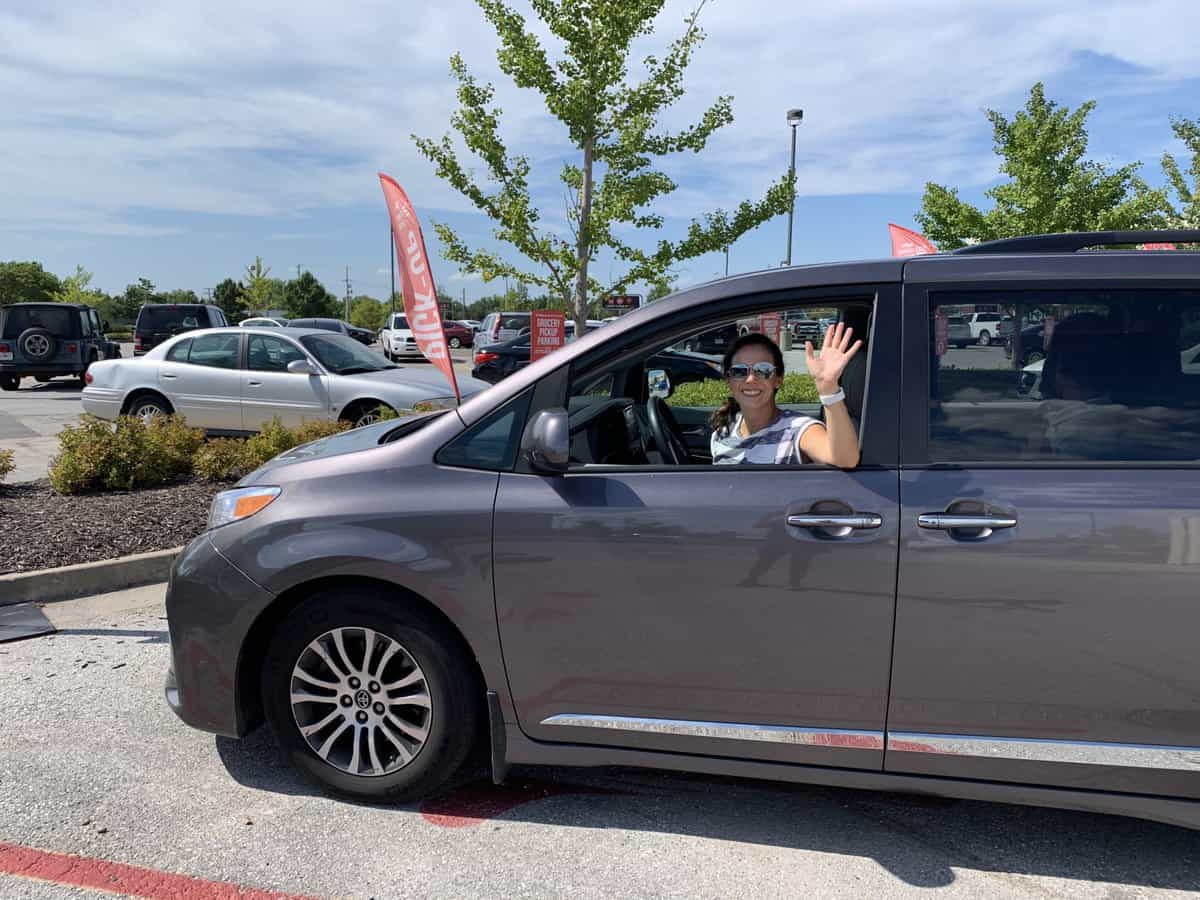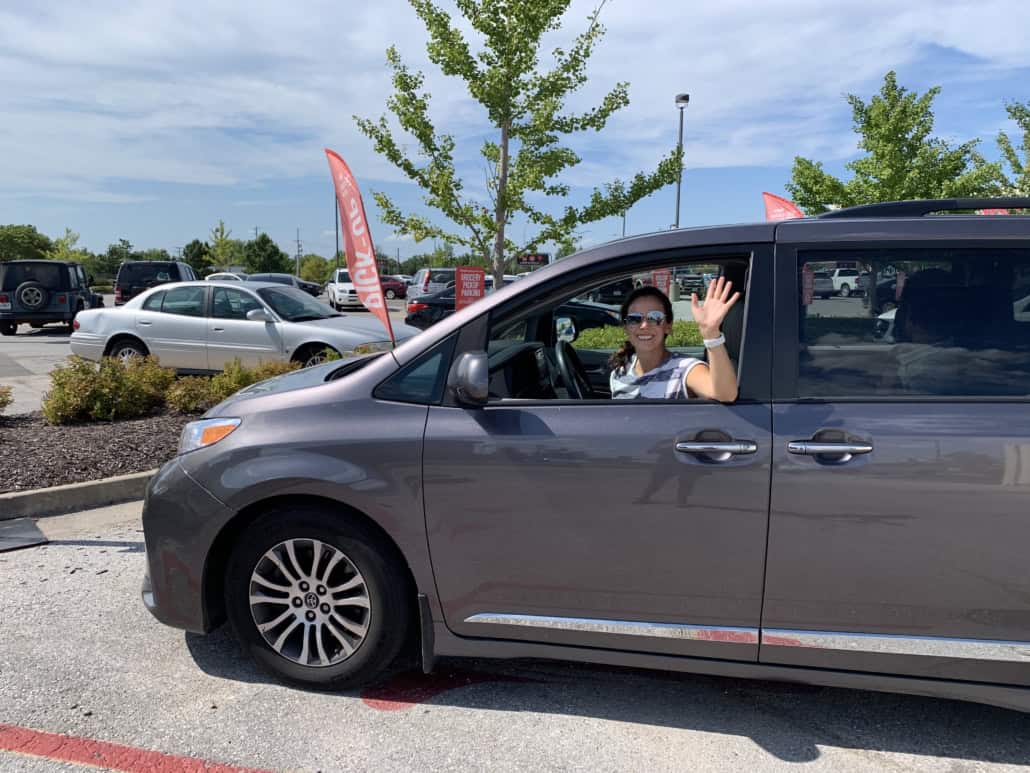 Here's how I've found it works best for me.
After menu planning for the week, I create my grocery list and hop onto the Hy-Vee website. Pssst… when shopping online, you can easily scout out the sales and lowest prices! Just another perk worth mentioning.
After putting all of the items on my list in my shopping cart, I select a time to pick them up. Or, better yet, I select a time that my husband can grab them on his way home from work. 🙂
They have so many time slots that there's almost always something available that same day or within 24 hours.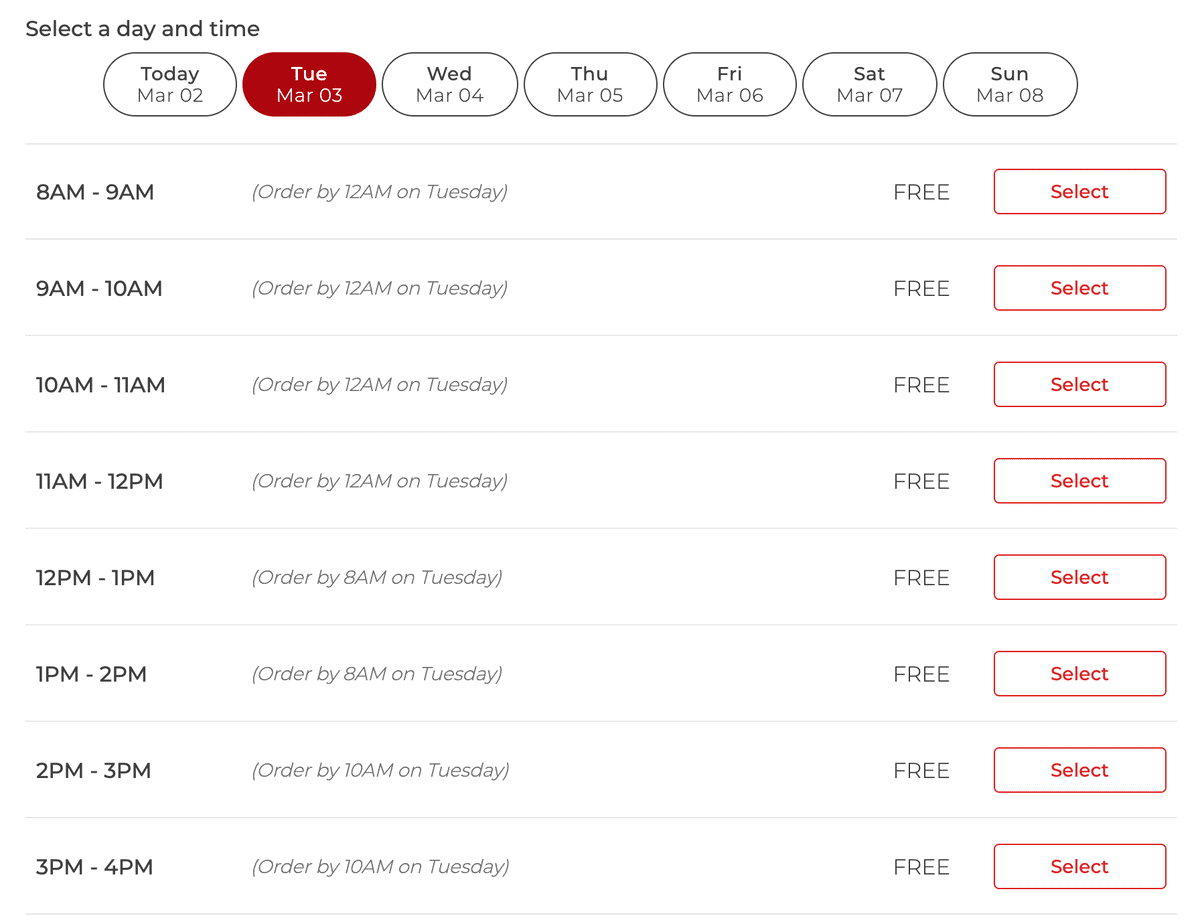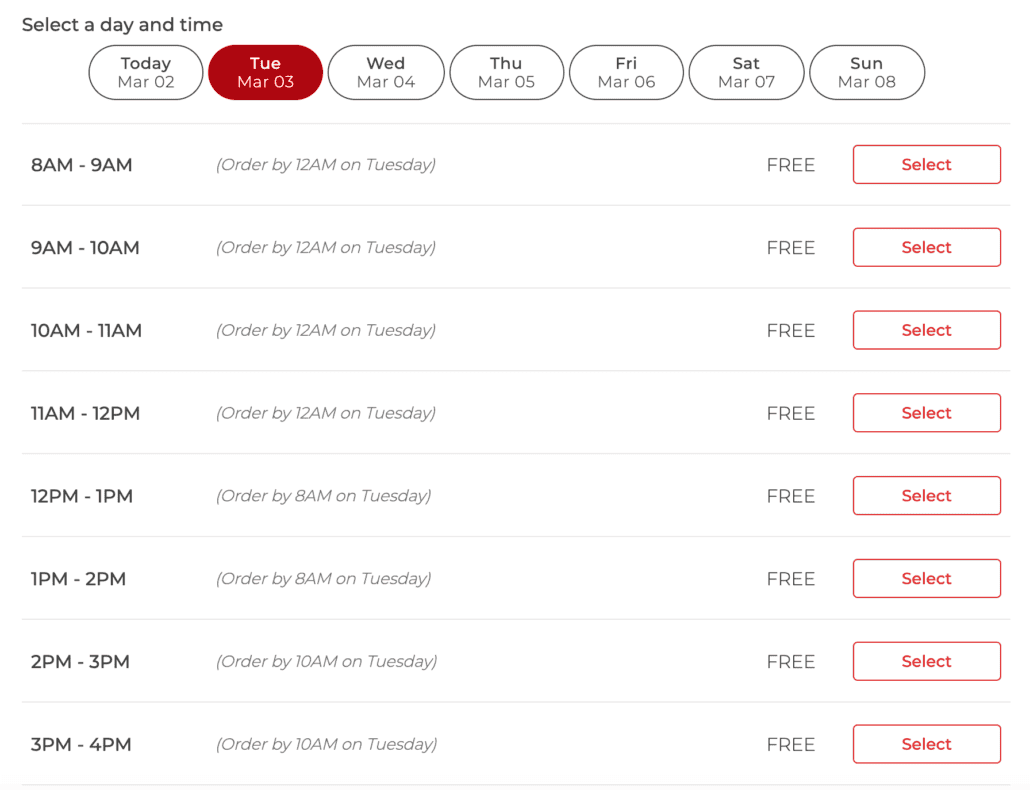 Last thing to do: show up!
There is a reserved, easy area to park for curb-side pickup.
Simply pull in sometime during your designated time window. Give them a ring to tell them you are there (the phone number is on the sign in front of your parking space). A friendly staff member will roll your groceries right out and even put them in your car for you.
That's all you have to do.
BEST. DAY. EVER.
Option #2: Hy-Vee Grocery Delivery
With three high-energy kids, going to the store is WORK. It feels like I come home running low on patience but with plenty of items that weren't on my list. When they were younger, even picking up groceries had to be properly timed between naps or other necessary errands.
And then there are those days where someone is sick. Leaving the house isn't an option but the pantry staples are running thin.
The solution: Grocery Delivery!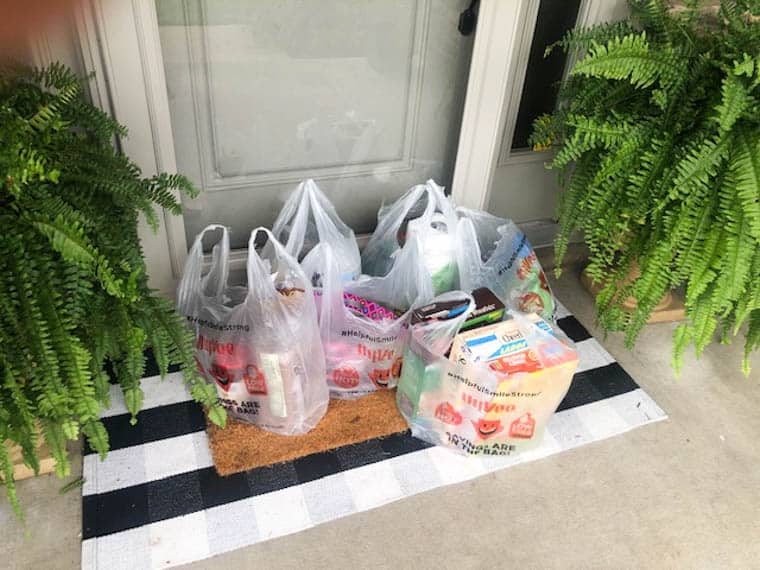 What makes Aisles Online Grocery Delivery stand out from its competitors?
Hy-Vee employees are picking out the food. These personal shoppers know their store and the food in it. This is especially important when it comes to produce!
You can create a shopping list of frequently purchased items. This is a huge time saver!
Money back guarantee if the item is not what you expected. If you're not happy with something that came in your delivery, a quick call to the store will make it right! I've personally done this and had no problems getting a refund.
Hy-Vee has many household items. You aren't limited to ordering groceries through Aisles Online. You can also grab many household items like paper products, laundry detergent, sunscreen, over the counter meds, band-aids and even stamps! This a great time to scan the sales and stock up.
About Aisles Online Membership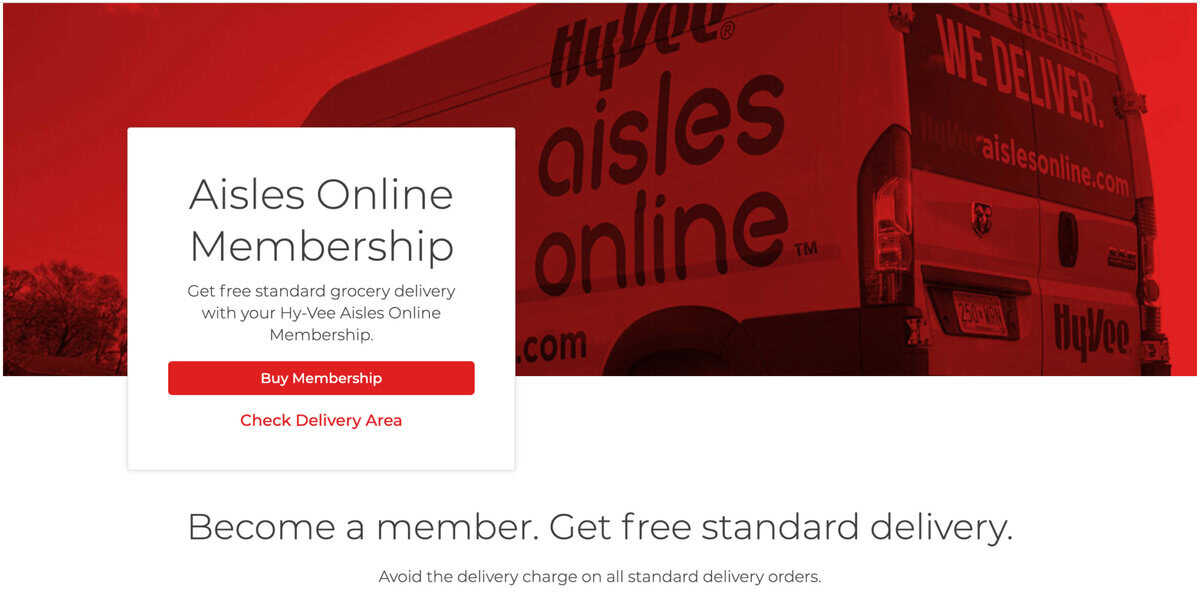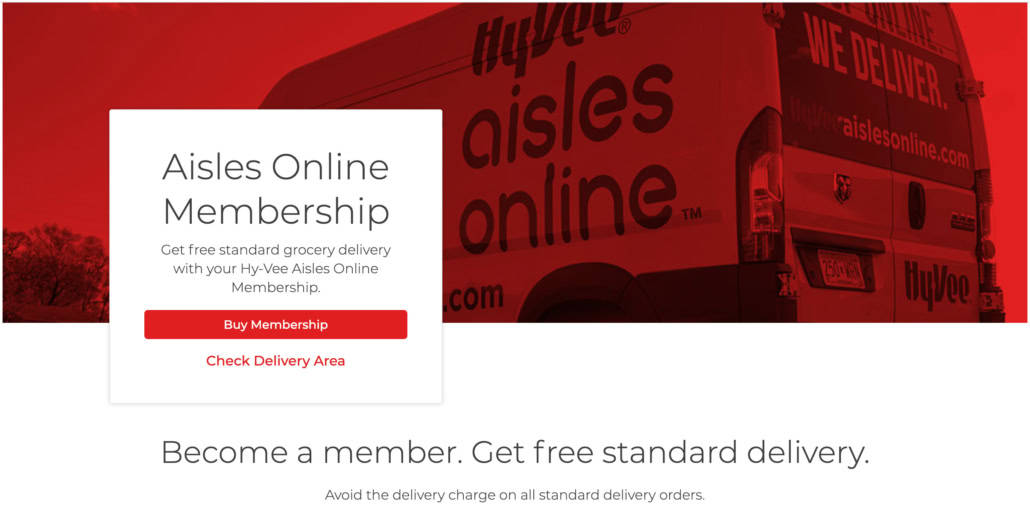 If you're a regular Hy-Vee shopper and love the idea of regular grocery delivery, becoming an Aisles Online member is a great solution. Here are some of the common questions and answers about a membership.
Membership Q&A
Q: What is the new Aisles Online membership plan?
A: For just $99 annually, Aisles Online customers will receive free same-day standard delivery. Customers can enjoy unlimited free standard deliveries with a minimum $30 purchase.
Q: What are the benefits of a membership?
A: For customers who plan to have their groceries delivered, a membership will give you unlimited free standard delivery for an entire year. Additionally, members will also receive half-off Express Delivery!
Q: What if I don't have a membership?
A: For non-members, a $9.95 delivery fee will be added for standard delivery. For customers in a rush, they also offer Express Delivery for delivery within 2-3 hours for $19.90.
Q: How do I purchase a membership?
A: Just visit www.hy-vee.com/membership for more details about the new program and to sign up. If you have questions on the program, contact the Hy-Vee Customer Care team at CustomerCare@hy-vee.com or (800) 772-4098.
Q: Can I pay for my Aisles Online order with my SNAP/EBT benefits?
A: Yes, we now accept SNAP/EBT card payment for curbside pickup orders at select locations. To use your SNAP/EBT benefits, choose the SNAP/EBT card option when selecting your payment method during checkout. This will allow you to pay for your order at time of pickup using your SNAP/EBT card.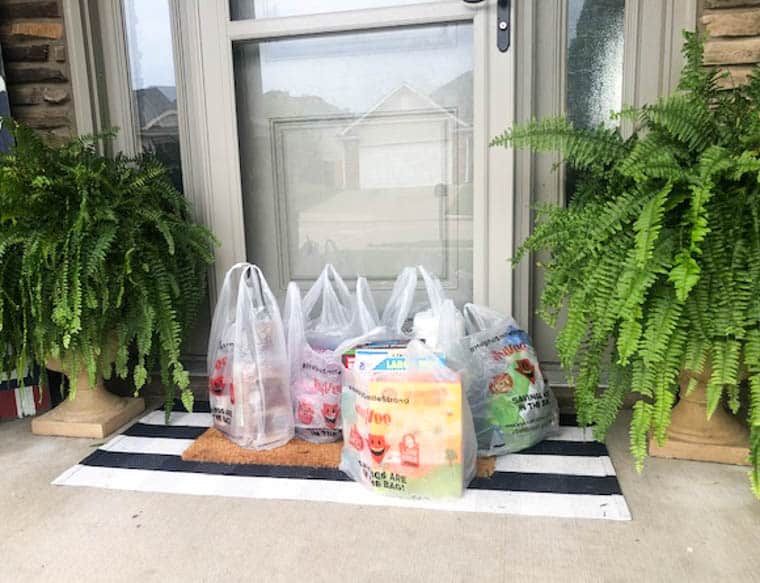 The Verdict
Since someone else will be doing the hands-on shopping for you in the future, it's important to shop from a store you can trust. Hy-Vee has the system, the staff, the products, and the money-back guarantee that make Aisles Online the best place for grocery pick-up or delivery.
Still have more questions? Swing by their FAQ page to get some of the nitty-gritty details.
Give it a try! We think you'll love the ease of it all and time you save with Aisles Online…