…my impatience with my kids.
That's right. I've HAD it with my impatience. (Yes, my husband already pointed out the irony of my impatience with my impatience.)
My little people mean way too much to me to carry on with business as usual. Want to read more about my ugly sin and how I'm battling it? Alright, here we go.
All About My Ugly Sin
As I mentioned in 4 Mistakes I've Already Made as a Parent, one of the biggest mistakes I struggle with daily is being impatient and getting angry quickly with my kids. (Sadly, I've even gotten impatient with my kids while writing this!!!)
Here's what I wrote about my sin in that post…
I never knew what an impatient person I was until I had lots of small kids needing me all day long every day. My go-to sin when I'm tired and pushed to my limit is to get frustrated and raise my voice at the little people I love most. Perhaps the most frequent and ironic example of this is when we're late for church: "Get in the car! Now! I said NOW! Stop touching your sister! What are you doing?! Get in the car!"
Well, you know what? Thankfully, you can't get away with this sort of behavior long. That's because before you know it, you get to hear one of your kids saying the exact same thing in the exact same tone of voice while playing with his/her stuffed puppies. And it cuts you to the quick. Or, you have a 5-year-old tell you with tears in his eyes, "Mommy, I don't like it when you raise your voice at me." Dagger to the heart.
When I'm impatient with my children's sin and quick to anger over little or big things, my kids are learning something about God. My husband and I are their first representatives of God. As a parent, I'm a picture of their Father in heaven, their Protector, their Savior to them. And, when they see me treating them that way, they are learning exactly the opposite of what is true of God…at least to some extent.
Psalm 103:8, 10, which is posted over my kitchen sink right now, says, "The LORD is merciful and gracious, slow to anger and abounding in steadfast love…He does not deal with us according to our sins, nor repay us according to our iniquities." I desperately want my kids to know that God and trust Him and follow Him and love Him all the days of their lives. I pray, by His mercy, that would be true of them despite all my shortcomings.
The Root of the Problem
At the root of my problem of impatience is selfishness. I like to be in control. I like someone to say, "Ok, mommy. I will do what you ask" the first time. I like to be able to finish what I am working on without interruptions. I like a clean and quiet house. I like my schedule to stay on schedule…without dealing with a diaper blowout as we walk out the door or breaking up a fight over a stuffed puppy 16x in one day. Eh, you get the idea. My heart is often full of "me" instead of Jesus.
How I deal with this sin not only affects the legacy I leave in my children's lives, but it also affects my closeness with God–dare I say my own personal good and satisfaction. (A more in-depth post is in order for that subject, but suffice to say, our deepest joy is found in God alone and that is intimately tied to obeying his commands.)
Bottom line: It's time for battle!
How I'm Fighting the Battle
The Bible describes the Christian life as a spiritual battle in Ephesians 6:12.
For our struggle is not against flesh and blood, but against the rulers, against the authorities, against the powers of this dark world and against the spiritual forces of evil in the heavenly realms.
Sounds pretty ominous, huh? There is more to this battle than what I can even see or perceive. No amount of pulling myself up by the bootstraps is going to win this battle. I have to arm myself with the weapons God gives to fight against these dark spiritual forces. Ephesians 6:10-11 says that the way to fight my battle is this…
Finally, be strong in the Lord and in his mighty power. Put on the full armor of God, so that you can take your stand against the devil's schemes.
Only the Lord has the power to fight this battle. So, I'm armed and ready for battle. What do I have to fight with? I have…
"…the sword of the Spirit, which is the word of God" (Ephesians 6:17.)
Hebrews 4:12 describes the word of God in this miraculous and powerful way:
For the word of God is alive and active. Sharper than any double-edged sword, it penetrates even to dividing soul and spirit, joints and marrow; it judges the thoughts and attitudes of the heart. (my emphasis)
Yes, God's word is our sword. It pierces our soul. It reveals truth to us that we wouldn't "get" otherwise. And, that's what it's been doing around my house this week. I've been utilizing some On the Job Meditations so I can continually be at battle against impatience, anger and selfishness.
I spent a morning looking up verses to battle impatience, anger, and selfishness and then posted those all over the place: in my bathrooms, in the kitchen, over the diaper-changing station, etc. Each time I enter that room, I've been searching for the verse, reading it, thinking quickly about what it says (because I usually have a kid needing something), and praying that God will make it a reality in my life.
Verses to Fight Impatience
Here's what I've been meditating on this week. I hope they are an encouragement to you, too! Read on to find out how the battle is going.
Over the kitchen sink is Numbers 14:18…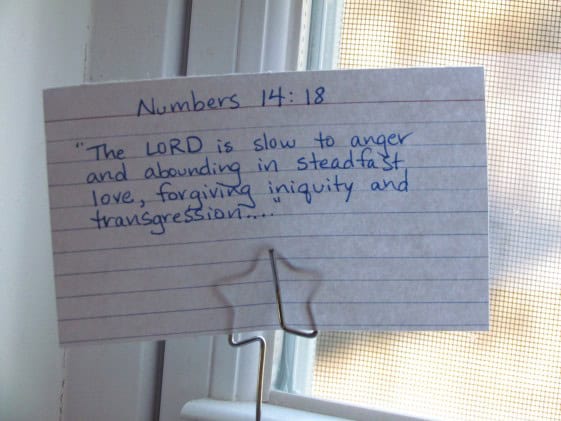 Over the diaper changing table is 1 Corinthians 13:4-7…
Over the stove is Ecclesiastes 7:8b-9…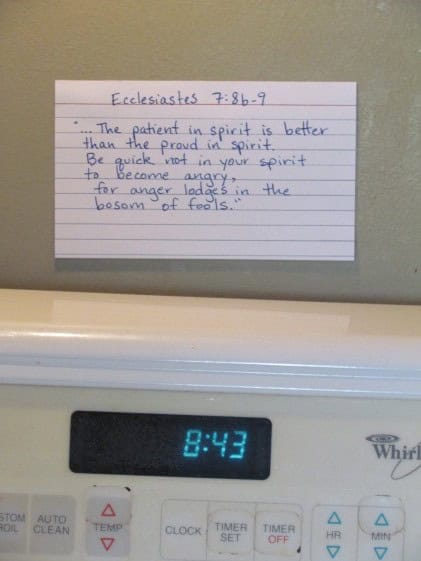 On my bathroom mirror is Psalm 51:17…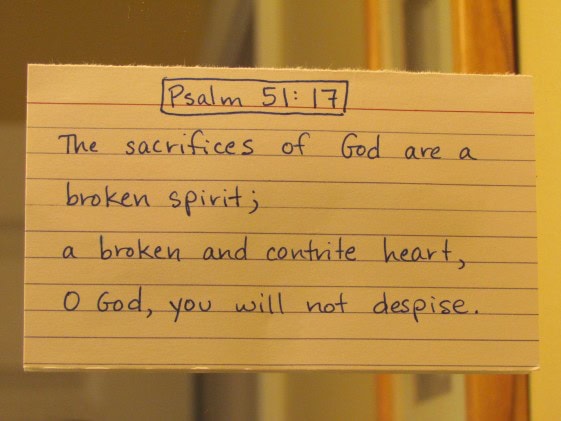 On the refrigerator is James 1:19-20…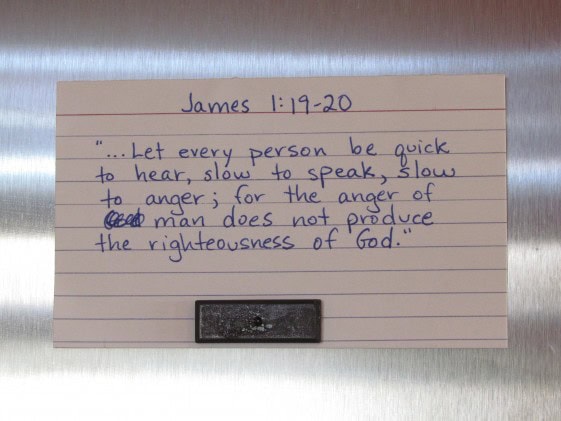 On the downstairs bathroom mirror is Proverbs 15:1…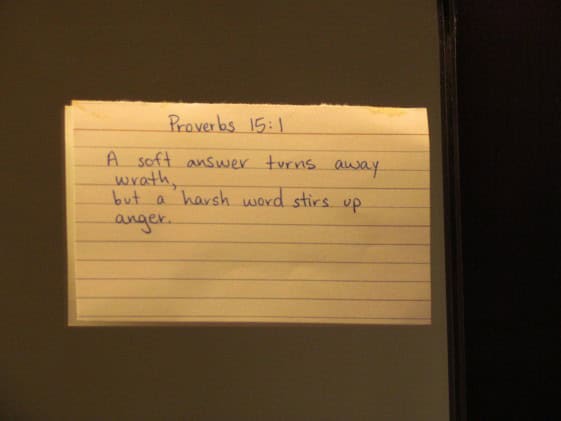 Over my desk is Ephesians 4:1-2…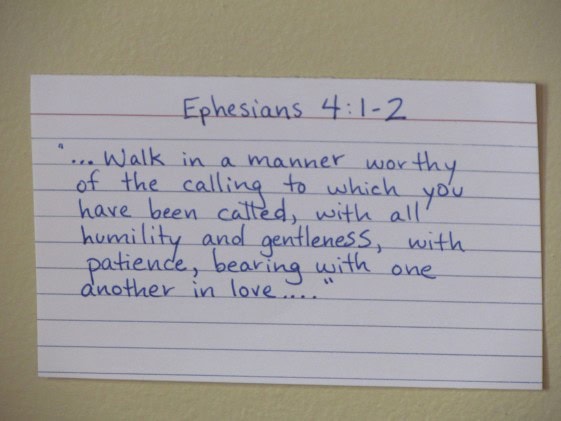 Is It Working?
In case you're wondering how the battle is going…the war is in full swing.
I'm gaining ground so far, with hiccups along the way of course. I don't pretend to think this isn't a life-long battle with hills and valleys. But, I'm finding that reading these verses throughout the day have refocused my mind and heart on God's truth. My heart is softened toward my sweet kiddos. I'm sensitive to my tone of voice and word choice with them. God really has helped me to be more patient since putting up these verses.
The sword of the Spirit is alive and active around here…and that's half the battle!
P.S. You Are Forgiven
I feel like a P.S. is needed on this post.
I share one of my biggest mommy failures with you because, although I'm ashamed of it, I have hope. Kara Chuppie said it well in our most recent Mommy Spotlight. She said,
"I couldn't go on without 1 John 1:9 (especially on those days when I feel like I've failed as a mama)–"If we confess our sins, he is faithful and just to forgive us our sins and to cleanse us from all unrighteousness."
For those who trust in Jesus, there is nothing we can mess up so much that God won't forgive us. There is nothing that can separate us from the love of Christ.
Jesus died for my sin of selfishness and impatience. I am forgiven. The same is true for anyone who places their trust in Him as their Savior.
I don't know about you, but that's hope I need to hear as an imperfect parent.
https://thrivinghomeblog.com/wp-content/uploads/2019/10/thrivinglogo.png
0
0
Rachel Tiemeyer
https://thrivinghomeblog.com/wp-content/uploads/2019/10/thrivinglogo.png
Rachel Tiemeyer
2012-08-09 05:03:49
2019-10-25 12:31:51
I Declare War On…