I Heart Trader Joe's: Why and What We Buy
I heart Trader Joe's.  Who doesn't, really? They're the full package if you ask me.  Here's why they've stolen my heart and what favorite TJ's products make a (smallish) dent in my grocery bill.
Three Things I Love About TJ's
1 – They are a competitive, ethical corporation yet retain their small business feel.  Have you read this fascinating 2010 article from Fortune Magazine about how Trader Joe's operates?  Genius, I tell you.  After reading this, I wanted to get a job there or at least pat myself on the back for shopping there.  You can't help but witness the esprit de corps of the staff when shopping, as the article mentions.
2 – They stock (mostly) healthy products I can trust and afford.  Check out their Trader Joe's brand product pledge.
Yep, that pledge makes this momma happy.  This doesn't mean I give TJ's a thumbs up on every product, but they have a much better start than your average grocery store.
3 – Lastly, who can resist their kid-friendly atmosphere? You win the kid, you win the parent.  Mine beg to go in so they can push a kid's cart, get free snacks, and earn a sticker at the check out line (and bug the crud out of me to get their favorite TJ foods).  Like I said, genius.
TJ's Product Recommendations
My freezer club friends–Darcie and Carla– and I love Trader Joe's so much that we operate a mini TJ's co-op of sorts, since we don't have one in our town.  Usually if one of us gets into the city, we feel it's our duty to stop by the store and be the TJ's supplier to the others.  We often swap reviews of TJ products, so I thought why not share some of our recommendations with some of my favorite blog readers?  In return, perhaps you could send some recs our way in the comments section?
Our Family's Favorites
Whole Wheat English Muffins – I can never find whole grain English muffins without a ton of weird ingredients and preservatives.  These are made with real ingredients, though.  Be sure to freeze or refrigerate these, so they don't go bad.  They have no preservatives…yeah!
Cheese Tortellini – My kids like the refrigerated ones or the freeze-dried ones pictured below in the pasta aisle (but these are a bit higher in sodium).  As always, these are the simplest ingredients I've found in pre-packaged cheese tortellini.
Whole Wheat Handmade Tortillas – I also have a hard time finding tortillas without 600 ingredients.  These are simple and healthy.  They also require refrigeration or freezing fairly quickly.
Old Fashioned Cinnamon Graham Crackers – These are the best graham crackers ever.  I find them in the freezer aisle on one of the top shelves.
Low Sugar Jam – It's awesome! Our favorite is blueberry, but we like any flavor except apricot.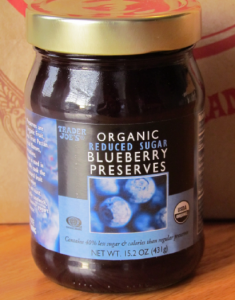 TJ's All-Natural Barbeque Sauce – Really good flavor, and we're picky about our BBQ sauce.
TJ's Organic Applesauce – Just good ole pesticide-free apples and nothing else.
Carla's Family's Favorites
Crackers – Most of the varieties. It's convenience food that's still inexpensive but doesn't have additives, MSG and hydrogenated oils.
Organic Jelly – Grape, mostly. It has less sugar than other brands, and it's organic, yummy and still inexpensive.
Honey Nut Joe's O's – Cheaper than Cheerios with at least half the ingredients (maybe less).
Cheese – We can't afford to buy all organic, but I at least want to make sure my kids aren't getting growth hormone.
Organic Yogurt (tubs and tubes) – It's cheaper than elsewhere. My kids love it, and unless I have coupons or there is a major sale, I just can't buy it often unless we go to TJ's.
Darcie's Family Favorites
Tator Tots
Cereal Bars
Organic Mini Peanut Butter Cracker Sandwiches
Organic Yogurt Tubes
Oyster Crackers
What are some of your favorite Trader Joe's products?
https://thrivinghomeblog.com/wp-content/uploads/2019/10/thrivinglogo.png
0
0
Rachel Tiemeyer
https://thrivinghomeblog.com/wp-content/uploads/2019/10/thrivinglogo.png
Rachel Tiemeyer
2012-02-02 00:00:29
2016-02-03 12:29:09
I Heart Trader Joe's: Why and What We Buy