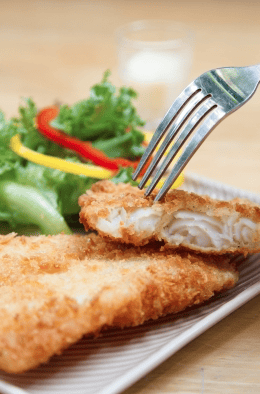 No, I'm not dead. Just pregnant with Baby #3 and coming off a few months of feeling sick, exhausted, and nauseated at just about any smell in the kitchen. So, the idea of writing a food blog has been the last thing on my mind, unfortunately. Although I'm not feeling 100% yet, I'm a little better each day and hoping to get back in the kitchen regularly again. I must confess we've eaten out a lot more than ever and depended on frozen pizzas way more than I would like. Drastic times call for drastic measures, I suppose.
Today, after watching a fantastic new show called Jamie Oliver's Food Revolution, I got re-energized about the importance of cooking at home, teaching my kids about the importance of healthful eating, and avoiding processed foods. You've got to watch it if you get a chance; it's informative, compelling, and funny.
So, despite the "morning" sickness (which is actually afternoon/evening sickness for me), I got back in the kitchen this evening and made some fish sticks for the fam from scratch. The recipe probably took me about 30 minutes from start to finish. Jack, my 3-year-old, loved them, which is a minor miracle right now. He's entered a major picky phase…again. Nathan also enjoyed them, which for those of you who know my foodie husband know this may also be a minor miracle. They were not "fishy" tasting at all. Here's what I did:
Yummy Fish Sticks
Serves: 4
Ingredients:
1/4 cups pecans, pulsed in food processor until finely chopped
1/2 cups whole wheat bread crumbs (Here is how to make your own)
1/2 cups freshly grated Parmesan cheese
3/4 teaspoon garlic powder
1/2 teaspoon salt
1/2 teaspoon dried parsley
pepper, to taste (I probably used about 1/4 tsp)
1 egg
4 – 4 oz tilapia filets (Note: try to avoid those from Asia, if possible, due to contaminants)
Instructions:
1) Preheat oven to 475 degrees F. Spray a cookie sheet liberally with cooking spray.
2) In shallow dish, combine bread crumbs, pecans, Parmesan cheese, garlic powder, salt, dried parsley, and pepper. In another shallow dish, whisk the egg.
3) Cut fish into strips or "nugget" pieces. Pat dry. Then, dip each fish piece in the egg and then the breading mixture, making sure each piece is well coated. Line them up on the cookie sheet.
4) Bake for about 10 minutes, until done.
Freezer Meal Instructions:
To prep: Complete recipe through Step 3. Put cookie sheet with breaded fish sticks in the freezer for about an hour to flash freeze them. Then, place them in a freezer bag, squeeze out all the air, seal and freeze for up to 3 months.
To cook: Preheat oven to 475 degrees F. Place frozen fish sticks on greased cookie sheet and bake for about 15 minutes, until flakes easily with a fork and is golden brown on the outside.
Photo credit at top: http://www.freedigitalphotos.net/