Interview with Author Rachel Jankovic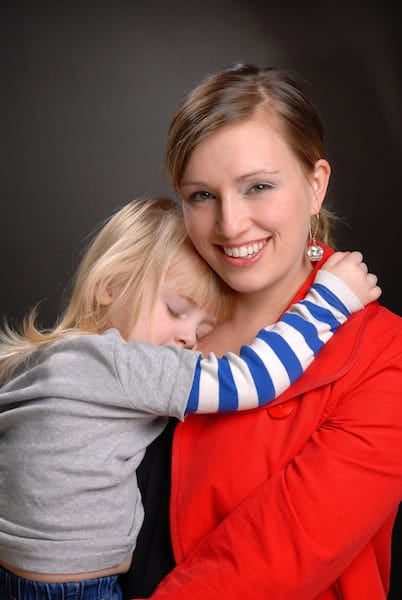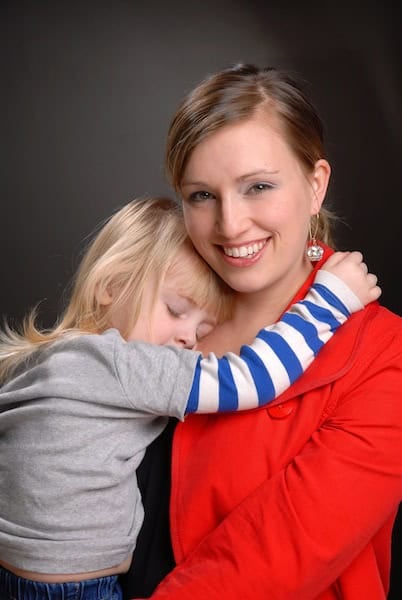 Have you heard of author, blogger and mom of six, Rachel Jankovic? She penned two fantastically brief and poignant parenting books I've reviewed: Loving the Little Years and her latest release, Fit to Burst.
If you have children at home, put a show on for the kids (and don't feel guilty!), grab a hot drink and pull up a chair to the "table" with us. May her words bring a bit of cheer and encouragement to your mommy soul today…
Rachel of TH: I know I'm probably not the only one who wonders how you manage a home with six small children and write/blog, as well. How do you do it all?? (Ok, this question is bait for you. I know you don't do it all, Rachel, because none of us do, right? I'd just love some of your wisdom about balancing children/home/work and maybe what you let go of to make your priorities a priority. I think most moms can be "The Mean Boss" to themselves that you describe in Ch. 3 of Fit to Burst.)
Rachel Jankovic: Right this second I am writing in the living room while one kid is playing the keyboard on the couch, three are doing legos all over the floor, one is sleeping, and one is by my side asking me to tear off pieces of red duct tape every few seconds, which I do without inquiring why. I am between laundry loads 4 and 5, but luckily it is all folded and sorted on the couch downstairs, except for the pile of dishcloths that Shadrach spread all around the room.
I've said it before and I will say it again, I write to myself more than to others. It is good for me to think about how the Gospel applies to my life and how I want to be living, and writing is just an extension of that. I do it in between things in our normal life, not as a separate job.
Other than that I am always juggling what I think is important and what isn't – its a pretty organic/ artistic thing really. Like gardening, we are always trying to add something to the thin spots, and prune out the bushes no one likes that just keep growing.
I am sitting here trying to think of things that I have let go of and really I don't even know anymore. Because the reality is that it is always growing. When I do let go of something it is because God has given me something else. That thing – the one that stays in my hands, really is important. A lot of the time it is us growing and acting in obedience, and concentrating on something that we believe God wants us to be doing. When a selfish desire falls out of sight in that context, it really is out of sight.
In contrast, I don't think it is good to decide to slash things (that were God honoring things) without this kind of pressure. In other words, I don't cut things in frustration most of the time. I cut things because they just straight up fell off the table, and I forgot they existed.
Rachel of TH: You say in Fit to Burst, "The more we are steeped in the language of the Bible, the more we will recognize when things from the world are slipping in." I couldn't agree more. But, speaking from my own experience, finding quality time to read, study, and pray in light of the Bible is hard as a mom. When do you find time to be alone with God and read His Word? Is that even possible at some stages of parenting?
Rachel Jankovic: I've been through all kinds of stages of life on this. Right now I mostly read my Bible on my phone – Olive Tree has a great app that keeps track of your Bible reading plan for you, and often I have my phone with me when I wouldn't have my Bible – waiting at school pick-up, etc.
I think it important to have a relationship with God that runs through your day. Prayer when you are being tempted. Obedience when you don't feel like it. Singing a Psalm when you want to feel sorry for yourself.
I do not have a lot of private time with the Lord right now, but my whole life is His. All day long I have opportunities to submit to Him, to grow in knowing Him. There was also a time when the kids were littler that I remember realizing I didn't have to get everything together first. I could just sit on the couch and read my Bible while the kids galloped around in dress ups. Strangely, I was feeling like I needed to come up with a peaceful ambiance first, before I could go to the source of peace.
Rachel of TH: In Fit to Burst, you have a huge emphasis on sacrifice and giving, even when "the milkshake is running low" because all the kids are sucking every last ounce of energy from you. When a mom has one of those days when she feels completely emptied from giving so much, what are some practical strategies to help her keep going? What can she do or remember in times like that?
Rachel Jankovic: Turn on music, eat something. Let the kids make a fort in the living room. Put cold water on your face, make coffee. Sometimes when things get really dire I set my phone alarm for 12 minutes and lay like a pancake without worrying I will never get up. Go outside, bake cookies, sit down and knit, call my sister, text my husband. Even a little bit of physical exercise can help – get the blood flowing again. I've been known to run the stairs. The biggest thing is to try and lean into it. Don't save up exhaustion like it is your precious little pet. Run right through it with joy and laughter if you can.
One of the best things to remember is that life is fleeting. This may sound morbid – but if you were standing in a graveyard, having lost these kids, you would give anything (everything) to have even your worst day back. Blessings are heavy, but so sweet. This kind of trial is the trial of being richly blessed.
Rachel of TH: What are the top three things your own parents did when raising you that you are trying emulate in your own home?
Rachel Jankovic: I don't know that these are the top three, but three that come to mind.
1) Eating together, and talking around the table for a while after – about everything. Applying God's word to everything gave us the strong conviction that His word is relevant in every situation. This would tie into the fact that all three of us kids always were on the same "team" as my parents. We have some deep loyalty and real connection to each other. Even in our teenage years that was the case, and I am old enough now to know that that was a precious gift.
2) Having a good sense of humor, even at your own expense. Being full of joy at all the funny things that happen all the time. Laughing as a family, even about our own misfortunes.
3) Extreme generosity – giving much, and never bringing it up again. Giving freely for reals.
Rachel of TH: One of the funniest things I read in Loving the Little Years (and I still use this phrase about my own house) is that yours looks like the bottom of a toaster sometimes. Here's a little challenge for you. Take a picture right now of the messiest place in your house so we can commiserate with you.
Rachel Jankovic: I have a lot on my computer because for some reason I always take pictures of these situations. In fact, it is hard to choose. I can't decide between the coffee crime scene that is our carpet, or this one of Blaire's recent work.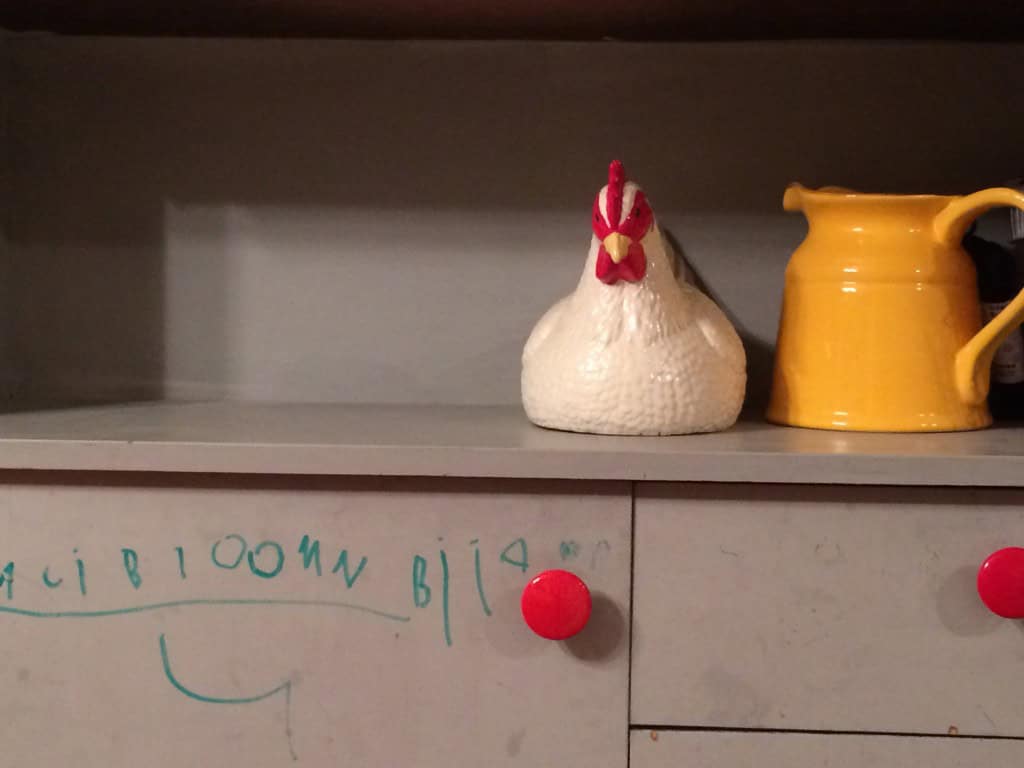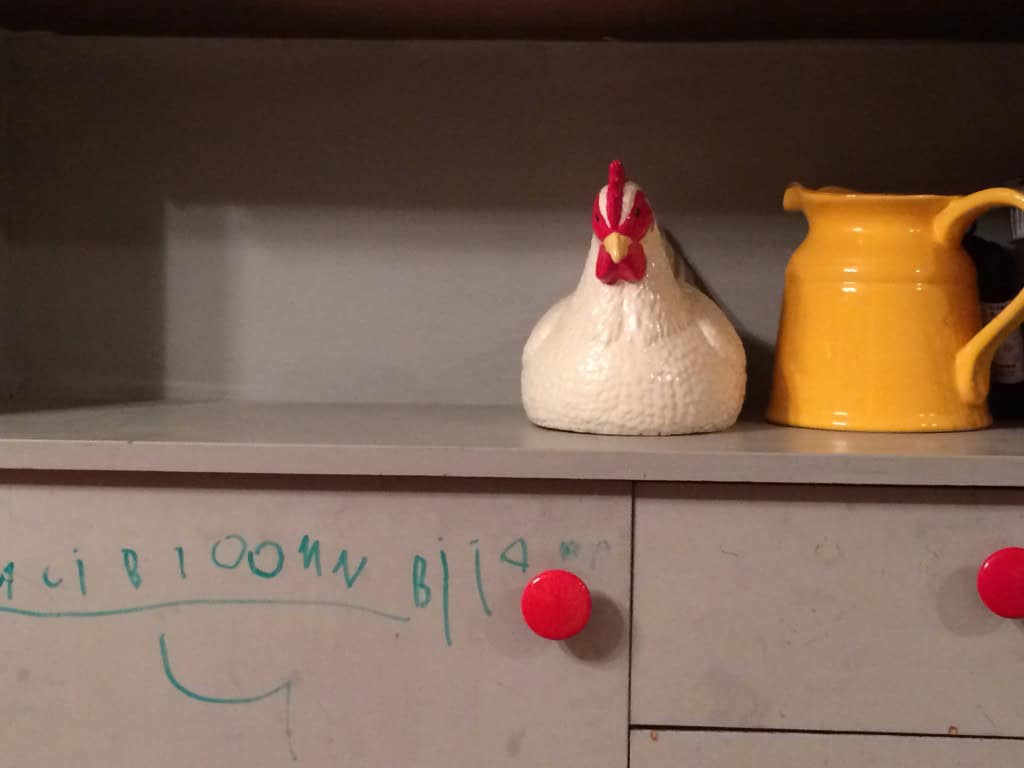 Rachel of TH: Not to put you on the spot, but any last thoughts, advice or generally funny "Rachel Jankovic-isms" that might encourage the moms who read Thriving Home?
Rachel Jankovic: When our kids are upset about something that isn't working out for them, we tell them that you have to be good at being bad at things first. Because then you will get good at being good at it. But if you are bad at being bad at something, you will still be bad at it when you get good at it.
That's how I feel about all kinds of domestic things, kid raising things, feeding people, actually just life in general. Just hoping to be really good at being bad at it – and maybe someday, in our old age we will get to be good at being good at it!
Now that you fully appreciate the genius of this woman, you will need to read her newest book, Fit to Burst, right?
https://thrivinghomeblog.com/wp-content/uploads/2013/12/FTB_3D_WebReady.jpg
548
400
Rachel Tiemeyer
https://thrivinghomeblog.com/wp-content/uploads/2019/10/thrivinglogo.png
Rachel Tiemeyer
2013-12-09 10:00:00
2020-11-13 06:52:58
Interview with Author Rachel Jankovic