Make Your FALL at Home with Kids Count (LOTS of Ideas & Resources!)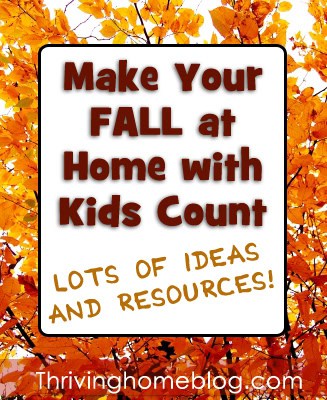 I want to go somewhere with my family. Not just tread water in the middle of life with little kids. But, sometimes I just get stuck…for long stretches of time treading the water. The start of school provides a natural time in the calendar to reevaluate life in various areas and sort of "reboot" as a family, though. I know from experience that developing goals, coming up with a plan, and having good resources in hand makes it possible to grow personally and to foster growth in my kids over time.
Upon reflection on our summer and the goals I set out with, I am leaving it (today's the first day of school for us) with the overall feeling that we used our time fairly wisely. Not perfectly, mind you–we were a little thrown off after vacation. But we at least worked toward some specific goals for the first time. My kids are doing chores now and we took several local field trips that made for some pretty cool experiential learning opportunities, to name a few successes. I'd like to say the same thing about our fall.
So, I've been thinking a lot about four areas I want to focus on this fall:
What am I going to study/read to help me grow in my faith?
How am I going to fit in exercise at home throughout the week?
What is my plan for effectively and efficiently getting housework and cooking done?
How will I intentionally teach my children at home?
In this post, I'll share a little bit about my plan in each of these four areas and some resources I'm using or highly recommend. I hope you find this helpful as you think through your own fall goals and schedule.
What am I going to study or read this fall to help me grow in my faith?
Here are some stellar resources I've used, some of which I'll continue to use during my (hopefully!) 20-30 minutes alone with coffee and God each morning from 6-6:30 a.m. Besides reading through the Bible using our church's reading plan, I'll rotate through a few devotionals.
Devotional/Prayer Resources
Handbook to prayer: Praying Scripture back to God
Face to Face: Praying the Scriptures for Intimate Worship
and Face to Face: Praying the Scriptures for Spiritual Growth
Valley of Vision (Leather): A Collection of Puritan Prayers and Devotions
or find some of the prayers here online. My favorite is this one.
Morning and Evening: A New Edition of the Classic Devotional Based on The Holy Bible, English Standard Version
Books for Spiritual Growth
A Praying Life: Connecting With God In A Distracting World
by Paul Miller. Here's my review of the book.
The Freedom of Self Forgetfulness: The Path to True Christian Joy
by Tim Keller.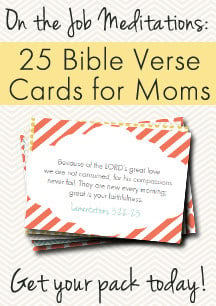 How am I going to fit in exercise throughout the week (especially with kids at home and a part-time job)?
Fitting in consistent exercise is always a tricky one for me with a 2-year-old and 4-year-old at home. I want to use our mornings for housework, errands, and homeschooling (yes, I'm trying to teach at home instead of sending them to preschool…more on that in a moment). So afternoons during nap time/room time are best for me to exercise. Here are some resources that help me sneak in a quick and effective workout at home:
Sneaky Exercise for Busy Moms – This is my overall philosophy of (with lots of tips on) how to stay fit at this stage of life. 🙂
How to Lose Baby Weight – My philosophy on losing weight from my personal experience with three babies.
Free 30 Minute Total Body Workout
My Favorite Workout DVDs – These are my go-to DVDs. They are fast and get the job done! I like to switch them up for variety.
How am I going to get housework and cooking done daily?
Housework Plan
Ah…I admit, this is a struggle for me. Housework–especially laundry for some reason–is one area in my life that I have to confront and attack with a renewed vengeance a few times a year. One new plan we instituted this summer was a Chore Chart. Not only is this teaching my children responsibility around the house, but it gives me a daily "small bite" plan to keep our house clean (and some extra help!). I may tweak our original one for the fall now that we've figured some things out that work for our family (like giving my kids MORE responsibilities), but overall this is a keeper. Wish I had done this sooner.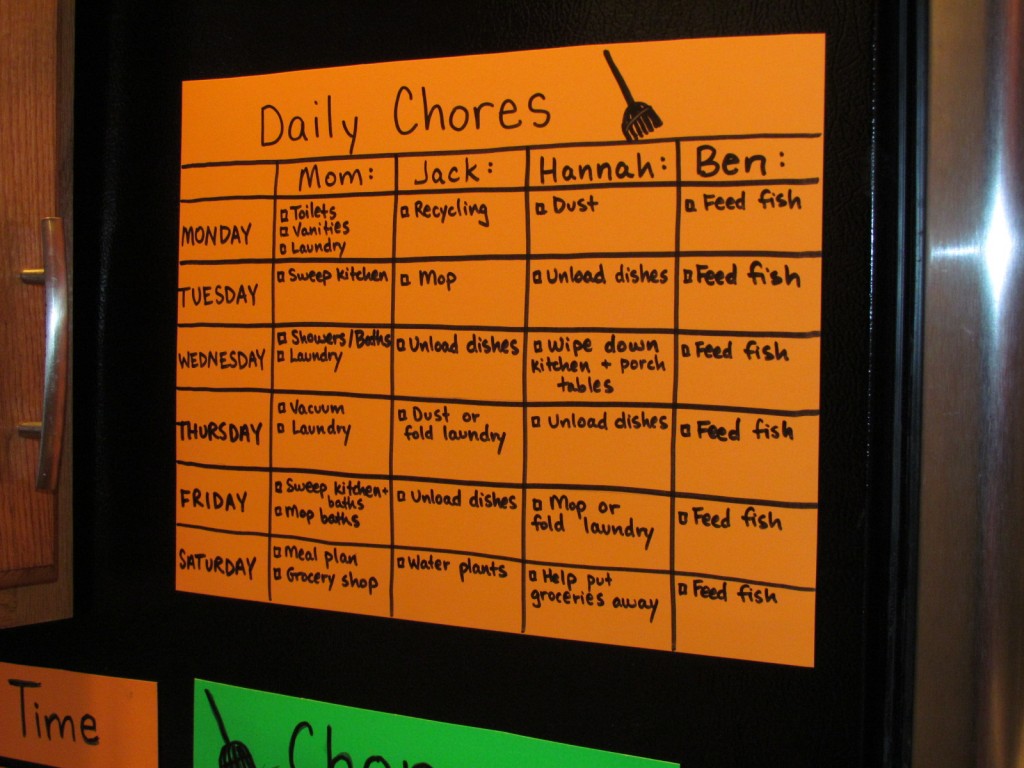 Cooking Plan
As many of you know, over the years, I have found a really useful and practical way to save money and provide healthy homemade meals for our family. I'll continue our Freezer Club and regular Menu Planning (check out mine each Saturday on the blog).
So, here are some resources that can help you get homemade, healthy, and family-friendly food on the table each night.
60+ Freezer Meals for Busy Moms
You'll find over 60 freezable meals and sides that you can make ahead in batches in this one, the most popular post on our site.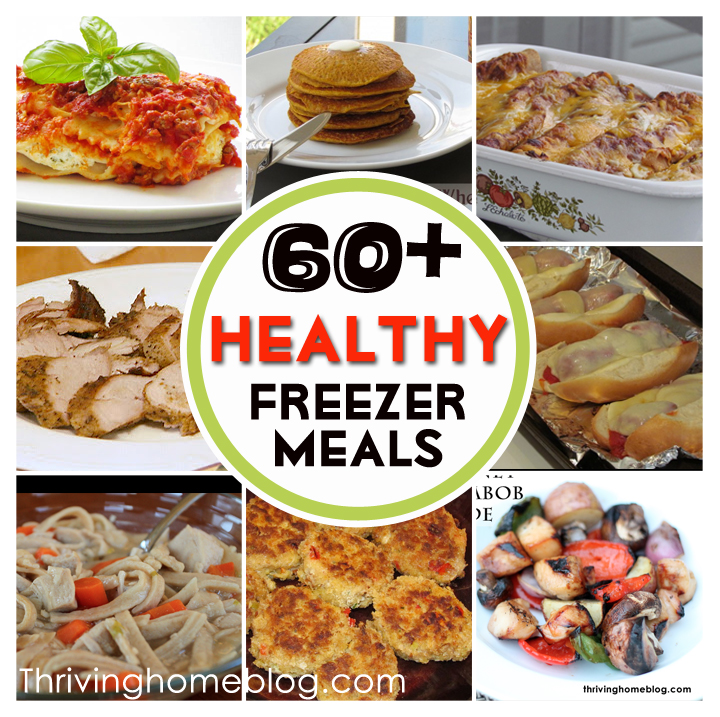 Download this free menu planner to use on the counter or fridge and make dinner each night a cinch.
Our recipe index is filled with family-tested and approved healthy ideas for breakfast, lunch, dinner, and snacks. Polly and I personally use the recipes every week!
How am I going to be intentional to teach my children at home?
This year, I'm planning to home school my 2-year-old and 4-year-old for preschool. My reasoning is mainly a financial one (preschool is so expensive!). But I also wasn't crazy about my kids being gone from me so many mornings a week. Knowing that they get plenty of social interaction because of church programs and play dates, I felt good about the decision. But hear me say this: Preschool is a wonderful opportunity for many children (and moms, who get some time off!). I am very pro-preschool! Homeschooling just worked best for us this year.
My goals for my 2-year-old and 4-year-old are to foster a general love of learning/reading and to teach the 4-year-old to read. Here's my simple plan, after consulting several moms who have home schooled and doing some research.
1) I am going to spend 15 minutes three days a week doing Before Five in a Row: A Treasury of Creative Ideas to Inspire Learning Readiness
.
2) I'm also going to do about 10-15 minutes of Get Ready for the Code
, Get Set for the Code
, and Go for The Code
with the 4-year-old to teach her phonics 3-4x per week. She likes to sit and do work like this, so I think this curriculum will be a good fit for her. My older son would not have stood for this, though. 🙂
3) And, I'll do about 15+ minutes of reading after lunch with the kids on the couch on most days, in addition to the reading we do before bedtime. Here are some favorites:
I also listed some chapter books we've read and enjoyed in this post.
4) Lastly, helping our children grow in their faith and learn to love God's Word is of highest importance to my husband and me. Below are a few resources we are using or have used with all three of our kids. We will continue our devotional time with them before bed, simply because it fits best in our schedule at that time. When they were younger, though, we usually would read together at breakfast.
Our Favorite Children's Bibles
The Action Bible
and the audio version
Thoughts to Make Your Heart Sing
by Sally Lloyd-Jones
The Princess and the Kiss: A Story of God's Gift of Purity [With CD (Audio)]
and The Squire and the Scroll: A Tale of the Rewards of a Pure Heart [With CD (Audio)]
– Wonderful fictional read-alouds on the value of purity for girls and boys. I highly recommend getting the books with the audio CD too. My kids listen to these as they are going to bed or in the car.
How do you plan to use your fall wisely at home with kids? Any ideas or resources from your home?
Note: This post contains some Amazon affiliate links. Here is our full disclosure. When you purchase through any of these links, you are helping support Thriving Home so thank you!
We work hard to share good content and recipes with our readers. If you have benefited from this post, we'd love it if you'd pass it on in one way or another. This helps us keep Thriving Home, well, thriving!
https://thrivinghomeblog.com/wp-content/uploads/2013/08/make-your-fall-count.jpg
400
327
Rachel Tiemeyer
https://thrivinghomeblog.com/wp-content/uploads/2019/10/thrivinglogo.png
Rachel Tiemeyer
2013-08-20 05:00:14
2019-10-25 12:31:32
Make Your FALL at Home with Kids Count (LOTS of Ideas & Resources!)