(Giveaway Closed)
I have been excited about this Cookbook Giveaway for a LONG time. It's mega. It's awesome. It's huge. It's amazing. And it could all be YOURS!
One winner will take home ALL of these cookbooks. How fun would that be?!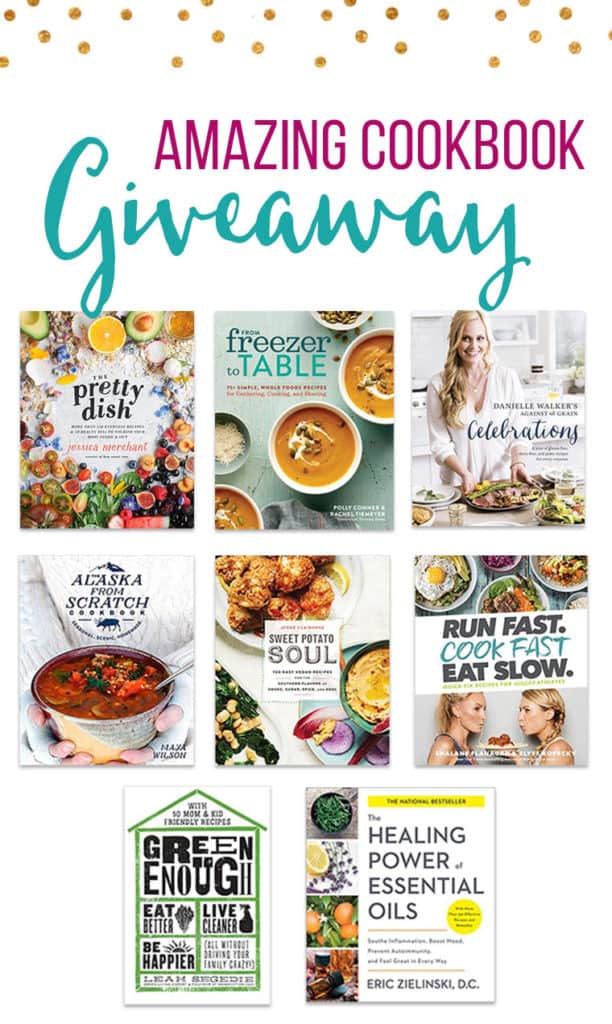 How to Enter:
There are many ways to snag a chance at winning all of these. MANY. You can enter through all the options in Rafflecopter right below this AND/OR you can hop over to our Instagram Account and enter through our post over there. In the end, we will combine all the entries and announce a winner on Monday, the 27th!
a Rafflecopter giveaway

The Mega Cookbook Giveaway Includes:
Note: We are a participant in the Amazon Services LLC Associates Program, an affiliate advertising program designed to provide a means for us to earn fees by linking to Amazon.com and affiliated sites. Read our full disclosure policy here.
From Freezer to Table: 
75+ Simple, Whole Foods Recipes for Gathering, Cooking, and Sharing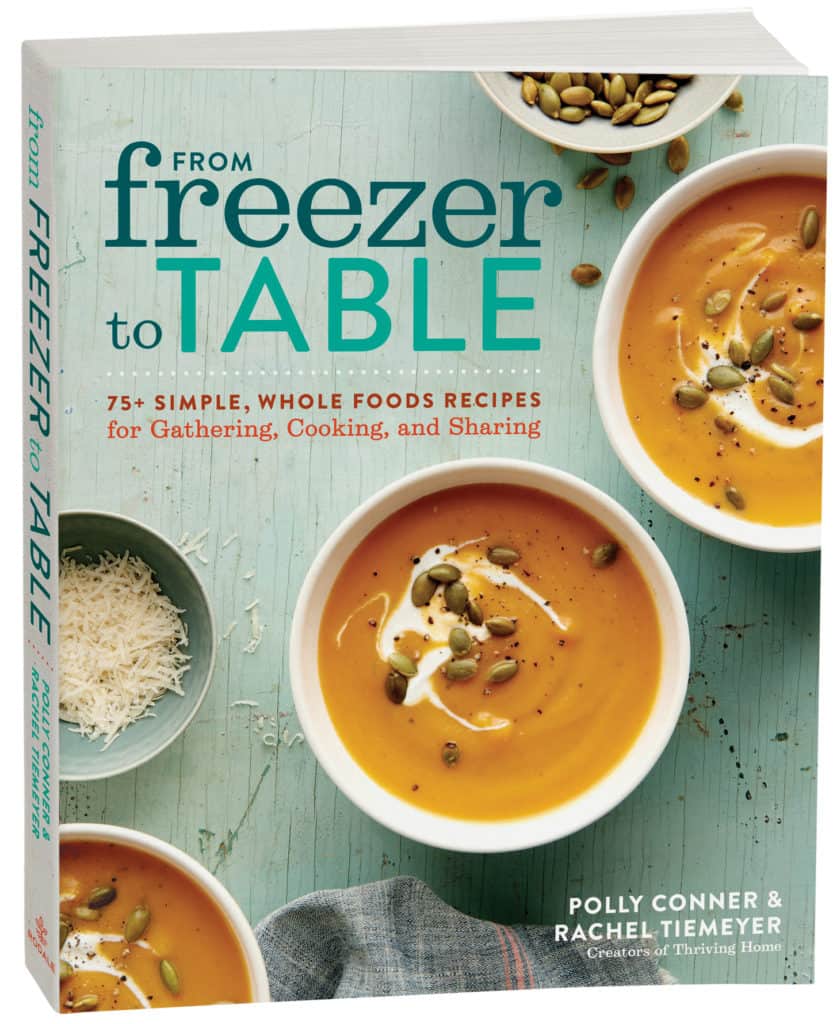 From Freezer to Table is the ultimate guidebook for transforming the way your family cooks, eats, and freezes. The chapters are packed with freezer cooking basics, practical tips for Freezer Cooking Parties and Freezer Clubs, and plenty of motivation and tools to make freezer cooking second nature. With more than 75 simple, family-friendly recipes—all made from whole food ingredients—this book shows how you can stock your freezer with favorites, like Mixed Berry Oat Scones, Parmesan and Herb Chicken Tenders, and slow-cooker Killer Carnitas.
Prepare to reclaim your kitchen from processed foods, all while saving your wallet, your waistline, and your time! With a freezer full of the easy dishes in this book, you can enjoy tasty, stress-free meals around the table with those you love, even on your busiest days.
Celebrations: 
A Year of Gluten-Free, Dairy-Free, and Paleo Recipes for Every Occasion
This New York Times bestselling cookbook from Danielle Walker, author of Against All Grainsand Meals Made Simple, presents 125 recipes for grain-free, dairy-free, and gluten-free comfort food dishes for holidays and special occasions.
The Pretty Dish: 
More than 150 Everyday Recipes and 50 Beauty DIYs to Nourish Your Body Inside and Out
150 brand-new recipes, party ideas and menus, killer playlists, and inventive beauty projects from How Sweet Eats blogger Jessica Merchant.
Jessica Merchant is like your most reliable girlfriend—that is, if your girlfriend was a passionate cook and serious beauty junkie. With her second book, she brings her signature playfulness to the page. It's filled with 150 brand-new recipes, along with themed menus, party ideas, killer playlists, and inventive beauty projects.
From Alaska from Scratch blogger Maya Wilson comes a beautifully scenic cookbook celebrating Alaska and its ocean-to-table, homemade food culture.
When Maya Wilson and her three kids transplanted to Alaska in 2011, she didn't know what to expect. But what she ended up finding was home—and she turned her love for the gorgeous landscapes and fresh cuisine into the now hugely popular blog Alaska from Scratch.
Sweet Potato Soul: 
100 Easy Vegan Recipes for the Southern Flavors of Smoke, Sugar, Spice, and Soul
Jenné Claiborne grew up in Atlanta eating classic Soul Food–fluffy biscuits, smoky sausage, Nana's sweet potato pie–but thought she'd have to give all that up when she went vegan.  As a chef, she instead spent years tweaking and experimenting to infuse plant-based, life-giving, glow-worthy foods with the flavor and depth that feeds the soul.
The New York Times bestseller Run Fast. Eat Slow. taught runners of all ages that healthy food could be both indulgent and incredibly nourishing. Now, Olympian Shalane Flanagan and chef Elyse Kopecky are back with a cookbook that's full of recipes that are fast and easy without sacrificing flavor. Whether you are an athlete, training for a marathon, someone who barely has time to step in the kitchen, or feeding a hungry family, Run Fast. Cook Fast. Eat Slow. has wholesome meals to sustain you.
Run Fast. Cook Fast. Eat Slow. is full of pre-run snacks, post-run recovery breakfasts, on-the-go lunches, and 30-minutes-or-less dinner recipes. Each and every recipe―from Shalane and Elyse's signature Superhero muffins to energizing smoothies, grain salads, veggie-loaded power bowls, homemade pizza, and race day bars―provides fuel and nutrition without sacrificing taste or time.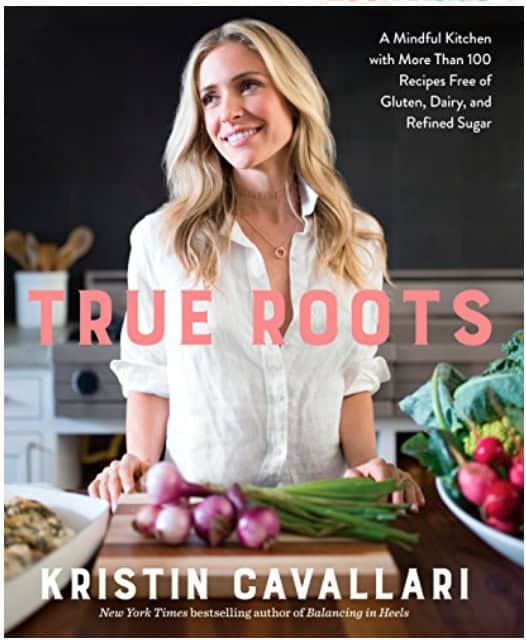 Instant New York Times bestselling author Kristin Cavallari reveals her favorite clean recipes for a well body, spirit, and mind. 
In Balancing in Heels, Kristin Cavallari shared her personal journey along with her tips on everything from style to relationships. And now, with her instant New York Times bestseller True Roots, Cavallari shows you that improving the way you eat doesn't have to be difficult—a clean and toxin-free diet can and should be fun, easy, and enjoyable. She learned the hard way that dieting leads nowhere good, and that a clean lifestyle is the ticket to feeling and being healthy.
In Green Enough, Mamavation blogger Leah Segedie uncovers the truth behind the food and household products that are misleadingly labeled "all-natural" and healthy but are actually filled with chemicals and toxins. From furniture to packaged food, Leah guides you through detoxifying your home, diet, and lifestyle, showing you how to make the best choices possible.
Eric Zielinski, D.C., host of the Essential Oils Revolution summits, offers a soup-to-nuts guide to mastering essential oils for vibrant health and well-being, featuring dozens of recipes and formulations for restful sleep, reduced inflammation, balanced hormones, and more.