The angel's words to the shepherds so long ago really are true:
But the angel said to them, "Do not be afraid. I bring you good news that will cause great joy for all the people. Today in the town of David a Savior has been born to you; he is the Messiah, the Lord." (Luke 2:10-11)
I type that passage with joy welling up inside my chest and tears blurring my vision. I truly am convinced that God sent his own Son as a tiny, vulnerable baby to be "God with us". Light broke into a dark world. Hope has come. Friends, you are looking at (through a computer?) a woman whose life was turned upside down about 18 years ago when I began to believe that. God has done a miraculous work in me that I never could have imagined or done myself.
Why, then, is the season of Advent such a mixed bag for me? 
…I've been incredibly joyful and yet heartbroken at times this Advent season.
…I've vacillated between appreciation for and frustration with my husband.
…I've had some really great parenting moments. And some notable failures.
…I've enjoyed getting up early and meditating on God's Word and the meaning of Christmas…sporatically, at best.
Advent always turns out to be a time of grand hopes and plans…that I always find I can't measure up to. I can't avoid a marital spat over holiday plans or a project. I can't please every child with what he/she wants to do or receive. I can't provide the perfect family service opportunities or holiday meal I imagine in my head. I can't seem to follow through on an Advent devotional with my kids like I plan.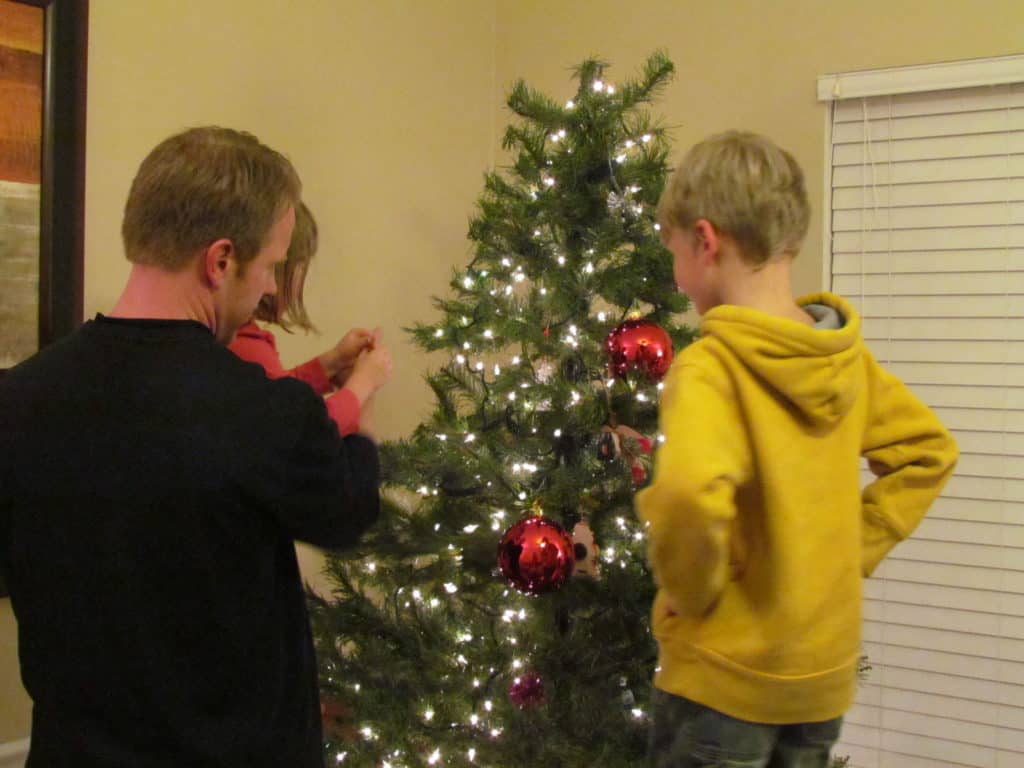 Isn't there more to the Advent season than this? 
Maybe. But, on second thought, maybe not.
Experiencing joy and hope and yet in the same breath wrestling with my brokenness isn't just a phenomenon each December. It's what a life of faith looks like right now. I am reminded each Christmas season, perhaps most acutely, that we are living in a "mixed bag" season of waiting daily for the second Advent, the second coming of Christ. We are in the thick of the "already, but not yet" epoch. A time in which sin and sorrows still grow and yet our Savior does reign.
We know the end of the story, though. Oh, and it's such a good one! This baby has come to be with us. He has come to live the life we can't for us. He has come to die for us. He has come to rescue us from our sin and brokenness and give us an eternal home. He has come to eventually make everything new.
We're almost to the end of the story, but not yet.
I always miss the mark during Advent, and yet…I will believe and wait. Knowing there will be a time in which my hopes and plans will never go awry again. I will believe and wait. With a heart full of (imperfect) faith in the baby God sent into our dark world. And I will believe and wait. With (imperfect) joyful anticipation for my returning Savior to come.
"Who can add to Christmas? The perfect motive is that God so loved the world. The perfect gift is that He gave His only Son. The only requirement is to believe in Him. The reward of faith is that you shall have everlasting life." – Corrie Ten Boom
This is what my "mixed bag" heart will rest in this day of Advent. May yours, too. Merry Christmas, dear readers!
https://thrivinghomeblog.com/wp-content/uploads/2012/12/Christmas-Decor.jpg
493
720
Rachel
https://thrivinghomeblog.com/wp-content/uploads/2019/10/thrivinglogo.png
Rachel
2015-12-24 04:26:30
2015-12-24 08:08:16
I Always Miss the Mark During Advent, and Yet...