Newborn Gear that I'm Loving (The Second Time Around)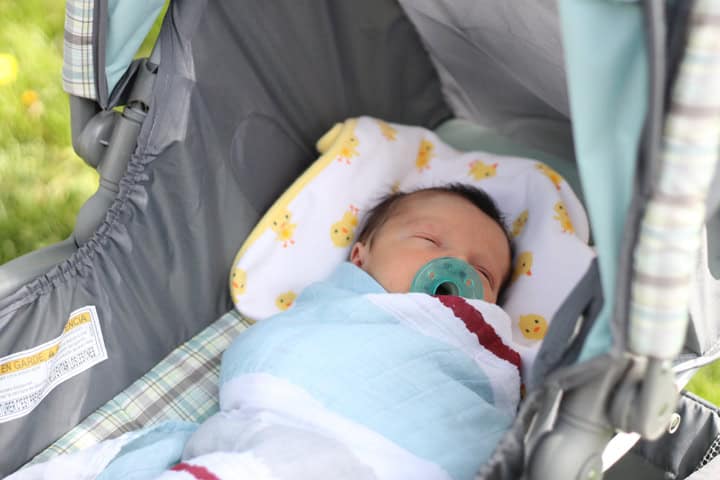 *Some of the links in this post are affiliate links. We are a participant in the Amazon Services LLC Associates Program, an affiliate advertising program designed to provide a means for us to earn fees by linking to Amazon.com and affiliated sites. Here's our full disclosure. 
I can't believe it's already been three weeks since our little man, Tyler was born. (Check out my birth story here). I can honestly say that having kids is WAY easier the second time around. At least that has been my experience so far.
Despite some long nights, our transition from one kid to two has gone very smoothly. This kid is chill. He's a good sleeper and a good eater. There isn't much more a mom can ask for from a newborn. I'm just loving him to death.
Big sister has actually handled the new addition like a champ. She only gets really upset when he cries. She's always been a sympathy crier but I don't find as cute anymore when I've got two crying kids every time I change Tyler's diaper.
I digress… Tyler is a super great baby. This picture is an accurate representation of his temperament so far.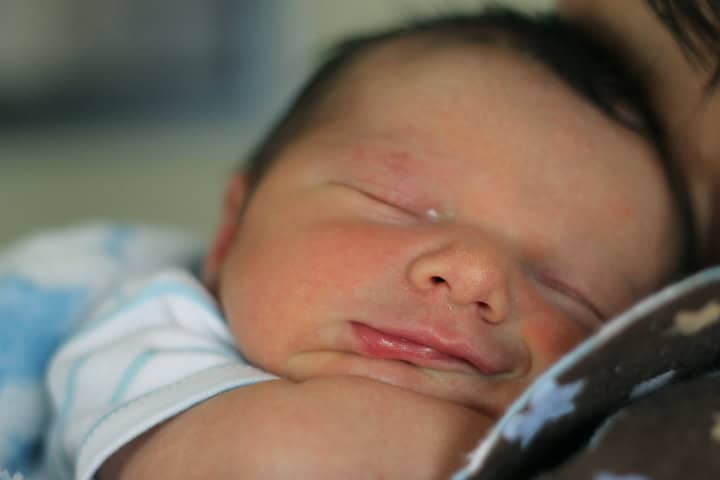 A while back I wrote a post about baby gear in which I highlighted things that I've found to be necessary (and unnecessary). Now that I'm two weeks in with a newborn, I wanted to highlight a few things that I am loving. Some things are more helpful this time around too.
Newborn Gear I'm Loving
My little guy likes to be swaddled. Most babies do. I have found these sleep sacks to be a great way to keep them snug as a bug at night and during naps. I never really mastered the art of swaddling with blankets because I got spoiled by these guys. They are light weight but warm enough to not need any extra blankets. My little dude is snoozing in his sleep sack as I write this right now!
Gosh, I love these blankets. They are especially fabulous if you have a baby in the spring or summer. With a toddler, we are outside a lot so baby boy has to take some naps outside. With these blankets, I can swaddle him but he doesn't get too hot. They are really big too so they can be used and wrapped in a lot of different ways. I also love their designs. Here is a picture of my little man snoozing wrapped up in one of these blankets.
I know, hilarious name right?
If you can get over the fact that you are buying something called "Bamboobies" you will probably grow to like these as much as I do. Especially in the beginning when things are a bit sore. If you haven't figured it out, these are reusable breast pads. I love how soft and flat they feel and fit. My only complaint is that I don't have more. If they get wet, they need to be swapped out and any new mama knows this happens a lot in the beginning. So yes, I love them but I wish I had enough to get me through a few days without washing them.
We've named these our "man-gowns" in an effort to make little Tyler feel better about wearing one. 🙂
Sleep gowns have always looked a little goofy to me but once you have been up a few nights in a row changing diapers in the dark, you grow to appreciate these bad boys. I love that you don't have to fumble around with buttons or zippers at night. I also love that they keep the top half of the baby warm during changes. Newborns hate being undressed and will let you know about it so the less undressing I have to do, the better. We have a stash of these that we are getting a lot of use out of.
For some reason, I hardly used this pump with my 1st kiddo but I have found it to be great to have now that I have two. More and more I am having to pump on the go. It's really handy to have this guy to throw in the diaper bag rather than packing the double pump and all its parts. It's easy to use, assembles easily, and is great for the busy mom.
There are quite a few other things I am using like crazy but I just wanted to highlight the things that I felt deserved a little more attention and I've been thankful for in these past two weeks.
https://thrivinghomeblog.com/wp-content/uploads/2013/05/Screen-Shot-2013-05-06-at-8.54.54-PM.png
365
338
Polly Conner
https://thrivinghomeblog.com/wp-content/uploads/2019/10/thrivinglogo.png
Polly Conner
2013-05-14 05:28:29
2020-01-03 13:41:01
Newborn Gear that I'm Loving (The Second Time Around)