Gift Idea for a New Mom: Nursing Time Box
This post may contain affiliate or sponsored links. Please read our disclosure policy.
Reposted from January 2012
Here's a frugal, easy and useful gift idea for a new mom…
A friend of mine had her third baby a few weeks ago and is now at home with the infant and her two other small children. As I prepared a meal to take to her, I wondered if there was some other small gift I could put together for her using things around my house. Who doesn't like a little gift afterall? Since I was homebound with napping kids, I had a brainstorm. What if I put together a Nursing Time Box for her?
The idea came as I remembered my own experience of nursing the baby every 2-3 hours while somehow corralling a 2-year-old and 3-year-old. Inevitably, someone would pull someone's hair or steal someone's toy or jump on me while I was nursing. It was always a stressful time while daddy was away at work.
So, the idea behind the Nursing Time Box was to provide my new mom friend with nursing time entertainment for the other kids. I searched our house for a few books, videos, toys, and craft stuff that we had enjoyed but were done with.
None of it was fancy, but that wasn't the point. The point was to give her kids something "new" to distract them. I thought she could pull out one new item at a time to extend the "shelf life" of the nursing time box, too.
I completed the gift with a poem (note: writing short, low quality poems for friends and family is a longtime hobby of mine!) explaining the box to her. I'm sure someone crafty like Polly would have made a fancy-schmancy Silhouette label, but I opted for a sharpie and construction paper.
Here's what the poem says, if for some crazy reason you want to copy and paste and use it:
Within this box you'll find some toys
for busy little girls and boys,
whose momma's busier than ever before
feeding, changing, rocking and more.
Some gently-used things to pass to you
for big kids looking for something to do.
We hope these will provide a way
for something new to discover and play!
Here was the finished product. You'll have to let me know if you try it out or if you have any other ideas of how to jazz up this gift.
Another great little gift to include along with the Nursing Time Box just for mommy is a set of these 25 Encouraging Verse Cards for Moms.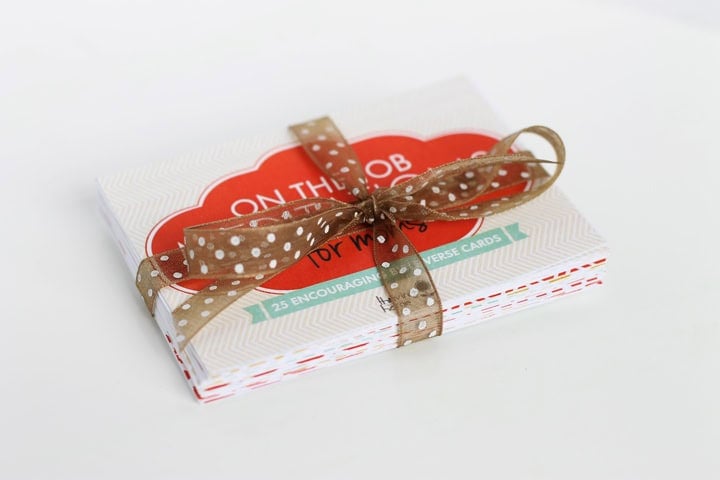 This printable verse card set also includes our most popular freezer meal recipe cards and a matching "A Gift for You" card. You can print them again and again for all your mom friends!