In the past few years we've attempted to take baby steps towards being a little more kind to the environment. We try to use reusable grocery bags, and snack bags, cloth diapers for our little one, pyrex or tupperware instead of Ziplocks, recycle, and buy in bulk. By no means are we perfect in this. We go through a lot of waste and use up a lot of resources. However, we are continually trying to make small changes.
Disclaimer: Some of the links in this post are affiliate links. We are a participant in the Amazon Services LLC Associates Program, an affiliate advertising program designed to provide a means for us to earn fees by linking to Amazon.com and affiliated sites. Here's our full disclosure.
Sometimes making a small change doesn't seem worth it. At least, that's what I used to think. What's the point? Will it really make a difference? The skeptical voice in my head was finally quieted by this quote from For the Beauty of the Earth: A Christian Vision for Creation Care .
"If God is really at the center of things and God's good future is the most certain reality, then the truly realistic course of action is to buck the dominant consequentialist ethic of our age – which says we should act only if our action will most likely bring about good  consequences – and simply, because we are people who embody the virtue of hope, do the right thing. If we believe it is part of our task as earthkeepers to recycle, then we ought to recycle, whether or not it will change the world. Do the right thing…We should fulfill our calling to be caretakers of the earth regardless of whether global warming is real or there are holes in the ozone layer or three nonhuman species become extinct each day. Our vocation is not contingent on results or the state of the planet. Our calling simply depends on our identity as God's response-able human image-bearers."
The idea of doing the right thing despite not seeing the fruit of my effort has really sunken in and motivated me to continue to make small, seemingly pointless, changes in the way we live.
One of these small issues that I identified was the amount of paper towels our house would go through.
I'm sure I'm not alone in this but our house can FLY through a roll. Between a messy toddler, dogs, and lots of cooking, we seemed to be going through rolls and rolls of them quickly. I thought about how many paper towels we would save if we simply used wash rags instead. So, we gave it a shot. I bought a bulk bundle of white wash rags and set them up next to the paper towels. That way when we habitually reach for a paper towel, we would remember to use the rag instead.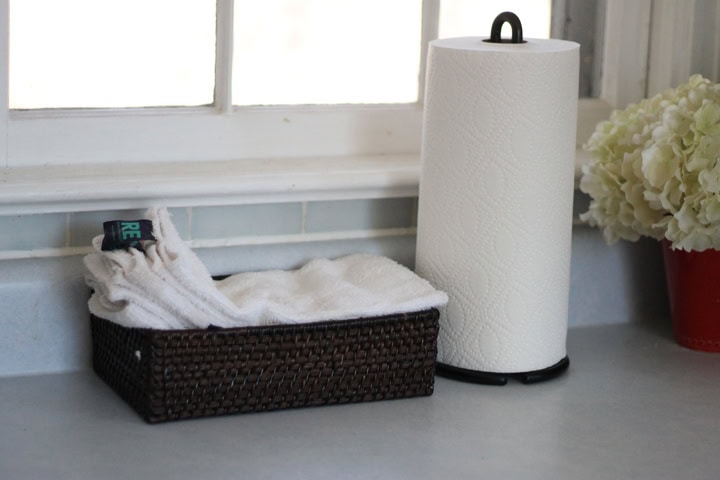 After we've used the rag once or twice (ok, maybe more than that) we toss it into a little basket. When it fills up or we run low on rags, I just run the rags on a bleach cycle in the wash and start all over!
This little system has worked GREAT! We not only save money by not buying paper towels every time we go to Sams or the store but we also are saving room in landfills. This really is one change that anyone can easily make in their home. I would encourage you to try it out!