The last thing we want to do is to make Christmas about the stuff. We value and celebrate Christmas because it reminds us of the greatest gift humanity has been given: Jesus. Our hope is that gifts are given as a reminder of the ultimate gift of salvation he gives us. Hopefully the joy that comes from giving and receiving gifts on Christmas will ultimately point you to where true joy lies, in Christ.
That being said, we have put together a collection of gift ideas that have either blessed us personally or come highly recommended from someone we know. Hopefully the list below can help you navigate the craziness of the holiday season.
*Some of the links in this post are affiliate links. We are a participant in the Amazon Services LLC Associates Program, an affiliate advertising program designed to provide a means for us to earn fees by linking to Amazon.com and affiliated sites. Here's our full disclosure. 
Gift Categories:
Click on a category below to skip to it.
Toys For Kids
(For Babies)
1) Boppy Pillow
We use this daily to help my little gal sit up. It provides great support for that tipsy little baby.
So simple, but so loved! My gal loves these cups. Not only are they good teethers but they can make fun noises and be used to play peek-a-boo with small objects.
3) Baby Einstein Take Along Tunes
Lights and music catch a 6 months old attention. This gadget is easy to grab and hold for those eager little hands.
Bath time just got more fun! My baby loves to grab and chew on these in the bath. It also provides a storage area for those toys so they can dry.
5) Oball
I was surprised at how much my gal loved this. I'm not sure why- it's easy to grab and chew on. Anything that meets those qualifications is a favorite in our house.
Chewable, easy to grab, and fun for stacking. These blocks are all over our house.
This ball does it all. It sings, it has lights, it moves around, and it's easy to grab. It's also great for tummy time.
Beads are made with 100% silicone (similar to pacifiers & nipples)
Soft on babies gums and emerging teeth
Easily cleaned with dish soap & water, also dishwasher safe!
No BPA, PVC, Phthalates, Cadmium, or Lead
Necklaces have a breakaway clasp for added safety
For Toddlers
Little Tikes EasyScore Basketball Set
This is what my 2-year-old spends every day doing on our screened-in porch (or in the kitchen on cold days). My 5-year-old son still plays with it every day too, although he's getting a bigger one
for Christmas. Shhh!
Manhattan Toy Stella Doll
Aren't these the sweetest dolls? We have the baby boy doll version, and my daughter has just loved on this soft, cute little thing. Her favorite part might be the magnetic pacifier.
My two older kids use this race track as much as my toddler boy. I love the sturdy wooden construction, classic colors and modern design.
B. Fish and Splish Boat
My son (age 2) and daughter (age 4) play with this set almost every night in the bath tub. It's very colorful and fun.
For Preschoolers and Early Elementary Kids

LEGO DUPLO Bricks & More Deluxe Brick Box 5507
All of my kids, ages 2, 4, and 5, have played with these blocks more than almost any other toy! I can't recommend them highly enough. They use them to create towers, castles, tracks, and more. This "no lights and sounds" classic toy fosters creativity for boys and girls alike.

This is another manipulative set that has stood the test of time around our house for years. Yes, my kids drag them to every corner of the house, which can be a pain. But, they have created some of the most innovative airplanes, families of robots, and so much more. The only mistake I made was not buying this bigger set the first time around. If you're not sure you want to get this many, there are smaller sets
. Or, if you want wooden ones, check out old school Tinkertoy Classic Mini Set
.

Melissa & Doug Slice and Bake Cookie Set
I've been amazed at how much my preschool daughter and now toddler son have played with this cookie set. They also enjoy the Pizza Set
and Melissa & Doug Birthday Party Cake
.

Thoughtful Girl Paper Dolls
These make me feel like a kid again. I love spending some quality girl time playing paper dolls with my sweet little girl who loves all things GIRL. We have gotten a lot of use out of this restickable paper doll set.

Do-A-Dot Rainbow Art Set (Set of 6)
Perfect for preschool and elementary-aged kids! Kids can get creative with less mess. This is hands-down one of our favorite art supplies.
Music for Kids
For Little Ones
Rain for Roots: Big Stories for Little Ones
Rachel wrote a whole post about Slugs and Bugs music. Check it out!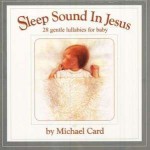 Sleep Sound in Jesus is exactly what it sounds like — a gentle, soothing album of Christian lullabies. Michael Card wrote all the songs and performs the vocals with Betsy Hernandez. Ordinarily, having all the songs on an album blend together is a weakness, but for this album, it's a strength. The songs work together to create an atmosphere of calm in the often stormy lives of families with infants.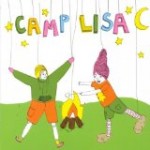 The triumph of Lisa Loeb's second children's album (following her first,Catch the Moon, made with Elizabeth Mitchell) is that it is narrowly focused. As the title Camp Lisa suggests, this is a thematic collection of songs about going away to summer camp. Some of its selections, including "Home on the Range," are the sorts of numbers that have been heard around the campfire for generations
No stranger to the realm of children's records, They Might Be Giants have seen success with their CD No! and the book-and-CD combo Bed, Bed, Bed. Their latest CD, Here Come the ABCs, offers up 25 alphabetically themed songs. However, as is their charming way, the two Johns (Flansburgh and Linnell), use the letters as merely the connective tissue, allowing them to pursuit intriguing flights of fancy that consider everything from the relative power of letters and sounds to animal hijinks.
For Preschoolers and Older Kids
This album is special to me because my church wrote all the songs and produced it. It's a a collection of worship songs to touch the hearts and minds of every age in the family. I actually bought 4 albums and sent them to friends across the nation. They've had great things to say about it. The thing I like about it is that the music is enjoyable for ALL ages- not just kids.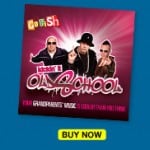 This new CD was created to teach the classic hymns to a whole new generation as only the Go Fish Guys can do! Featuring songs like Blessed Assurance, Old Rugged Cross, and This Is My Father's World this unique album continues the Go Fish mission of making great music for kids that won't drive parents bonkers!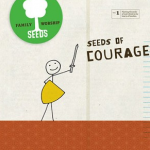 Both parents and kids will love the music. The lyrics are God's own Word, straight from the NIV. It's the perfect way to sing, dance, and make a joyful noise unto the Lord, while planting His Word forever in your heart and mind.It's a Scripture-memory tool — It's a CD full of fabulous music. It's both! Seeds combines songs that use Scripture for lyrics with strongly produced music that is varied in style to create a sound the whole family will love. (Almost every mom I asked recommended these!)
Books for Kids
For Little Ones

This is my daughter's absolute favorite. She loves the images and pop-ups. She likes the big pages and voices we do along with it as we read it. This recommendation does come with a warning: she is one and loves to grab things so she has managed to tear up a few of the pop ups but even with the damage, she loves the book all the same.
With its oversize flaps and bright, bold illustrations my daughter loved to explore this book of animals. As with any one year old with paper pages, she did manage to rip a few pages but this was one of her favorites despite the damage her excitement resulted in.
Eight Silly Monkeys features full-color illustrations, a charming rhyme, and innovative die-cutting to reveal silly, touchable monkeys on each page. I personally like this book as well because I remember the rhyme from my preschool days.
This book is bright, colorful, and fun to look at. It has pictures that are familiar to my daughter so we often practice identifying different shapes and animals.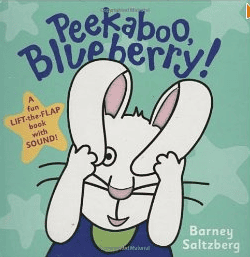 I almost made the mistake of selling this book in a garage sale. When my little lady got her hands on Peekaboo, Blueberry, her life has never been the same. It's colorful and has fold-down flaps that lead the reader to play peekaboo with their new friend, Blueberry! This one is probably her second favorite right now.
Peek-A Who?
Jesus is With Me
First the Egg
Peep!
Potato Joe
The House in the Night
Raindrop, Plop!
Any of the Llama Llama books: Llama Llama Mad at Mama
, Llama Llama Home with Mama
, or Llama Llama Red Pajama
Most of the Sandra Boynton books, especially Belly Button Book
 and Pajama Time!
Brown Bear, Brown Bear, What Do You See?
 by Bill Martin, Jr. and Eric Carle

The Very Hungry Caterpillar
 by Eric Carle

Time for Bed
 by Mem Fox

Baby's Hug-a-Bible
 by Sally Lloyd-Jones

Barnyard Dance!
 by Sandra Boynton

The Little Mouse, the Red Ripe Strawberry, and the Big Hungry Bear (Child's Play Library)
 by Don and Audrey Wood

The Rhyme Bible Storybook for Toddlers
For ages: infants through age 2.  This small book has a simple, one page rhyming story and picture for each one. It's a perfect Bible for young kids with a short attention span.
The Rhyme Bible Storybook
For ages: 1-4. The beauty of this Bible for kids is that our children memorized many of the stories and help us retell them because of the clever rhyming patterns.  I'm excited about a newer edition
 of this coming out December 25, 2012, because it looks like the illustrations will be better.
For Preschoolers and Older Kids
The Big Picture Story Bible
For ages: 2-7. This has been my kids' go-to Bible for the past year. They have learned so much from it. The advantages of this one are that it comes with 2 audio CDs of the author reading the stories, it emphasizes the Bible has one big story with Jesus at the center, and the stories have depth but are simple enough for preschoolers.
For ages: 3-8. I'll never get tired of recommending this Bible for kids. This children's Bible is a beautiful narrative that helps families understand God's love for his people and how Jesus–God's greatest gift to us–is at the center of every story. My husband and I often tear up while reading it and quote it to each other at times because it is so moving. The illustrations are interesting and well-done, too. The stories are longer than the other Bible story books previously mentioned, but we've found that at about age 3 or 4 our kids were able to sit through these stories and is appropriate up to about 2nd grade.

Adventure Bible for Early Readers, NIrV
For ages: young elementary-aged kids. We haven't begun reading this NIrV Bible to our non-readers yet, but many families at our church use this version of the Bible for their young elementary-aged kids.  The elementary curriculum-writing team I'm on at our church use the NIrV Adventure Bible in all our lessons and classrooms for elementary kids.
The Action Bible
I don't think this Bible will take much convincing for any boy (dads included) to delve into. This is a great Bible for elementary-aged boys!
Gifts For HER

1) Pampered Chef Food Chopper: We use this guy all the time. There are so many times we need something small chopped up real quick so this tool is really handy to have. It can be a little loud but usually only a few chops are necessary to get the job done.
2) 4-in-1 cake dome: I love things that have multiple purposes. This 4-in-1 cake dome that a friend got me for a wedding gift can be used as a footed cake plate, chip & dip, punch bowl, and 5 section server. It does it all!
3) OXO Good Grips 10-Piece POP Container Set
: I LOVE these storage containers. In fact, I made some labels for mine to jazz them up a little. They are easy to stack and store. They keep things airtight and fresh too. I have all shapes and sizes and plan to get more in the future.
4) Mini coffee maker: I'm the only coffee drinker in our house so having a full pot doesn't make sense. That is why I like this mini-coffee maker. It makes 4 cups (which is a little more than I drink a day) so it is perfect. I love getting it all ready the night before so in the morning I can just press "on" and get my coffee brewing! The only drawback worth mentioning is the fact that heated water passes through plastic. This makes Rachel a little more squirmy than me but it's for sure not ideal.
5) Cordless Swivel Sweeper: Yep, as in the one you've seen on the infomercials. My mom got me one of these and it really is great! It feels like there is an endless amount of crumbs, dog hair, dirt, and miscellaneous gunk on our kitchen floors. This sweeper is a quick fix for the light cleaning necessary. It's also great to get to hard to reach places like under the table or couches (assuming you have hardwood floors). My only complaint is that the battery life is pretty weak. I have to recharge it after a few uses but the fact that it's cordless makes up for this weakness.
6) Magic Bullet: This is the next step up from my food chopper mentioned above. I have used my magic bullet tons for smoothies. I now also use it to puree foods for my infant. It can smooth out almost anything!

I am a sucker for kitchen tools and appliances!  These are a few of my favorites that I use regularly in my own home.
1) Microplane 40020 Classic Zester/Grater
I use this for all kinds of things, such as…
…grating raw carrot or apple for my baby.  It's an easy way to get uncooked (read: most nutritious!) veggies and fruit into your baby who is old enough to pick up food on his/her tray.
…grating real Parmesan cheese over our pasta.  You'll never go back once you try this!  It's buttery and delicious.
…zesting lemons and limes.  I use it in recipes like my Guacamole or homemade hummus.
…grating a garlic clove or even onion.  Racheal Ray taught me this one. It's much easier than mincing.
2) T-Fal Performance Stainless Steel Copper Bottom Cookware, 10 Piece Set
After learning about the dangers of cooking with teflon and some questions surrounding aluminum pans, I searched high and low for affordable new cookware.  From my research, the safe options seemed to be stainless steel or cast iron.  I chose these T-Fal stainless steel ones because they were affordable, stylish, and conduct heat well because of the copper interior.  The only downside, which I don't know how to avoid without using teflon, is that they stick if you don't use a good amount of oil.  Overall, they have been a well-worth-it purchase.
3) Accusharp Knife Sharpener
With all the chopping I do around here, my knives get dull (and dangerous!) quickly. I've cut my fingers more than once because of a dull knife. Even though it's cheap, this sharpener does the trick every time.  After a quick few runs through this device, my knives slice easily through tomatoes and peppers like they were new.
4) The Pampered Chef Large Bar Pan
I love this stoneware pan for things like Oven Baked Ribs, Oven Fries, and Breakfast Cookies. It bakes evenly, is non-stick once it's seasoned, and produces a perfectly crisp crust on things like Roasted Vegetables.  Plus, it's a 100% safe, toxin-free way to do your baking!  Here's a great article about why stoneware is a great choice, how to season it, and how to clean it.
5) Kitchen Shears
This is one of my most utilized kitchen tools! I use it to cut up pieces of food for my toddler, cut pizza into slices, or cut up chicken pieces in recipes like Chicken Penne Pasta.
6) Smooth Edge Can Opener
This opener is easy to use and leaves completely safe, smooth edges on the can and the can top.  Why on earth I didn't have this much sooner I don't know.
7) KitchenAid Stand Mixer
Have you ever met someone who didn't love this kitchen appliance?  My sweet grandma passed along her cool retro avocado-colored one to me, and I've used it at least once a week since.  It's an investment worth saving for if you ask me.

I LOVE this little tool. It is easy to pull out for a quick project rather than dragging out the big hand drill and all it's parts. It's light weight and super easy to use. This is a great gadget to have in any household. I've used mine countless of times since I got it in college.
Face to Face: Praying the Scriptures for Intimate Worship
I have been going through this book in my quiet times and it has been awesome.  Face to Face guides you into richer, more effective devotional times. It is filled with adaptations of Scripture that turn Bible passages into prayers that bring you face to face and heart to heart with God. I love that this book gets me in the word and into prayer at the same time.
I think any woman would like to dress up their feet with some crochet Toms! I've been eyeing these out for a while. I think they are so cute! They would go well with almost any outfit and would be easy to slip on in those busy moments before you have to leave the house.
You can make a mom smile by snazzing up her phone with some fun accessories. I thought this hot air balloon iPhone cover was adorable.
Magazine Subscription to Real Simple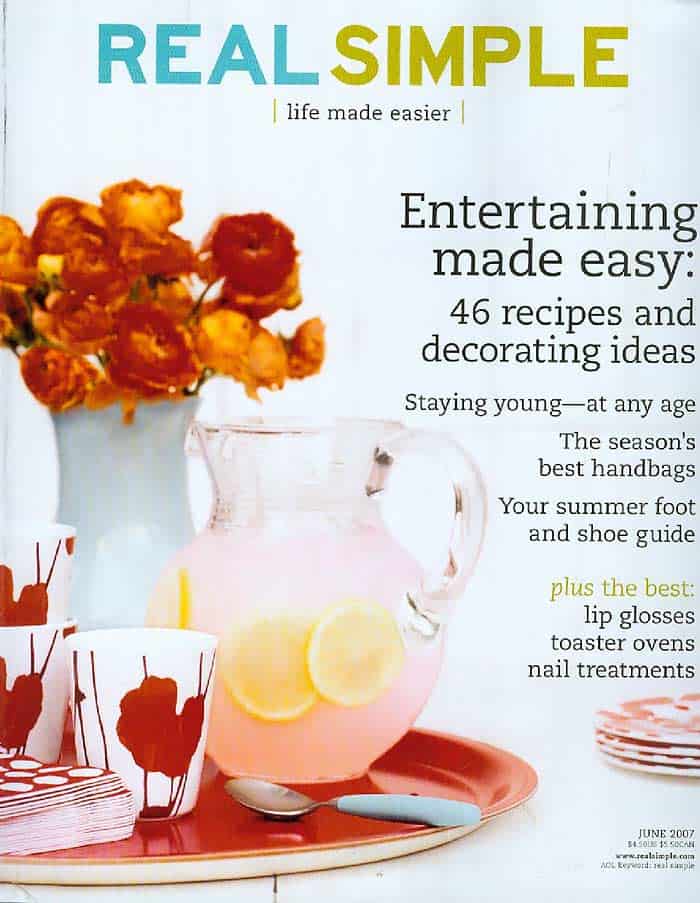 I really enjoy my subscription to Real Simple. I've found it to be a great resource for home ideas and recipes. I also like that it is something that can flip open during a nap time and zone out of kid mode. A magazine subscription is also a good gift idea for moms because it keeps giving all year long.
Bath & Body Works Slatkin Candles
I'm a little bit of a candle snob. I legitimately get upset when I spend money on a candle that later gives me a headache or doesn't have a good scent. After trying out lots of different brands, I highly recommend the Bath and Body Works Slatkin brand. Every scent I've gotten from there, I've loved. It is also pretty strong so you can expect the majority of your house to carry its aroma.
I like getting gift cards as presents but I like even more when I know some thought and time has been put into my gift. However, when all else fails, a gift card will do. Just be thoughtful about where you buy it from or have a plan on how they are to use it. For example, you could buy an amazon card and tell the mom to buy a book they've been wanting to read. Try to put some thought into it and I promise that the receiver of your gift will appreciate it even more.
Gifts For HIM
In the winter months, it can be frustrating to use a touch screen phone. For the guy who is attached to his phone, this gift is perfect. The finger tips work on touch screens so you don't have to pull gloves on and off to text, talk, or use the phone.
Steve Jobs
My husband, I and many of our guy friends have read this biography and highly recommend it. It's a long one but an intriguing page turner. This book would be especially inspiring for the entrepreneur in your life.
Wine Insiders 
This company's tagline: "We bring you world-class wines at affordable prices." I got my husband–a wine lover and notoriously hard man to buy for–a gift certificate to Wine Insiders last year and he loved it! This is a unique company in that they have a panel of wine connoisseurs who preselect their favorite wines that are within a very affordable price range, many as low as $10 a bottle. Shipping is very reasonable, as well. So far, we've loved everything we've tried.
Unbroken: A World War II Story of Survival, Resilience, and Redemption
My dad and brother (who is a dad), both rugged, outdoorsy-type guys who enjoy learning about history, just listened to this book on CD on their 8 day driving trek from Alaska to Missouri. They said it was one of the best stories they've ever heard and highly recommend it. Here is the audio version
.
Prop 'n Go Lite – Hybrid Lap Stand for iPad & Kindle with Adjustable Angle Control
I think I'm going to get this for my husband this year. He spends a lot of time on his iPad or laptop while on the couch and in bed, so I know he'll like the comfort of this lap stand and the adjustable angle control.
Black & Decker Cordless Drill 
My husband has been asking for one of these for quite some time. Hmm, another gift idea for this year? And very affordable at only $19.88 and eligible for free shipping!
Cigar Smoking: How To Become A Know-It-All Cigar Aficionado Who Enjoys The Best Cigars, Including Authentic Cuban Cigars, And Uses The Best Cigar Smoking Accessories
My dad has taken up the hobby of cigar smoking in retirement and recommends this book for the beginner.

My dad has also enjoyed the sampler from this place, if you have a dad or hubby into cigars.
A Praying Life: Connecting With God In A Distracting World
The following book recommendations come from pastor, Keith Simon, on Every Square Inch:
Killing Floor by Lee Child
This is the first book in what has turned into a long series following the exploits of Jack Reacher, a former Military Policeman. Reacher stumbles on the town of Margrave, Ga., where he is wrongly accused of a grisly murder. While he works to clear his name, he uncovers an extensive criminal network, falls in love with a police officer, and is confronted by his family's past secrets.
Verdict: Mildly entertaining.
Escape From Camp 14: One Man's Remarkable Odyssey from North Korea to Freedom in the West by Blaine Harden
Shin Dong-hyuk was the first person born in a North Korean prison camp to escape. Until he met a Chinese prisoner he had no knowledge there was a world outside his gulag. This book tells his first person account of the incredibly brutal treatment that existed inside the prison camp, his harrowing escape, and the attempt to establish a new life in China, South Korea, and most recently the United States.
Verdict: Inspiring Story
Jesus Plus Nothing Equals Everything by Tullian Tchividjian
The author shares the life changing lessons that he learned during a very difficult season as the new pastor at Coral Ridge Presbyterian Church. The most important of those lessons centers on the grace of the gospel that is often assumed and neglected by too many Christians. Often Christians are afraid of grace, thinking that too much of a focus on it takes away the motivation to obey God. It's not uncommon to hear people say that we need to try to strike just the right balance between grace and law. But Tchividjian shows that when a person truly gets grace he never thinks, "Great, now I can sin more!" Grace doesn't just free us from the penalty of our sin but also from the power of sin.
Verdict: Very helpful for the Christian life.
The Autobiography of Malcom X as told to Alex Haley
This is a fascinating book sharing the story of how Malcom Little became Malcom X, an important leader in the Nation of Islam before breaking away in 1961 and being assassinated in 1965. This book made me far more appreciative of what African Americans experienced in the 1950's and 60's and why it led to black nationalism.
Verdict: Exceptionally interesting and well written. It taught me a lot.
Who Am I? Identity in Christ by Jerry Bridges
This brief book surveys what the New Testament says about who we are "in Christ." In his simple, biblical style Bridges hopes to help Christians define themselves by the Scriptures instead of their feelings or the culture.
Verdict: Helpful because it is basic biblical truth that would make good devotional reading.
Nothing to Envy: Ordinary Lives in North Korea by Barbara Demick
As the Beijing bureau chief for the Los Angeles Times, Demick often wondered what life was like in North Korea. In this book she follows six families as they deal with crushing famine, a malfunctioning electrical grid, mind controlling propaganda, the loss of hope, and much more in the world's most oppressive country.
Verdict: Excellent.
Tiger, Tiger: A Memoir by Margaux Fragoso
Okay, this book is wonderfully written but more than a little disturbing. The subject matter is not something that everyone will want to read about. When Margaux Fragoso was seven years old, she met Peter Curran, age 51, at a swimming pool. The book describes their fifteen-year relationship in which Peter was her friend, father figure, and lover. We watch as Margaux is transformed from energetic young girl to a teenager on the verge of suicide and then tries to reclaim her life after years of manipulation.
Verdict: While not for everyone, I thought this book offered robust characters and perceptive insights into the human condition.
The Tolerance of Intolerance by D. A. Carson
Tolerance used to mean that everyone was free to hold his or her own beliefs. But over the past several decades the word has come to mean that all beliefs are equally valid or true. Carson explains why this shift is especially troublesome for Christians and gives examples of how Christians today find themselves in very delicate and difficult situations.
Verdict: Anything Carson writes is worth reading. This is no exception.
Miscellaneous Gift Ideas
For Grandparents: Easy Change Artwork Frame
This artwork frame makes it easy for children's art to be put on display. I think this would be a great gift for grandparents who are proud of their grandchildren's creations.