Parenting Inspiration for Real Life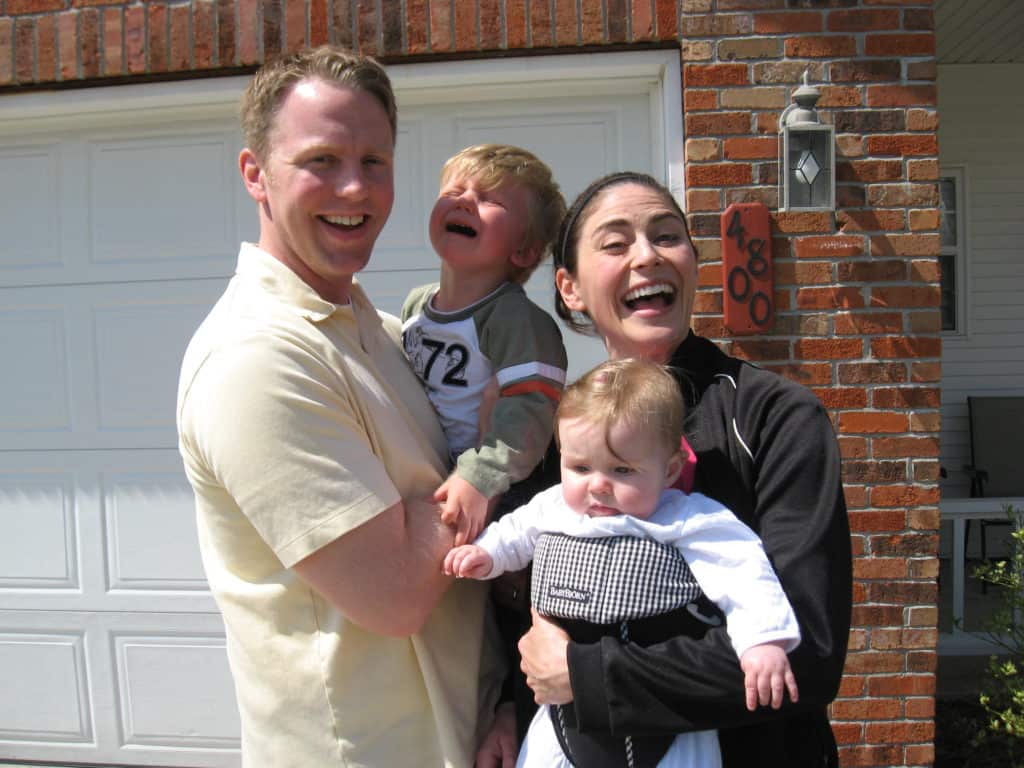 Recognize this picture? Well, I know most of you probably don't recognize my family, per se, but recognize what's going on here? This was taken several years ago, but I love it because it shows us as a REAL family. Toddler tantrum, tired baby, and me with my stay-at-home mom clothes, disheveled hair and "I'm really trying to make it through this picture" smile on. This is life. And sometimes (well, probably several times a day at my house) parenting looks something like this.
Periodically I hit these places as a parent where I feel like I jumped the tracks, you know? I'm tired and I'm directionless. At the end of the day I think, "What on earth am I doing?" It's those times that I need some inspiration. So maybe you're not like me. And, that's cool. But…
If you are feeling the need for a little vision for why we're doing this job…
If you're needing a boost to fight a particular parenting sin…
If you're wanting to grow as a parent, both spiritually and practically…
Then, here are some parenting posts that I hope will encourage us both.
Parenting Encouragement
4 Mistakes I've Already Made as a Parent – A reflection from the first few years of parenting that I would do differently next time around (and have with my 3rd child for the most part.)
On the Job Meditations for Moms – Here's the only way I've learned to get God's perspective during those stretches of parenting life when I don't have time to read my Bible.
I Declare War On… – How I'm fighting against my impatience with my little ones.
Parenting 001 – This article is an honest, humble look at Kevin DeYoung's own parenting, his parents' parenting, and a mild indictment on all of us (including him) who make Christian parenting too complicated.
Thought-Provoking Quotes for Parents
Prayers for Parents
A Prayer for Moms: Music of Loose Ends
This Might Be My Favorite Morning Prayer
Practical Ideas and Strategies
Make Your Summer at Home with Kids Count
What Teaching Method is Best for Spiritual Growth in Our Kids?
3 Questions to Ask a Child Who Has Done Wrong
Hiding God's Word in My Toddler's Heart
Parenting Book Reviews
A Praying Life by Paul Miller
Loving the Little Years by Rachel Jankovich
Spiritual Parenting by Michelle Anthony
https://thrivinghomeblog.com/wp-content/uploads/2013/06/IMG_0889.jpg
2304
3072
Rachel Tiemeyer
https://thrivinghomeblog.com/wp-content/uploads/2019/10/thrivinglogo.png
Rachel Tiemeyer
2013-06-25 05:34:10
2019-10-25 12:31:34
Parenting Inspiration for Real Life