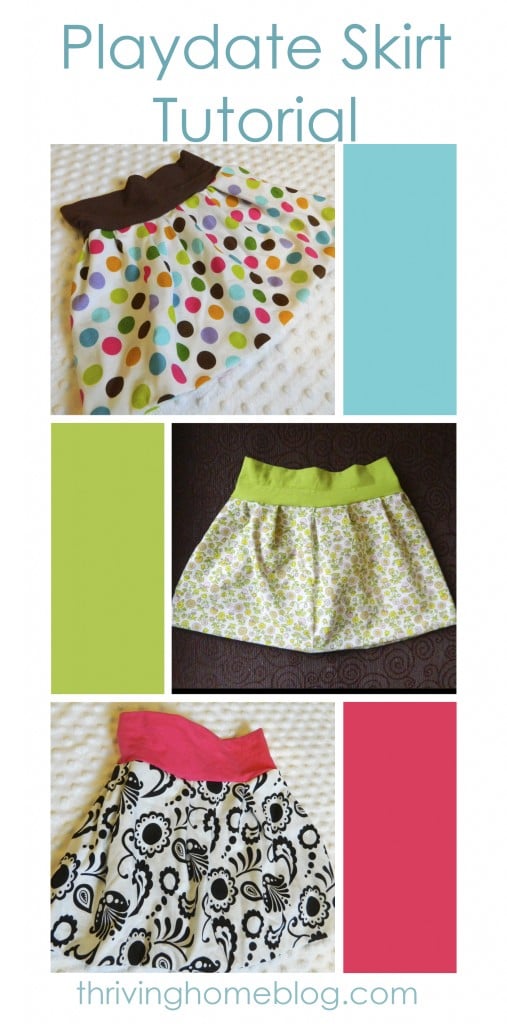 I absolutely love little skirts on baby girls. Now that my little gal is in cloth diapers, her booty needs a little more room so I'm on a mission to make loads of skirts. I named this the "Playdate Skirt" because it is comfortable, stretchy, and made for, well, playing! It's a project that a beginning sewer could easily do. Ready to give it a shot!?
Pick Your Fabric and Cut Out Your Pieces
For the waistband fabric, you need something stretchy. I used jersey knit. Your skirt fabric can be whatever you want. I love the softness of jersey knit fabric so two out of the three skirts I made were 100% made from that.
My measurements were for an 17 lb, 8 month old girl. You probably need to adjust your measurements depending on the size of the baby. For example, if I were making this for a 3 month old, I'd shorten the waist to 14×6 and the skirt to 13×31 or something like that. The most accurate way to make sure it fits is to measure your baby. I got my measurements simply by wrapping the fabric around her waist.
Assemble Your Waistband
Fold your waistband fabric in half (hotdog style), and then in half again (hamburger style). Sew a simple stitch down the side with the raw edges.
Create the  Ruffles
If you're a perfectionist, you aren't going to like my directions. But the beauty of making ruffles is that they are very forgiving.
Fold your skirt fabric in half (hotdog style) and start at one end of the waist with your pinning. As you can see in the picture below, simply take about 1/2 to 1 inch of your fabric and fold it over itself and pin it down. Continue to do this the entire length of the waist. I made my folds about an inch apart.
Here is my finished ruffling.
You need to make sure you didn't get too ambitious with your ruffling and use up too much fabric. Double check by folding your skirt in half like it will eventually be sewn. Line up your waist band with the waist of your skirt. Are they pretty close to lining up? One isn't way longer or shorter than the other?
If you find that your skirt doesn't line up well with your waist band, adjust your ruffle folds accordingly. So, if your skirt is smaller than your waist, you need to shorten some of your folds to allow for more fabric. If your skirt is too big, then make your ruffle folds a little bigger.
Assemble Your Skirt
With your skirt fabric folded in half, sew the raw edges of your skirt together. Just leave the pins in the waist while you do this. When your seam is done, flip the skirt right side out. (Your seam should be on the inside of your skirt now.)
Attach Your Waistband
The first time I made one of these, I got it backwards so pay close attention! Your skirt should be RIGHT side out. In other words, it has the pretty side facing you. No ugly seam should be visible.
Your waistband should be WRONG side out. You should see the seam. Line up your seams and then slip your waist band over the top of your skirt and pin in place. This takes a little finagling to get it in place but do your best to line up those seams and pin.
Set your machine to a zig zag stitch. This stitch allows for a little extra stretch so that your little gal won't bust a seam with a full belly. 🙂
Now just sew along the top, being sure to back stitch when you start and finish. When your done, flip up your waistband and admire your new, adorable skirt!
I plan to play with the lengths and ruffles to give my skirts some variety. Hope this tutorial can help you stock your closet with tons of adorable baby skirts!
https://thrivinghomeblog.com/wp-content/uploads/2012/02/Screen-Shot-2012-02-17-at-8.27.22-PM.png
426
603
Polly Conner
https://thrivinghomeblog.com/wp-content/uploads/2019/10/thrivinglogo.png
Polly Conner
2012-03-12 05:01:46
2020-01-03 16:28:10
Playdate Skirt Tutorial