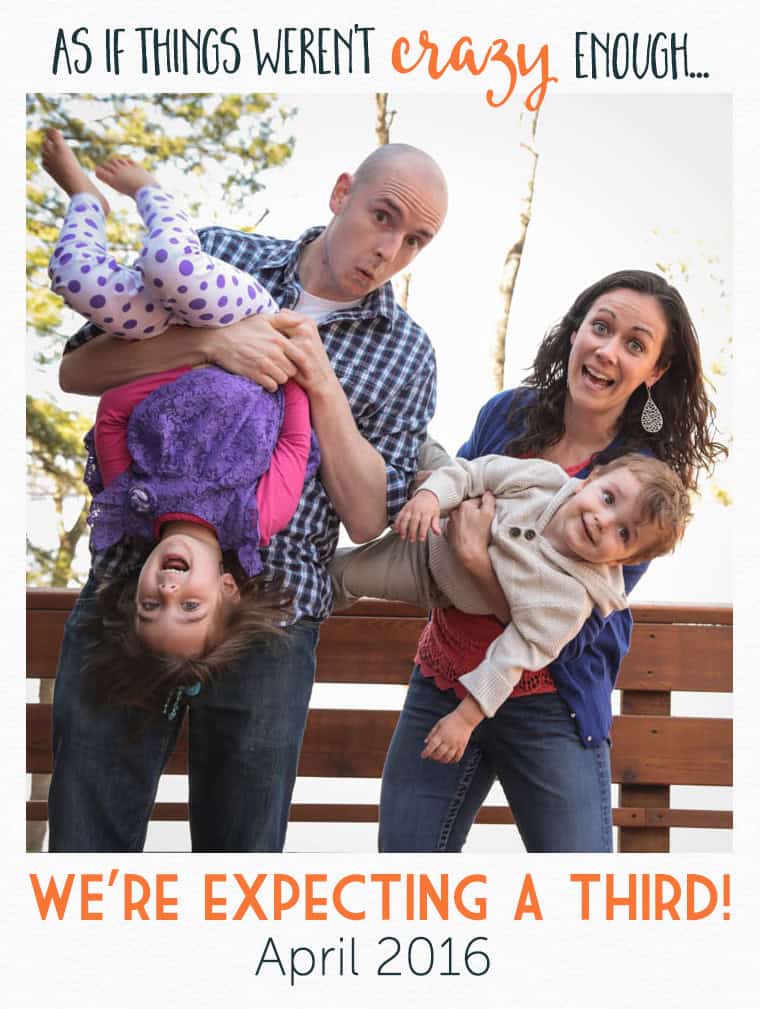 Woot woot!!
I've been dying to share fun our news with you all.  Today is finally the day! In April, my husband and I will be officially outnumbered by children.
You guys. Now that I can openly talk about this, I must tell you that the first trimester kicked my butt. Like, really hard. This hot mess of a mom still has a way to go but I am so thankful to be out of the first trimester. Thankful like, I want to turn around, flip it off and never look back or remember it, kind of thankful.
Now that I can spill my beans, allow me to write a super long post sharing all of the stories I've been wanting to for the past 3 months. If you're not into this stuff, you can just stop now and hop back over to ESPN.com or whatever else is interesting to you. For those who appreciate an oversharer like myself, read on.
How We Found Out
We were on month 7 since "pulling the goalie" as my husband likes to say. Since this was um, 7 times longer than it took with our first two kids, I was expecting another negative and was ready to move on in life. However, while on vacation in Galveston, Texas, I took a test one morning. My heart about exploded when I saw two lines instead of one.
Maintaining what little self-control I had, I put the positive test inside our medicine cabinet, in front of all my husbands morning necessities (contacts, toothbrush, etc.). The idea was that when he opened the medicine cabinet, it would be first thing he saw. Flawless plan, right?
While I lingered in the bathroom getting ready, my very tired, barely awake husband stumbled in and first thing he did was open the medicine cabinet. Sweet. My idea is working perfectly.
However, my husband, in a caveman like way, shoved the test aside to get to his toothbrush and proceeded to start brushing his teeth in a daze. Well, that wasn't supposed to happen.
Not sure what to do at this point to keep the surprise fun, I told him to look back in the medicine cabinet again. He was kind of confused and probably slightly annoyed but he complied. It was then that he saw the test, stared at it (for a bit too long in my opinion) until the realization came across his face.
Since we are both pretty open books, we planned on telling my immediate family (whom we were on vacation with at the time). Later that day, while on the beach, here is what I doodled in the sand: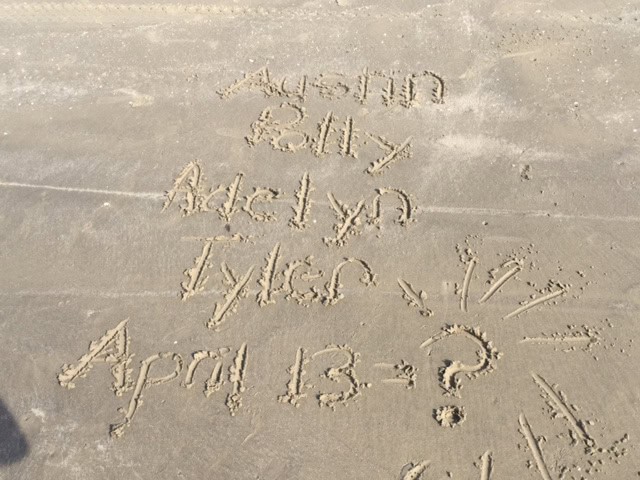 In a nonchalant way, I had my family come over to find out the news for themselves. It was a fun way to tell them all in light of our beach vacation.
Hot Dogs=Hot Mess
My aversion to hot dogs began early in pregnancy. We're talking at like 5 weeks. Too early to have aversions in my opinion. I was not prepared.
I was at the state fair with my mom and kiddos (because the state fair…that's what we do…don't judge). Lunch time rolled around and we decided on corn dogs (I said stop judging, ok). Anyway, we got our $6.00 jumbo corndogs and sat down to eat. Since I eat corndogs about once a year (at the state fair), I was looking forward to the indulgence.
First bite. "Yum. This is pretty good. Wait, that smell. It's off."
Second bite. "Get over the smell Polly. This is your annual corn dog. Eat it."
Third bite. "Oh, that does not taste good. At all."
Fourth bite. "Polly, you paid $6.00 freaking dollars for this corn dog. You WILL eat it."
Fifth bite. "Don't gag. Oh my gosh. Get as far away from the corn dog as you can."
Since the state fair hotdog incident, the thought of hotdogs made me almost gag. Even writing this post, I'm grossed out.
I wish the story ended there, friends. I wish.
Four days later my husband found out that he was going to need to grill all of the hotdogs for an upcoming college ministry picnic. This meant that not only was he grilling 400 (yes, 400) hotdogs on our back porch but to keep them warm, he was storing them in our oven.
People.
I can't even.
As if living in a hotdog factory wasn't gross enough for me, he got into a bind in which he needed me to DRIVE the cooked hotdogs up to the picnic. Like, in a car. With the cooked hotdogs. And their smell attacking my nostrils. I seriously felt like someone was playing a prank on me.
Despite driving with all four windows down, I felt like I was living in a hotdog sauna the whole way there.
I'm still so grossed out by it all.
I'm not sure if I will ever truly recover from these events in my life. Pray for me.
Sad Pasta
The hardest weeks of my first trimester just happened to align with the busiest weeks out of the year of my husband's job. We're talking, he had something 8 out of 9 nights. Ugh.
To any stay at home mom of two, this would be hard enough but to a mom in her 7th week of pregnancy, this is just almost unbearable. I was SO tired. And sick. Food was a fickle beast in my eyes. One minute I'd be eating the BEST meal I've had in weeks only to suddenly get a weird smell or bite and be disgusted by the meal before me that was 3 seconds ago a great delight.
My sense of smell was off the charts. More than my first 2 pregnancies. Everything was just so intense.
Anyway, one particular evening, I was beyond tired and sick. My husband was gone and I was in the midst of the seemingly-torturous job of making dinner. I had meatballs in the oven and was stirring pasta to go with them. I got a big whiff of the cooking meatballs and just about collapsed from the intensity of the smell. So as I'm stirring the pasta, I just start crying. Like a crazy lady. Just cooking some dinner and weeping over it. Nothing to see here. I just wanted to do anything but cook but my kids had to eat. I needed to eat or I would feel even worse so I was trapped. And apparently crying over my situation was the best I could do about it.
I think I sent out a pathetic text to some friends asking for prayer and somehow made it through the rest of the evening without creating a scene my kids would eventually talk about in counseling one day. It was just a sad day.
Sharing the News with Adelyn
Let me share some advice with you all.
Telling a four year old a "secret" is not a good idea. If you know my four year old, you probably knew we were pregnant. People, she even told the gym childcare workers. I don't even know half of their names! If we were hardcore about not telling people early, we likely wouldn't have told the four year old megaphone. However, choices were made and people were informed.
I will say this–it is way fun to have a child who understands what's happening. Tyler is only 2 so he doesn't get it. Adelyn totally gets it though and is pumped. Here is the video of us telling her the big news.
Lets see, what else.
Like my two other pregnancies, I can't stand the smell of mint gum.
I love oranges. With a fiery passion.
I'm already in maternity clothes.
I've been going to bed regularly at 9:00.
We plan to NOT find out the gender of this baby.
In the next few months, we need to move my two kids into the same room (heaven help us).
I just want to nap. All of the time.
I'm kind of obsessed with limeade. Yes, limeade. I have to pace myself.
Anyway, all that said, we are very thankful and humbled to be pregnant. I don't want to take it for granted and I want to be careful to express my complaints knowing full well that sensitive ears are all around me. Thanks for letting me blab a bit. I hope to not overwhelm the blog with pregnancy and baby stuff but I can make no promises. 🙂
https://thrivinghomeblog.com/wp-content/uploads/2015/10/Pregnancy-Announcement.jpg
1009
760
Polly Conner
https://thrivinghomeblog.com/wp-content/uploads/2019/10/thrivinglogo.png
Polly Conner
2015-10-05 05:00:00
2020-01-03 13:44:25
Polly's Big News