10 Things to Do Before the Baby Arrives
All through this pregnancy I've felt as though I've had plenty of time to get things ready for Baby 2.0. However, as my due date inches closer and closer, I am starting to feel the time crunch.
Here is a list of 10 things to do before a baby arrives:
1) Dig Clothes Out of Storage that Can be Used for a Boy
I've actually already done this one. When I attempted to transform some baby girl clothes to baby boy clothes by dyeing them blue and gray, I was able to pull out any clothing that was gender neutral.
2) Wash the Baby's Clothes, Sheets, and Blankets
I hesitate to pull tags off of baby clothes before I know he will actually wear them. However, I do need to have a stash of newborn attire that is washed and ready for wearing.
3) Prepare Cloth Diapers
While he may not fit into cloth diapers for a month or two, I want to have some sized up and ready to go. Since my toddler is still in diapers I haven't quite figured out if we are going to do cloth diapers for both of them or just one. My guess is if we do just one kid in cloth diapers, it will be the infant. (Check out my post, Cloth Diapering 101 if you want more information on cloth diapering)
4) Stock the Freezer
While many generous friends will probably bring us meals, we will still need a stock of healthy, yummy food on hand. Even more so this time around since we have a toddler to feed. I plan to scour the freezer meal section of our Recipe Index for ideas of meals to make ahead of time and freeze. A few ideas off of the top of my head: Pork Tenderloin with Seasoned Rub, Chocolate Banana Muffins, Baked Beef Ravioli, Powerball Cookies, and Meatballs (for meatball sub sandwiches).
5) Schedule a Pedicure
I'm not a huge beauty shop, pamper myself person. However, when I'm 38 weeks pregnant and haven't been able to take care of my feet very well (not to mention the extra 25 pounds they have been forced to carry around), I think my tootsies deserve a little TLC. I plan on making an appointment towards the end of the 3rd trimester. I've also heard rumors that pedicures can induce labor so I'll cross my fingers!
6) Wash and Sanitize Bottles, Pacifiers & Breast Pump Accessories
Got to get those clean and ready for action!
7) Stock Up on Baby Supplies
With my first child, I had the luxury of baby showers to do this for me. Now I actually have to think back to the newborn stage and evaluate what I have and what I don't. I have most of the items that an infant actually needs but there are a few I'll need to stock up on: diapers (newborn and size one), diaper cream, burp cloths, lotion, swaddle blankets, Q-tips, etc. Not to mention we need BOY stuff this time!
8) Clean Up and Prepare Car Seat
The infant carseat has been stashed in the garage for over a year so I imagine it will need a little freshening up. The straps also need to be resized for a newborn. Lastly, we need to get the carseat base installed in the car.
9) Print Off my Hospital Bag Checklist and Begin Packing a Bag
I don't plan to pack a bag until week 35 or 36 but it wouldn't hurt to print off my handy-dandy check list and start thinking about what I'll be needing for those few days and nights in the hospital.
10) Prepare Activities and Stock up on Some New Toys for My Toddler
I think one of the things I'm most anxious about this time around is not so much the labor and delivery, but the coming home and figuring out how to do life with a toddler and a newborn. I'm starting to brainstorm up some Toddler Busy Bag Ideas as well as pinning ideas to my Keeping the Little Ones Busy pin board. Hopefully I can have a good stash of ideas put together.
I'm sure there is more to do but those are my top 10 as of right now. Wish me luck!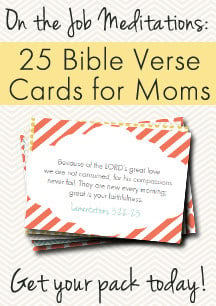 https://thrivinghomeblog.com/wp-content/uploads/2013/03/10-things-to-do.jpg
266
400
Polly Conner
https://thrivinghomeblog.com/wp-content/uploads/2019/10/thrivinglogo.png
Polly Conner
2013-03-13 05:23:15
2019-10-25 12:31:38
10 Things to Do Before the Baby Arrives