Practical Ways to Help a Friend Through Grief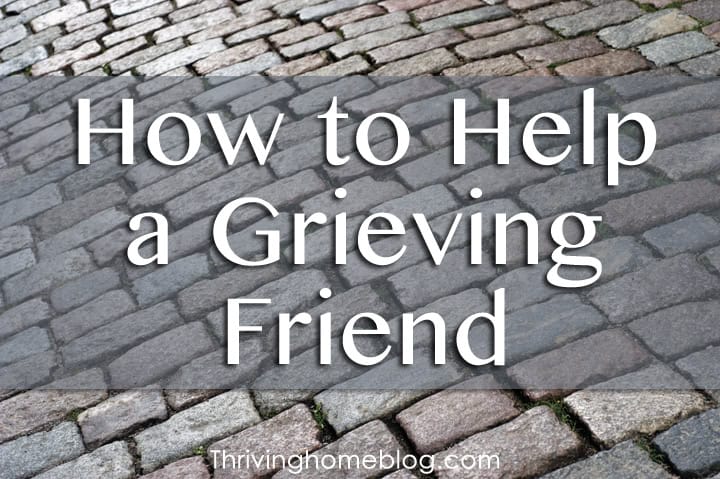 The following post is written by my friend, Ashley. Below, Ashely boldly shares her story of loss with us but also provides some very practical ways to help someone who might be grieving. You may not necessarily need these suggestions at this moment but it is something you want to have on hand in the future.
My Story
In the summer of 2009 my mom was diagnosed with Adenocarcinoma of the lung. Unfortunately, they found it first by way of some eye problems she was having. The cancer had spread throughout her body and a tumor in her brain was affecting her eye. Stage 4 cancer is a pretty brutal diagnosis and all the sources I consulted gave her about 6 months to live. My mom fought valiantly for nearly 2 years before a sharp and quick decline resulted in her death shortly after her 50th birthday.
Before I move on, let me just share with you a few pictures of my mom. I wish I had one of the two of us, but our picture filing system on my husband's computer is non-existent. It took me about an hour to just locate these!
Here is my mom a few years before she was diagnosed.

Here she is about a year after her diagnosis. It's a good looking wig, right?
In the year and a half since my mom's passing I have heard from and connected with other women who have unfortunately experienced a similar tragedy. In my experience, I have found, especially with younger people, friends often aren't sure how to care for people in these situations. Most have yet to experience a loss of this magnitude and are unsure of what the grieving friend may need.
Every person processes grief differently. These suggestions come out of my personal experience on how I was best served or would have found helpful in the months following my mom's passing. Hopefully they can help you care and help a friend if they were to ever face a similar situation
Practical Ways to Help a Grieving Friend
The Month or Two After:
Take meals. For an entire month we had friends graciously bring us 2-3 meals per week. We also received some gift cards to restaurants. The time and money we saved that month were a huge blessing. It helped take the burden of unexpected travel expenses and a shortage of energy off of me. At the time, my husband was in an incredibly demanding part of his career and working 80+ hours a week, so this was a huge blessing as it also brought me company a few nights each week.
Offer to clean or babysit. I'll be honest and say that I think most people don't say yes to letting someone else clean their house, but depending on the circumstances, they very well might. If the person has children, offer to watch them for a while. Even if it is just to allow the person a chance to take a walk or go grab a coffee, it will mean a lot to them. My daughter was a year old when my mom passed, and the needs of a walking 1-year-old don't leave much time for thinking or processing tough emotions.
Come over to chat, and be open to them talking about it or not. Sometimes I was really looking to process my grief out loud, especially a few weeks afterward. However, sometimes I just wanted to be a normal human being again and talk about anything but death and my feelings.
Invite them out to do something where there is no pressure to talk (a movie, a group dinner, etc).
Several Months Later:
Check in with them. For the most part, other people don't have it on their mind anymore but your friend is probably still struggling, at least from time to time, especially on important days (birthdays, anniversaries, holidays). My mom's birthday is one of the hardest/best days for me. Last year I had a little party to celebrate moms, friendship, and life, and it was great for me. But other days are hard too. Christmas was my mom's favorite holiday and my birthday right before my mom passed was when I first started to notice her mind getting a bit jumbled. Little memories like that can be hard.
Pray for them. Again, most people aren't thinking about your friend's grief anymore, so support them in prayer and look for signs they might want to talk about their parent.
Ask your friend if they want to work through a book on grief, or study some scripture about death, resurrection, or grieving. You don't have to be an expert to do this, just offer to learn about how we are called to grieve as Christians together.
Beyond:
The anniversary of a parent's death is a hard thing to forget. A simple text, card, or phone call on that day means a lot.
Continue to be sensitive to the void in your friend's life, and take cues from them on what's appropriate. My husband had a bad moment about 4 months after mom passed by making a "your mom" joke. Thankfully I am used to ill-timed jokes from him and knew he didn't mean any harm. And just the other day a coworker said something about how my husband needs a mother-in-law to spoil him (clearly referencing her husband being spoiled by her mom), and I jokingly mentioned my husband didn't have one. She felt bad, but I wasn't hurt by it so we moved on easily.
When in doubt, pray for your friend and let them know you are doing so. That might be just the comfort they need or even the opening to tell you if it is heavy on their heart. I would often avoid talking about my mom but if it was brought up by someone else, I would get pretty emotional.
Helpful Verses
There is a lot the Bible has to say about grieving and lots of verses of comfort. Here are some you might consider sending to a friend or praying for a friend who is grieving the loss of a loved one.
Psalm 34:18 – The Lord is close to the brokenhearted and saves those who are crushed in spirit.
Psalm 55:22 – Cast your cares on the Lord and he will sustain you; he will never let the righteous be shaken.
Matthew 5:4 – Blessed are those who mourn, for they will be comforted.
Matthew 11:25-30 – Come to me, all you who are weary and burdened, and I will give you rest. Take my yoke upon you and learn from me, for I am gentle and humble in heart, and you will find rest for your souls. For my yoke is easy and my burden is light.
John 14:1-4 – Do not let your hearts be troubled. Trust in God; trust also in me. In my Father's house are many rooms; if it were not so, I would have told you. I am going there to prepare a place for you. And if I go and prepare a place for you, I will come back and take you to be with me that you also may be where I am. You know the way to the place where I am going.
Thanks so much for sharing your story, Ashely, and using your painful experience to help equip others. I hope many people will benefit from your wisdom.
https://thrivinghomeblog.com/wp-content/uploads/2019/10/thrivinglogo.png
0
0
Polly Conner
https://thrivinghomeblog.com/wp-content/uploads/2019/10/thrivinglogo.png
Polly Conner
2013-05-13 05:30:39
2019-01-30 12:16:33
Practical Ways to Help a Friend Through Grief