Prepare Your Preschooler for Christmas (Part 1): The Story of Mary and Joseph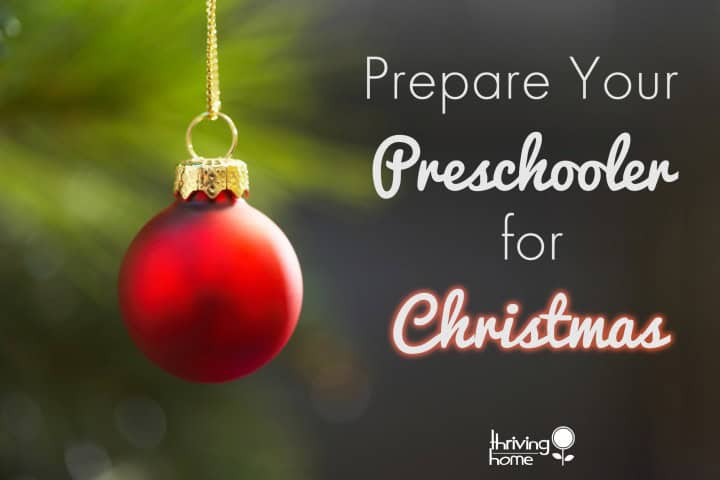 Here are Part 2: The Shepherds, Part 3: The Wise Men, and Part 4: Jesus' Birthday Party of this series.
Children begin to develop their understanding of Christmas from very early on. The only real question is who or what will have the most influence in that process.
Today begins a four part series that I hope will help you begin to shape your toddler's or preschooler's view of what the Bible tells us happened at Christmas. Prepare your toddler's or preschooler's heart this holiday season using these simple activity guides in December once or more times a week.
Because young children learn best through repetition and simple hands-on activities, our family focuses on one aspect of the Christmas story each week. These short, experiential activities have worked well with our little ones. Don't be afraid to give some of this a try even with older babies. You might be surprised at what even the youngest children will absorb and enjoy. Feel free to adapt any of these ideas for what works best for your crew.
Week 1: The Birth of Jesus
1. Share the story of Mary and Joseph's journey to Bethlehem and Jesus' birth. Here are a few good ways to communicate the story:
Read "The Special Baby" (p. 222) from The Rhyme Storybook Bible.
Read "He's Here" (p. 176) from The Jesus Storybook Bible (Note: this Bible is best for older preschoolers).
If you don't have one of these books, read Luke 2:1-7 yourself and share it with your child or children in your own words.
Or watch "He's Here" from The Jesus Storybook Bible together here…
2. Pray a short prayer about the story. An example: "Thank you God for loving us so much that you sent your Son, Jesus, for me."
3. Then, try out one of these activities following the Bible story reading to reinforce what you just read. My kids ask to do these over and over with us.
Act out the story with a nativity set. One of the best nativity sets for young children is The Little People Nativity. We have used it for years and it's gotten a lot of play time. But, before we had it, we pulled out odds and ends Little People pieces and doll sets to creative our own nativity scene. I'll never forget the time my 2-year-old and 4-year-old gathered all of the Little People people and animals in a wide circle around baby Jesus. "What are you doing?" I asked. "They all wanted to come to worship Baby Jesus," they told me.
Wrap a baby doll in cloths and lay him in a "manger" (i.e. a box). You might even want to pull some "hay" (i.e. grass) and put in the manger. Talk about how Jesus—God's son–was born as a baby on Christmas Day and placed in a manger. A manger was a feeding trough for barn animals.
Dress up as different characters from the story using sheets over your head and robes and acting out the story together. Ideas for characters: donkey, Mary, Joseph, inn keeper, animals from the stable. Your child will love being Joseph as he pulls the "donkey" or Mary as she rides on the "donkey". Yes, I've been the donkey a lot (insert your own joke here).
Pull out all your stuffed or toy animals around the house. Ask kids the animals' names, what sound they make, and if they may have been at the stable when Jesus, God's Son, was born. Kids and parents may even want to pretend to be the different animals in the stable.
Color or watercolor paint a picture or Christmas ornament of the nativity scene as you talk about the story together. Below are a few free nativity printables I found on Pinterest:
DIY Printable Nativity for Kids
Free Nativity coloring sheets on Daily Coloring Pages
Done with Part 1: Mary and Joseph? Now move on to Part 2: The Shepherds, Part 3: The Wise Men, and Part 4: Jesus' Birthday Party of this series. Feel free to utilize them as you wish during Advent, but we typically do one part each week leading up to Advent.
https://thrivinghomeblog.com/wp-content/uploads/2013/11/christmas-e1385096772328.jpg
480
720
Rachel Tiemeyer
https://thrivinghomeblog.com/wp-content/uploads/2019/10/thrivinglogo.png
Rachel Tiemeyer
2013-11-28 05:00:31
2019-10-25 12:31:26
Prepare Your Preschooler for Christmas (Part 1): The Story of Mary and Joseph