Sponsored by Hy-Vee (Columbia)
Enjoy this week's delicious and freezer-friendly meals. Remember, simply double the ones that have the (FF) symbol by them and freeze for later! By cooking at home most nights (and strategically using Freezer Cooking), you'll be eating healthier and saving money. Snaps for that!
P.S. Did you know you can have these menu plans emailed to you to weekly? All you have to do is sign up here.
Weekly Menu Plan
(FF) = Indicates a freezer-friendly recipe. Save time and money by doubling and freezing this recipe for another dinner later. Read Freezer Cooking 101 to learn more about this helpful strategy.
Night:

Dinner menu:

Sale Items (thru 4/19):

Monday

(MEATLESS)

Tomato slices
Mixed fresh berries

Di Lusso Premium Sliced Cheese OR Hy-Vee Cheese Slices
Hy-Vee Natural Sliced Cheese
Bushel Boy Tomatoes on the Vine
Driscoll's Strawberries, Raspberries. Blackberries

Tuesday

Whole grain baguette
Peas
Strawberries

Ground Beef 90% lean, 10% fat, 16 oz. roll
Hy-Vee Shredded Natural Cheese select varieties, 12 oz.
Hy-Vee Select Cheese Tortellini or Ravioli 42 or 48 oz.
Hy-Vee Frozen Vegetables, select varieties, 16 oz.
Driscoll's strawberries

Wednesday

(Leftovers)

Use up fridge leftovers or use a freezer meal.

THURSDAY

(BREAKFAST FOR DINNER)

Hy-Vee Vegetarian Fed Brown Eggs, 12 ct. OR Eggland's Best Large Eggs, 12 ct.
Hy-Vee Frozen Fruit, select varieties, 12 or 16 oz.
Oscar Mayer Sliced Bacon, select varieties, 12 or 16 oz.
Red Globe Seeded Grapes

Friday

Corn on the cob
Steamed broccoli

Ground Beef 90% lean, 10% fat, 16 oz. roll
Green Giant Vegetables (fresh broccoli), select varieties, 10 or 12 oz.

Saturday

Boneless Pork Tenderloin, Hormel Always Tender, lb.
Organic Russet Potatoes
Fresh Green Leaf, Red Leaf, Butter or Romaine

Sunday

(Slow cooker)

Organic Smart Chicken Boneless Skinless OR Boneless Skinless Chicken Breast, fresh from our service case
Mission Ripe Hass Large Avocado this week's special, each 
Grimmway Farms Baby Carrots 16 oz. pkg.
Jonagold Apples from Michigan, lb.
Shop Online Now
New Online Shopping feature! Save time and hassle by ordering your groceries online from any Hy-Vee of Columbia. If you spend $100, delivery is FREE!! (What!?) If not, it's only $4.95 for delivery or $2.95 to pick up! (What!?) Listen to Polly explain how she uses it to save time and money…
<
For a step-by-step tutorial, read Polly's post about using Hy-Vee's Aisles Online. It's so easy!
Printable Menu Planner
Here's an easy way to get started on saving money and eating healthier–download our free printable menu planner!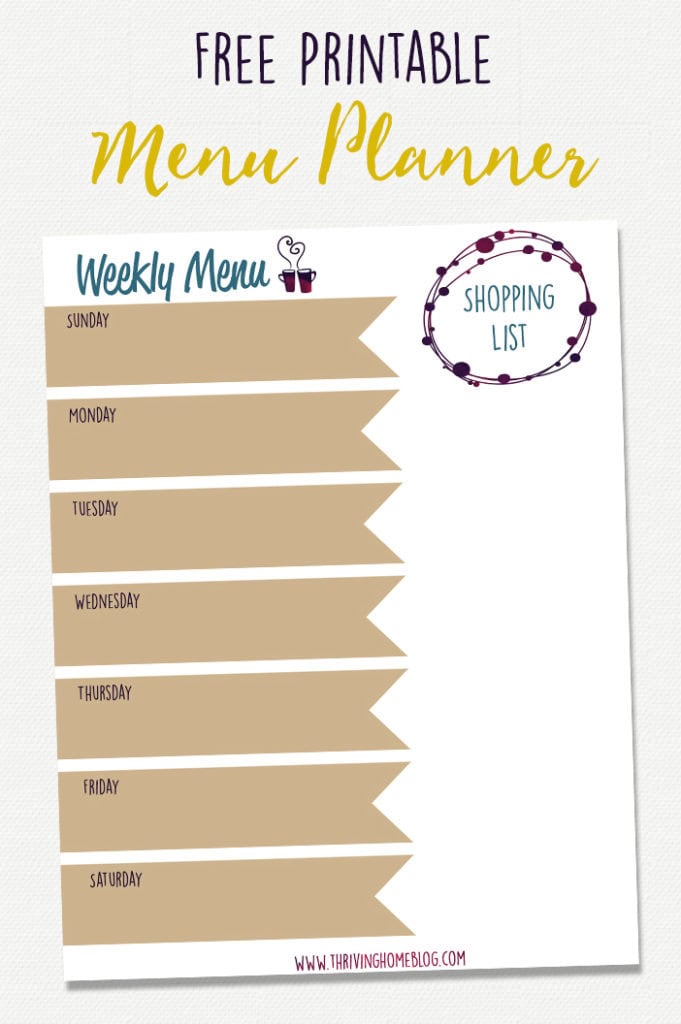 More Healthy Recipe Ideas
For more recipe ideas, check out our past Menu Plans or our extensive Recipe Index full of healthy, family-friendly recipes.