Sponsored by Hy-Vee (Columbia)
Here's a fun promotion this month if you shop at Hy-Vee! Perk of the Month: Swipe your Fuel Saver+Perks card during April for a chance to win a $5, $10, or $20 Hy-Vee Gift Card. In fact, the cashier told me this morning as I was checking out that she gave one away just yesterday.
P.S. Did you know you can have these menu plans emailed to you to weekly? All you have to do is sign up here.
Weekly Menu Plan
(FF) = Indicates a freezer-friendly recipe. Save time and money by doubling and freezing this recipe for another dinner later. Read Freezer Cooking 101 to learn more about this helpful strategy.
Night:

Dinner menu:

Sale Items (thru 4/26):

Monday

(MEATLESS)

Hy-Vee Shredded Mozzarella
Galassi Pasta Sauce
Popeye's Spinach (2 for $4)
Hy-Vee Pasta ($.88)
Bird's Eye Frozen Vegetables ($1.88)

Organic Earthbound Farm Broccoli ($2.99)

Tuesday

Store-Bought, All-Natural Chicken Tenders (or make your own) (FF)

Golden Platter Chicken Tenders (frozen, GF) ($6.49)
Nutritious sweet potatoes ($.99/lb)
Stemilt Rushing Rivers Anjou Pears ($1.98/lb)

Wednesday

(Leftovers)

Use up fridge leftovers or use a freezer meal.

THURSDAY

(BREAKFAST FOR DINNER)

Hy-Vee Coconut Oil new, gluten free, 14 fl. oz. ($6.49)
Organic Hy-Vee HealthMarket Coconut Sugar ($5.29)
Hy-Vee Grade A Fresh Large Eggs , 12 ct. ($.88)
Value Pack Driscoll's Organic Strawberries this week's special, 16 oz. ($3.99)
Granny Smith or Pink Lady Apples ($1.68/lb)

Friday

Whole Boneless Pork Loin ($1.69/lb)
Natural Choice Russet Potatoes , 4 lb. bag ($.88)

Saturday

Hy-Vee Raw Shrimp, 100 natural peeled and deveined, 51 to 60 ct. , 16 oz. ($7.99)
Hy-Vee Pasta ($.88)
Organic Earthbound Salad Mix ($5.49)

Sunday

(Slow cooker)

Brown rice
Fresh tomato slices 
Honeydew slices

Just BARE Boneless Skinless Chicken Breast, Tenders or Thighs, 14 or 20 oz.  ($4.99)
Hy-Vee Canned Corn (5 for $3)
Swanson Broth or Stock, 24-32 oz ($1.98)
Hy-Vee Salsa (2 for $3)
Hy-Vee Cream Cheese (2 for $3)
Hy-Vee Shredded Cheese, 6-8 oz (3 for $4)
Beefsteak Tomatoes
Honeydew Melon ($2.99)
Shop Online Now
New Online Shopping feature! Save time and hassle by ordering your groceries online from any Hy-Vee of Columbia. If you spend $100, delivery is FREE!! (What!?) If not, it's only $4.95 for delivery or $2.95 to pick up! (What!?) Listen to Polly explain how she uses it to save time and money…
<
For a step-by-step tutorial, read Polly's post about using Hy-Vee's Aisles Online. It's so easy!
Printable Menu Planner
Here's an easy way to get started on saving money and eating healthier–download our free printable menu planner!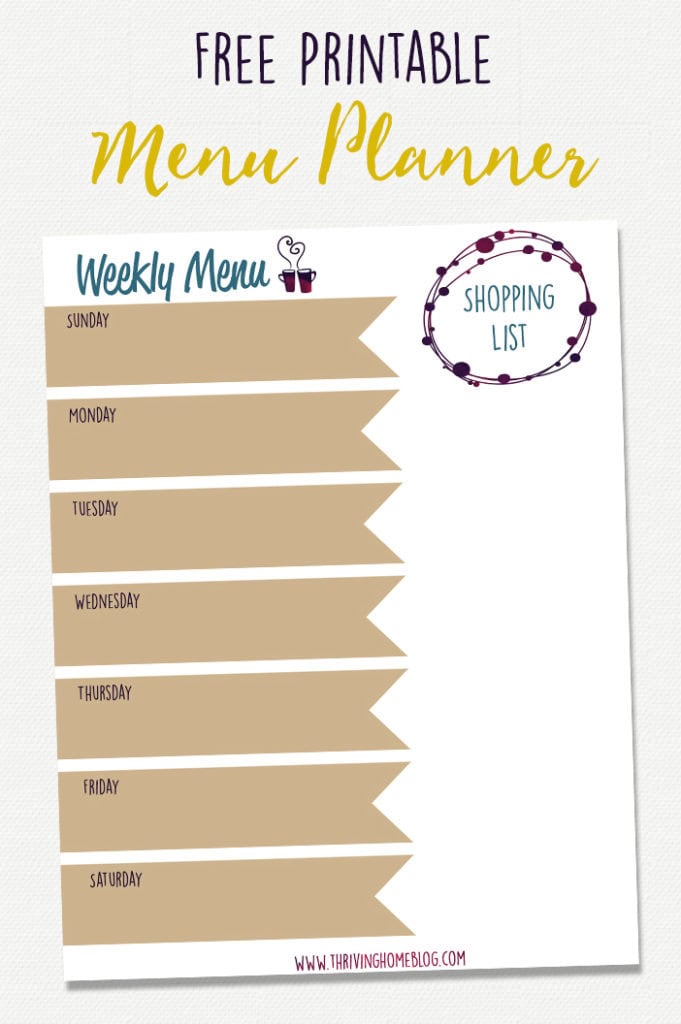 More Healthy Recipe Ideas
For more recipe ideas, check out our past Menu Plans or our extensive Recipe Index full of healthy, family-friendly recipes.