Sponsored by Hy-Vee (Columbia)
Welcome to all our new followers from our Favorites Christmas Giveaway! Each week I post a mostly "real food" menu plan to help you think about one less thing in your already busy life. If this is your first time to check it out, please know that our meal plans are…
Intentionally simple, kid-friendly, and full of variety.
Mostly homemade, "real food" (vs. processed food) meal options, so you can feed your family healthy and delicious food around the table most nights.
One of the best strategies for saving you time and money!
Full of freezer-friendly recipes that you can double and freeze for later (look for the notation "FF"), saving you even more time and money!
Accompanied by a grocery list of Columbia Hy-Vee sale items for each meal, as an added bonus for our local readers.
Check in on Wednesdays or sign up for our RSS feed to receive these straight to your inbox every week.
Be sure to scroll down to the bottom for a free printable Menu Planner!
Weekly Menu Plan
(FF) = Indicates a freezer-friendly recipe. Save time and money by doubling and freezing this recipe for another dinner later. Read Freezer Cooking 101 to learn more about this helpful strategy.

Night:

Dinner menu:

Sale Items (thru 12/15):

Monday

(MEATLESS)

Tomato Bisque (FF)
Grilled Cheese Dippers (I cut whole wheat grilled cheese sandwiches into sticks for dipping. My kids love them!)
Raw veggies with ranch dip

Hy-Vee 33% Less Sodium Chicken Broth
Muir Glen Organic Whole Peeled Tomatoes 28 oz. Can
Hy-Vee Sliced Cheddar Cheese
Freshly-Made Vegetable Tray w/ Dip

Tuesday

Ground Beef Roll 90% Lean 10% Fat 
Hy-Vee Sliced Provolone Cheese
Organic Green Beans
Holiday Red Seedless Grapes (domestic)

Wednesday

(Breakfast for dinner)

Uncured sausage patties (find in HealthMarket freezer section)
Apple slices

Hy-Vee Unbleached All Purpose Flour
HealthMarket Blanched Almond Flour
Hy-Vee 100% Natural Pumpkin
Fuji Apples

Thursday

(LEFTOVER NIGHT)

Use up fridge leftovers or use a freezer meal.

Friday

Brown Rice or Quinoa
Spinach salad with grape tomatoes, feta, & sliced almonds
Mandarin orange segments

Fresh Alaska Sockeye Salmon Fillets
Hy-Vee Long Grain Brown Rice OR Hy-Vee Natural Whole Grain Instant Brown Rice
Hy-Vee HealthMarket Organic Baby Spinach 5 oz Clamshell
Organic Harvest Crisp Grape Tomatoes
Frigo Feta Crumbled Cheese
Halos Mandarin Oranges

Saturday

Slow Cooker Turkey Chili with Sweet Potatoes and Black Beans (recipe will post tomorrow!)

Honeysuckle White Ground Turkey Breast 99% Lean 1% Fat 
Sweet Potatoes
Hy-Vee No Salt Added Black Beans
Hy-Vee 33% Less Sodium Chicken Broth
Muir Glen Organic Diced Tomatoes 15 oz. Can
Yellow Onions

Sunday

Chicken Breasts Boneless & Skinless
Hy-Vee Cream Cheese
Hy-Vee Finely Shredded Reduced Cheddar Cheese
Hy-Vee Long Grain Brown Rice OR Hy-Vee Natural Whole Grain Instant Brown Rice
Hass Avocado, Large
Freshly-Made Vegetable Tray w/ Dip OR Bunny Luv Fresh Organic Carrots and Red/Yellow/Orange Bell Peppers
Shop Online Now
New Online Shopping feature! Save time and hassle by ordering your groceries online from any Hy-Vee of Columbia. If you spend $100, delivery is FREE!! (What!?) If not, it's only $4.95 for delivery or $2.95 to pick up! (What!?) Listen to Polly explain how she uses it to save time and money…
<
For a step-by-step tutorial, read Polly's post about using Hy-Vee's Aisles Online. It's so easy!
Printable Menu Planner
Here's an easy way to get started on saving money and eating healthier–download our free printable menu planner!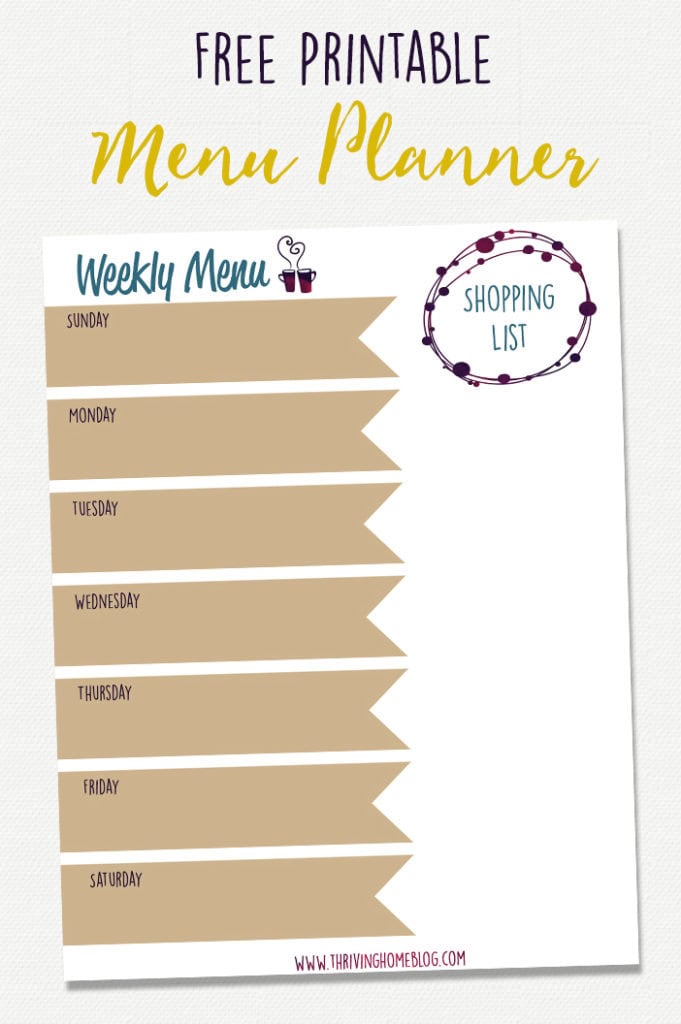 More Healthy Recipe Ideas
For more recipe ideas, check out our past Menu Plans or our extensive Recipe Index full of healthy, family-friendly recipes.