Sponsored by Hy-Vee (Columbia)
Someday I look forward to trying new and exciting dishes and having more time in the kitchen. But, the reality is I have two jobs, three somewhat picky kids, and quite a bit of running around to do after school each day. So, the necessary grid I run my menu plans through is this:
Will my kids eat it? (Most of them at least!)
Will it be easy to prepare at home?
Did I include a good variety of vegetables, fruits, whole grains, and meat?
Can I afford it? (Lining up my meal plan with Hy-Vee's ads each week helps me stay within my grocery budget.)
I hope you find these simple plans helpful during this phase of life. And maybe, just maybe, someday I can start experimenting more with recipes like the ones I drool over in my Bon Appetit magazine.
Weekly Menu Plan
(FF) = Indicates a freezer-friendly recipe. Save time and money by doubling and freezing this recipe for another dinner later. Read Freezer Cooking 101 to learn more about this helpful strategy.
Night:

Dinner menu:

Sale Items (thru 2/2):

Monday

(MEATLESS)

Tumaro's Low-in-Carb Wraps
Mushrooms
Fresh green peppers
Green Seedless Grapes

Tuesday

Boneless Skinless Chicken Breast
Swanson Broth or Stock
Barilla Pasta
Fresh asparagus
Fresh green bell pepper
Cuties Mandarins

Wednesday

(Leftovers)

Use up fridge leftovers or use a freezer meal.

THURSDAY

(BREAKFAST FOR DINNER)

Whole wheat toast
Orange slices 

Honeysuckle White Ground Turkey, Sausage
Hy-Vee Natural Shredded Cheese (6-8 oz)
Fresh green bell pepper
Hy-Vee Butter
Silk Almondmilk
Zeal Cara Cara Navel Oranges

Friday

Ground beef (in a roll)
Hy-Vee Parmesan Cheese
Grimmway Farms Baby Carrots (32 oz)
Washington Stemilt Golden Delicious or Granny Apples OR Organic Washington fuji or golden

Saturday

Fresh tilapia fillets
Kraft mayonnaise 
Hy-Vee Parmesan Cheese
Fresh asparagus OR Short-Cuts Garlic Lemon Asparagus
Stemilt Anjou Pears

Sunday

(slow Cooker)

Whole grain baguette (from bakery)
Green leafy salad
Grapes

Barilla Pasta
Hy-Vee Cottage Cheese OR Hy-Vee Ricotta
Hy-Vee Natural Shredded Cheese (6-8 oz)
Hy-Vee Parmesan 
Dole Power Up Greens Salad Kit OR Earthbound Farms Organic Salad Mix
Shop Online Now
New Online Shopping feature! Save time and hassle by ordering your groceries online from any Hy-Vee of Columbia. If you spend $100, delivery is FREE!! (What!?) If not, it's only $4.95 for delivery or $2.95 to pick up! (What!?) Listen to Polly explain how she uses it to save time and money…
<
For a step-by-step tutorial, read Polly's post about using Hy-Vee's Aisles Online. It's so easy!
Printable Menu Planner
Here's an easy way to get started on saving money and eating healthier–download our free printable menu planner!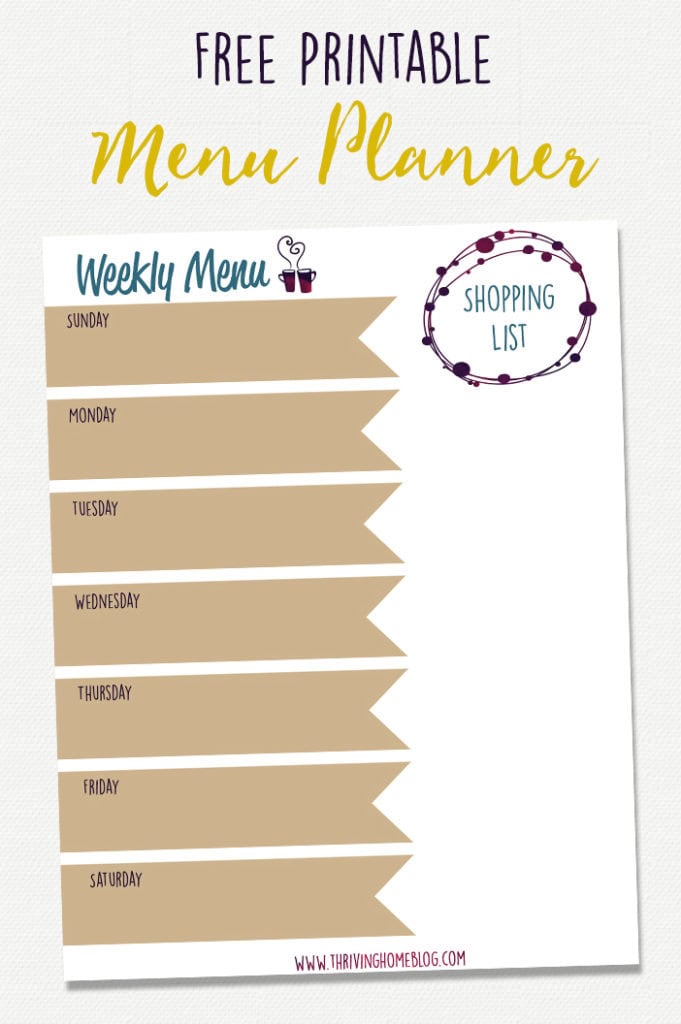 More Healthy Recipe Ideas
For more recipe ideas, check out our past Menu Plans or our extensive Recipe Index full of healthy, family-friendly recipes.