Sponsored by Hy-Vee (Columbia)
Do you think my kids will go for a new veggie burger from Cooking Light I'm trying next week? I sure hope so, because it sounds delicious and is loaded with quinoa and all kinds of good-for-you ingredients. And, hey, let me point out how much I like the Crispy Baked Drumsticks below, too. Don't skip the dipping sauce, because it takes the recipe over the top.
Happy menu planning!
Weekly Menu Plan
(FF) = Indicates a freezer-friendly recipe. Save time and money by doubling and freezing this recipe for another dinner later. Read Freezer Cooking 101 to learn more about this helpful strategy.
Night:

Dinner menu:

Sale Items (thru 3/1):

Monday

(MEATLESS)

Organic Tomatoes on the Vine
Dole Iceberg Lettuce
Sweet Potatoes
Green Seedless Grapes

Tuesday

Mashed Potatoes
Steamed Green Beans

Value Pack Hy-Vee Chicken Drumsticks or Thighs
Green Giant Idaho Russet Potatoes

Wednesday

(Leftovers)

Use up fridge leftovers or use a freezer meal.

THURSDAY

(BREAKFAST FOR DINNER)

Hy-Vee White Milk or Hy-Vee Almondmilk
Kraft Shredded Cheese
Onions
Pre-chopped multi-colored peppers
Wright Bacon
Florida's Natural Orange Juice
Frozen Hy-Vee Strawberries or Mango Chunks (16 oz)

Friday

Fresh Ground Beef 

(

85% lean, 15% fat, 16 oz. roll)
Ragu marinara sauce
Hy-Vee cheese slices

Bunny-Luv Organic Juicing Carrots 
Dole Celery

Saturday

Tossed green salad with cherry tomatoes, cucumbers, and feta cheese

Ragu Pasta Sauce/Creamette or Ronzoni Pasta (COUPON, FREE pasta with purchase of 2 pasta sauces, select varieties)
Ragu Pasta Sauce
select varieties, 16 to 24 oz.
Creamettes or Ronzoni Pasta
select varieties, 10 to 16 oz.
Organic Earthbound Farm Salad Mix OR Dole Chopped or Premium Salad Kit
earn 1¢ off per gallon w/purchase
Cherry tomatoes (or Organic Tomatoes on the Vine)
Organic English cucumbers
Hy-Vee Select Crumbled Feta

Sunday

(Slow cooker)

Just Bare Boneless Skinless Breast OR Hy-Vee Boneless Skinless Chicken Breast Tenders
Cilantro or parsley
Frozen Hy-Vee Corn
Swanson Chicken Broth
Chi Chi's Salsa
Bunny-Luv Organic Juicing Carrots 
Shop Online Now
New Online Shopping feature! Save time and hassle by ordering your groceries online from any Hy-Vee of Columbia. If you spend $100, delivery is FREE!! (What!?) If not, it's only $4.95 for delivery or $2.95 to pick up! (What!?) Listen to Polly explain how she uses it to save time and money…
<
For a step-by-step tutorial, read Polly's post about using Hy-Vee's Aisles Online. It's so easy!
Printable Menu Planner
Here's an easy way to get started on saving money and eating healthier–download our free printable menu planner!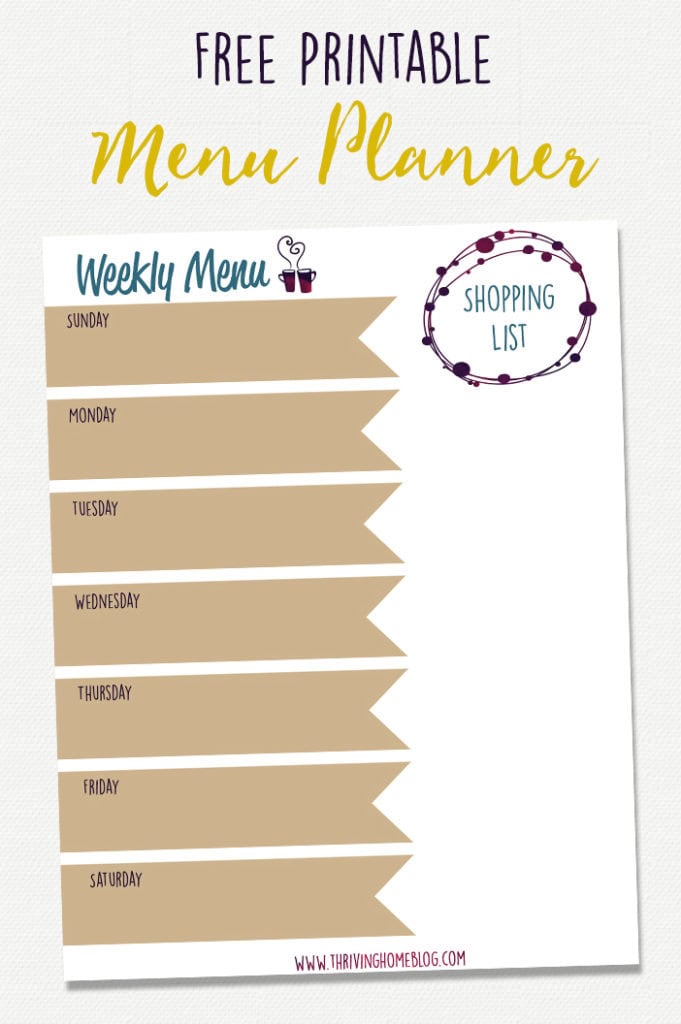 More Healthy Recipe Ideas
For more recipe ideas, check out our past Menu Plans or our extensive Recipe Index full of healthy, family-friendly recipes.