Sponsored by Hy-Vee (Columbia)
One of the advantages of being in a Freezer Club for so long was that our family got to enjoy a variety of meals each week–from vegetarian to Asian to seafood to Italian. Over the years, this helped expand our palettes and now my kids (although certainly picky in many ways) are much more likely to enjoy foods like shrimp, tilapia, or even–heaven forbid!, according to Honest Toddler–a casserole. That's why I try to include a variety of different cuisines and types of foods each week in our simple menu plans. Pick and choose what works for your family, but I encourage you to challenge yourself and your family from time to time by branching out. You might be surprised at the results!
Weekly Menu Plan
(FF) = Indicates a freezer-friendly recipe. Save time and money by doubling and freezing this recipe for another dinner later. Read Freezer Cooking 101 to learn more about this helpful strategy.
Night:

Dinner menu:

Sale Items (thru 2/16):

Monday

(MEATLESS)

Grilled Cheese Dippers (Note: Cut sandwich into sticks for easy dipping.)
Apples slices

Swanson Chicken Broth
HyVee Shredded cheese
Hy-Vee half and half
Organic Fuji or Stemilt Pink Lady Apples

Tuesday

Mediterranean Shrimp (Note: Simmer the marinade in a small pot for about 10 minutes and serve as a sauce over the shrimp and noodles.)

Whole wheat angel hair pasta

Hy-Vee Raw EZ-Peel Shrimp
Barilla Pasta 
Fresh Asparagus

Wednesday

(Leftovers)

Use up fridge leftovers or use a freezer meal.

THURSDAY

(BREAKFAST FOR DINNER)

Scrambled eggs
Blueberries

Hy-Vee Grade A Fresh Large Eggs
Organic Kalona Milk OR Almondmilk
Organic HealthMarket Unrefined Coconut Oil
Hy-Vee Select 100% Real Maple Syrup
Organic blueberries

Friday

Honeysuckle White Ground Turkey (for taco meat)
Hy-Vee Shredded Cheese
Eden Organic Black beans
Ripe Tomatoes
Dole Romaine Lettuce 

Saturday

Hy-Vee Angus Reserve Boneless Beef Stew Meat
Russet potatoes 
Green Giant canned green beans
Tomato sauce
Baking Stone Italian Bread
Organic Fuji or Stemilt Pink Lady Apples
Organic mangos
Organic blueberries
Cara Cara Oranges
Anjou Pears 
Seedless red grapes

Sunday

(Slow cooker)

Green salad with favorite dressing
Grapes

Just BARE Whole Chicken
Russet potatoes 
Earthbound Salad Mix OR Dole Romaine Lettuce OR Hy-Vee Salad Blends
Organic HealthMarket Dressings OR HyVee 16 oz Salad Dressings
Seedless red grapes
Shop Online Now
New Online Shopping feature! Save time and hassle by ordering your groceries online from any Hy-Vee of Columbia. If you spend $100, delivery is FREE!! (What!?) If not, it's only $4.95 for delivery or $2.95 to pick up! (What!?) Listen to Polly explain how she uses it to save time and money…
<
For a step-by-step tutorial, read Polly's post about using Hy-Vee's Aisles Online. It's so easy!
Printable Menu Planner
Here's an easy way to get started on saving money and eating healthier–download our free printable menu planner!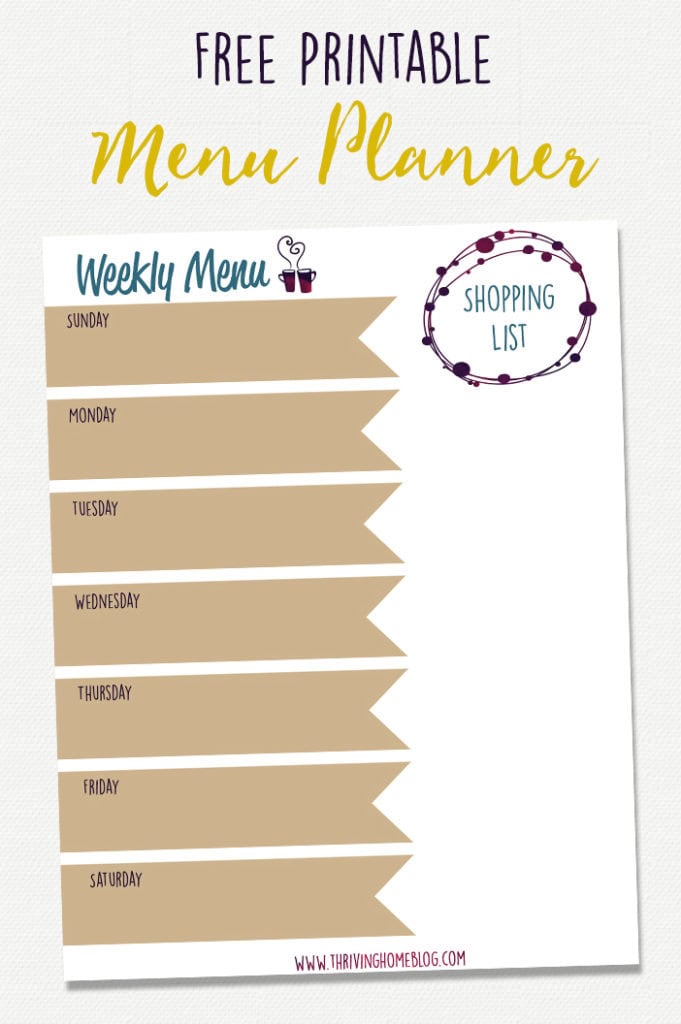 More Healthy Recipe Ideas
For more recipe ideas, check out our past Menu Plans or our extensive Recipe Index full of healthy, family-friendly recipes.