Sponsored by Hy-Vee (Columbia)
Valentine's Day is only a week from Sunday. I don't know about you, but the idea of going out to dinner that night does not sound fun anymore. A long wait. An expensive meal that is often mediocre. And leaving my kids out. Boo! So, I've got a home-cooked plan that I think my family will love. Plus, we'll top off our fancy-schmancy dinner with our annual Valentine's Day Scavenger Hunt.
Weekly Menu Plan
(FF) = Indicates a freezer-friendly recipe. Save time and money by doubling and freezing this recipe for another dinner later. Read Freezer Cooking 101 to learn more about this helpful strategy.
Night:

Dinner menu:

Sale Items (thru 2/9):

Monday

(MEATLESS)

Steamed green beans 
Apples slices

Hy-Vee Marinara Sauce
Kraft Shredded Mozzarella Cheese
Hy-Vee Parmesan Cheese
Bird's Eye Frozen Vegetables OR Midwest Country Fare Frozen Vegetables
Jonagold Apples OR Organic Stemilt Artisan Pinata, Pink Lady Apples

Tuesday

Quinoa or Wild Rice
Roasted Sweet Potatoes (with butter and a little brown sugar on top)

Hy-Vee Boneless, Skinless Chicken Breast Tenders
Organic Full Circle Quinoa OR Uncle Ben's Long Grain Wild Rice

Wednesday

(Leftovers)

Use up fridge leftovers or use a freezer meal.

THURSDAY

(BREAKFAST FOR DINNER)

Eggland's Best Grade A Eggs
Applegate Naturals Deli Meat
Kraft Shredded Cheese
Organic Cara Cara Navel Oranges OR Zeal Navel Oranges

Friday

Hy-Vee Chunk Light Tuna in Water OR Genova Solid White Tonno In Olive Oil Tuna
Dilusso Premium Sliced Cheese
Organic Russet Potatoes
Bird's Eye Frozen Vegetables OR Midwest Country Fare Frozen Vegetables

Saturday

Guacamole and salsa with tortilla chips and raw veggies

Boneless Pork Shoulder Roast
Organic limes (bag)
Organic Hy-Vee Blue Corn Chips
Organic Hy-Vee HealthMarket Salsa
Freshly Made Vegetable Tray OR Grimmway Farms Baby Carrots, Red Peppers, and Celery
Mission Ripe Hass Avocados
Roma Tomatoes OR Organic Tomatoes

Sunday

(valentine's day!!)

Ready to Eat Shrimp Tray
Hy-Vee Choice Beef Ribeye Steak
Organic Russet Potatoes
Kraft Shredded Cheese
HealthMarket Salad Mix OR Dole Blends
Driscoll's Fresh blackberries or blueberries
Mission Ripe Hass Avocados
Shop Online Now
New Online Shopping feature! Save time and hassle by ordering your groceries online from any Hy-Vee of Columbia. If you spend $100, delivery is FREE!! (What!?) If not, it's only $4.95 for delivery or $2.95 to pick up! (What!?) Listen to Polly explain how she uses it to save time and money…
<
For a step-by-step tutorial, read Polly's post about using Hy-Vee's Aisles Online. It's so easy!
Printable Menu Planner
Here's an easy way to get started on saving money and eating healthier–download our free printable menu planner!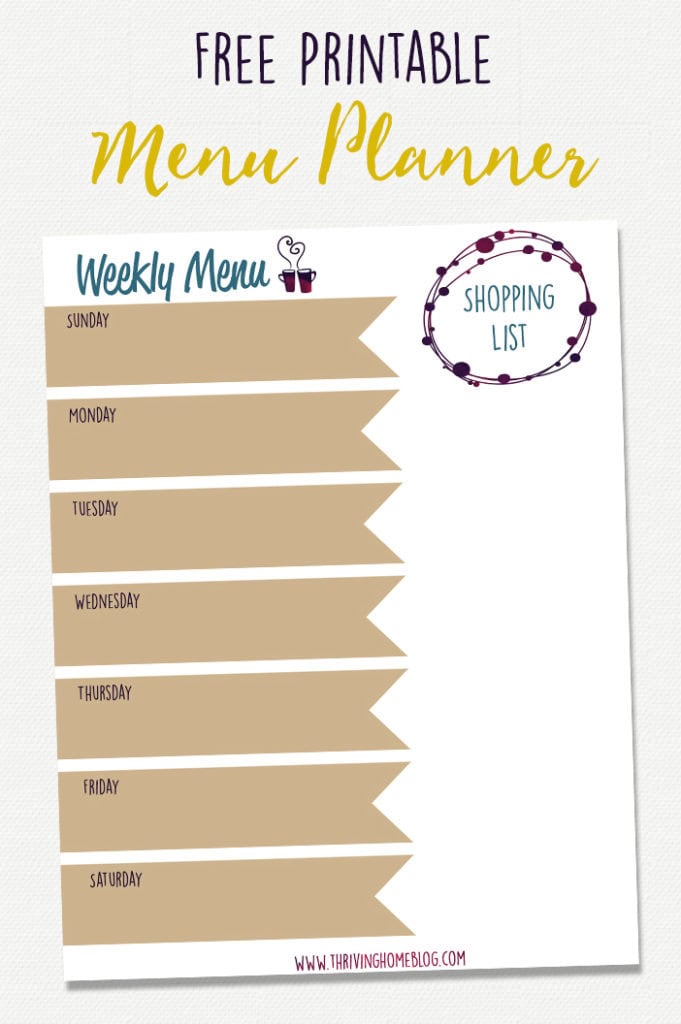 More Healthy Recipe Ideas
For more recipe ideas, check out our past Menu Plans or our extensive Recipe Index full of healthy, family-friendly recipes.