Sponsored by Hy-Vee (Columbia)
Brrrrr! Winter has arrived in mid-Missouri. Hooray for soups and other comforting, yet healthy foods this week on the menu plan! Your family will love this line up I think. Remember, save money and time by taking advantage of our freezer cooking options. Just double the freezer-friendly recipes (FF) below and pop them in the freezer for another night.
Weekly Menu Plan
(FF) = Indicates a freezer-friendly recipe. Save time and money by doubling and freezing this recipe for another dinner later. Read Freezer Cooking 101 to learn more about this helpful strategy.
Night:

Dinner menu:

Sale Items (thru 1/12):

Monday

(MEATLESS)

Whole grain baguette
Orange slices

Bird Frozen Blends
Midwest Grown Whole or Sliced Baby Bella Mushrooms
Hunt's Tomatoes
California Zeal Navel Oranges

Tuesday

Responsible Choice Natural Wild EZ Peel Gulf Shrimp 21-30 count LB.
Organic Russet Potatoes
Fresh Asparagus
Washington Honeycrisp Apples

Wednesday

(Breakfast for dinner)

Hy-Vee 18CT Large Eggs
Hy-Vee Almond or Soy Milk
Hy-Vee Shredded Cheese 6-8oz
Fresh Blackberries or  Blueberries OR Frozen Hy-Vee Raspberries or Wild Blueberries

Thursday

(Leftover night)

Use up fridge leftovers or use a freezer meal.

Friday

Green salad with favorite dressing
Mixed fruit salad

HV 100% Natural Grade "A" Roasting Chicken OR Rotisserie Chicken (from deli)
Organic Russet Potatoes
Hy-Vee Salad Blends
Washington Honeycrisp Apples
Fresh Blackberries or  Blueberries
California Zeal Navel Oranges

Saturday

Chicken, Cheese, & Quinoa Bowl – Use leftover chicken from last night and add any other toppings you like (shredded lettuce, tomatoes, plain Greek yogurt, salsa, avocado dip, etc).

Hy-Vee Shredded Cheese 6-8oz
Hy-Vee Salad Blends
Extra Large Roma Tomatoes
Hy-Vee Yogurt 6oz
Pace Salsa or Picante
HealthMarket Organic Tortilla Chips

Sunday

(slow Cooker)

Honeysuckle White Regular Fresh Ground Turkey
Hunts Tomatoes
Hy-Vee 18CT Large Eggs
Washington Honeycrisp Apples
Shop Online Now
New Online Shopping feature! Save time and hassle by ordering your groceries online from any Hy-Vee of Columbia. If you spend $100, delivery is FREE!! (What!?) If not, it's only $4.95 for delivery or $2.95 to pick up! (What!?) Listen to Polly explain how she uses it to save time and money…
<
For a step-by-step tutorial, read Polly's post about using Hy-Vee's Aisles Online. It's so easy!
Printable Menu Planner
Here's an easy way to get started on saving money and eating healthier–download our free printable menu planner!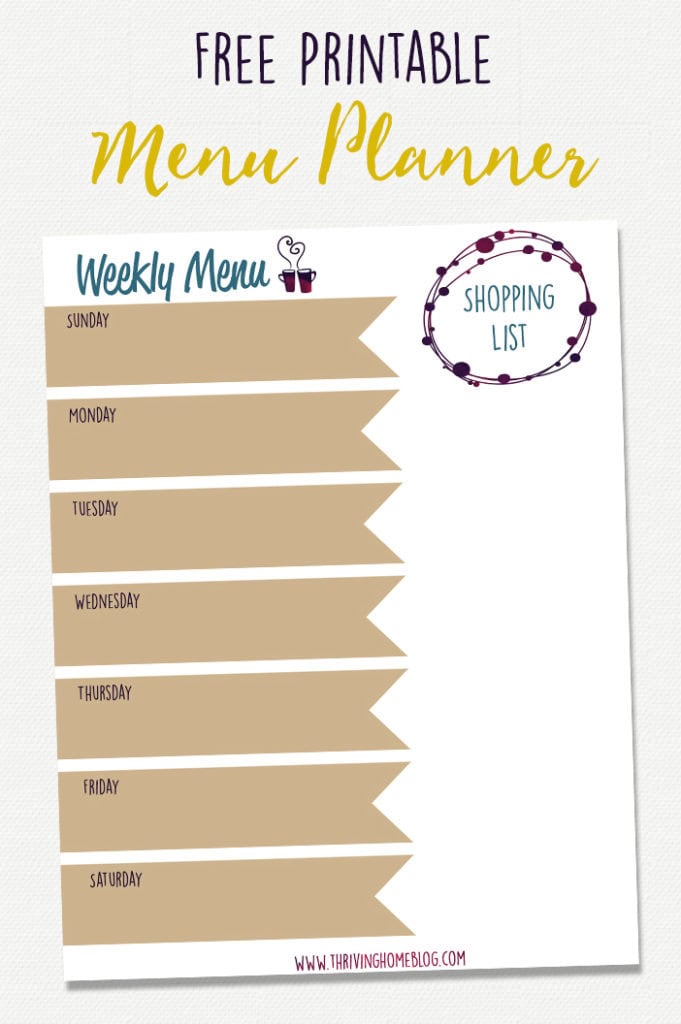 More Healthy Recipe Ideas
For more recipe ideas, check out our past Menu Plans or our extensive Recipe Index full of healthy, family-friendly recipes.