Sponsored by Hy-Vee (Columbia)
Even though my kids will never tire of our dinner staples like Oven Fried Parmesan Chicken Tenders, Herb Roasted Pork Tenderloin, and Baked Italian Meatballs, I am ready to try some new recipes in the New Year! So, this week and next, I'm trying out a few recipes I've pinned recently (follow me HERE). Don't worry, I've filled in some old stand-by meals in between to keep the crew happy.
Weekly Menu Plan
(FF) = Indicates a freezer-friendly recipe. Save time and money by doubling and freezing this recipe for another dinner later. Read Freezer Cooking 101 to learn more about this helpful strategy.
Night:

Dinner menu:

Sale Items (thru 1/19):

Monday

(MEATLESS)

Hy-Vee 12oz. – 16oz. Pasta
Hy-Vee White Milk Gallon
Dole Broccoli
Green Seedless Grapes

Tuesday

Tacos (with Homemade Taco Seasoning) – Topping bar includes lettuce, tomatoes, avocados, black beans, cheese, salsa, and plain Greek yogurt.

80/20 Fresh Ground Beef 1lb. Roll
Hy-Vee Grape Tomatoes
Chobani Greek Yogurt 32oz

Wednesday

(Breakfast for dinner)

Hy-Vee White Milk Gallon
Washington Stemilt Gala or Fuji Apples

Thursday

(Leftover night)

Use up fridge leftovers or use a freezer meal.

Friday

Baked Balsamic Herb Chicken (FF) – Note: Instead of grilling, I will bake at 350 degrees for about 15-20 minutes, until internal temp reaches 165 degrees F.

Wild rice – Note: Purchase extra for Sunday night's recipe.

Fresh Boneless Skinless Chicken Breast lb.
Dole Broccoli
California Zeal Navel Oranges

Saturday

Green Salad
Mixed fresh fruit salad – Note: Double for tomorrow night.

Hy-Vee 12oz. – 16oz. Pasta
Responsible Choice Wild USA Peeled and Deveined Gulf Shrimp 40/50ct. 16 oz
Dole Premium Classic Salads
Kraft Salad Dressings 15.8-16oz
Sunbelle Fresh Blackberries
Del Monte Gold Pineapple
Green Seedless Grapes
Jet Fresh Peaches or Nectarines
Washington Stemilt Gala or Fuji Apples

Sunday

(slow Cooker)

Fresh Boneless Skinless Chicken Breast lb.
Hy-Vee White Milk Gallon
For fruit salad: see ingredient list from Saturday
Shop Online Now
New Online Shopping feature! Save time and hassle by ordering your groceries online from any Hy-Vee of Columbia. If you spend $100, delivery is FREE!! (What!?) If not, it's only $4.95 for delivery or $2.95 to pick up! (What!?) Listen to Polly explain how she uses it to save time and money…
<
For a step-by-step tutorial, read Polly's post about using Hy-Vee's Aisles Online. It's so easy!
Printable Menu Planner
Here's an easy way to get started on saving money and eating healthier–download our free printable menu planner!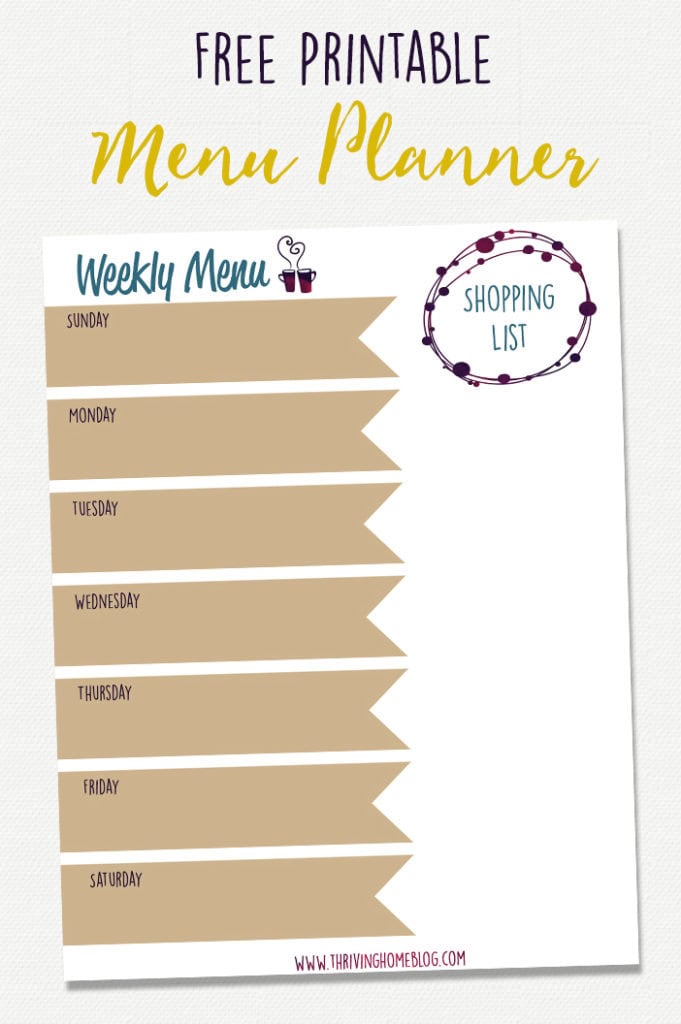 More Healthy Recipe Ideas
For more recipe ideas, check out our past Menu Plans or our extensive Recipe Index full of healthy, family-friendly recipes.