Sponsored by Hy-Vee (Columbia)
Next week I'm bringing back an old favorite that I used to make for my husband and me during the pre-kid days called Asian Lettuce Wraps. They are inspired by the P.F. Chang's recipe and are lip-smacking good (and good for you.) The filling also freezes great! Now, will my kids eat it? That remains to be seen. However, there are a few other ways to offer up this Asian delight other than in a piece of lettuce. You can serve it over brown rice or roll it up in a soft tortilla. I'm also planning to try out a delicious-looking white bean chili I saw in the Seasons magazine. If it's a hit, I'll let you know on our Facebook page.
Now onward to the menu plan…
Weekly Menu Plan
(FF) = Indicates a freezer-friendly recipe. Save time and money by doubling and freezing this recipe for another dinner later. Read Freezer Cooking 101 to learn more about this helpful strategy.
Thursday(Leftover night)
Night:

Dinner menu:

Sale Items (thru 1/26):

Monday

(MEATLESS)

Slow Cooker Baked Potato or Sweet Potato Bar – Topping ideas: shredded cheddar, plain Greek yogurt or sour cream, salsa, steamed broccoli, sautéed veggies (like red peppers, onions, zucchini, and squash), black beans, (or bacon pieces, if eating meat).

Hy-Vee One Step Russet Potatoes
Hy-Vee Shredded Cheese 6-8oz
Hy-Vee Sour Cream 8oz
Fresh Red Peppers
Fresh Zucchini or Yellow Squash 
Bland Farms Sweet Yellow Onions
Red or Black Seedless Grapes

Tuesday

Asian Lettuce Wraps – Note: You can also serve the filling inside wheat tortillas or over brown rice.

Brown Rice
Edamame
Orange Slices

Bland Farms Sweet Yellow Onions  
California Navel Oranges

Wednesday

(Leftovers)

Use up fridge leftovers or use a freezer meal.

THURSDAY

(BREAKFAST FOR DINNER)

Uncured bacon or turkey bacon
Mixed fruit salad

Almond Breeze
Hy-Vee Baking Chips
California Navel Oranges
Red or Black Seedless Grapes
Driscoll Raspberries
Washington Stemilt Pinata Apples

Friday

Whole grain egg noodles (or favorite pasta) – Toss with a little butter and Parmesan
Tossed green salad

Buy a Package of Hy-Vee Boneless Skinless Chicken Breast @ $3.99, Get One Free
Prego Pasta Sauce
Creamettes/Ronzoni Pasta
Hy-Vee Shredded Cheese 6-8oz
Earthbound Farm Organic Salads  BOGO

Saturday

Tortilla Chips and Veggies Sticks with Guacamole

Buy a Package of Hy-Vee Boneless Skinless Chicken Breast, @ $3.99 Get One Free
Bland Farms Sweet Yellow Onions
Ripe on the Vine Tomatoes
Hy-Vee Tortilla Chips

Sunday

(slow Cooker)

Frozen mixed vegetables (steamed)
Grapes

Hormel Always Tender Pork Shoulder Boston Butt Pork Roast
Hy-Vee One Step Russet Potatoes
Midwest Country Fair Frozen Vegetables
 Red or Black Seedless Grapes
Shop Online Now
New Online Shopping feature! Save time and hassle by ordering your groceries online from any Hy-Vee of Columbia. If you spend $100, delivery is FREE!! (What!?) If not, it's only $4.95 for delivery or $2.95 to pick up! (What!?) Listen to Polly explain how she uses it to save time and money…
<
For a step-by-step tutorial, read Polly's post about using Hy-Vee's Aisles Online. It's so easy!
Printable Menu Planner
Here's an easy way to get started on saving money and eating healthier–download our free printable menu planner!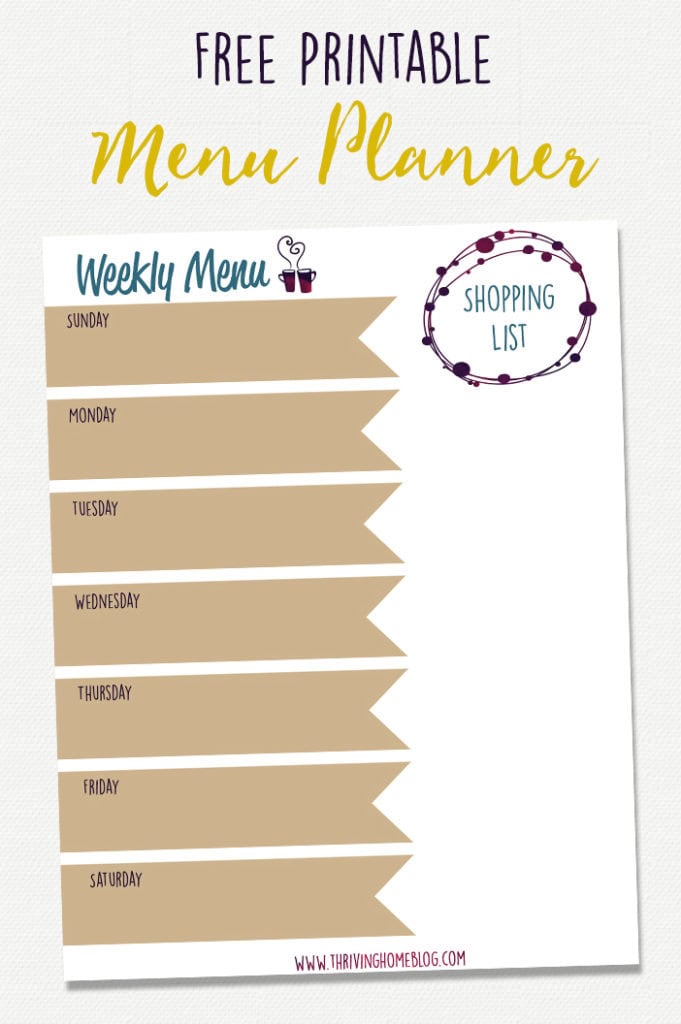 More Healthy Recipe Ideas
For more recipe ideas, check out our past Menu Plans or our extensive Recipe Index full of healthy, family-friendly recipes.