Sponsored by Hy-Vee (Columbia)
Have you ever tried cooking a whole chicken (the cheapest kind to buy!) in the slow cooker? That's what I'm up to on Slow Cooker Sunday this week. Plus, if you're looking for a way to incorporate more Omega-3-rich salmon in your life, you'll definitely want to try Salmon and Sweet Potato Cakes. They are so flavorful and can be kid-friendly if you knock back the heat. Substitute canned salmon to save money or if you don't have time to braise salmon filets.
Here's to a week of smart shopping and health eating at home!
P.S. Did you know you can have these menu plans emailed to you to weekly? All you have to do is sign up here.
Weekly Menu Plan
(FF) = Indicates a freezer-friendly recipe. Save time and money by doubling and freezing this recipe for another dinner later. Read Freezer Cooking 101 to learn more about this helpful strategy.
Night:

Dinner menu:

Sale Items (thru 9/6):

Monday

(MEATLESS)

69¢ Ripe Hass Avocados this week's special, eachearn 1¢ off per gallon w/purchase

2 for $5.00 Organic Earthbound Farm Spinach select varieties, 4 to 10 oz.

Tuesday

Steamed Broccoli
Cantaloupe

Wednesday

(Leftovers)

Use up fridge leftovers or use a freezer meal.

THURSDAY

(BREAKFAST FOR DINNER)

2 for $5.00 Organic Earthbound Farm Spinach select varieties, 4 to 10 oz.
2 for $5.00 Organic Valley Large Brown Eggs 12 ct.
2 for $5.00 Frozen Hy-Vee Strawberries 16 oz.earn 10¢ a gallon w/purchase of 2, save 5¢ a gallon w/each item purchased

Friday

Steamed Broccoli
Watermelon

$2.88with fuel saver + perks™ card or $3.88without fuel saver + perks™ card Jumbo Seedless Watermelon Midwest grown, each

Saturday

Steamed Cauliflower
Cantaloupe

$4.99 Just BARE Boneless Chicken Breast Fillets, Tenders or Thighs, 14 or 20 oz.

$1.38 Barilla Pasta select varieties, 12 to 16 oz.

Sunday

(Slow cooker)
Shop Online Now
New Online Shopping feature! Save time and hassle by ordering your groceries online from any Hy-Vee of Columbia. If you spend $100, delivery is FREE!! (What!?) If not, it's only $4.95 for delivery or $2.95 to pick up! (What!?) Listen to Polly explain how she uses it to save time and money…
<
For a step-by-step tutorial, read Polly's post about using Hy-Vee's Aisles Online. It's so easy!
Printable Menu Planner
Here's an easy way to get started on saving money and eating healthier–download our free printable menu planner!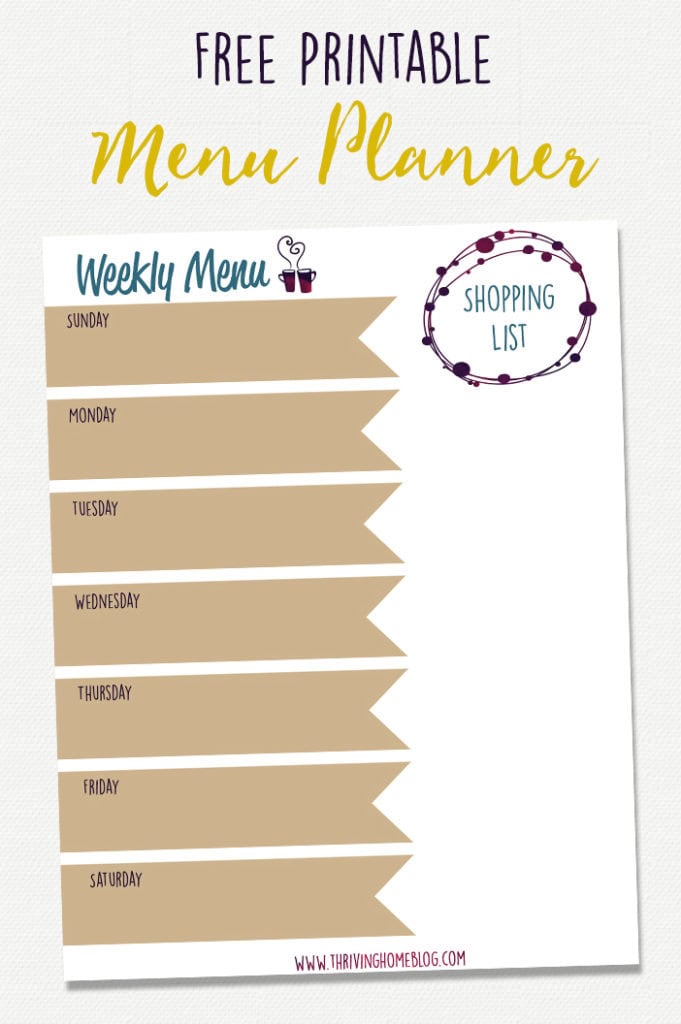 More Healthy Recipe Ideas
For more recipe ideas, check out our past Menu Plans or our extensive Recipe Index full of healthy, family-friendly recipes.