After a lazy summer, I'm excited to get back in the groove of menu planning. Here are my meal ideas for this week.
Dinner:
Sunday: Broiled Parmesan Tilapia, Roasted Potatoes and Carrots, grapes
Monday: Pizzadillas, cantaloupe
Tuesday: Clean out the freezer/fridge night
Wednesday: BFD*: Blueberry Pumpkin Baked French Toast, bacon (cooked the no-fail way)
Thursday: Garden Vegetable and Lentil Soup, crusty bread, fruit salad
Friday: Chicken Pesto Pasta, green salad, peach slices
Saturday: Homemade Ham and Cheese Croissants, sweet potatoes, watermelon
*Breakfast for dinner
Lunch Ideas:
leftover soup
Creamy Avocado Dip with veggies and tortilla chips
Breakfast Ideas:
yogurt parfaits
whole grain bagels with cream cheese
Blueberry Pumpkin Baked French Toast (Note: I'm going to double the batch on Wednesday and make it into large muffins and put them in the freezer to warm quickly on school mornings.)
Snack Ideas:
Banana Boats (bananas with peanut butter in the middle)
Free Printable Menu Planner
Here's an easy way to get started on saving money and eating healthier–download our free printable menu planner!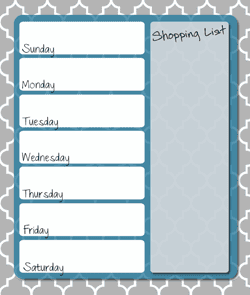 P.S. Don't forget to enter to win $79 worth of Young Living Essential Oils products! Keep your home healthy and chemical-free with these great all-natural solutions.