Temps have cooled overnight, so it's time to pull out the soups, right?? Here's the scoop on our menu for this week.
Dinner:
Sunday: Chicken Noodle Soup, whole grain baguette (or homemade wheat bread), simple green salad with Balsamic Parmesan Dressing, watermelon slices
Monday: Fried Rice with Sweet Soy Sauce, fruit salad
Tuesday: Clean out the freezer/fridge night
Wednesday: BFD*: Country French Omelet (or Oven Omelet) whole grain toast, apple slices
Thursday: Firecracker Asian Salmon, brown rice, steamed baby carrots, grapes
Friday: Make your own personal pizza night!
Saturday: Homemade Chicken Fingers, Sweet Potato Quick Biscuits, Roasted Broccoli
*Breakfast for dinner
Lunch Ideas:
leftovers
raw veggies, pita bread and Simple Blender Hummus
cream cheese on whole grain crackers (I like a few varieties from Trader Joes.)
Breakfast Ideas:
leftover Oven Omelet on whole grain English muffins
Flourless Banana Bread Muffins (Note: These taste awesome, are packed full of nutrition and can be made in the blender!)
Snack Ideas:
mixed nuts, dark chocolate chips, and Newman's Own Organic Spelt Pretzels (Note: Vitacost sells them at a great price and save $10 using this promo code.)
Free Printable Menu Planner
Here's an easy way to get started on saving money and eating healthier–download our free printable menu planner!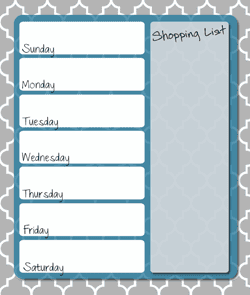 P.S. Here's your last chance to enter to win $79 worth of Young Living Essential Oils products! Keep your home healthy and chemical-free with these great all-natural solutions.