Reflections on our Family Mission Trip to Jamaica
Updated: 11/13/20
For the past 9 days, my husband and two kids (2.5 y.o. and 11 months) have been in an impoverished community in Jamaica called Harmons. We went with a group of college students to serve with an established ministry there called Won by One. My history with this ministry and Harmons goes back 10 years so I was more than excited to go with my whole family.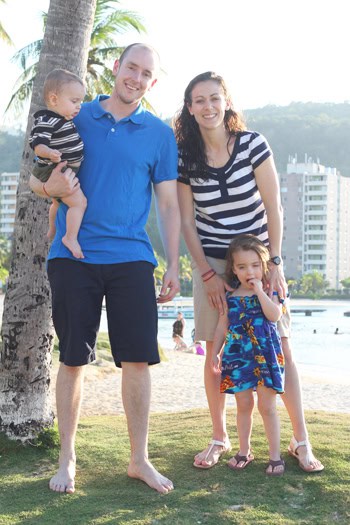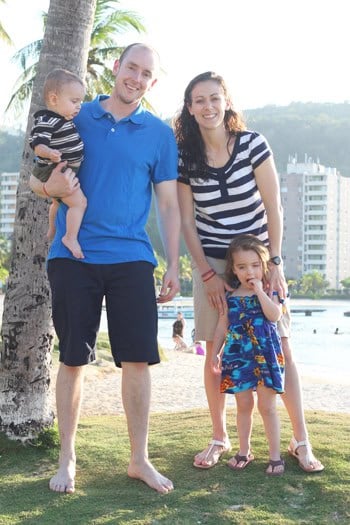 Since we had little ones we obviously couldn't serve in the same way the college students were (building houses, foundations, helping in schools, etc.) but we were able to spend a lot of time with the people and families in the community. I was able to help here and there at the mission house by sorting out supplies, helping fix sewing machines (or at least attempting to), and other random tasks that would come up.
The experience of taking kids to a third world country is one that I will never forget. It stretched us in ways that nothing else could and gave us experiences and memories that we will talk about for years — possibly even for the rest of our lives.
Since we got back last night at midnight I've hardly had any time to reflect on the trip. I figured maybe some of you would want to join me in my personal, unfiltered, and ever-changing reflections on our time in Jamaica.
Here we go.
Traveling with little kids is WORK
I'm not sure what I expected but I underestimated how much work it would be to travel with two little ones. First of all we just had SO MUCH stuff. I wish I could have had a picture of us with our two huge suitcases, four carry-ons, two car seats, double stroller, and two tired kids trying to go through security. I was super stressed at the time but looking back it must have been quite humorous to see. In my defense, we were going into the heart of Jamaica so we had to bring everything we needed with us. There is no convenience store in the town we were going to. Anyway, not only is it work to get our load on and off the planes but it was work to entertain our kiddos. My vision of comfortably sitting on a plane with a calm infant in my lap while my pleasant 2 year old read books and played with stickers next to me with Austin was shattered in the first hour. I found myself growing envious of the relaxed travelers around us reading their Kindles and magazines while I wrestled with a tired 11 month old fixated on pulling my hair and putting his hands in my mouth and nose. His sister was a little easier to entertain but it took much effort and intentional planning to keep everyone civil. At the end of the travel days we were SO TIRED. Physically and emotionally. Here is a rare moment of quiet I had on the plane. (Yes, he is actually sleeping with his eyes open in this picture.)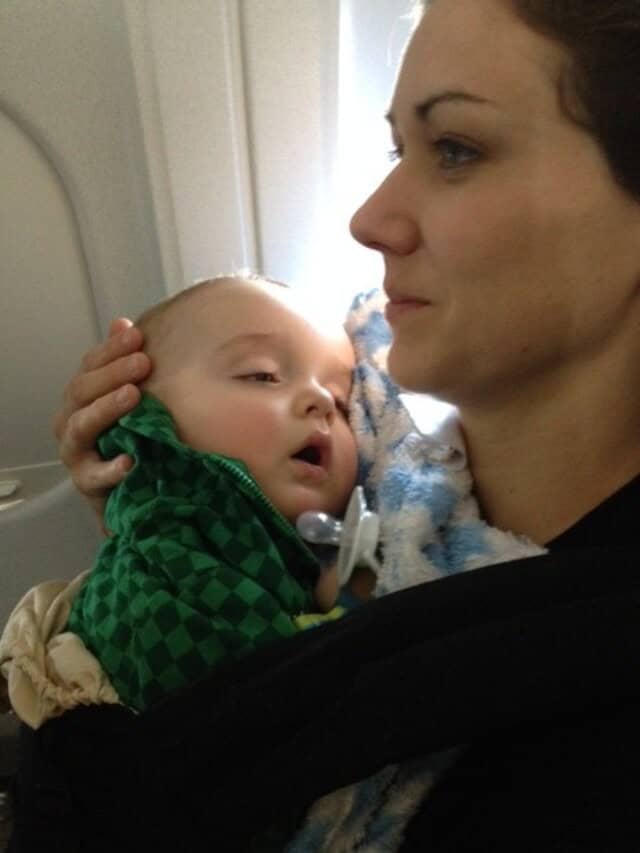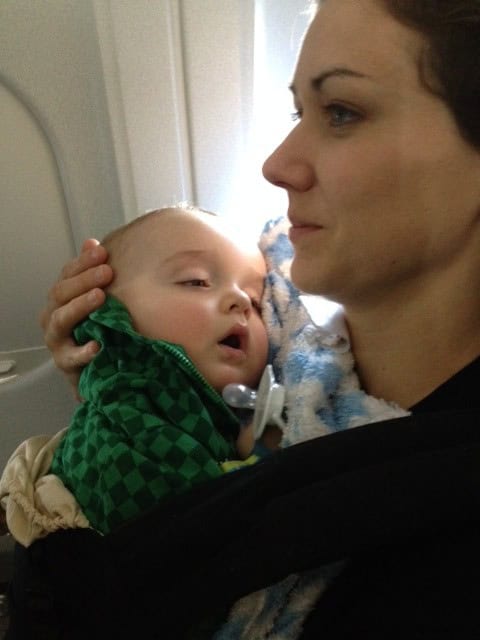 Kids are more flexible than we think
Even though traveling gets kids a little out of whack, after we were settled into Harmons for a day, they were easily back in the routine. I think since I'm such a stickler about nap times, their bodies were just conditioned to stay in that pattern. With the exception of the first night, they slept great the whole time we were there. My two year old even had a record breaking 4 hour nap one day. They also ate the strange food and fruits they had never tasted before. After 2-3 days of being timid of the Jamaicans they both had friends that they favored and spent time with. They found it to be fun to take a bath in a small round tub filled with warm water from the kitchen sink and didn't seem to be bothered by being sweaty and warm most of the time. Overall I was pleasantly surprised by how quickly they adapted to the very different conditions.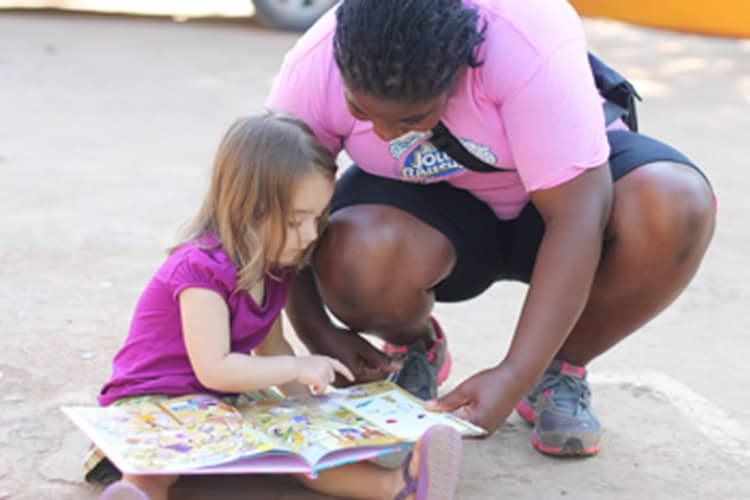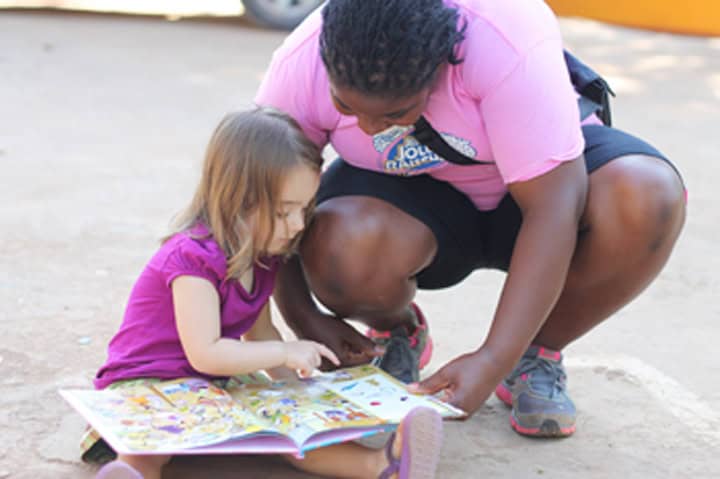 I had to intentionally let go of the ideal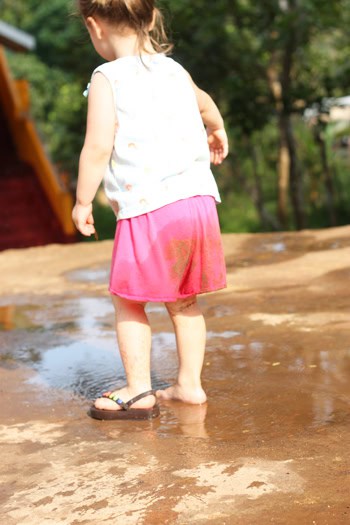 I'm a pretty middle of the road type of mom when it comes to stressing over the little things. I'm not super anal about germs or even safety but on this trip I found that I had to consciously let go of control of the small things. I had to get used to my crawler's dirty knees and hands from crawling around on the dirty floor. The kids' clothes were rarely without stains or dirt on them. When I found my toddler sharing a mysterious cheeto-type snack with a Jamaican kid and licking the cheese crumbs off of her dirty fingers I had to just look away.  I had to remind myself that it was just one week that we were eating PB&J sandwiches, sometime accompanied with french fries every day for lunch and be OK with the fact that we ate fast food three times in a week. I had to be OK with not knowing if our dishes had been thoroughly washed by the person before us and with the fact that someone else cooked my food all week. I had to intentionally not hover around when my 2 year old would be running around with other Jamaican children. I also had to be OK with the cultural differences when a Jamaican would simply pluck my 11 month old out of my arms and walk away with him. This trip really forced me to give up micromanaging and any sense of security that I found in control. I just had to embrace where we were at and what came with it.
Little ones aren't distracted by the language barrier
One of the most precious things about this trip was seeing my children interact with other Jamaican children. I couldn't get enough of it.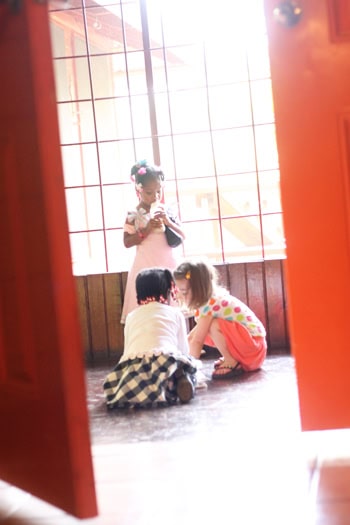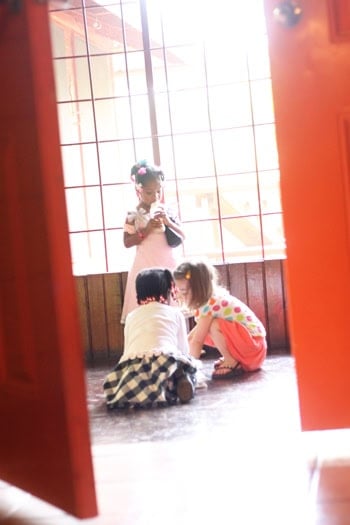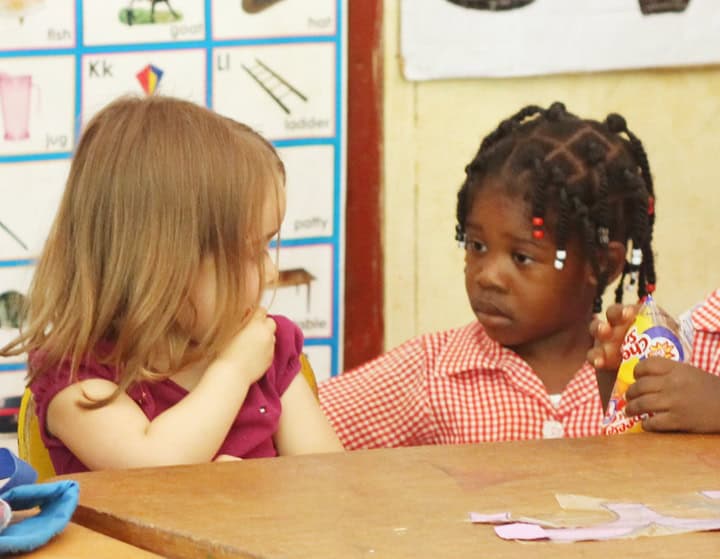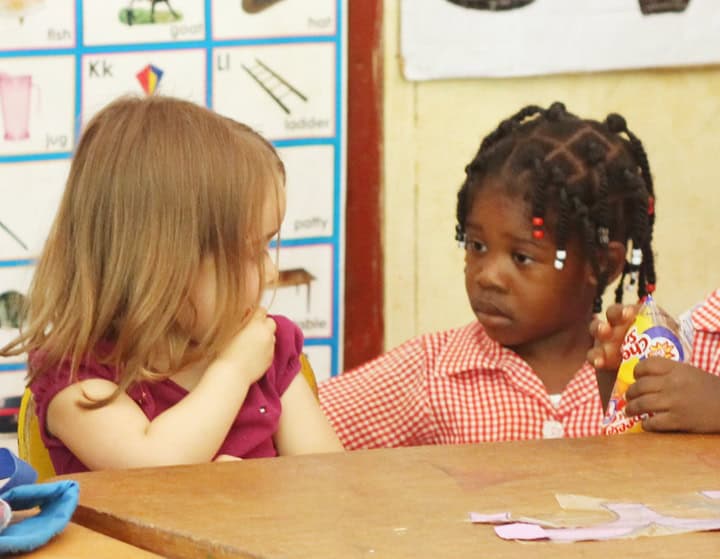 We can learn a lot from children and how they interact with others from different cultures. First of all, they don't really seem to mind the differences. My daughter was completely herself around the kids fully accompanied by her sass and strong opinions. There is an automatic acceptance that children offer to one another and they don't get caught up in the language barrier. They connect on similar interests and bond through play.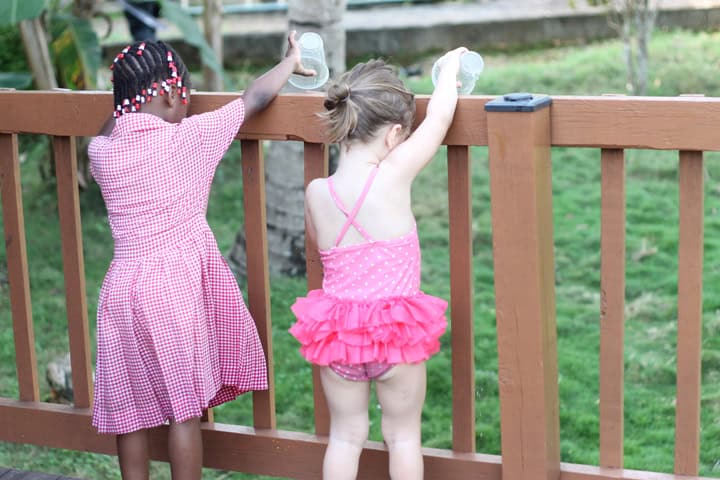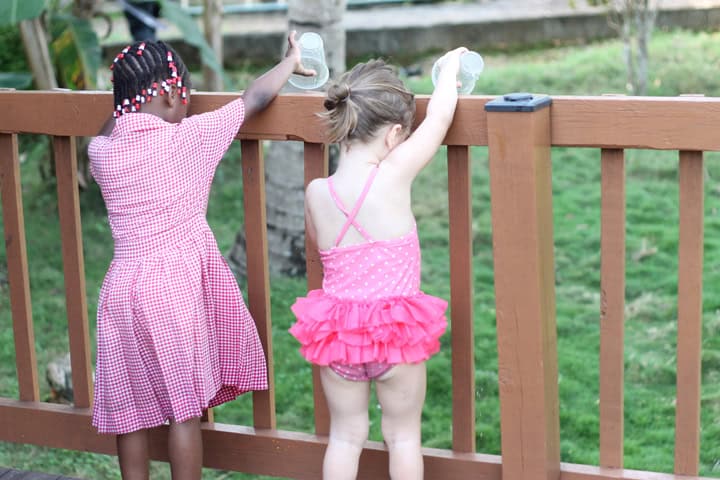 My daughter had a friend, Missy, who she would play with every afternoon after naps. For the first two days Missy didn't even talk. They simply enjoyed playing and splashing in water with one another. I took Adelyn to preschool one day just to check it out and see what it was like. The kids were so excited about her being there that we could only stay for 20 minutes because she couldn't get anything done with us in the room.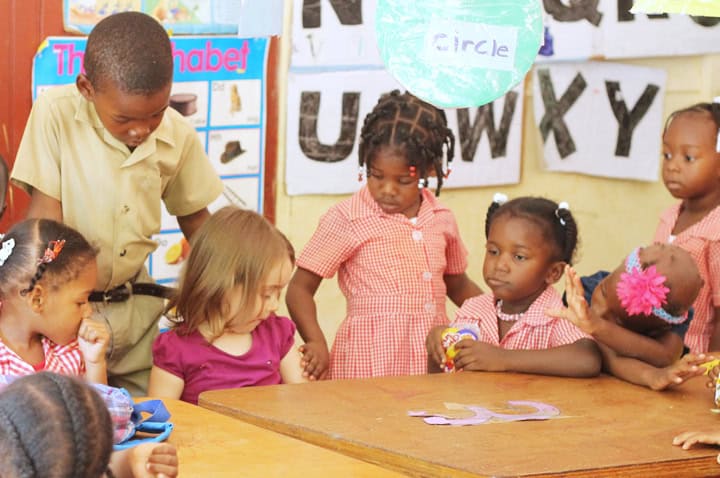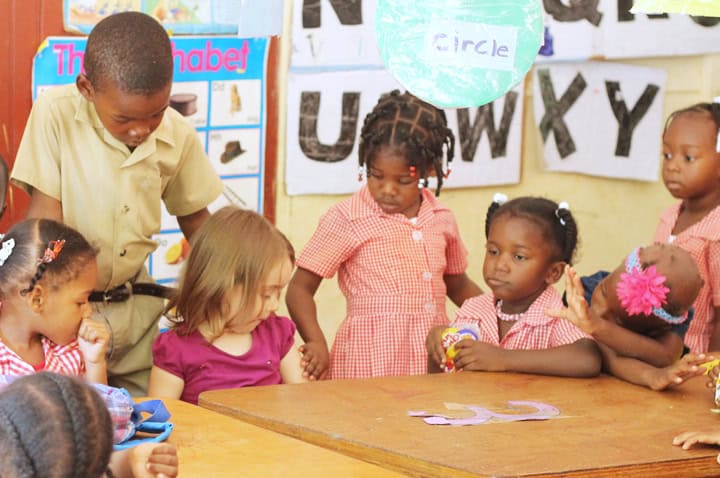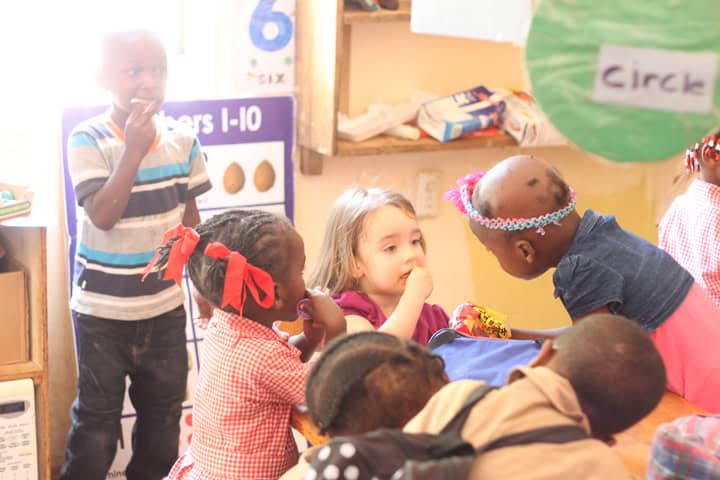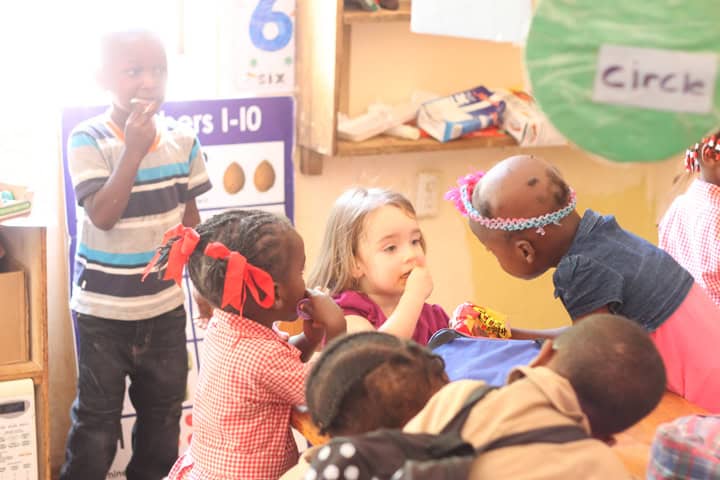 Jamaicans are admirably interdependent
One of the most beautiful things about the Jamaican culture is the interdependence between family and friends. As a result of many complex factors (most being unfortunate), Jamaican children seem to be parented by not just their mom but by many other moms, grandparents, neighbors, friends, etc. There seems to be a mentality that everyone just looks out for everyone's kids. It wasn't rare for a Jamaican to show up somewhere with some of her own children and few others that were somehow connect to her. They open their homes to one another when someone they love is in need and they share with each other as needs arise. Houses are full and even beds are shared. After seeing this I realized how relationally isolated Americans actually are. Even with all the friends, activities and play dates that we have, the relational richness that Jamaicans have is something to admire.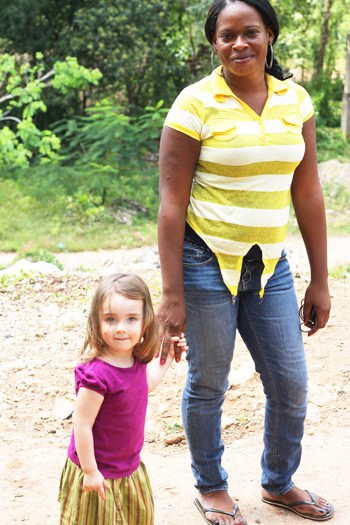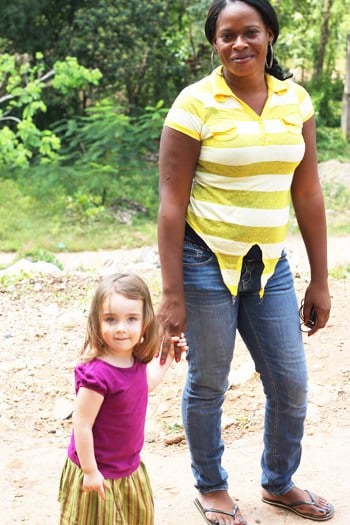 It was worth it
Yes, the trip was stressful and tiring. Yes, it was out of my comfort zone to have two very small kids in a 3rd world country. Yes, even with the majority of our trip being sponsored, it cost a lot of money. Yes, it was hot and uncomfortable at times and yes I did question what the heck we were doing in the middle of Jamaica. Now that we've come full circle I look back at the pictures and retell the stories of us being there and am totally confirmed that it was all worth it. We were stretched in a million ways that only a trip like this could do but we are only stronger because of that. We have begun the pattern of serving as a family early and have an experience that is so unique to reflect on and learn from. I am so thankful we were brave enough to do this and hope this is the beginning of a lifelong pattern of serving for my children. Jamaica has always had a special place in my heart but now that my family has been there it has solidified a genuine love of the country.