Repurposed Changing Table: Before and After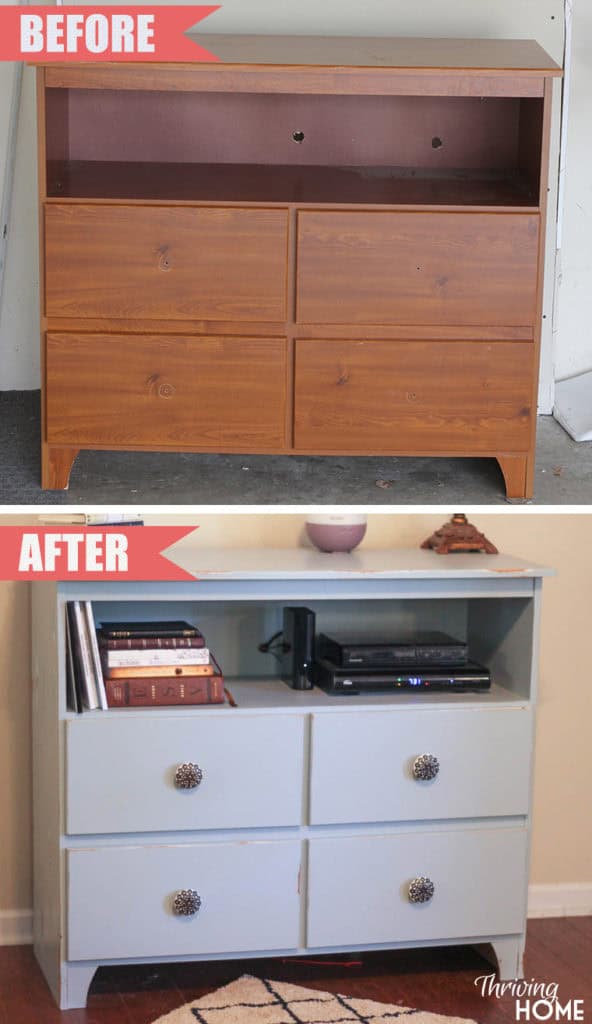 Painting furniture is my jam. It's easier than most people think and the results are always totally worth it. In this makeover, I took an old changing table that I bought for $100 and turned it into this functional yet trendy little entertainment center. It's perfect for what we need in our living room. The open shelf allows for the cable boxes and such while the drawers below hide a plethora of toys, games, DVDs, cords, you name it.

Yes, it did come with handles but I removed them before taking the pictures. I knew I was going to replace them so was itching to get them out of there. See ya handles.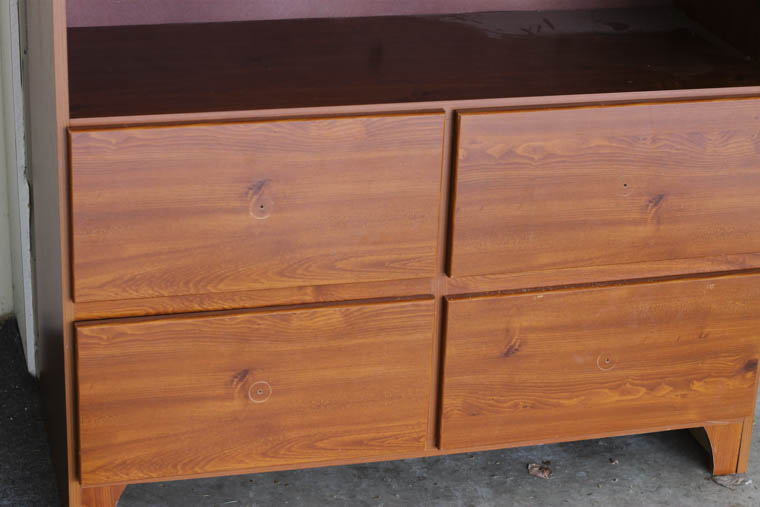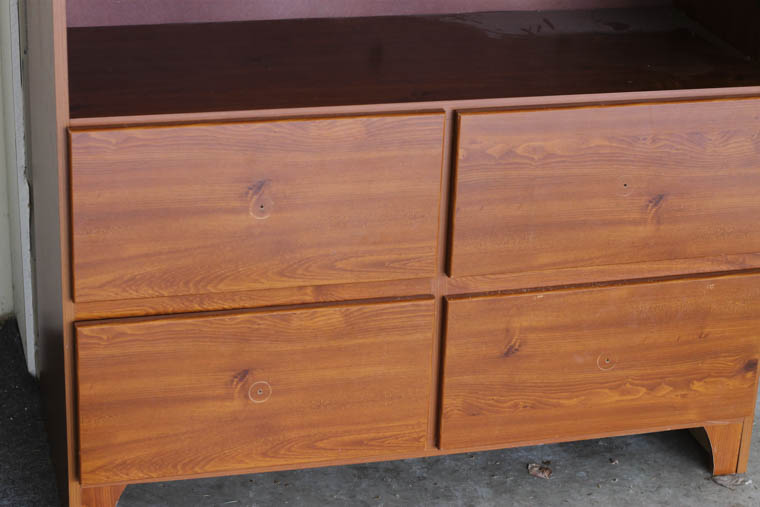 I'm pretty predictable with my furniture makeovers. I use pretty much the same primer, paint and tools to get the job done on most pieces. In case you haven't been around these parts long, here is my cast of characters.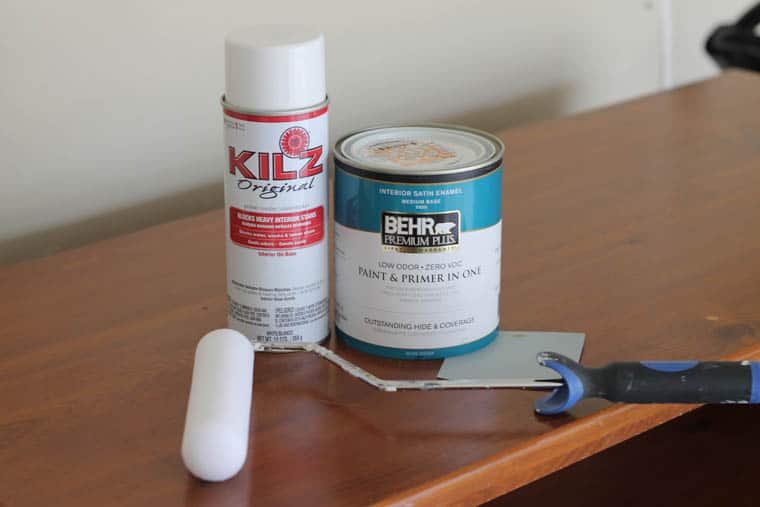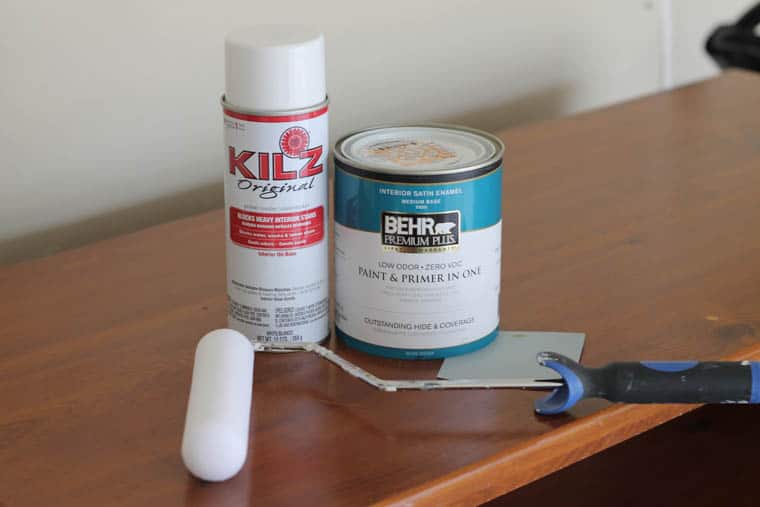 I like to use Kilz spray paint as primer, some type of eggshell or satin colored paint and a 6 inch foam roller. Not pictured is a 1.5 inch paint brush for touch ups or sandpaper.
The color I used for this project was called Flint Smoke by Behr. I love it. It's kind of a slate blue that is antiquey (is that a word) but updated at the same time. I chose a satin finish because I needed my paint to be a bit more durable.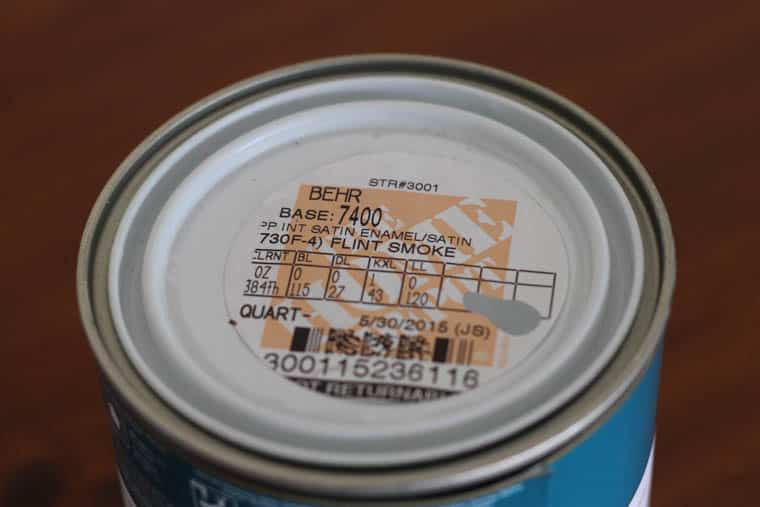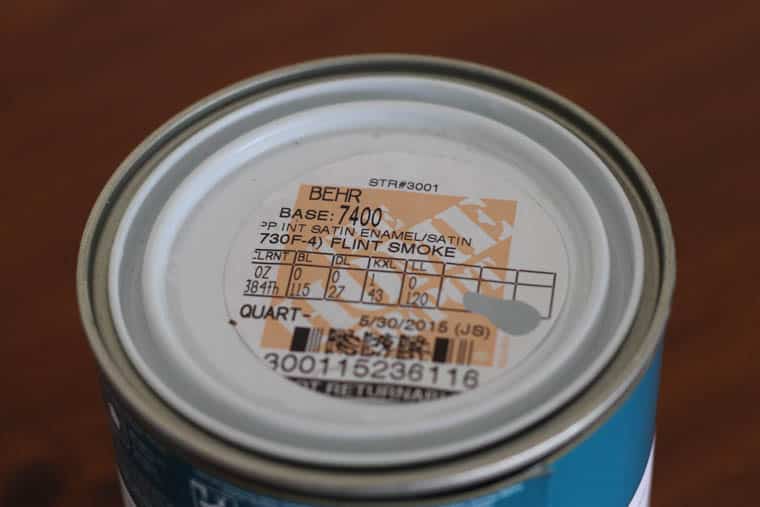 Step one was priming. It took about 1.5 cans of Kilz primer to get it all covered. I have found that when I use this stuff, I usually don't need to sand before. It grips on so well that I've never had problems with chipping. However, I do sometimes need to sand after priming to smooth it out. Sometimes the spray can feel a little rough once it's dry. Giving it a quick sand with a high-grit sand paper will do the trick.
It should be mentioned that the professional way to prime a piece of furniture would be to do with with an oil based primer. We did this when painting our oak cabinets. We knew the cabinets would be getting daily wear and tear and we wanted them to last for years before touching up. However, since I planned to distress this piece anyway, I used my trusty shortcut of spray primer.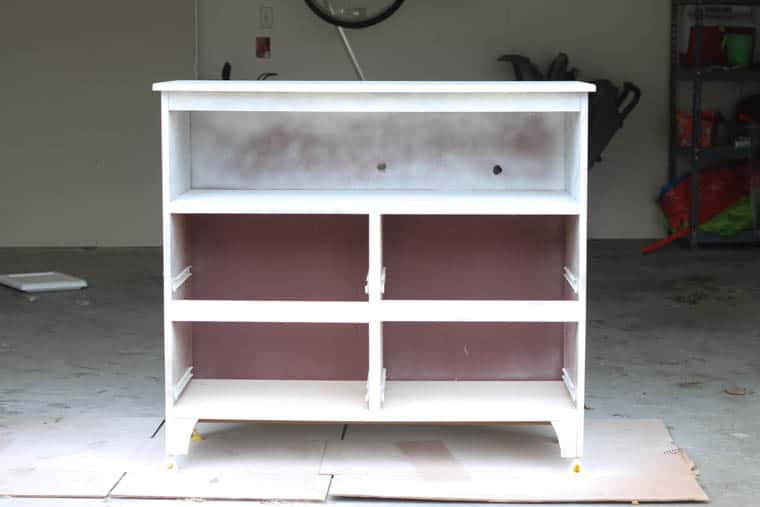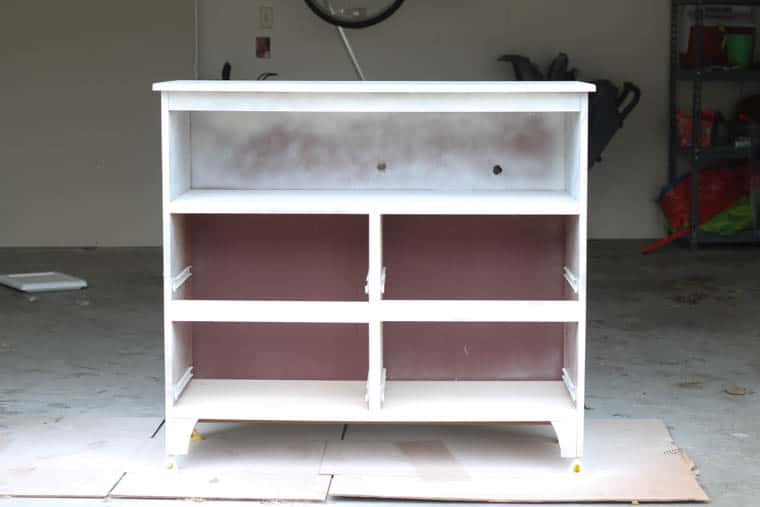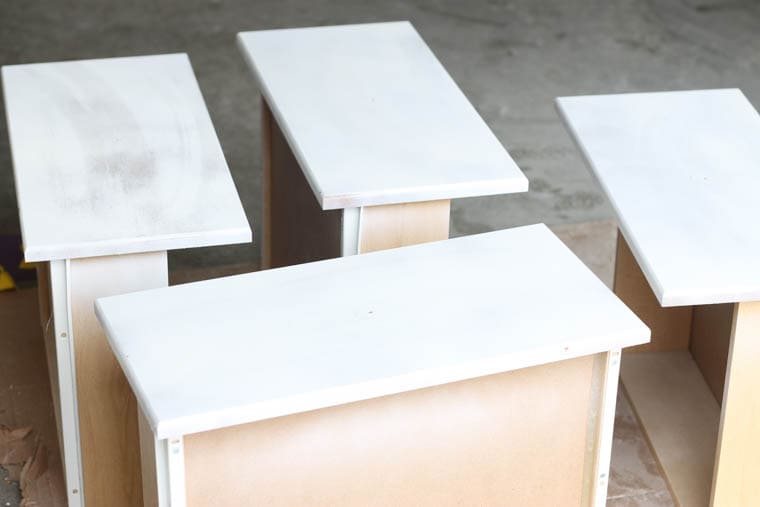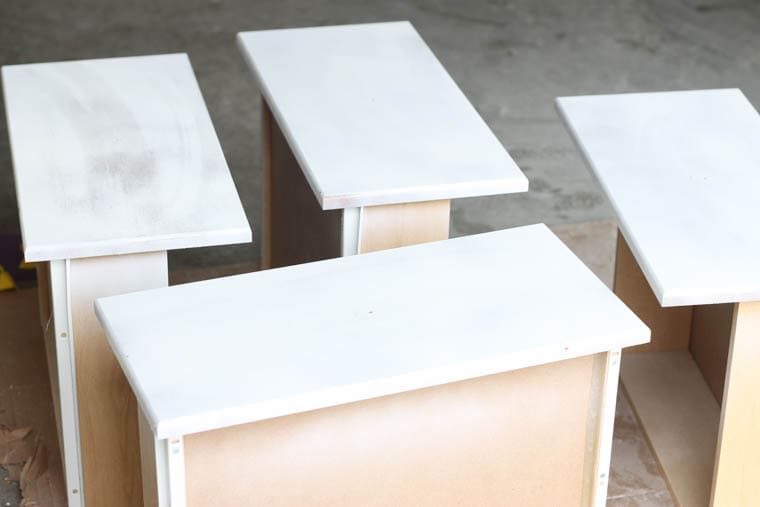 After two layers of primer dried, I started with my first of two coats of paint. I used my roller for almost all of the project. I've found that using a foam roller gives it a much smoother finish. I used to used paint brushes and would end up getting a textured look on the surface. I did I have to use a paintbrush to get into the corners and edges that the roller wouldn't reach though.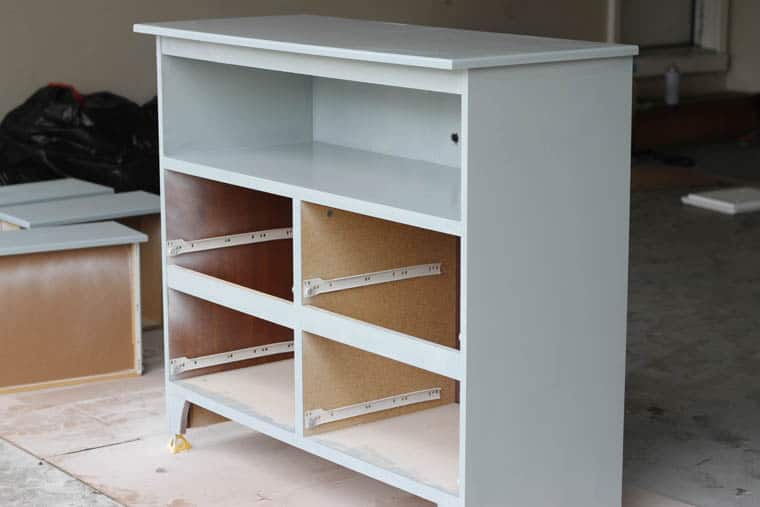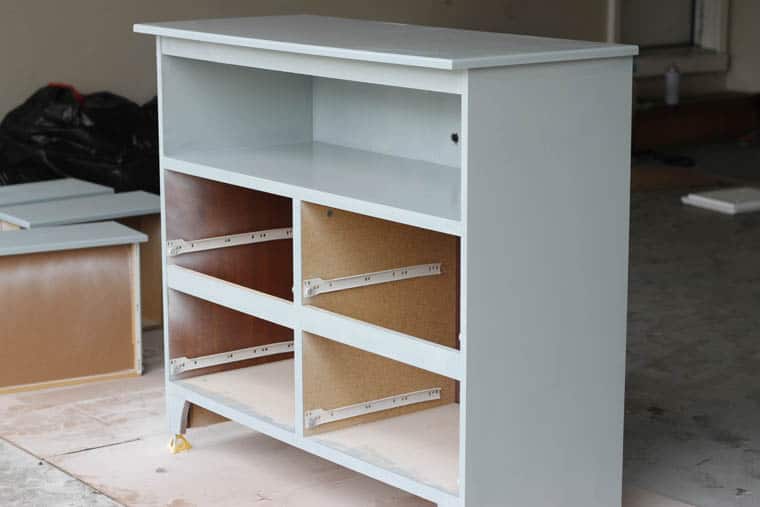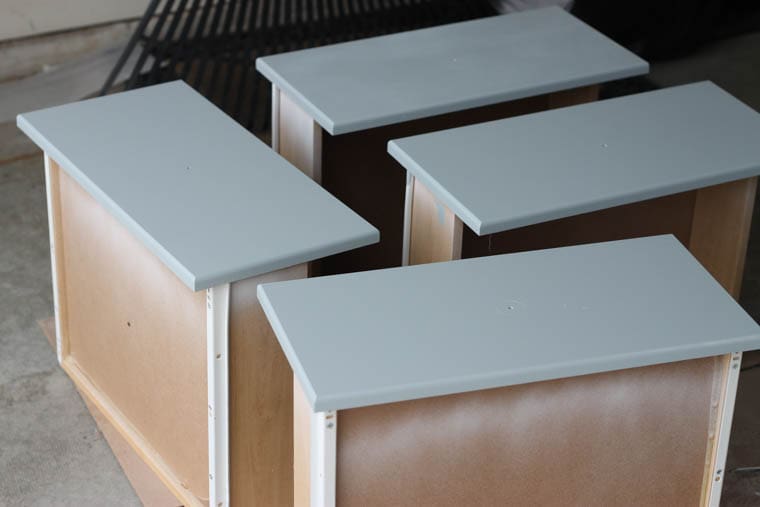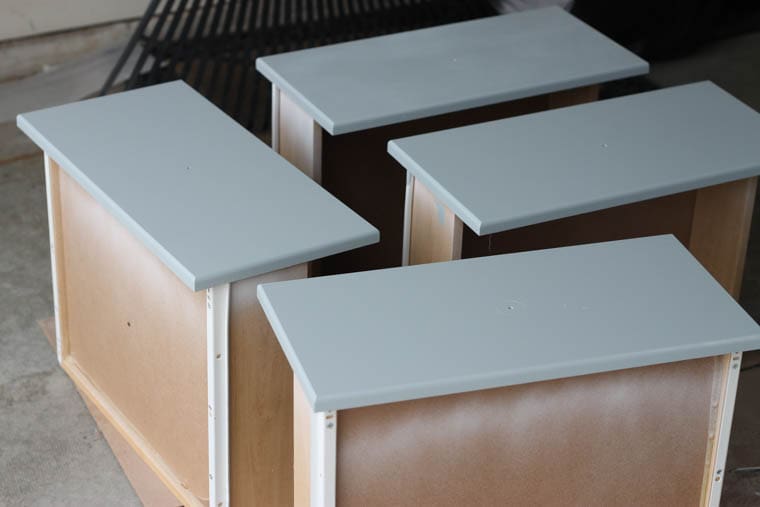 Once the paint had dried, I decided to distress the edges a bit. I wanted to do this for a few reasons. 1) I've been watching way too much Fixer Upper and am growing in my affection for the distressed look. 2) This piece is likely to get bumped, scratched, slammed, hit, you name it by two unnamed hooligans. I figured rather than trying to keep it blemish free, I'd embrace imperfection.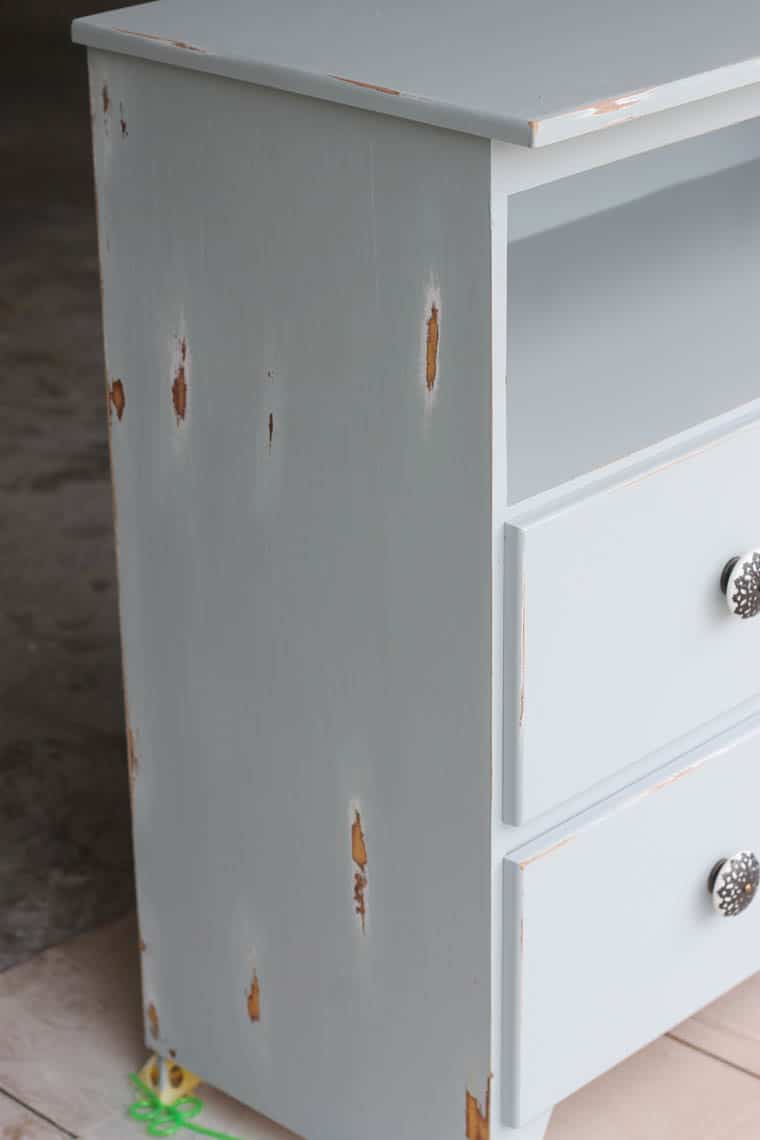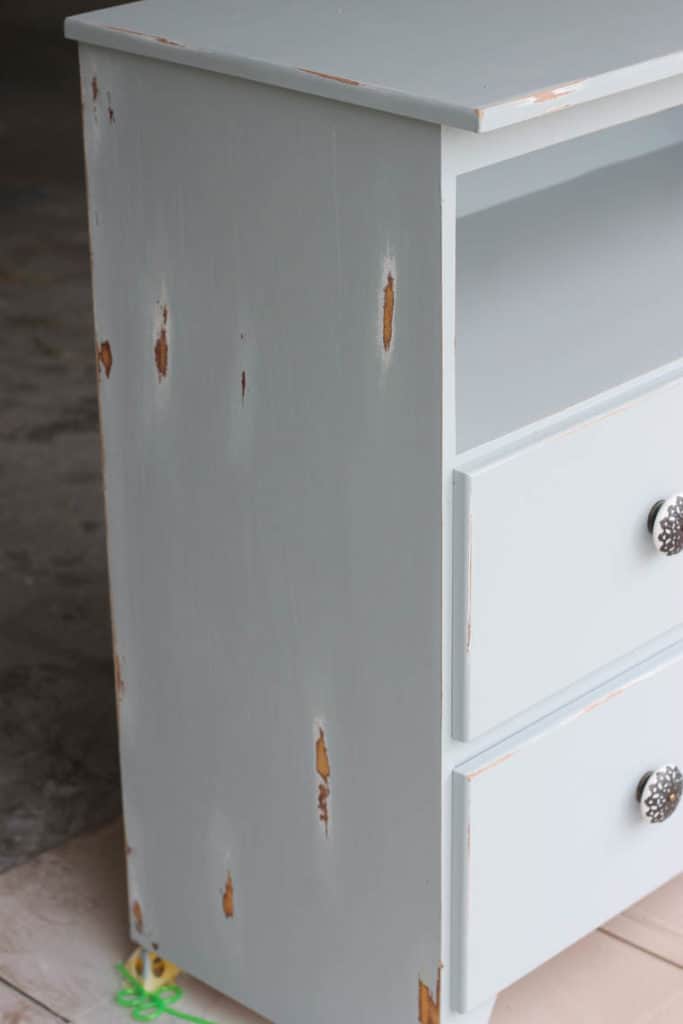 Distressing furniture is super easy. I typically use two types of sand paper. One low grit (rougher) to start with and then finish it off with a high grit paper to smooth things out.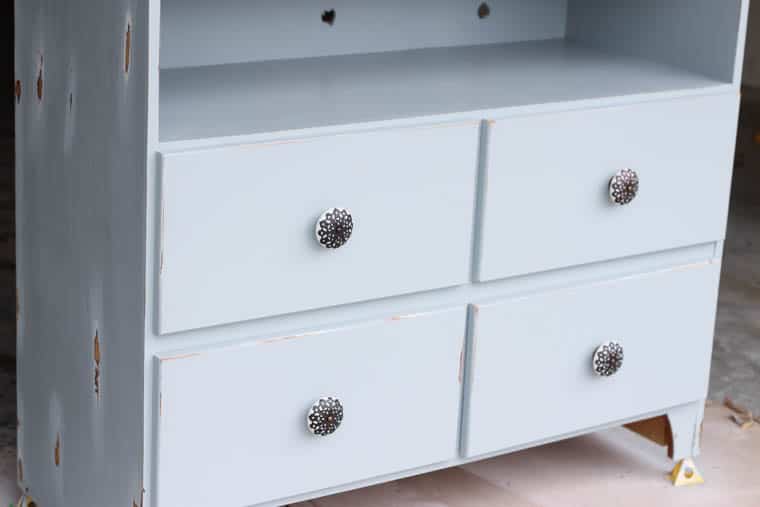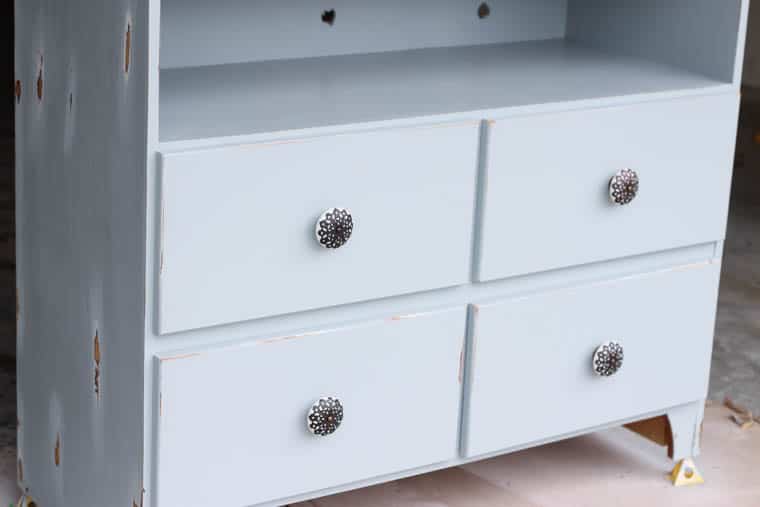 When distressing a piece like this, start with the corners and outside edges. You want it to look somewhat natural, so distress the places that would get dinged up over time.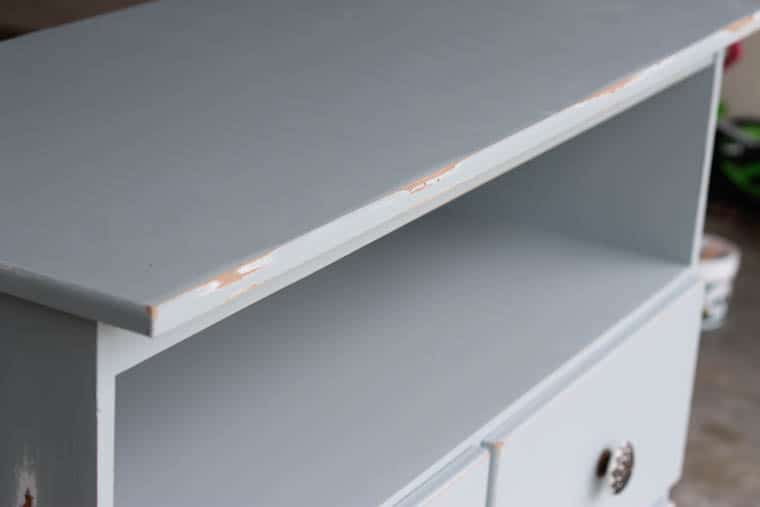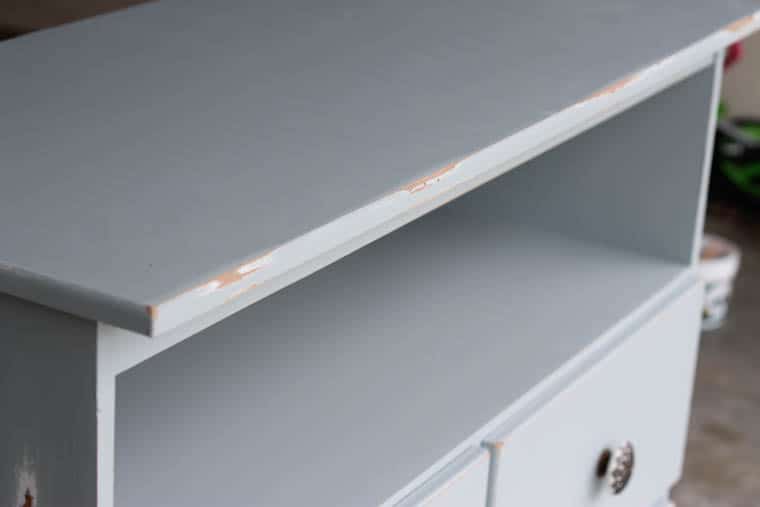 After I distress the edges a bit, I then go back and give other areas a little character.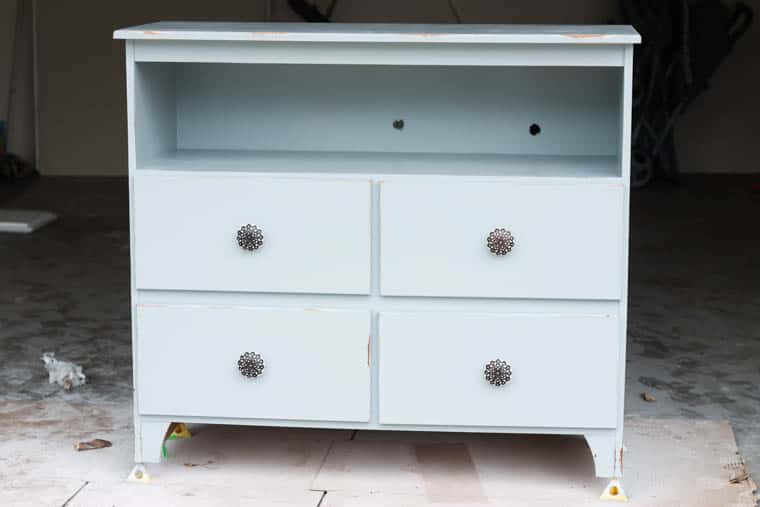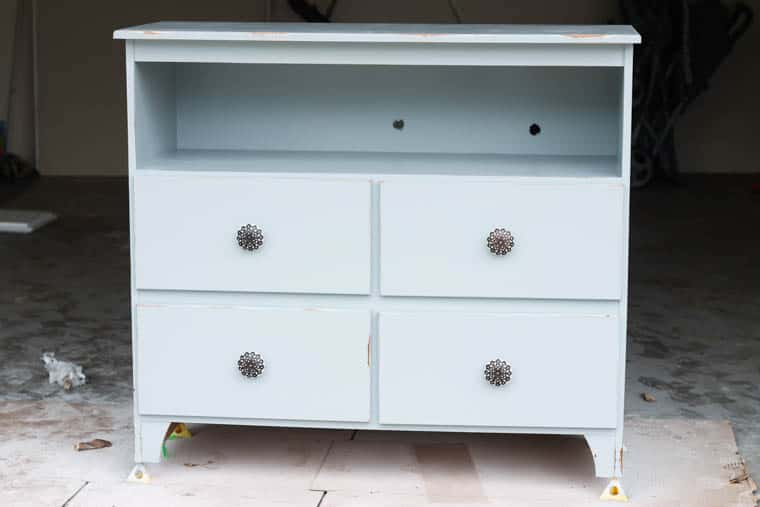 Oh yes, the handles. I love them. I snagged them from Hobby Lobby at 40% off and have not regretted it for a moment.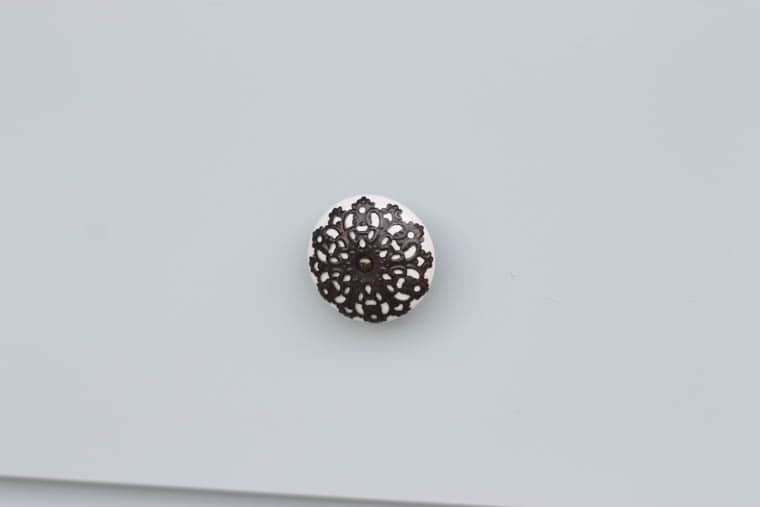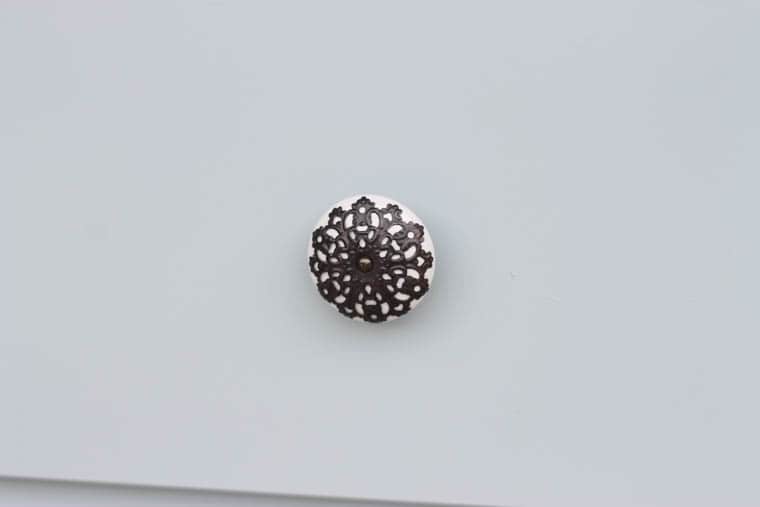 I let the piece sit in the garage for a few days before moving it to the living room. And when I imply that I moved it, I really mean a few college guys did because this was the infamous piece that contributed to me losing most gross motor skills for a few days.
So there you have it. A changing table can have more uses than wiping tushes and changing clothes. This one has a new purpose in life!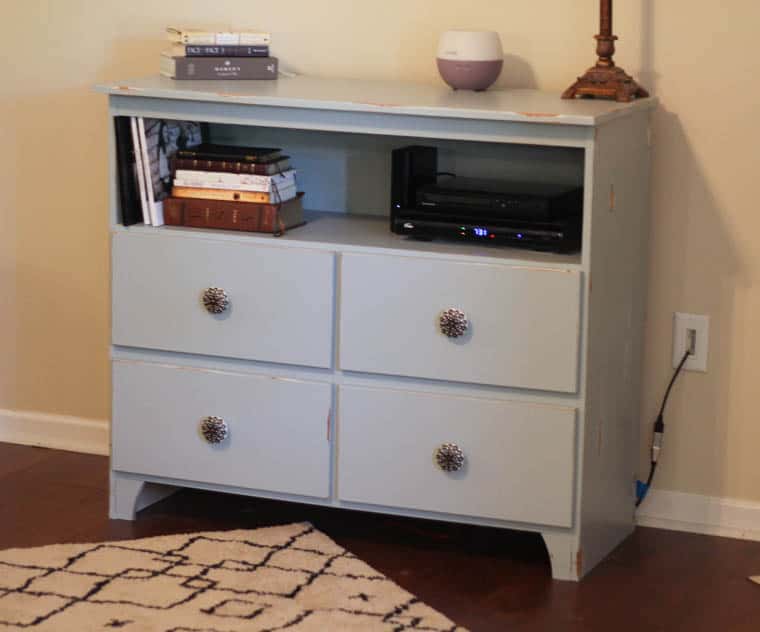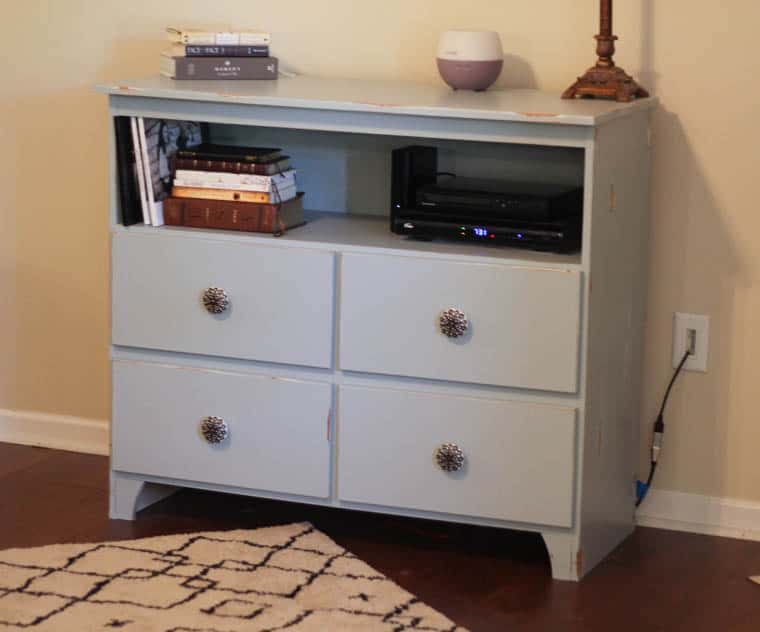 If you like furniture makeovers, make sure to check out the other makeovers I've done in the past. Here is a teaser of a few you might find.
https://thrivinghomeblog.com/wp-content/uploads/2015/06/Changing-Table-Repurposed-into-Entertainment-Center-2.jpg
655
760
Polly Conner
https://thrivinghomeblog.com/wp-content/uploads/2019/10/thrivinglogo.png
Polly Conner
2015-06-19 05:53:35
2021-02-11 09:46:59
Repurposed Changing Table: Before and After