5 Devotional Books Our Family Is Loving
This post may contain affiliate or sponsored links. Please read our disclosure policy.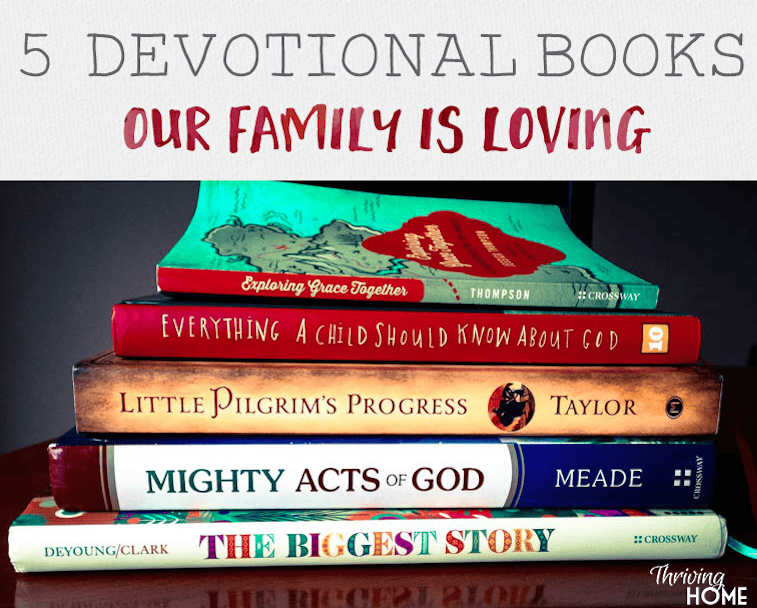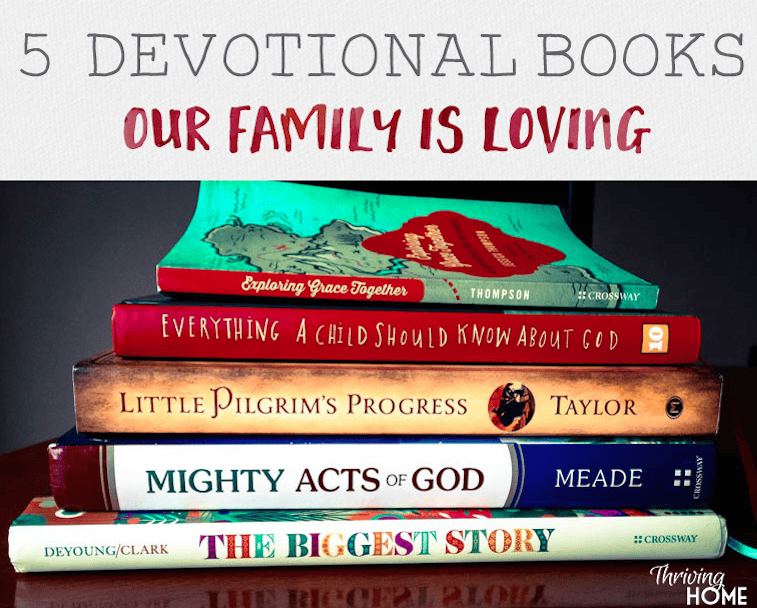 There are so many things my husband, Nathan, and I find ourselves regretting that we do or say as parents. But, one that I'm fairly confident we will not regret is taking the time to read to our children–especially books that encourage them to have a bigger, truer view of our God. Over the past year or so, we've really enjoyed reading the five devotional-type books below with our kids, ages 4, 6, and 8 at the time. (We've also used and liked these 7 great children's Bible story books in the past.)
Do we read the Bible or a devotional every night with our children? Well, honestly, no. Some nights mom and dad are just too spent. But, on the whole over the years, we've tried to gather regularly before bed and read and pray together. One of the sweet results of this routine is that my kids expect it and even remind us at times. I hope and pray this translates to a personal love for and discipline in reading God's Word as adults.
An important side note for parents who haven't started this routine yet or feel intimidated: From my 15 professional years experience in children's ministry, it's NEVER too late to start reading the Bible or devotional books to your kids. If you've never started this routine or feel intimidated by the thought, don't be discouraged. Talk with your children about the books below and maybe involve them in the decision about which one or two to begin with. And maybe explain to them that you can all learn together (I know I certainly learned a lot from the books below!). You do not have to have all the answers for your kids in order to read about God to them. I am convinced our children will remember most of all our example and heart for the Lord, rather than what we did and didn't read or what we know and don't know!
Some of these devotionals below are more appropriate for younger or older ages, as I've indicated. We've found one way to engage our older child is to have him read the devotional out loud to the younger children when using a "younger kid" book. We've also noticed that the 4-year-old really gleans more than we think when reading the "big kid" ones, and he's learning to sit still and listen for longer and longer stretches as a result. So, don't be afraid to try some of these with a wide variety of ages.
Here are five of our favorite devotional books and why, in no particular order. May God bless your desire to teach your children about the One who created them and loves them more than we can imagine.
*Some of the links in this post are affiliate links. We are a participant in the Amazon Services LLC Associates Program, an affiliate advertising program designed to provide a means for us to earn fees by linking to Amazon.com and affiliated sites. Here's our full disclosure.
Exploring Grace Together: 40 Devotionals for the Family by Jessica Thompson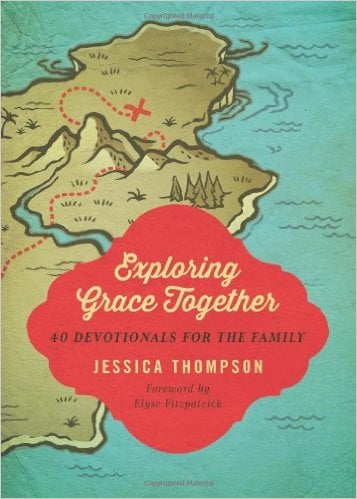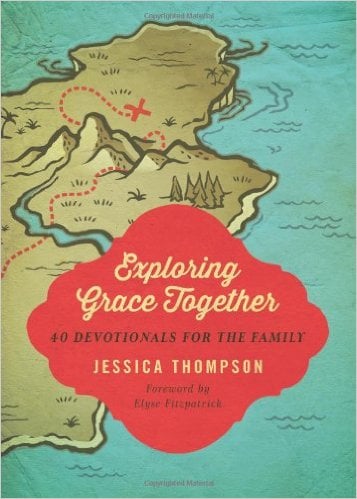 Exploring Grace Together is one of the best devotionals I have run across for elementary-aged children. As Thompson makes clear in this book, "Children need more than behavior modification. They need the gospel." And what I love most about this devotional is that each chapter uses a simple scenario or story of an elementary-aged child who is facing something (a trial, a temptation, a battle with sin, disappointment, a chance to serve others, etc) and how he/she can practically apply gospel-truths to his/her situation. Then, Thompson includes three outstanding comprehension and application questions at the end for parents and kids to discuss. Bravo Jessica Thompson for a well-done, grace-centered family devotional!
2) Everything a Child Should Know About God by Kenneth N. Taylor
Everything a Child Should Know About God is probably most appropriate for ages 3-6, but older and younger children will certainly benefit from this simple yet profound children's book of systematic theology. In each chapter, the book addresses a question about God, Jesus, Salvation, The Bible, Christian living and more, providing an engaging illustration and a clear, age-appropriate answer. Even adults can learn from this clear-cut look at the basics of Christianity.
3) The Biggest Story: How the Snake Crusher Brings Us Back to the Garden by Kevin DeYoung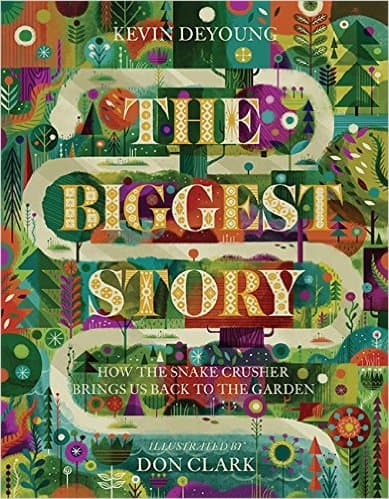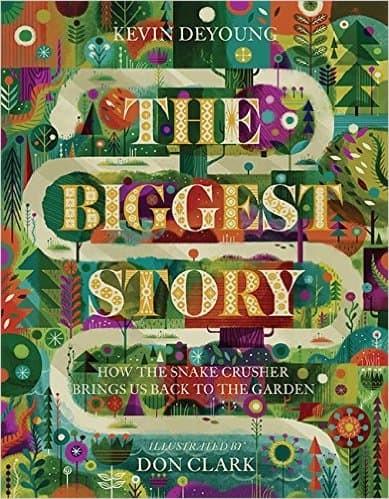 The Biggest Story is intended for ages 5-8 (as a read aloud) and ages 8-11 (as a "read to myself" book). My four-year-old enjoyed and followed along just fine, though. This devotional book will give your family a view of the Bible from 10,000 feet, so to speak–helping you to see how God's plan of redemption through Jesus for his people is the main theme of the entire Bible from beginning to end. I would say the very best part of this "big picture" story Bible are the illustrations by Don Clark. We had several in-depth conversations about what the symbols on each page might mean and how they connect to the story. I have found my non-reader and young reader thumbing through the book on their own several times.
4) Mighty Acts of God: A Family Bible Storybook by Starr Meade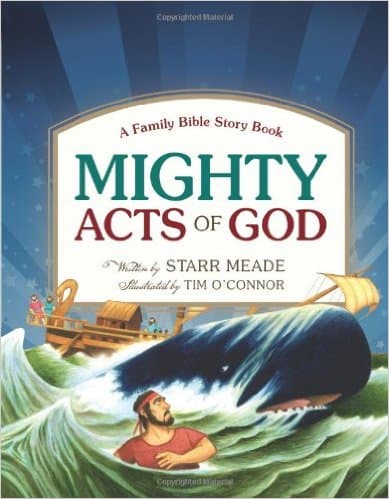 Mighty Acts of God claims to be for ages 8 and up, but from our experience, ages 5 or 6 and up can participate. Instead of focusing on Bible characters in each story like many children's Bibles, each of these 90 Bible stories focus on a particular character trait or truth about God. Each God-focused Bible story is "retold in lively, modern-day language from a Reformed perspective". My 8-year-old, in fact, read the entire thing on his own after we read it aloud a few times. He was fascinated by all the background information included that helped him grasp more of the context of each story. Although I felt like the application questions at the end of each chapter were a bit cumbersome (and the easiest for parents to lead), overall the book is worth buying and reading.
5) Little Pilgrim's Progress: From John Bunyan's Classic by Helen L. Taylor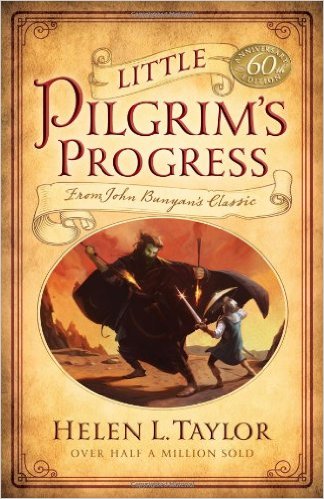 This children's simplified rendition of John Bunyan's classic isn't new. In fact, it's been around for over 55 years, and we've already read it twice in our family. The reason for its popularity is that it's both "a simple adventure story and a profound allegory of the Christian journey through life". This delightful read, which my children (it's especially exciting to boys) adamantly requested night after night, filled our hearts with a message almost all ages (probably ages 4 and up) can understand and remember. We were literally crying together in the last chapters as our friend Christian finally makes it to the Celestial City. Little Pilgrim's Progress has also inspired many spiritual conversations in the car, around the dinner table, etc. A must read for all children (and adults)!
Looking for more excellent God-centered, gospel-centered resources for your family? Check out my other reviews (click on the images below)…