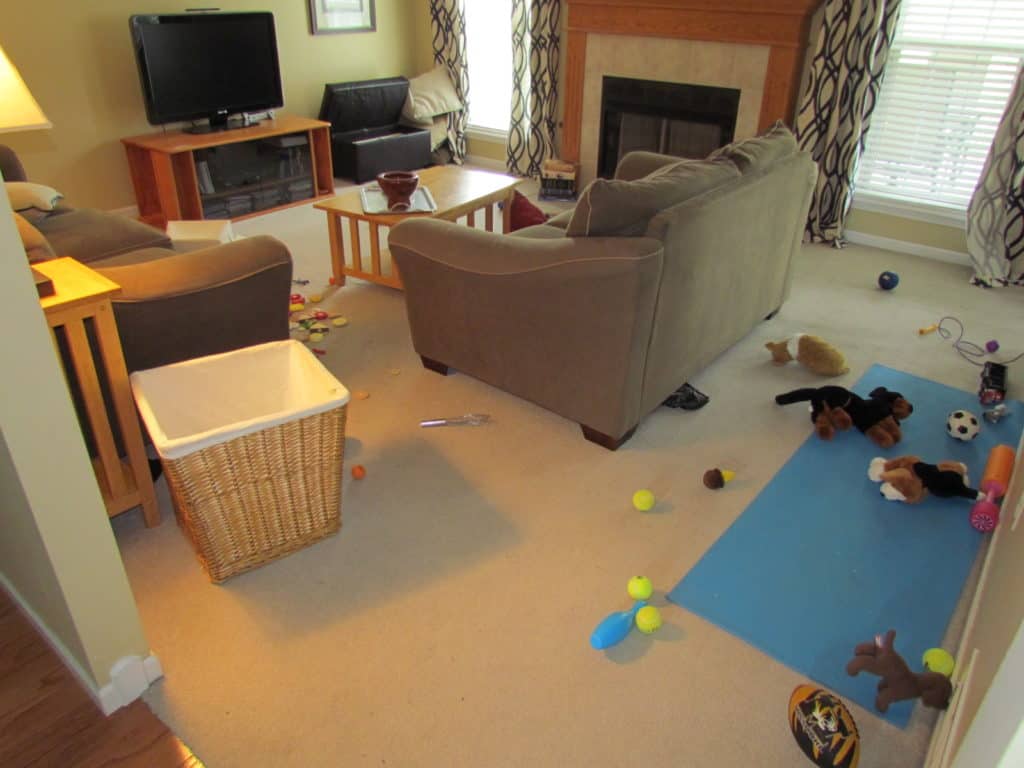 I love today's syndicated post by our friend, Gloria Furman of Domestic Kingdom, because, to be honest, I struggle with this very issue. Between worries about my dinged up walls, old nasty carpet, small house, and that my kids will be punks during dinner, I'm just not as hospitable as I could/should be. I'm clearly motivated (or demotivated) by the wrong things. Gloria's story and encouragement rang out loud and clear in my heart; I hope it does the same for you. (P.S. This pic above is my living room about .02 seconds after straightening up. I'm guessing some of you can relate.) – Rachel

Guest post by Gloria Furman…
"Someday when we have a guest room," I used to say to myself, "we'll be able to take care of people."
But then God used some new friends to help change my paradigm for hospitality.
These new friends heard that we would be traveling up to their city on a regular basis. They asked my husband if we would pretty please stay with them on the weekends.
"But they don't have a spare room, do they?" I wondered aloud to my husband when he told me of their offer. "I think they've got it figured out," he answered.
They, in fact, did not have a spare room. That weekend and several more weekends after that they gave us their own room. They slept in their kids' room on a sofa bed so they could take care of our family.
On more than one occasion our hostess cheerfully exclaimed, "What a blessing this is for us! We love bunking with the boys and having you here!"
Wow! Their hope was fixed on God, who richly provided them with everything to enjoy—spare room or no spare room. God gets the glory when he shines through people who are generous and ready to share.
1 Timothy 6:17-19 has some encouragement for people who want to shine for Jesus like that:
"As for the rich in this present age, charge them not to be haughty, nor to set their hopes on the uncertainty of riches, but on God, who richly provides us with everything to enjoy. 18 They are to do good, to be rich in good works, to be generous and ready to share, 19 thus storing up treasure for themselves as a good foundation for the future, so that they may take hold of that which is truly life."
Generosity and readiness to serve go hand-in-hand and flow from a heart that hopes in God.
I used to think that my best excuse for my lack of eagerness in hospitality was because of a lack of resources. It's so easy for me to daydream about all the things I would share if I only had more of it—space, time, energy, food, etc.
But when I look at 1 Timothy 6:17-19 it becomes apparent that my struggles in hospitality are primarily a heart issue.
Hope that is set on God and the certainty of his future grace breathes life into our hearts that are naturally self-consumed and haughty. When we hope in God like that then his love fuels in us a generosity toward other people that makes us eager to share.
This kind of hospitality finds its source and sustenance in the gospel. The epitome of God's rich provision for us is how he gave his only Son Jesus Christ to save us from our sins:
"But God, being rich in mercy, because of the great love with which he loved us, 5 even when we were dead in our trespasses, made us alive together with Christ—by grace you have been saved— 6 and raised us up with him and seated us with him in the heavenly places in Christ Jesus, 7 so that in the coming ages he might show the immeasurable riches of his grace in kindness toward us in Christ Jesus." Ephesians 2:4-7
God's rich provision is not merely in that he owns the whole world and all that is in it. Owning the world is an assumption to God the Creator. Our God is also a Redeemer.
When I fail at sharing what God has given me (which I do each and every day), I can hope in Christ. Jesus saves sinners and he richly provides everything we need to love others with the great love that we've been shown.
What is something you'd like to be ready to share?
Gloria Furman (@gloriafurman) lives in Dubai with her husband Dave, a pastor at Redeemer Church of Dubai. They have three young kids. Gloria is the author of Glimpses of Grace: Treasuring the Gospel in Your Home (Crossway, 2013) and blogs regularly for Domestic Kingdom.