Keeping a toddler busy is hard work.
While I really do believe it is ok to let kids be bored sometimes, I've found that our home is happier and simply more stable when my two year old is occupied. It takes some planning and work to have creative outlets for your little one but I think it is totally worth it. I've collected quite a few ideas on how to keep little ones busy on Pinterest but the reality is I don't have time to put together some of the more complicated ideas. I thought it would not only be helpful for me but possibly other busy moms to put together a list of simple, at home ideas that toddlers can do.
If you have kids older than a toddler, I highly recommend reading our previous post, Make Your Summer at Home with Kids Count.
Simple Toddler Activities That You Can do at Home
Borrow Toys
Before you go to too much work trying to think of creative ideas for your little one, consider borrowing toys from friends who have kids around the same age as you. Little ones love the novelty of a new toy so simply introducing a toy they have never played with will be a hit. It also saves a ton of money and keeps you from cluttering up your house with kid stuff.
Bubbles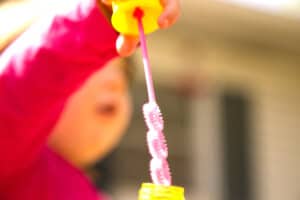 Having a few bottles of bubbles around is a life saver. Not only can you find them at the dollar store but they are something kiddos love and are entertained by. Yes, they will get a little sticky in the process but I think it's worth it.
Water Play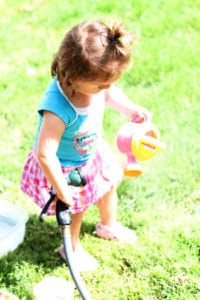 In order for this to be fun for your kiddo, you just need to let go and let them get their clothes wet. Pull out the hose, sprinkler, a few tupperware bins, different size cups, a few kitchen utensils, and anything else that can carry or move water around. Now just let your toddler play. They'll get soaked but they'll have a blast. As a result of this activity, one of my toddler's favorite phrases right now is, "More water, more water."
Create a homemade sorting game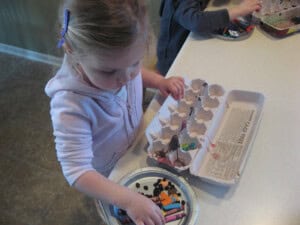 This is Rachel's idea but one that I want to try out pretty soon. Using an egg carton and a collection of random objects, have your kiddos sort and organize things. Could be a good rainy day activity to have in your back pocket.
Build a Fort
What kid doesn't like a good ol' fashioned fort in their room? It's so easy to drap a sheet over a few pieces of furniture and put some toys underneath. You could also give them a special snack to take and eat in their fort.
Paint the fence or concrete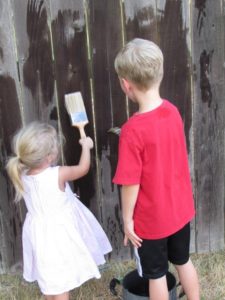 I love this idea! Just get some buckets of water and old paint brushes and tell your kiddos to paint away! If you don't have a wooden fence, concrete should work just fine.
This idea came from a Busy Bag Swap I did about a year ago. My two year old isn't quite old enough for it yet but older toddlers will like it. It's another great rainy day activity to have around or even one to have in your purse for an on-the-go activity.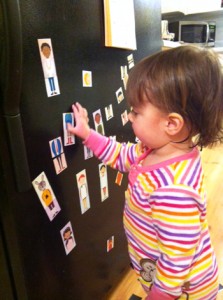 These blocks/magnets can provide a lot of entertainment. Check out my review of them for more details.
Lastly, consider Organizing a Busy Bag Swap. You'll walk away with all sorts of activities and things to keep those little hands busy.